Viewing galleries from December, 2020
The last walk of the year was undertaken only by those who were brave/foolish enough to walk in spite of a poor weather forecast - we were also joined by two brave guest walkers, Kathryn and Geoff. In spite of the gloomy forecast, we assembled in the Grange car park with grey skies above us. As it turned out we saw no rain apart from a light shower at the very end as we sheltered with a welcome coffee in the Market Square.
We started by walking over St Ann's Hill and down into the Wharf area. The path up to West Lavington proved the most difficult part of our walk with a lot of mud and water forcing us to take a detour into the nearby wood. Once we reached the road, the going was much better and we reached the church of St Mary Magdelene in good order and had time to recharge spirits with a small amount of seasonal cheer. The church was made redundant in 2008; it is now closed for worship, although it remains consecrated. The reformer Richard Cobden was buried here in 1865, with one of his pall bearers being William Gladstone, later to become Prime Minister. A wander down the road took us over the route of the Pulborough to Midhurst Railway line, opened in 1864 and eventually closed in 1955. Taking a footpath behind The Royal Oak brought us back to Midhurst Market Square and after a coffee we returned to the Grange car park. The walk was about 4 miles.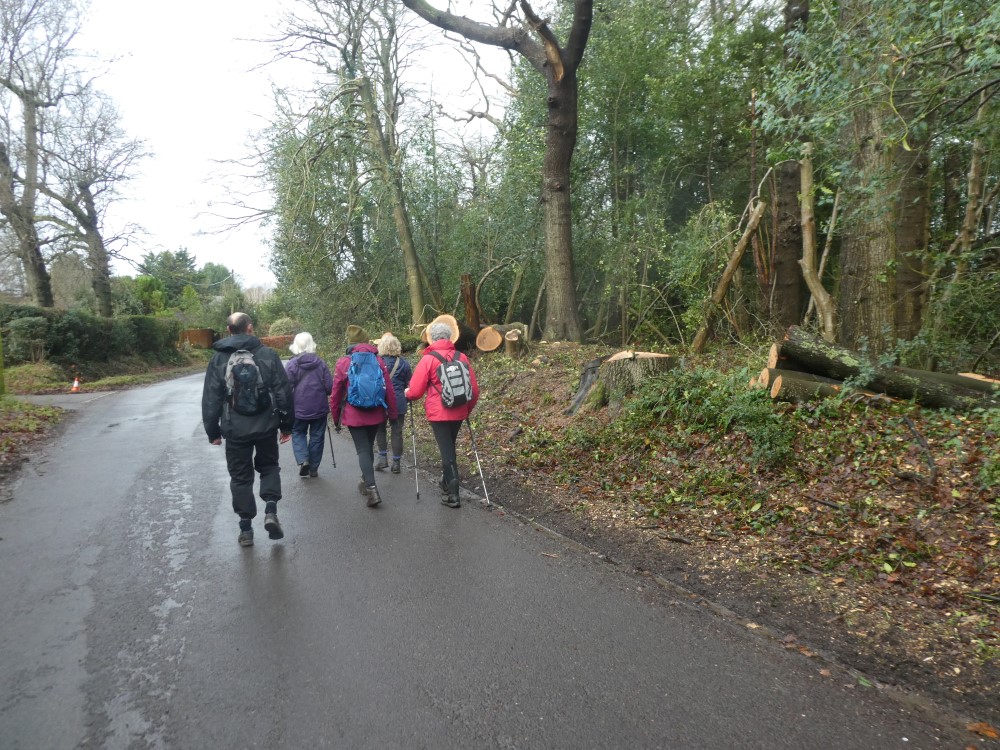 West Lavington timber felling.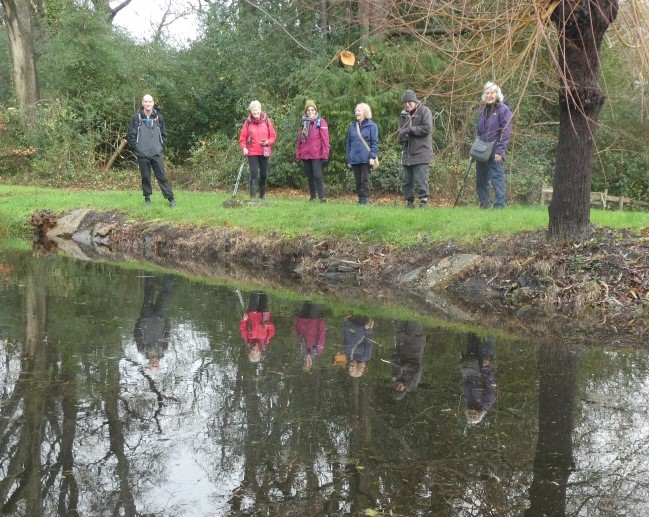 No fish spotted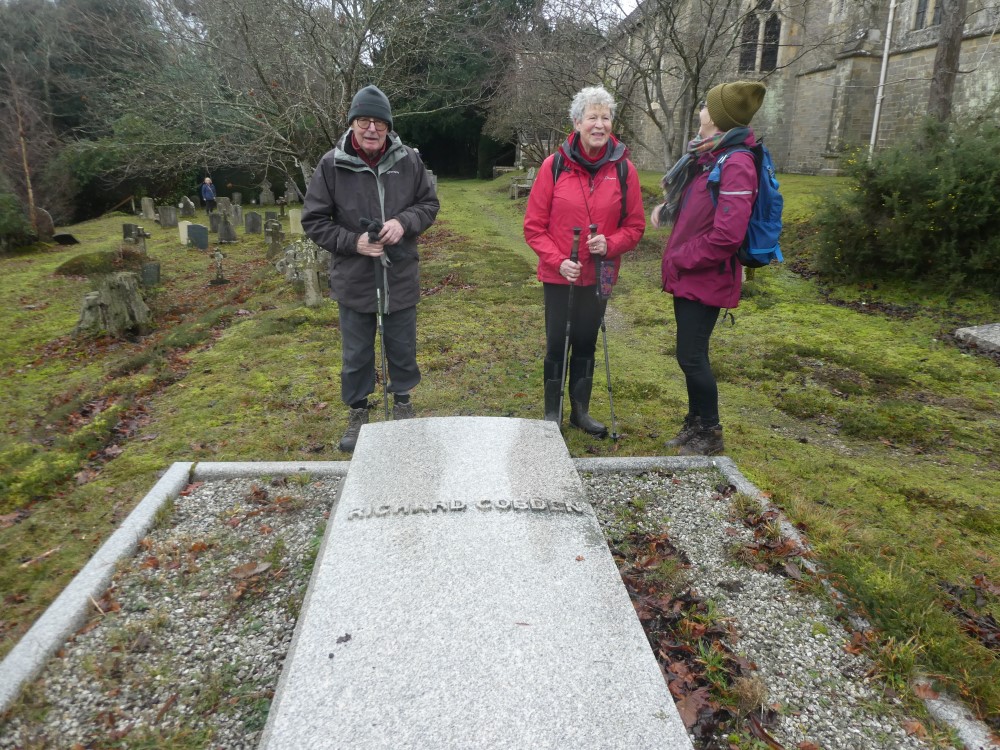 Repealer of The Corn Laws buried here.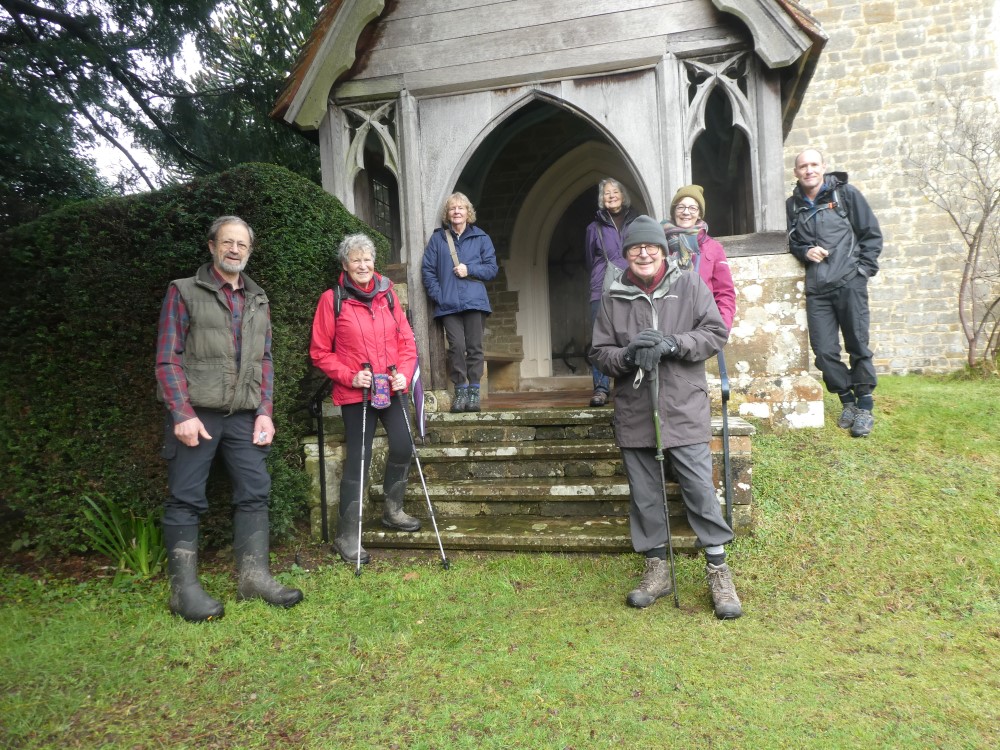 West Lavington church porch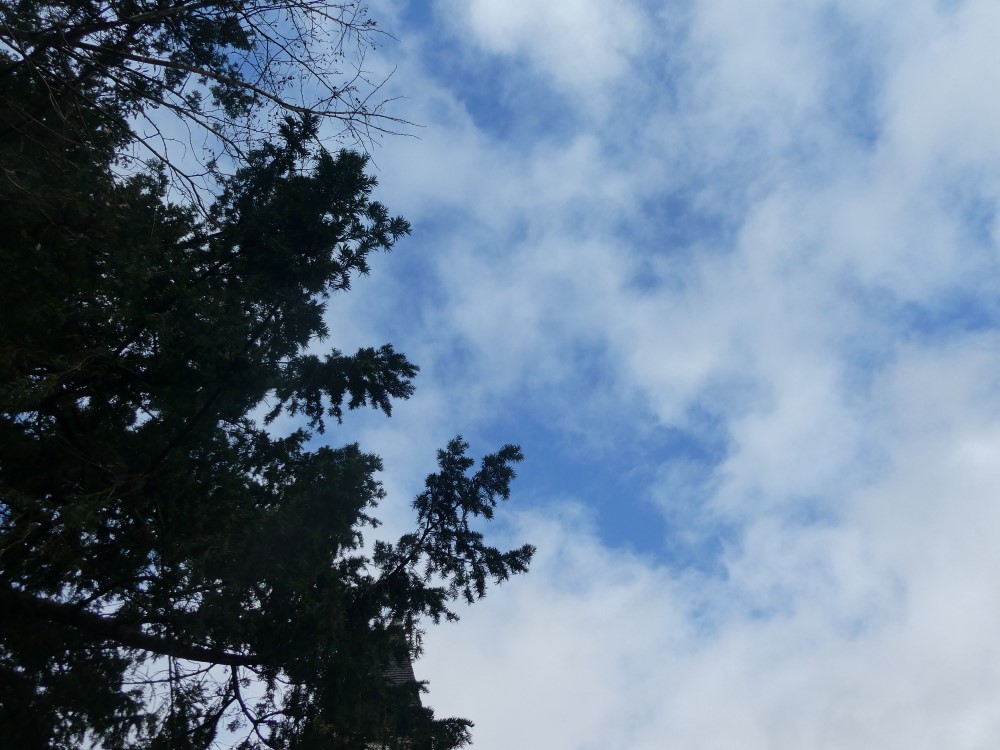 We had blue skies but the sun struggled to appear.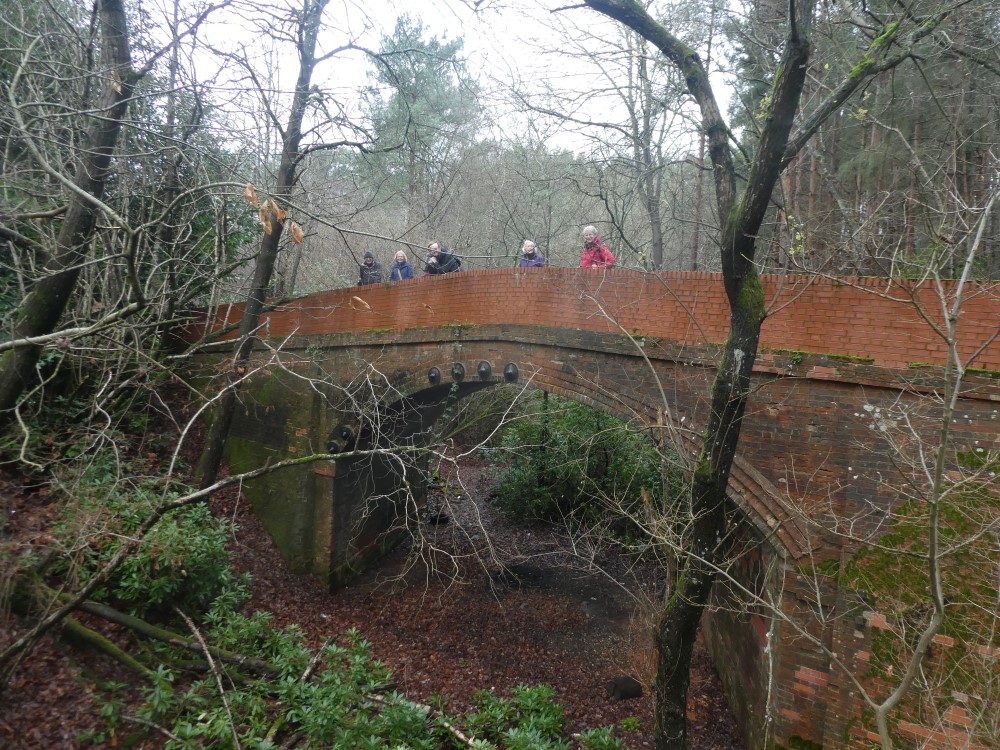 Pulborough trains ran under this bridge.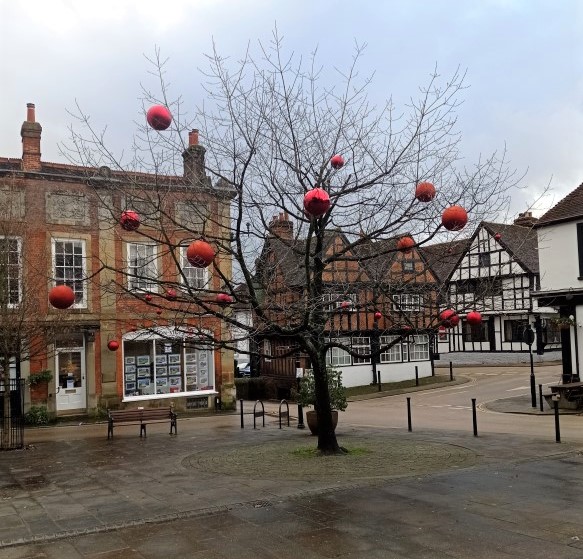 Market Square decorations.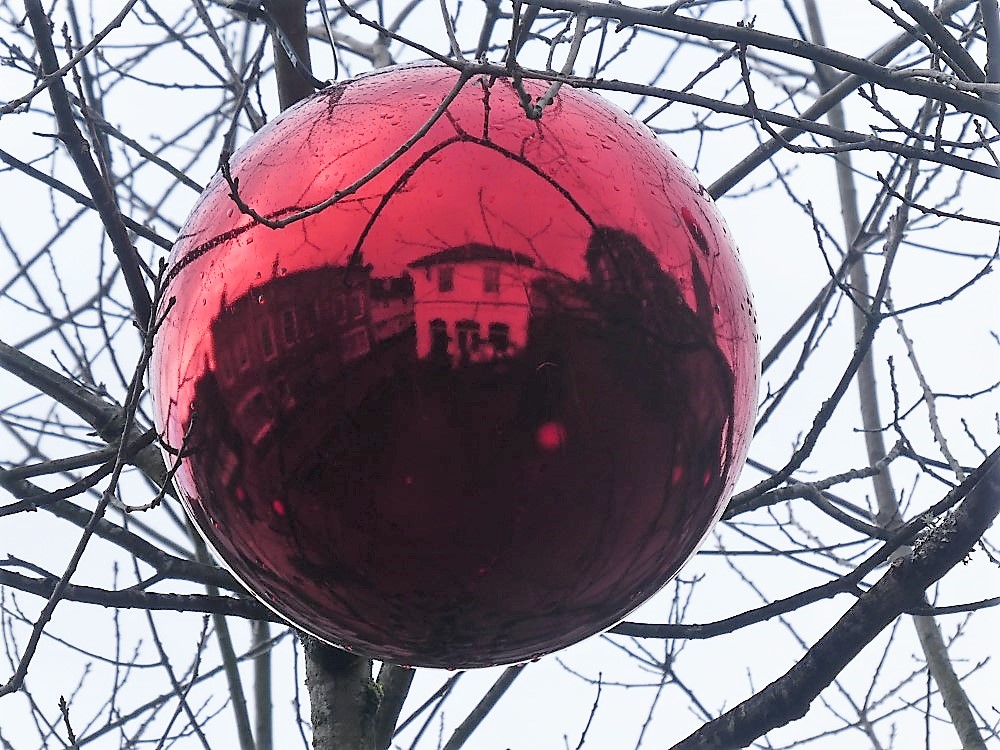 Old Town Hall, upon reflection.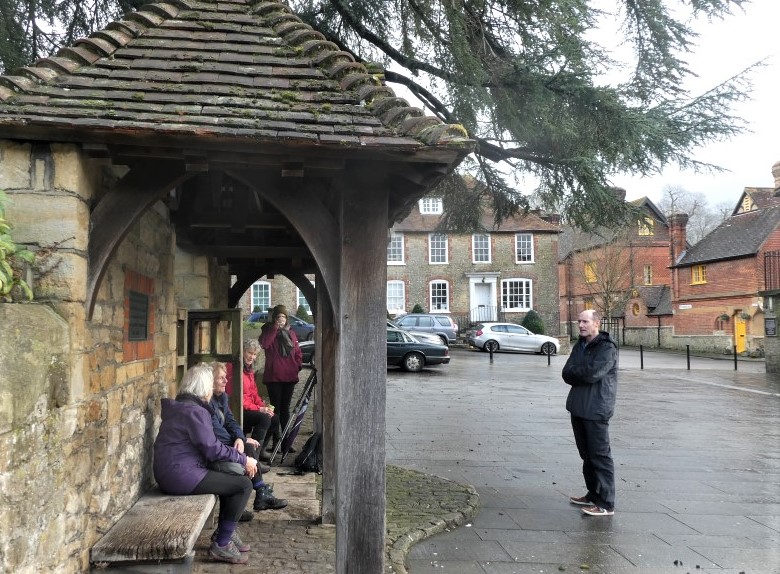 End of a pleasant 4 miles
---
Isabel led a small bubble up to Grevatts via The Race and Easebourne Playground and then through the woods, stopping at the black huts for coffee and a few Christmas nibbles. We continued on towards Whitters Copse before turning South across the fields back to Easebourne with some fine views of distant South Downs on the way. The rain didn't start until after our snack and it could have been a lot worse.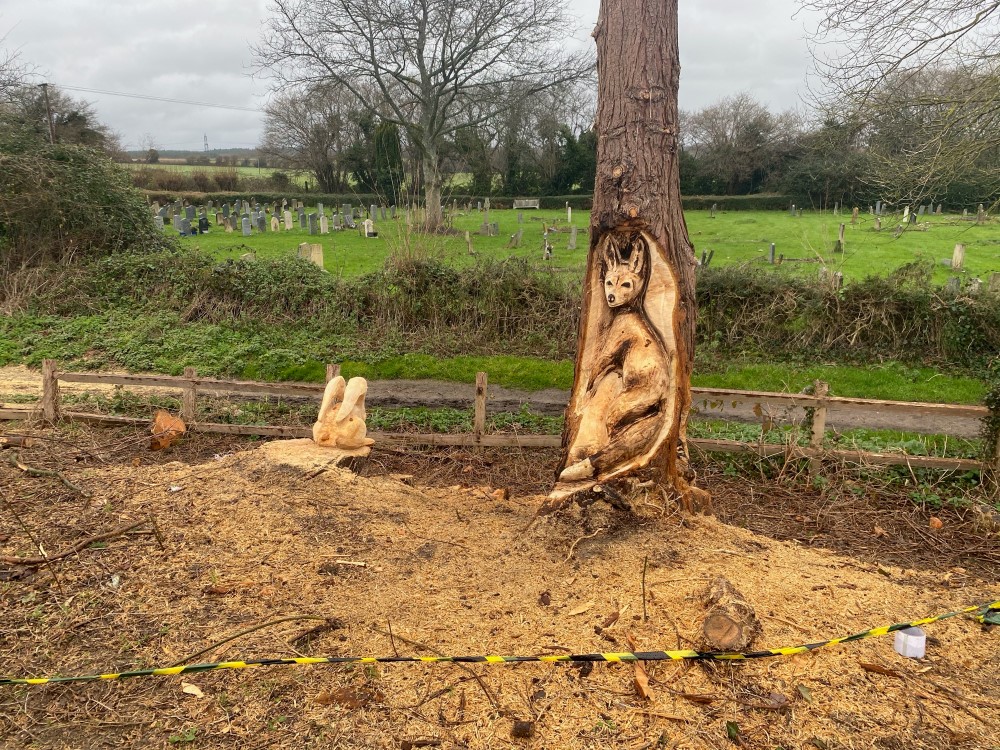 Some brilliant tree carving in Easebourne Playground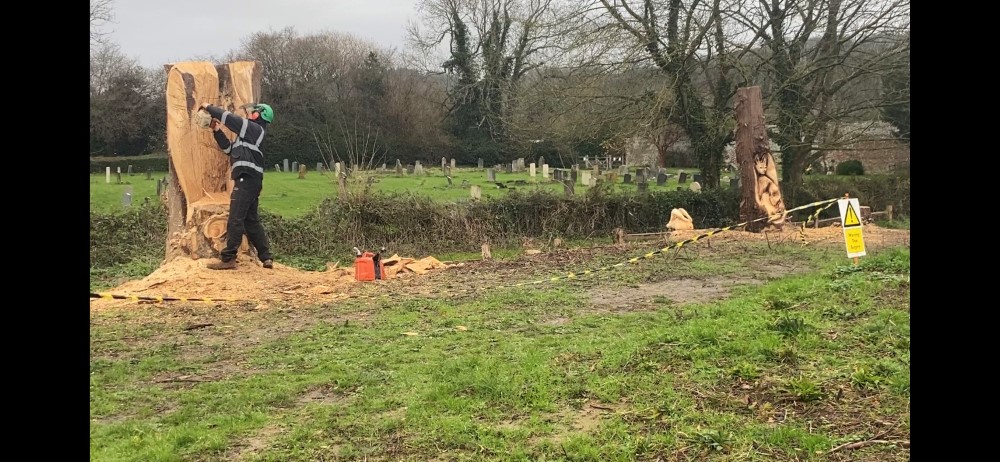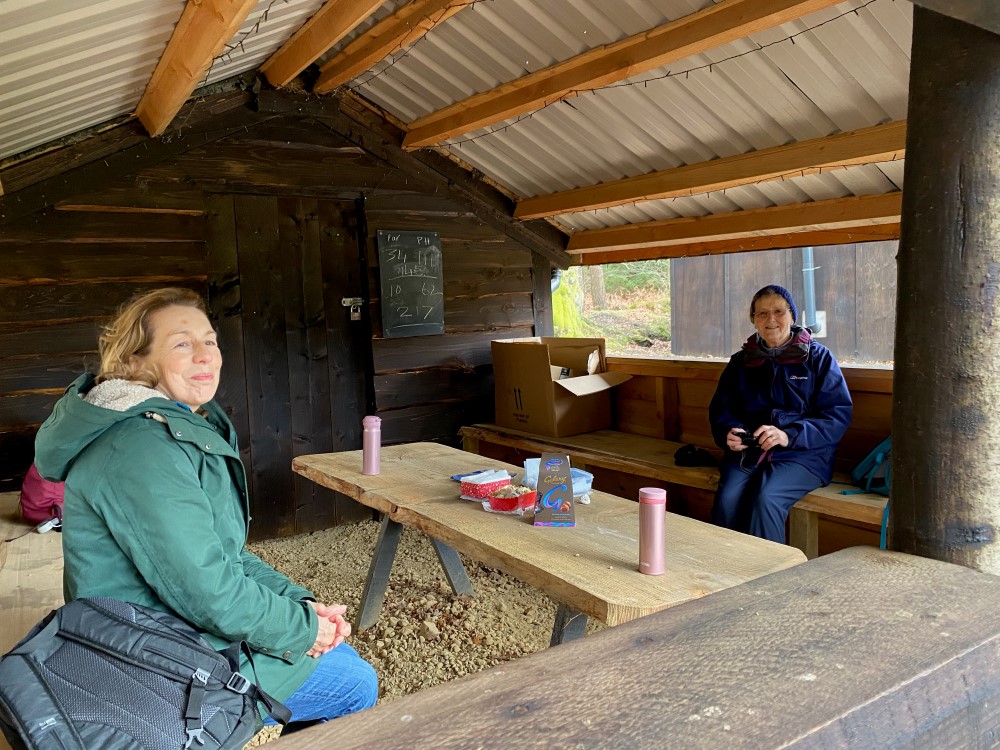 Nice distancing!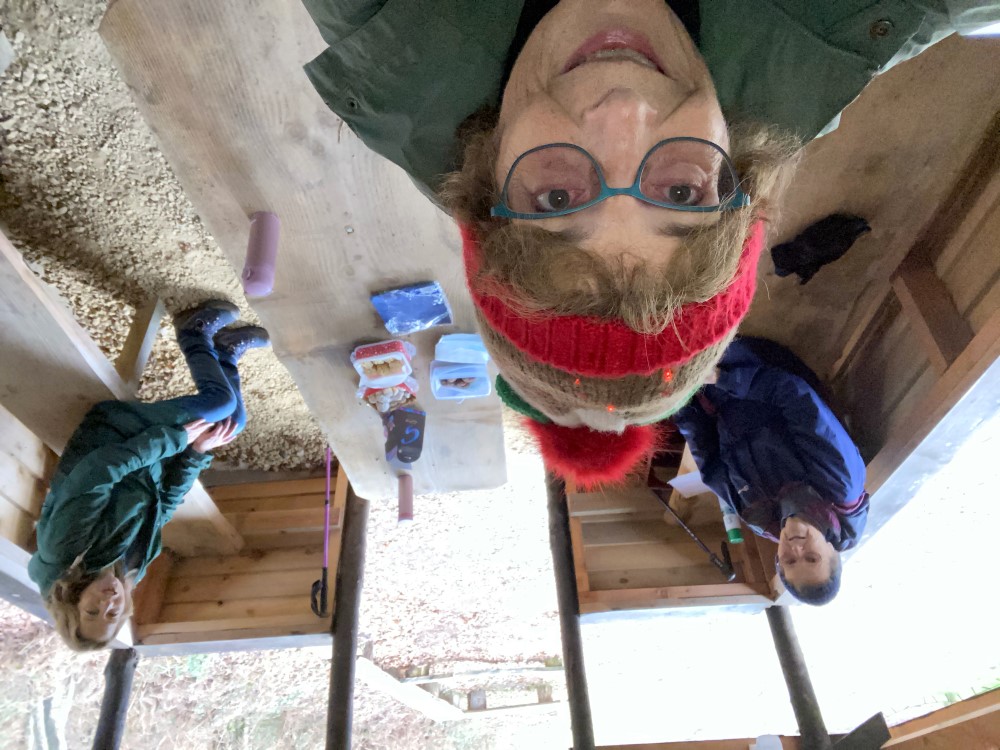 Could be a selfie?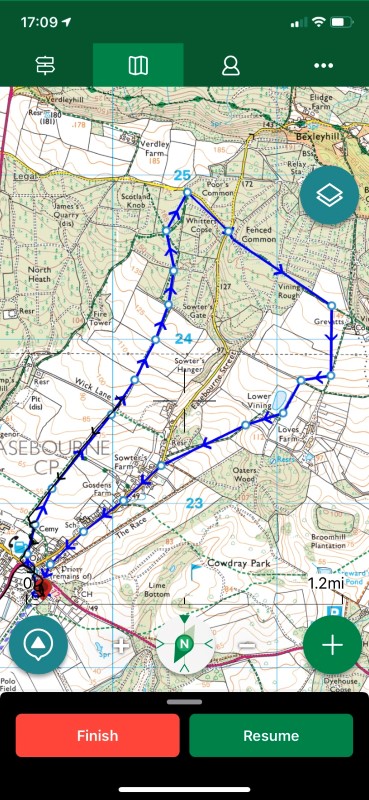 Not really the true track, but something similar. About 5 miles.
_______________________________________________________________________________
_______________________________________________________________________________
Tim was very grateful for additional guidance from Marian, Linda and Maddie for a Christmas walk over the Midhurst commons. We started off from Carron Lane and then headed for the old station and the back of Midhurst Brickworks old home. From there we meandered past the disused pit ponds of Midhurst Common until we reached the Severals Road. There were a few tricky, muddy paths and puddles to negotiate before reaching Minsted Road but apart from the odd car or van, we could then walk without watching every step! Quags Corner was a set of interesting cottages we passed on the way to Woolmer Bridge from where we went through the Severals again to reach our coffee spot up on Sunset Hill on Midhurst Common. Mary produced some seasonal nips and many other people produced amazing amounts of mince pies, biscuits, lebkuchen, chocolates and stollen to make it seem like a normal Christmas, less the hugging! Luckily after all the food, it wasn't far from the car park. About 4 miles.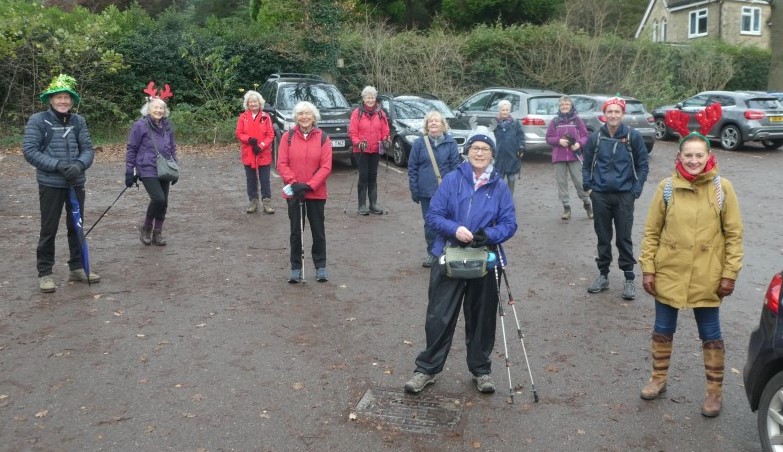 Starting out.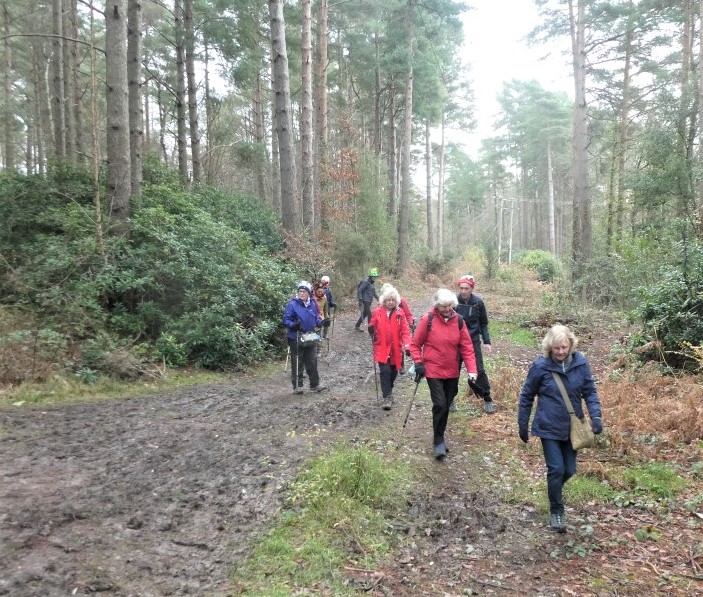 Stepping out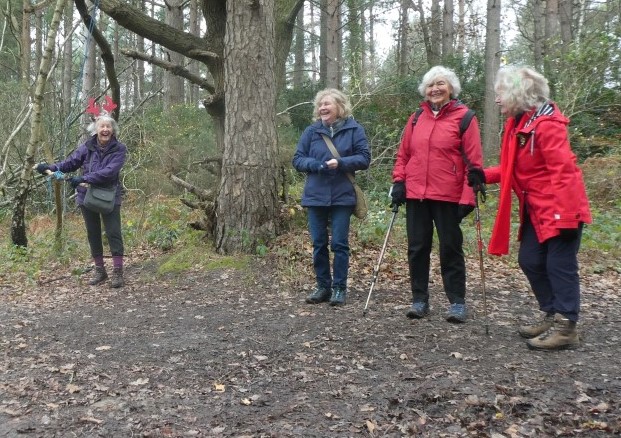 Marian going for a swing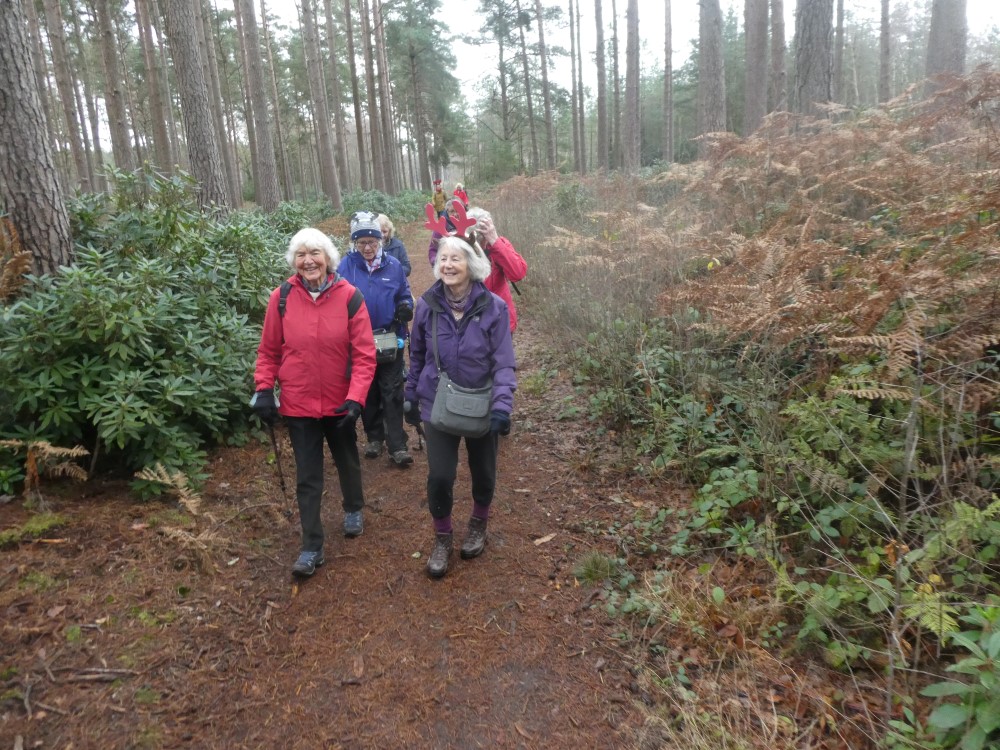 Severals woods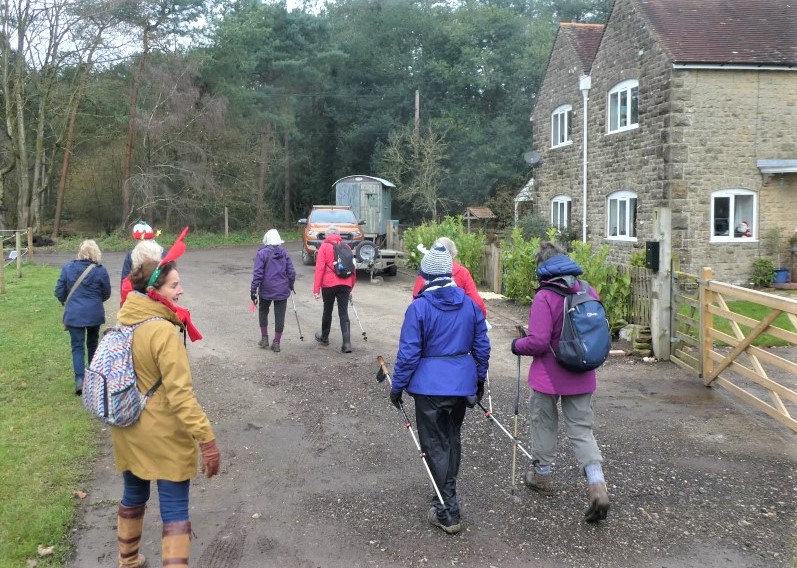 Near Minsted Farm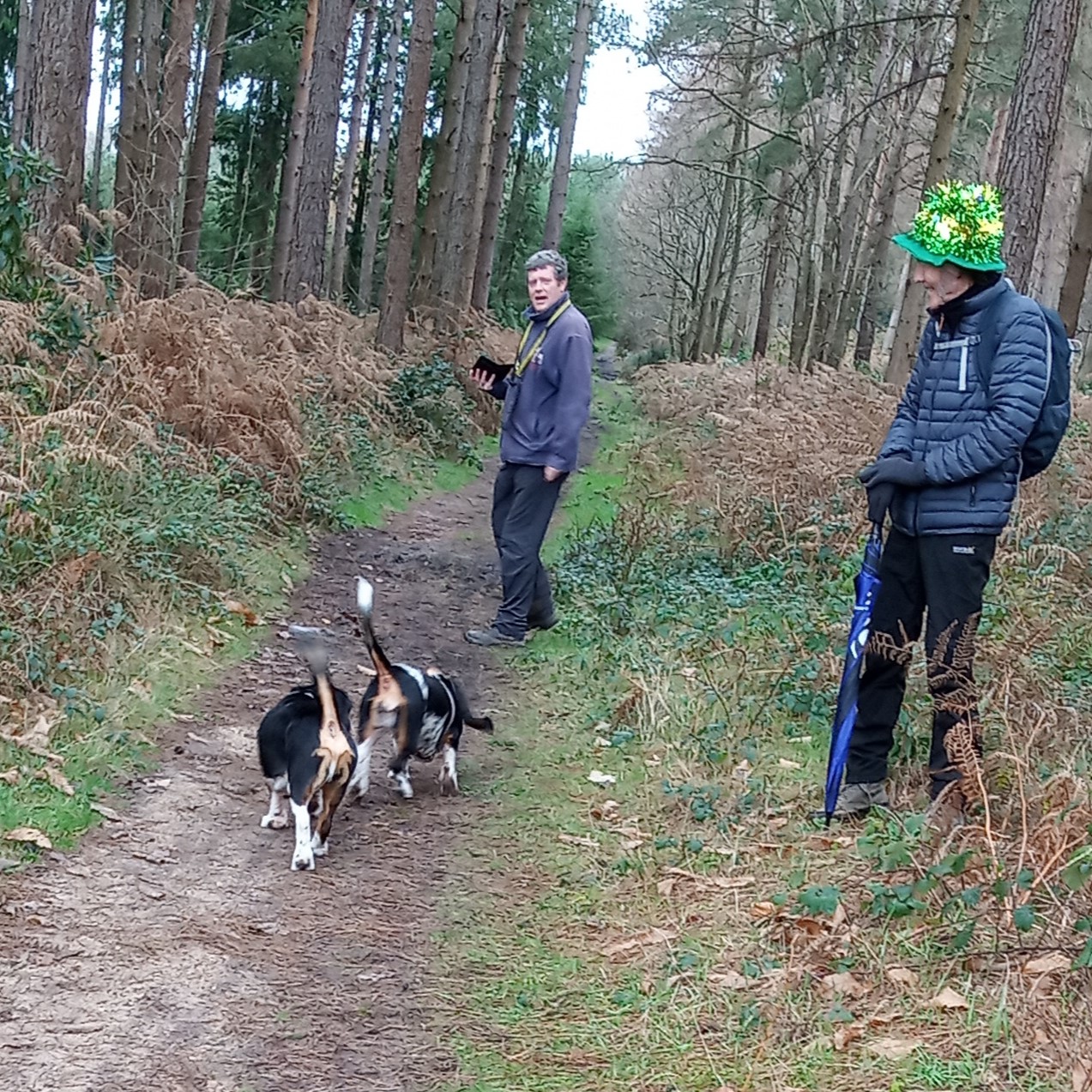 Friendly dogs welcomed us back to Midhurst Common.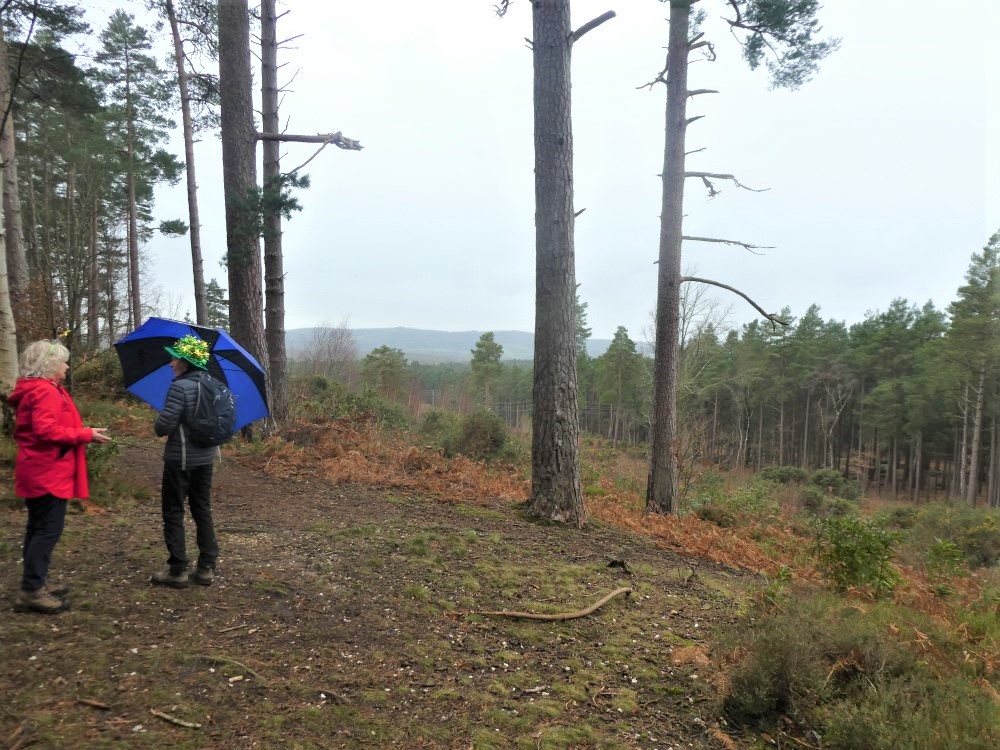 Picnic spot with a view of the misty South Downs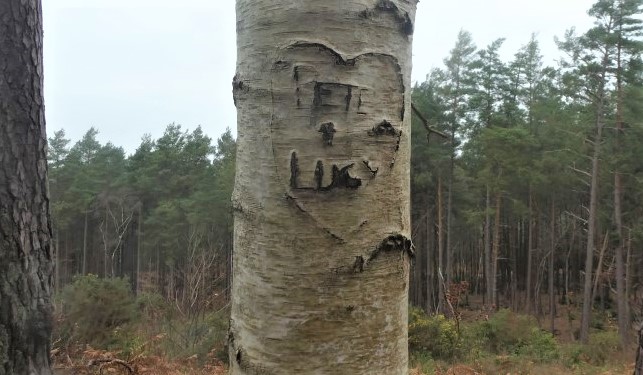 I wonder.......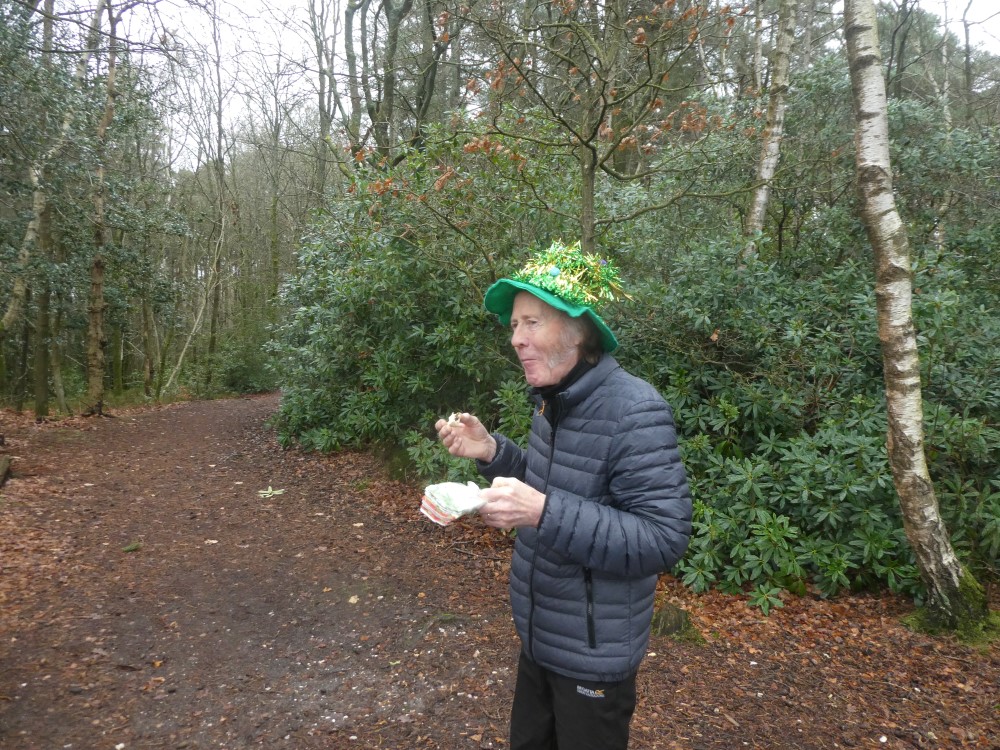 Oooooow, that's nice.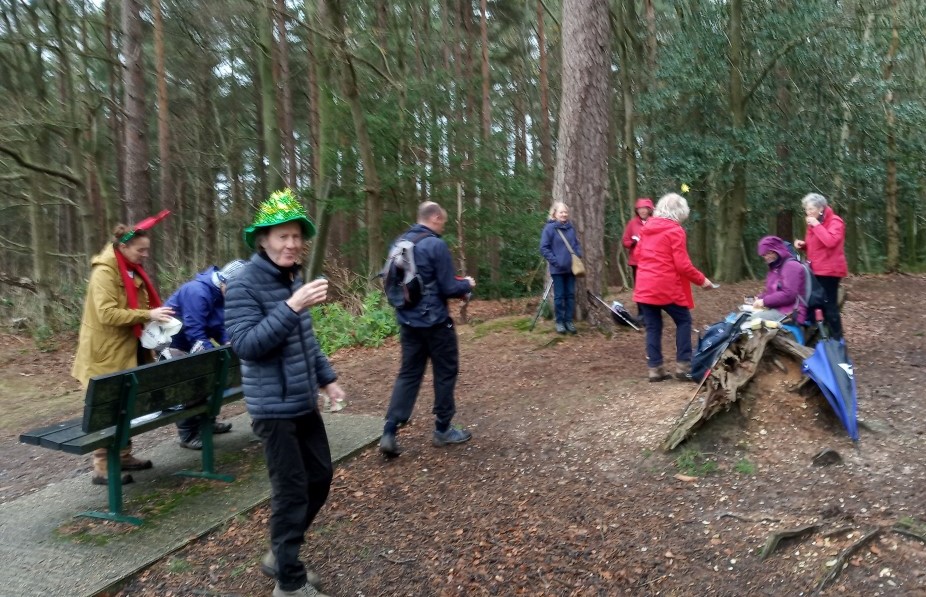 The rain didn't stop play.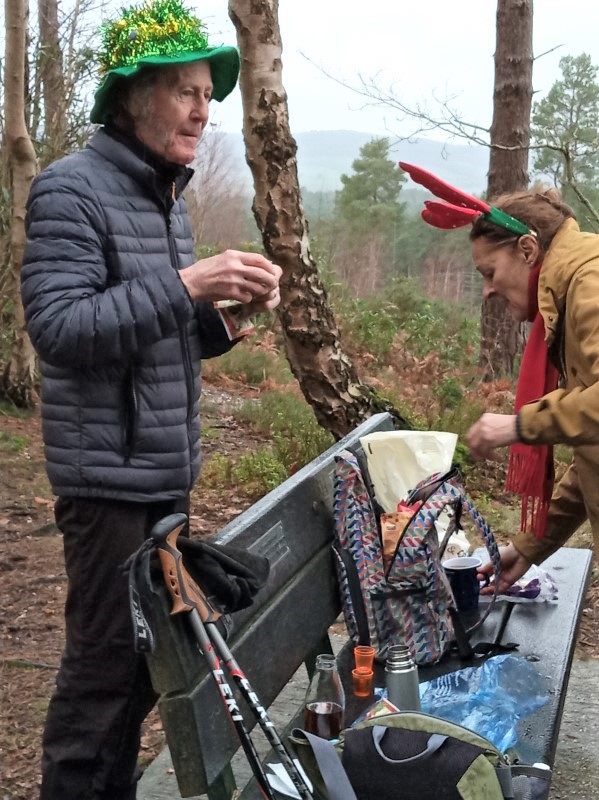 Drinks bar for the day.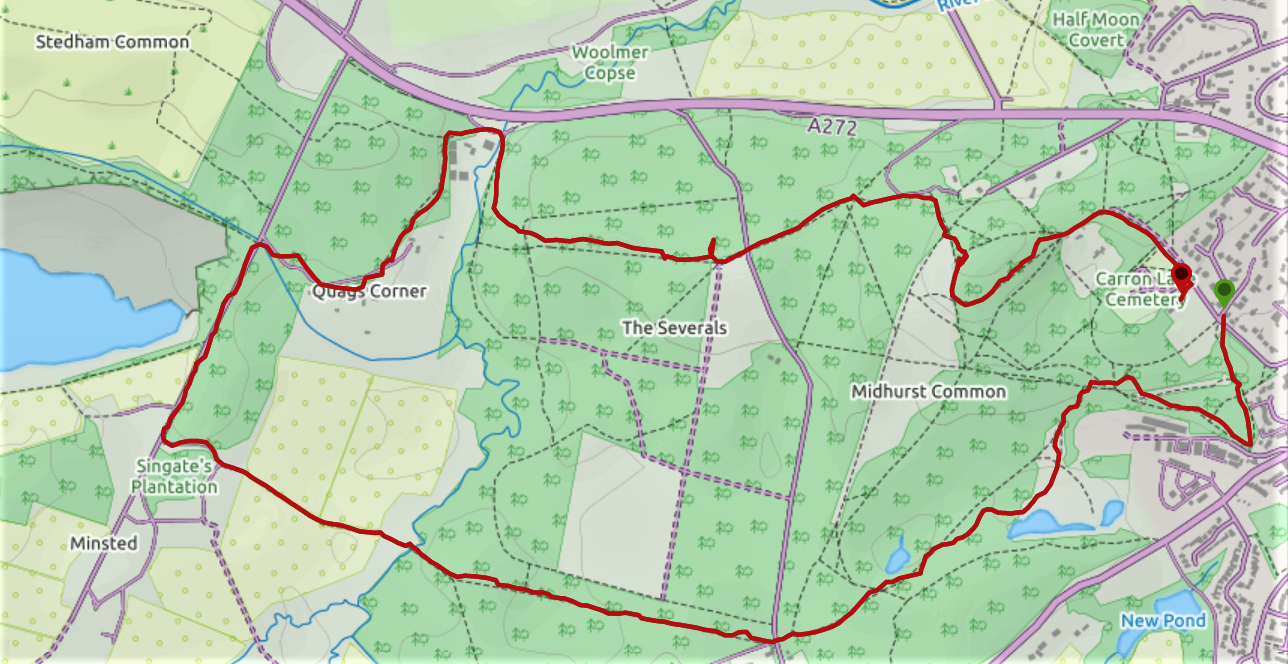 About 4 miles.
---
Celia and Miguel's walk began at the junction of Bepton Close and Pitsham Wood. We walked along the Jubilee Path to South Pond, down through the Wharf and via Cowdray to the Rother Path. After reaching Woolbeding ,we then went through Midhurst Common back to our starting point. We were pleased to have better weather with no rain or fog.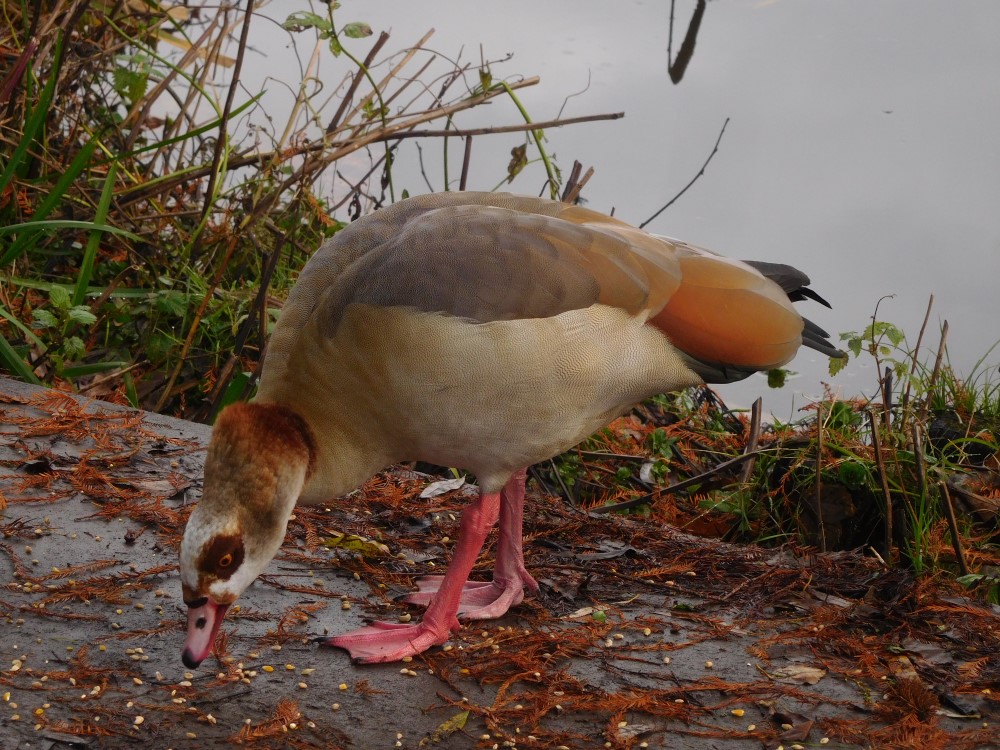 Egyptian goose. Once sacred in Egypt, in the United Kingdom in 2009, it was officially declared a non-native species. Accordingly, Egyptian geese in Britain may be shot without special permission if they cause problems.
Wharf bridge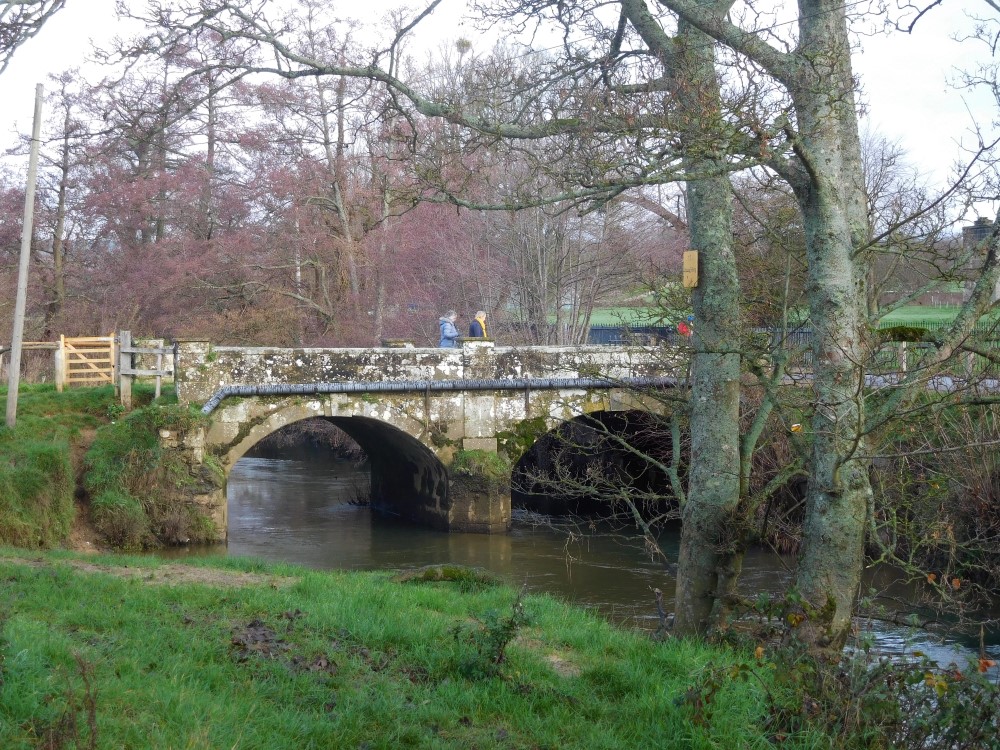 C18th Cowdray House bridge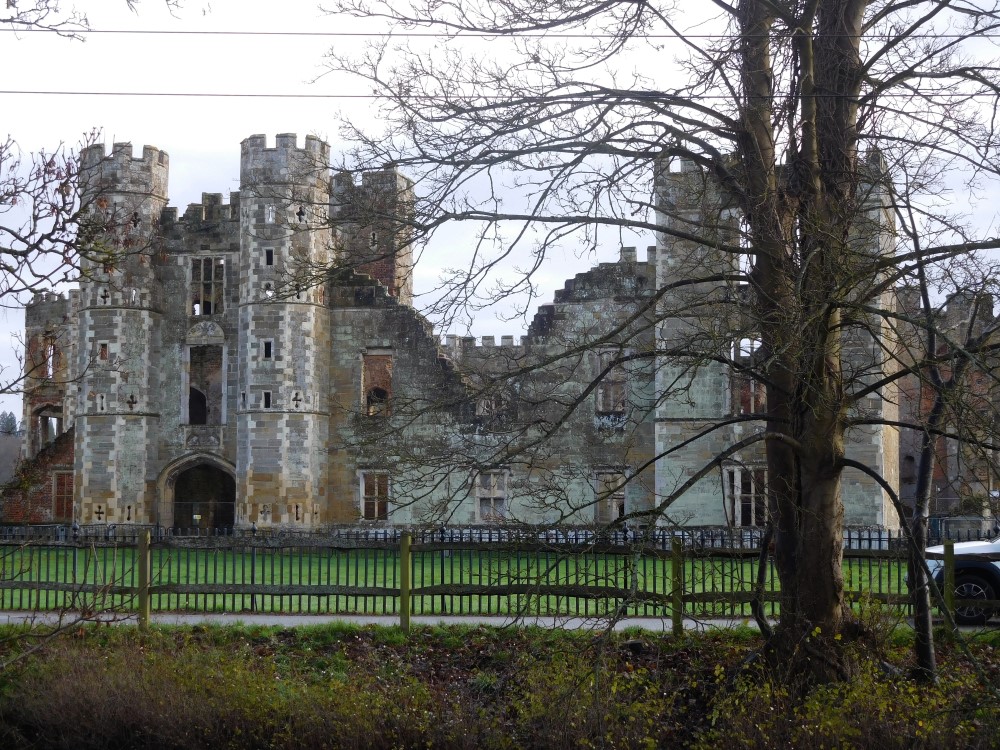 Cowdray House, visited by Henry VIII, Edward VI and Elizabeth I before it burnt down in 1793.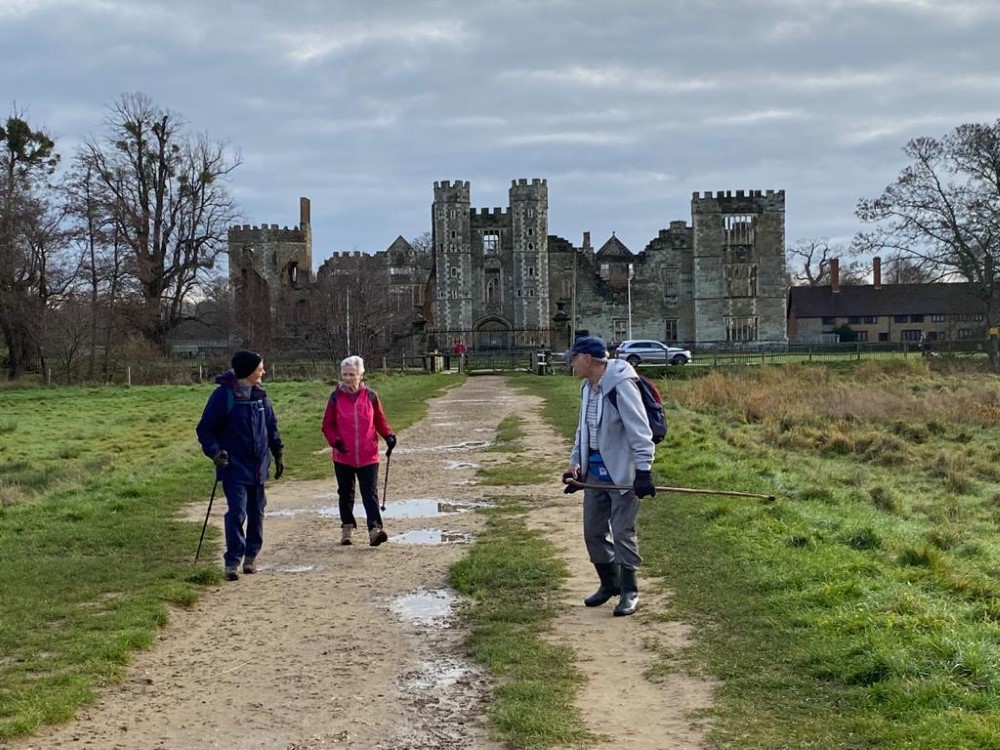 "But didn't Mary Queen of Scots also visit there" - "Not too sure but her mother did when Mary was a child in 1551"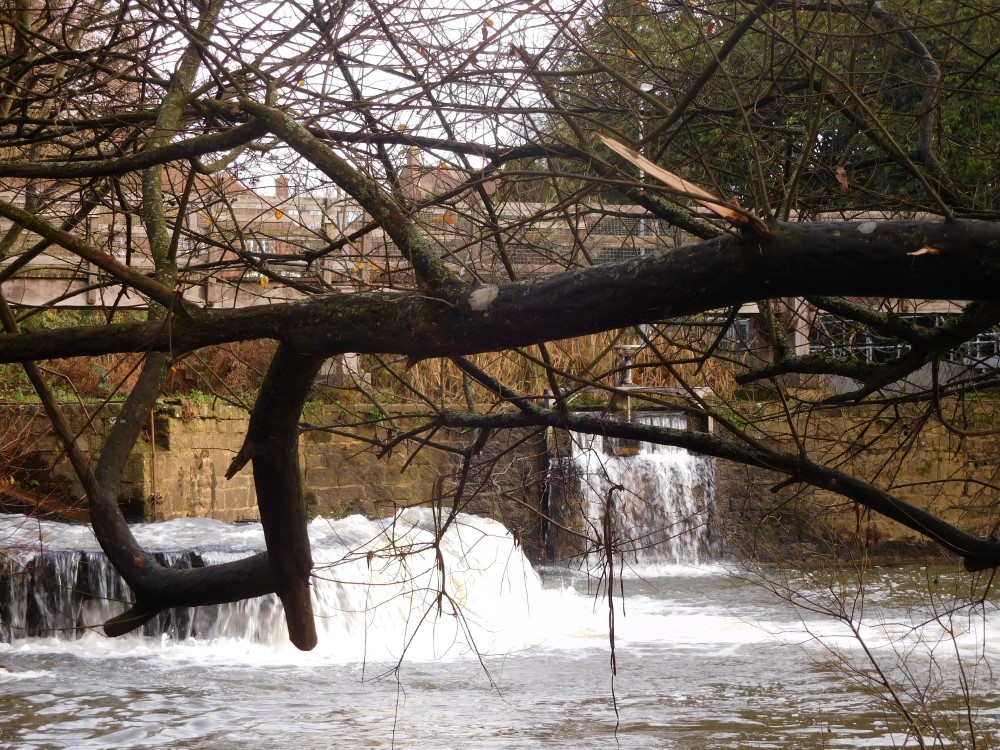 Mill Bridge weir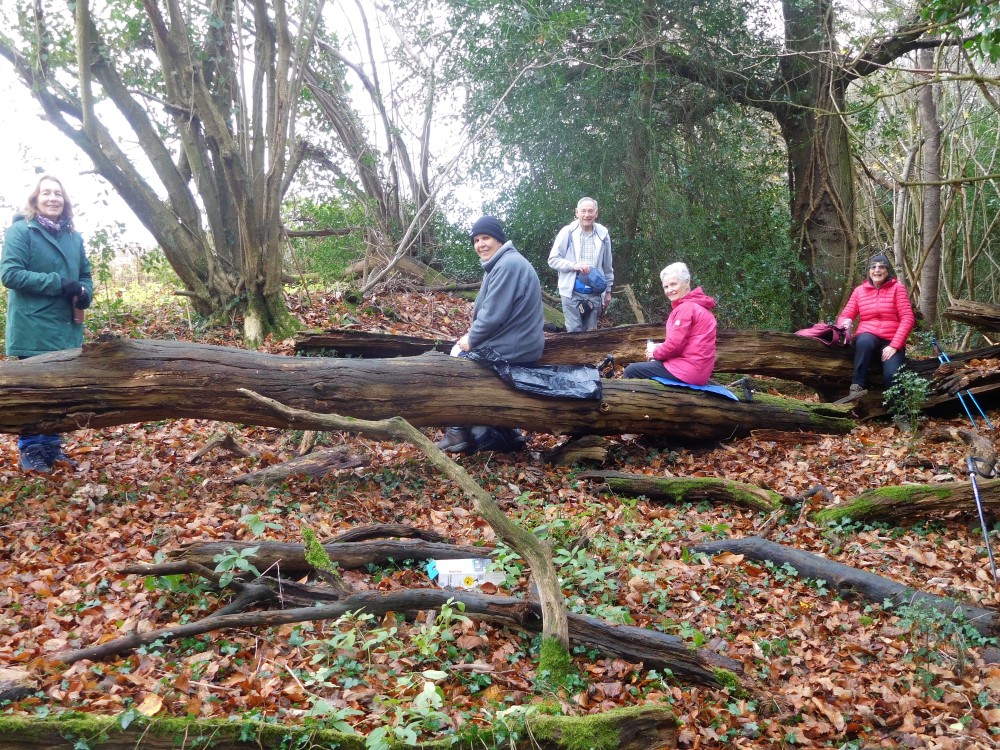 Coffee time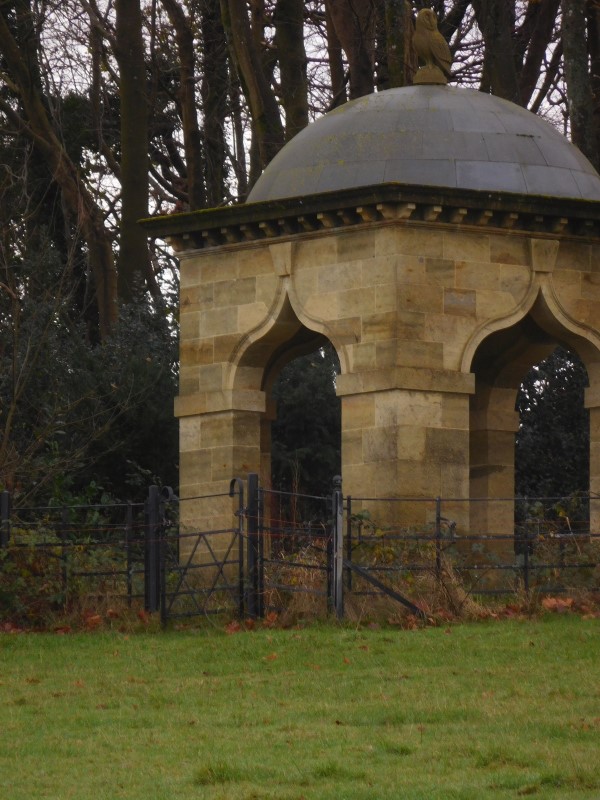 Woolbeding folly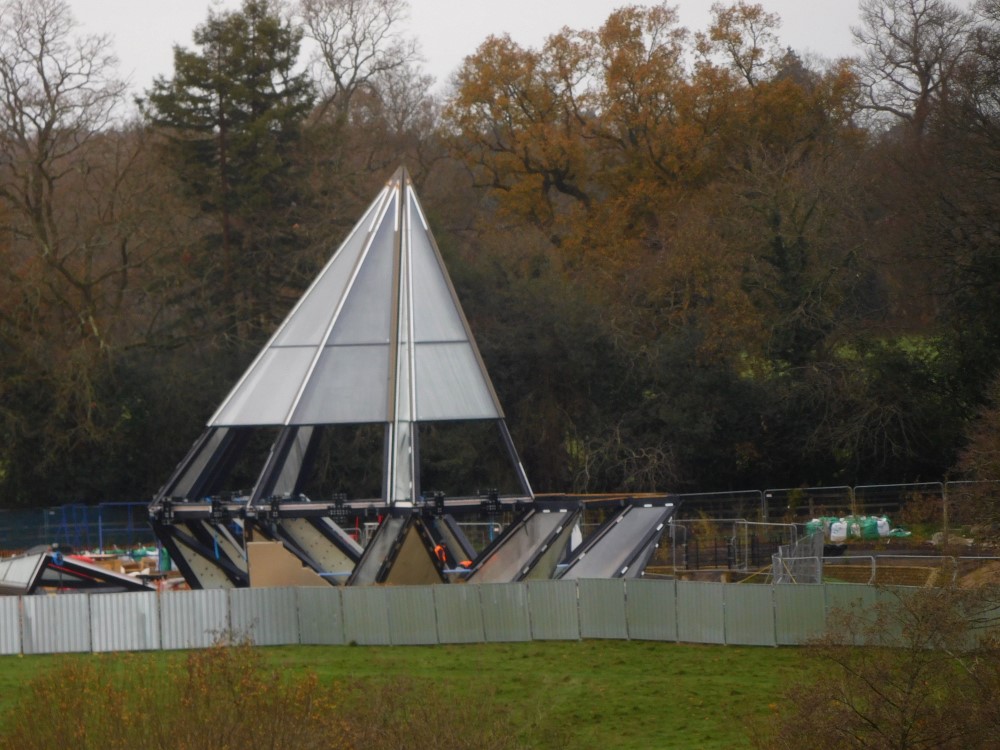 Construction at Woolbeding -- a new ten sided "kinetic" glasshouse set in a specially landscaped series of garden zones, will exhibit flowers, trees and shrubs that depict the key regions of the Silk Route. This route from Asia to Europe was used to bring many plants that characterise English gardens and parks. It should be ready to be open to the public next Spring. We met the couple who live next door to the gardens who are worried about all the visitors who may turn up to see this new addition.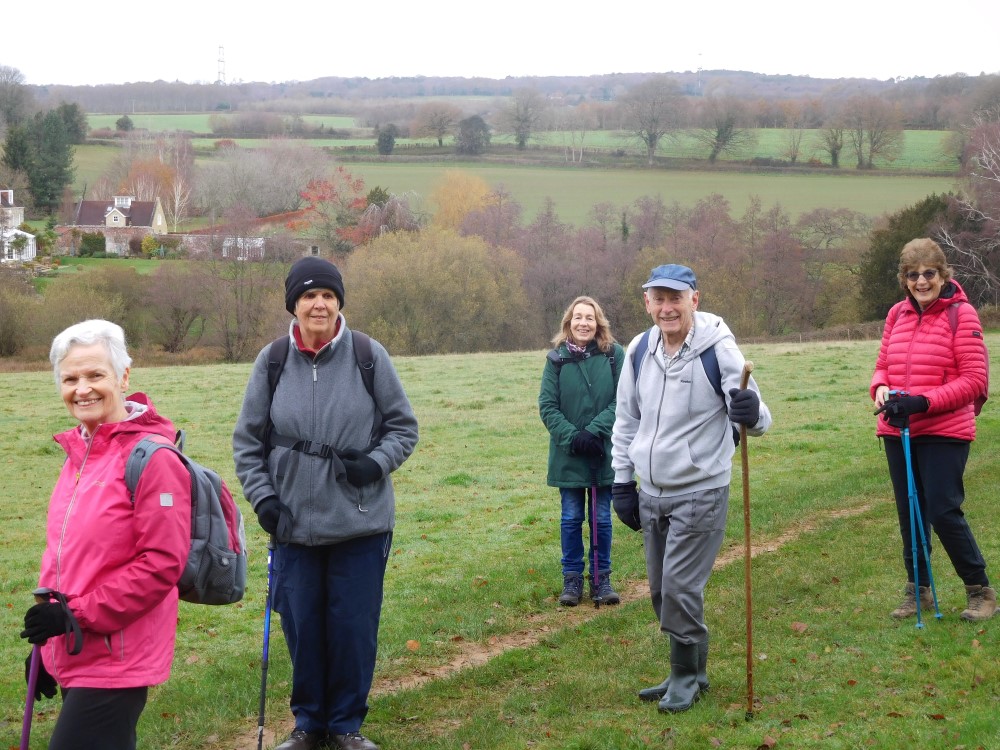 On the downhill stretch and hoping that the cows and, more especially the bull, will let us go through the open gate area where they were all gathered together!
____________________________________________________________________________________
____________________________________________________________________________________
Marian and Tim's walk started from the Causeway Car park and after being joined by guest walker Jennie, took the Rother walk up to Woolbeding. After a look at the huge Greenhouse being erected, we stopped in the grounds of All Hallows church, with a history going back over 1,000 years, Suitably refreshed we took the field route parallel to Hollist Lane before turning up Old Buddington Lane and Buddington Farmhouse. After regaining Hollist lane we headed for the Cowdray Cafe and eventually returned to the car park via the Causeway. The walk was about 5.1/2 miles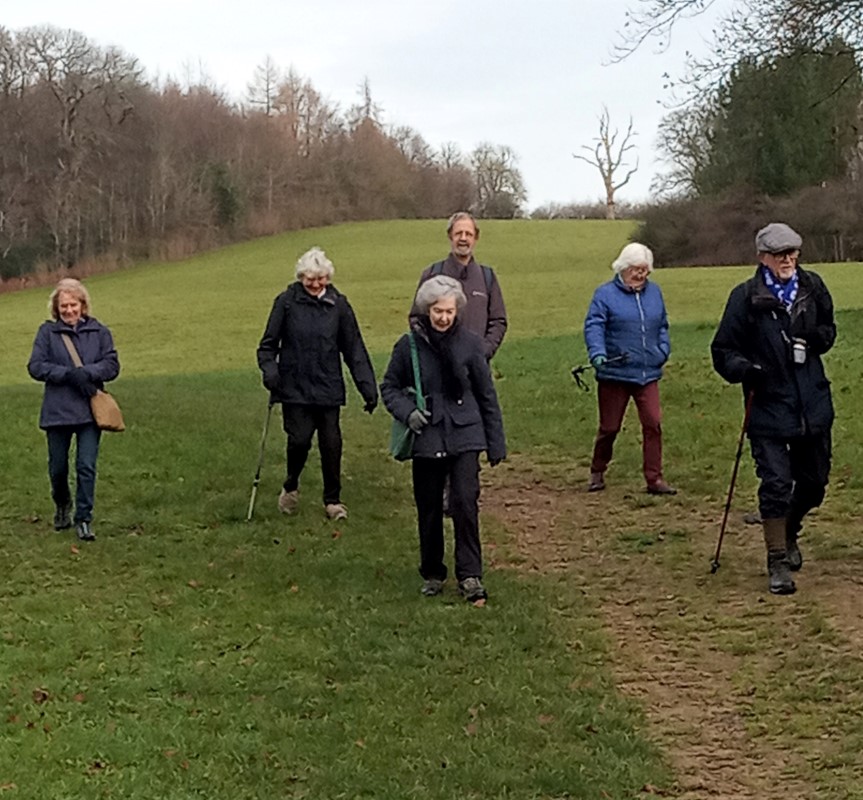 Descending from Whiphill Wood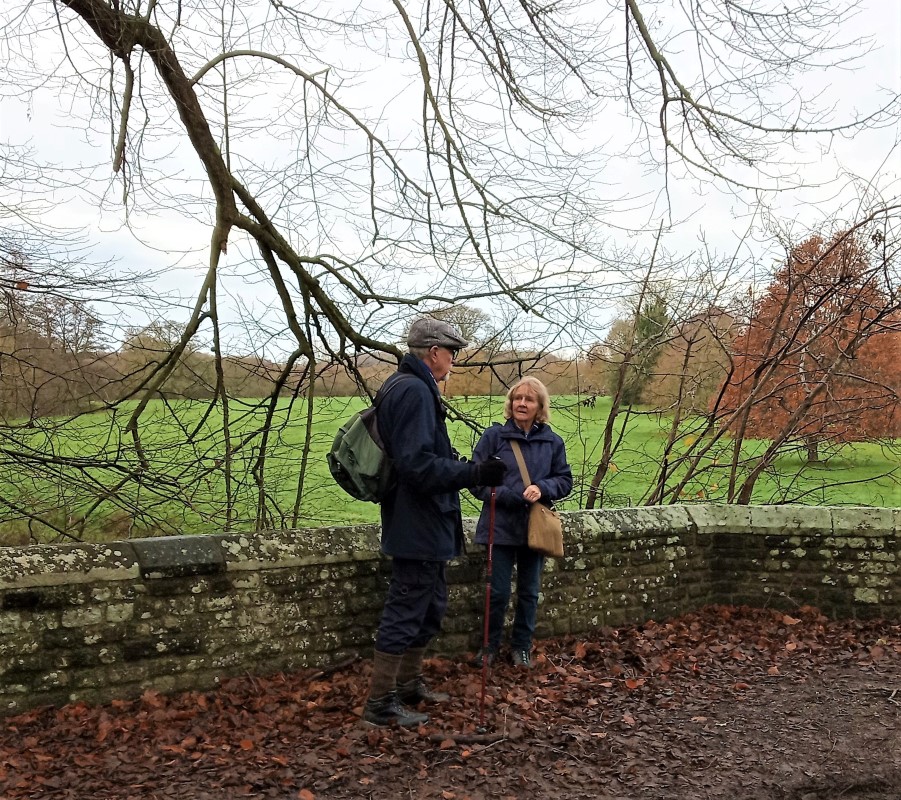 Chatting on Woolbeding Bridge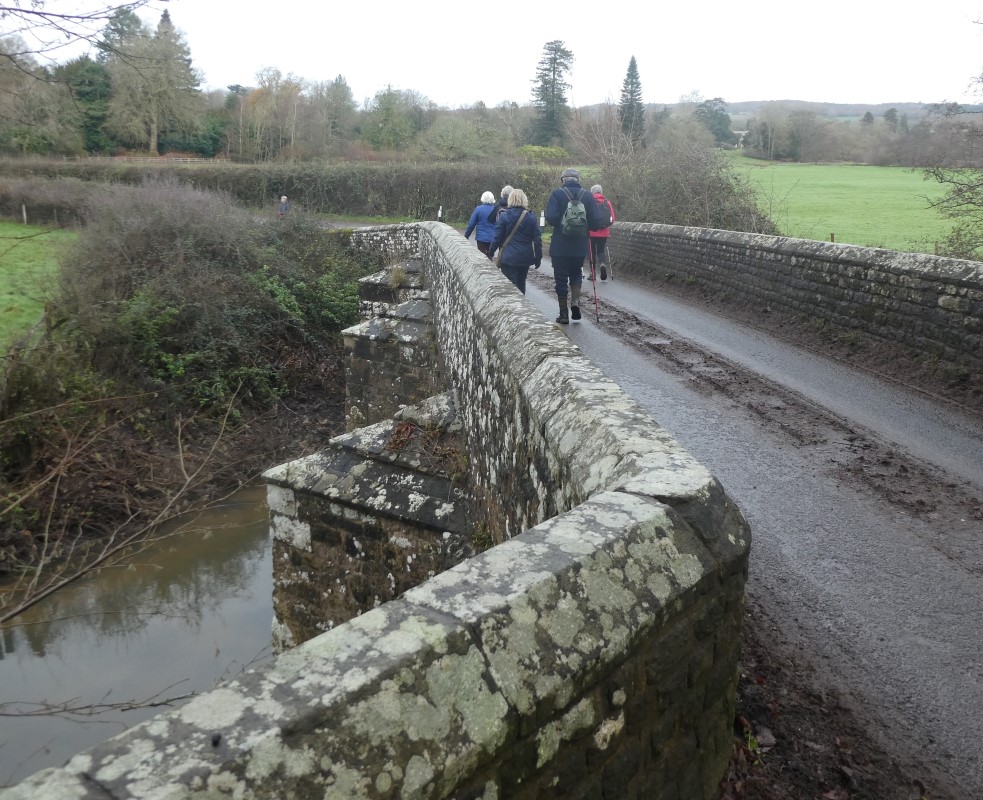 Off we go!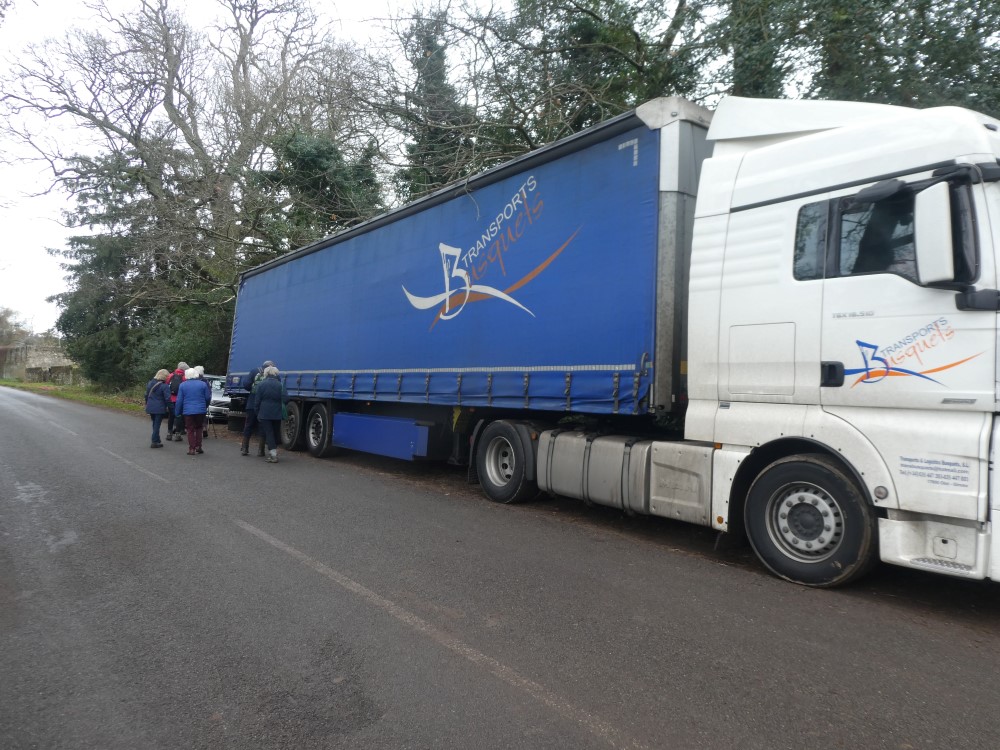 Just checking the tyres on this huge lorry loaded with the glass segments for the greenhouse. There were 2 lorries both had come from Spain.
.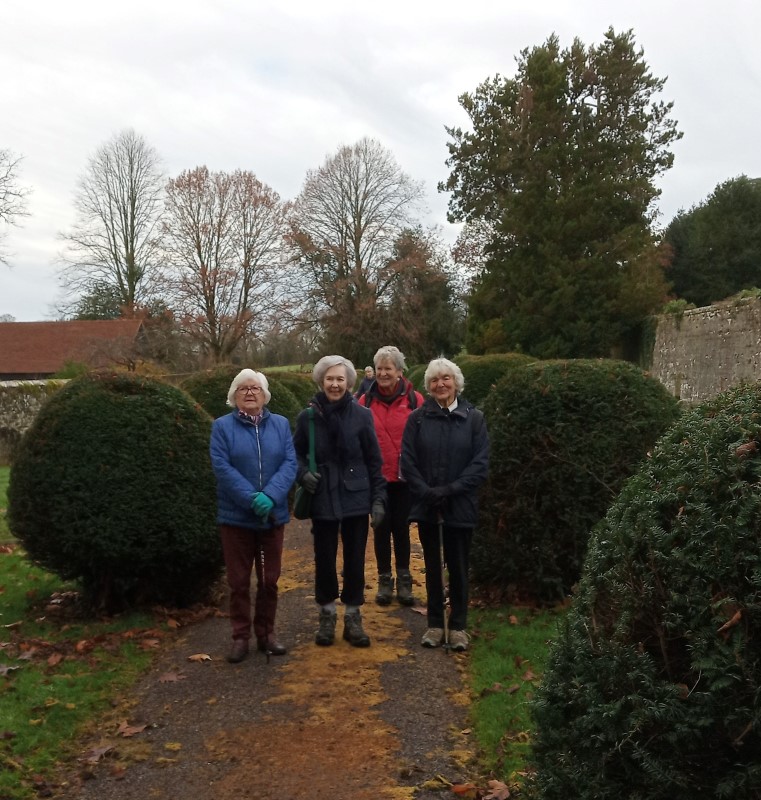 Church path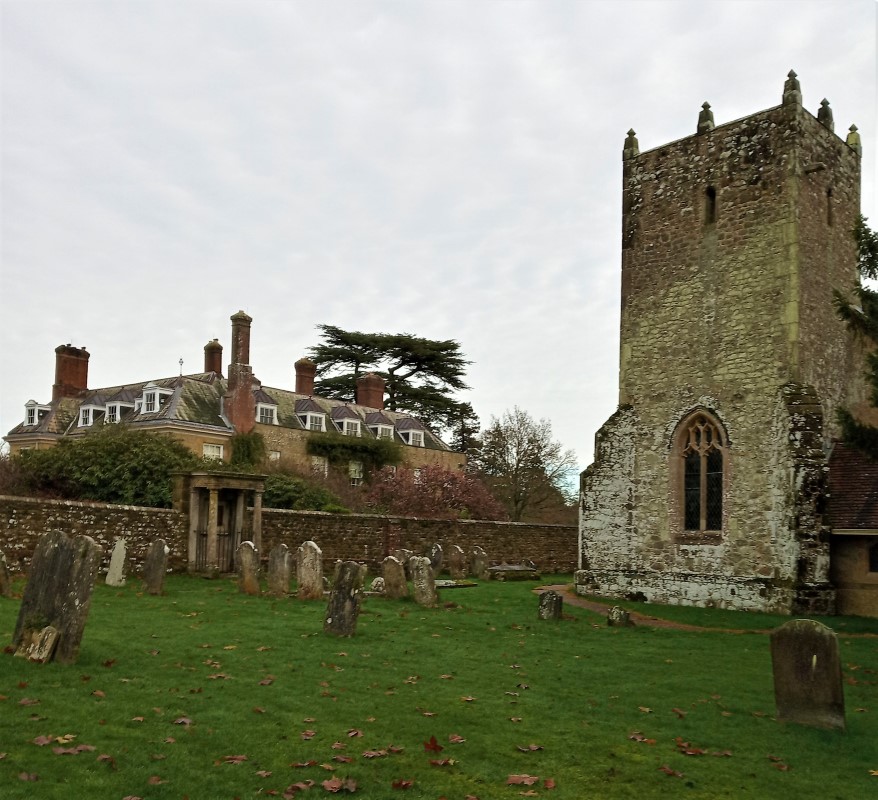 All Hallows Church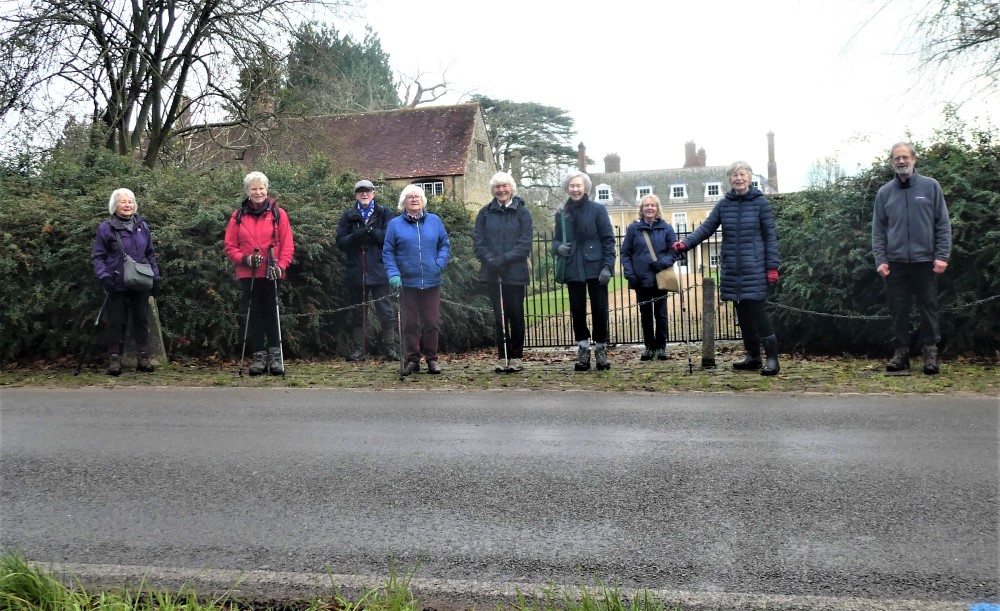 Woolbeding House in the background.
On good authority, this is a GOAT.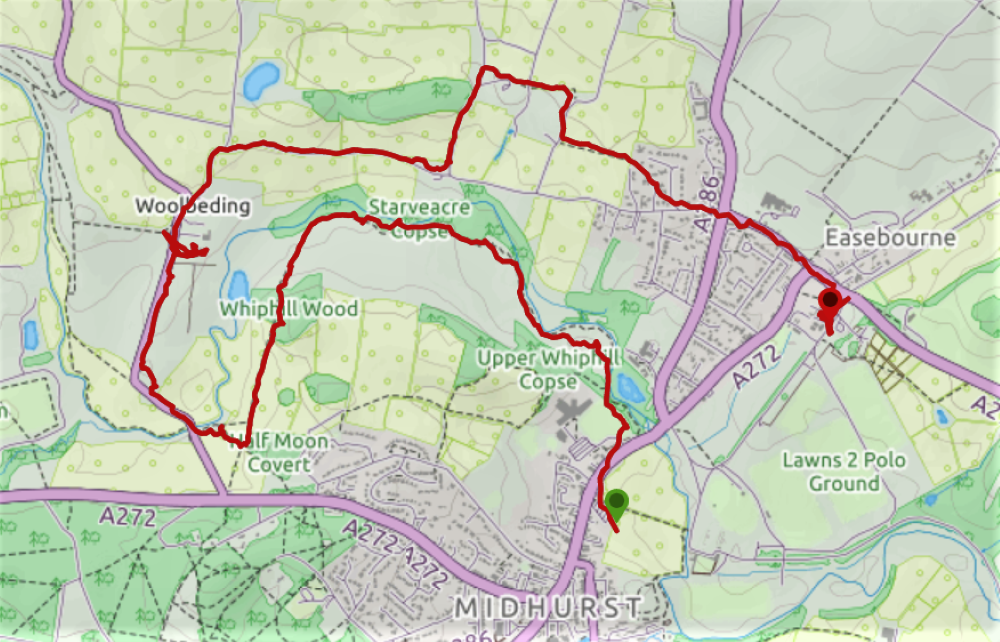 About 5.1/2 miles
_______________________________________________________________________________________
_______________________________________________________________________________________
Peter's bubble walk started at Rogate village hall, then headed up North Street a short distance before branching right following the footpath across a field, then turning left into and up North Street a little then left along Halecommon Lane, branching right onto the footpath to Commonside Road, following the road onto Halecommon and up to Canada Cottage, returning a different route to Slade Lane then left following the footpath to Rogate, through Rogate Church yard into the recreation field, where we REALLY had exercise on the new outdoor gym, great fun had by all. A good relaxing walk with far reaching views, including a detour to avoid cattle movement, about four miles.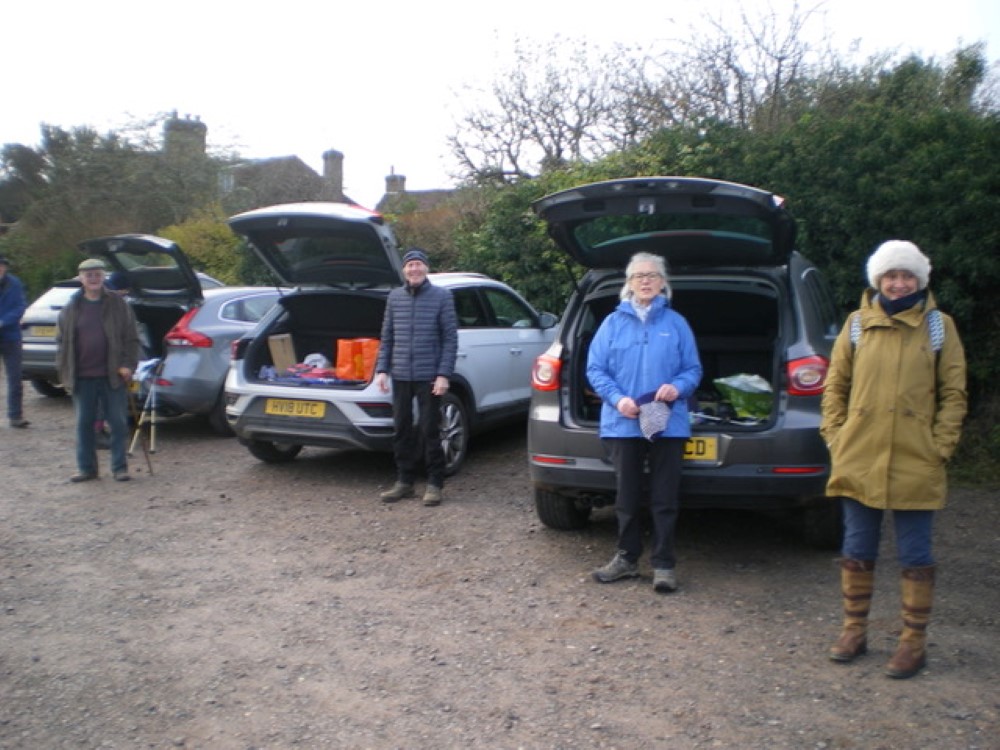 The start at the village car park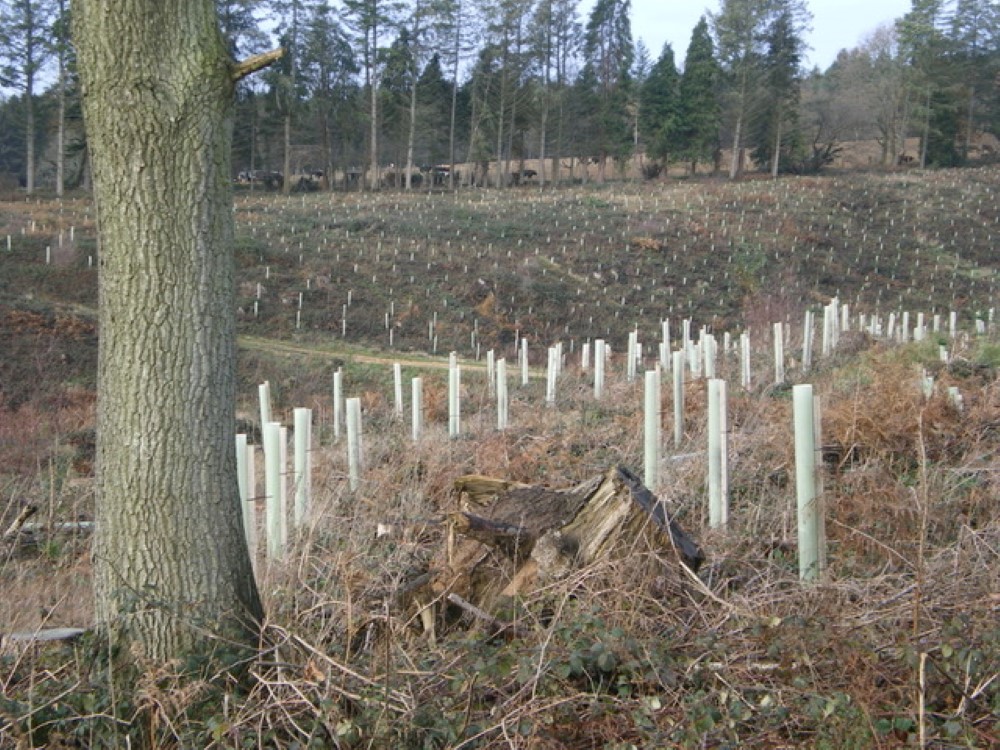 New plantation on Halecommon.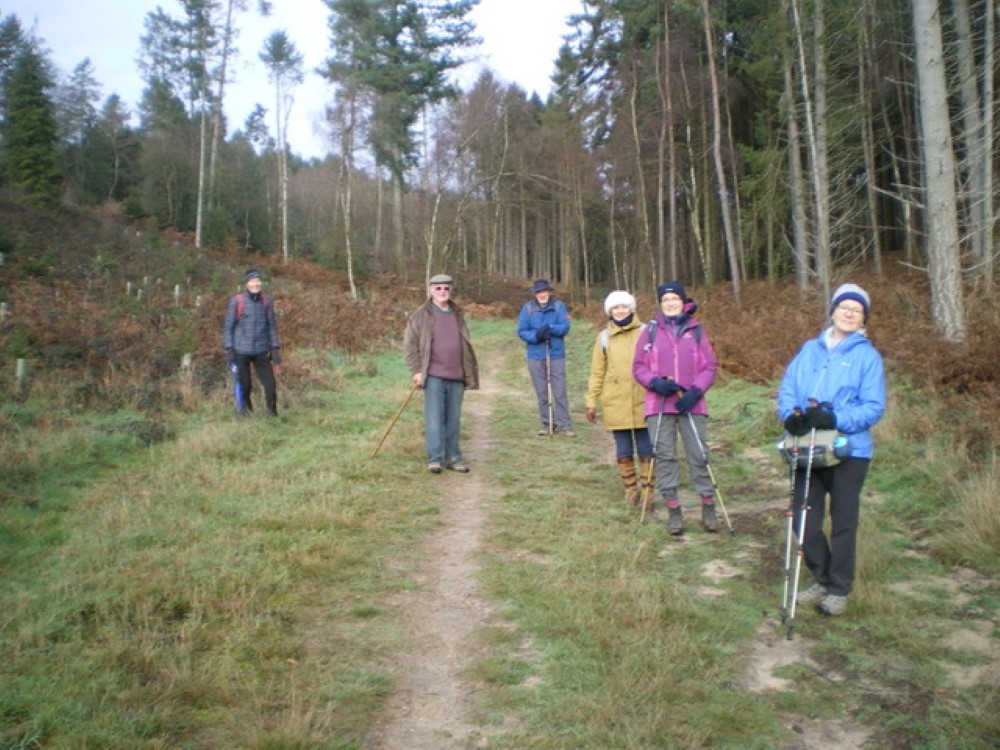 On our way to Canada Cottage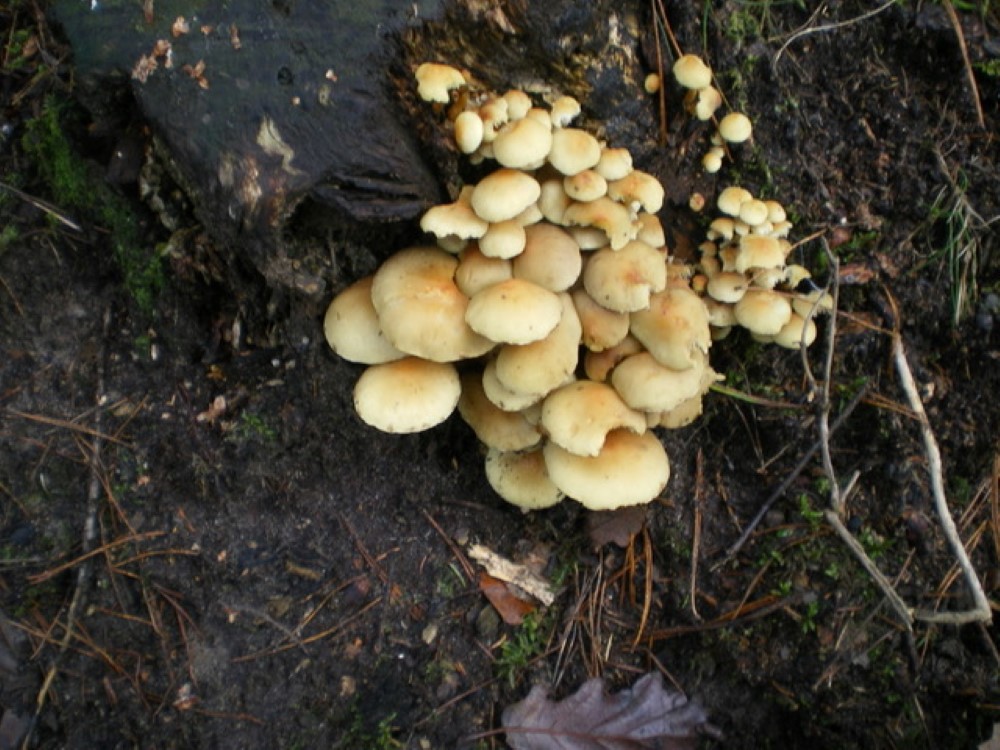 Some FUN GUYS!!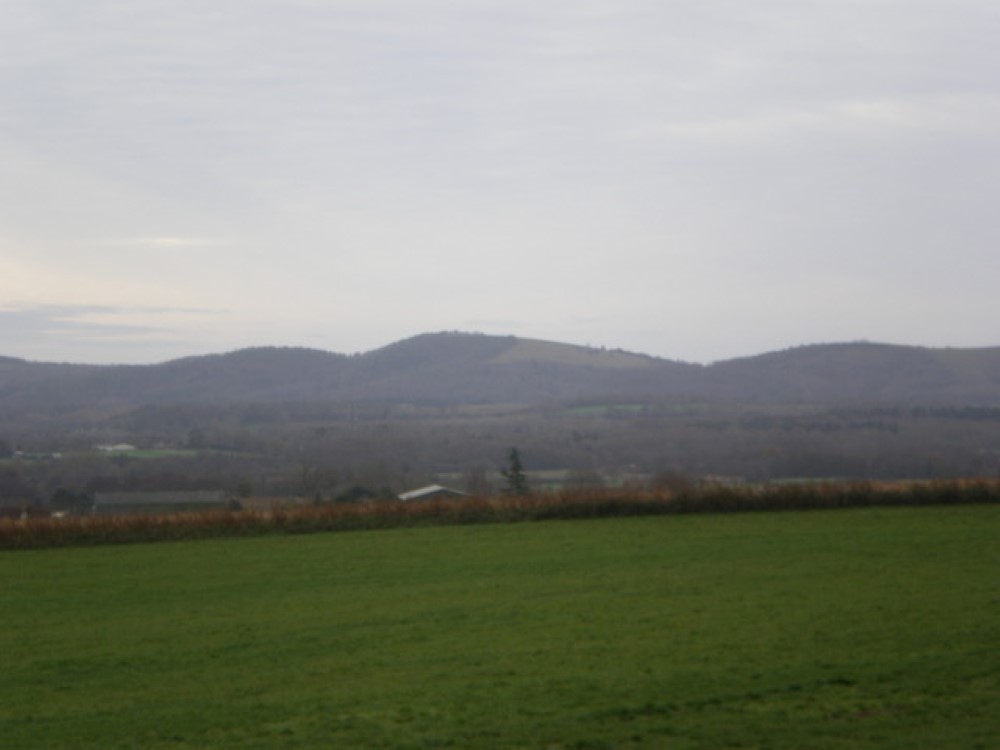 Misty Downs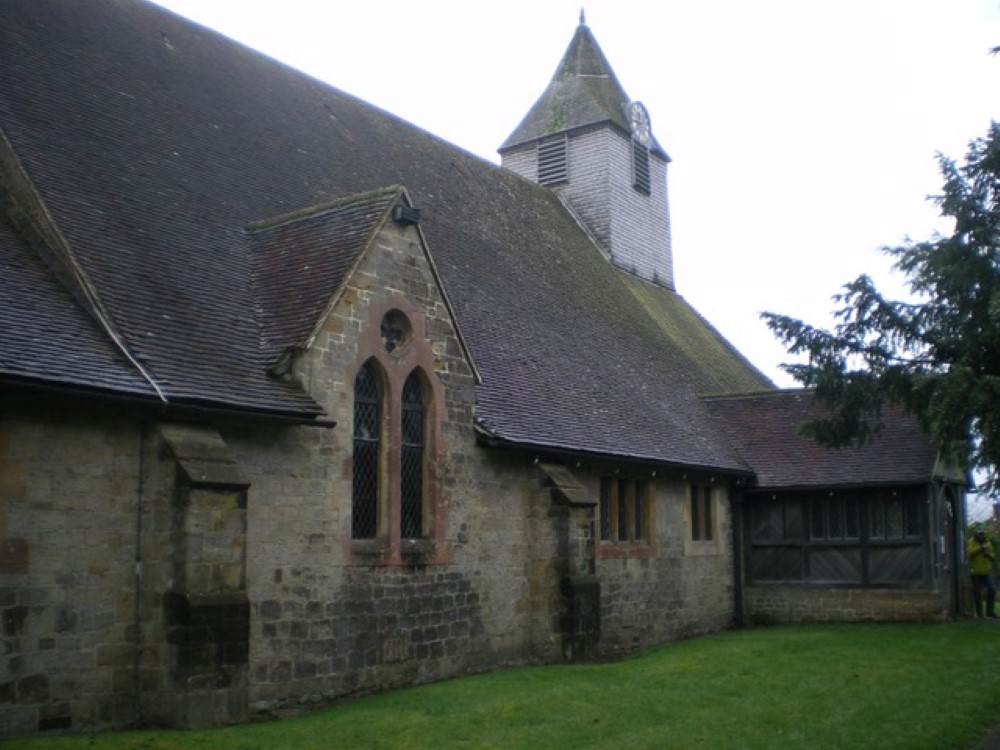 St Barthoiomew Rogate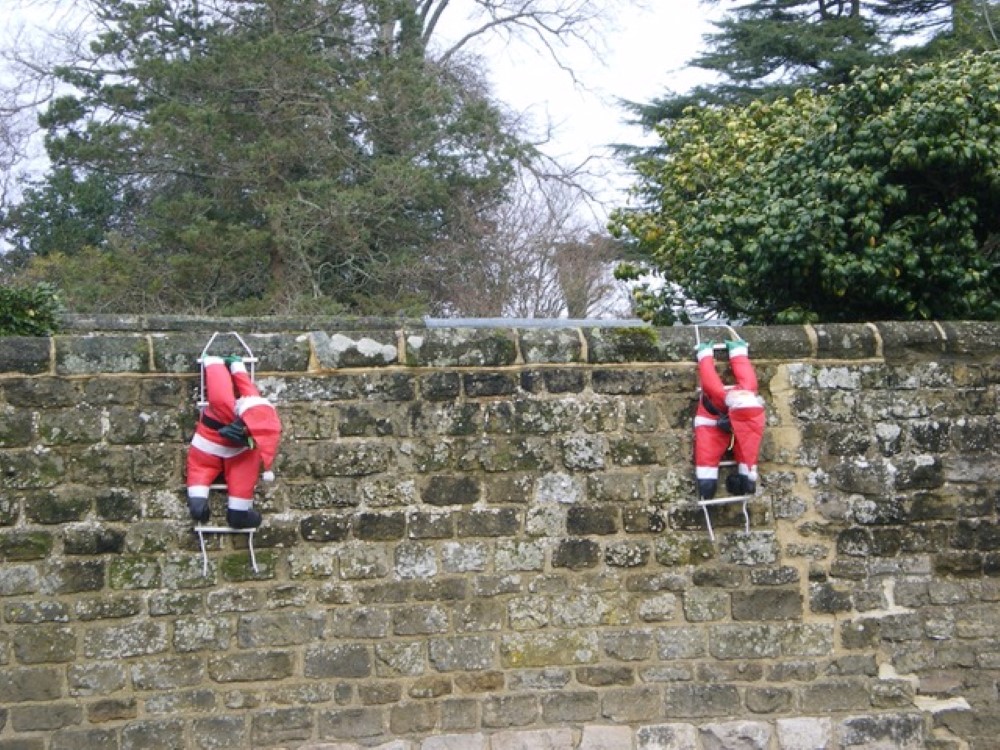 Escaping Father Christmases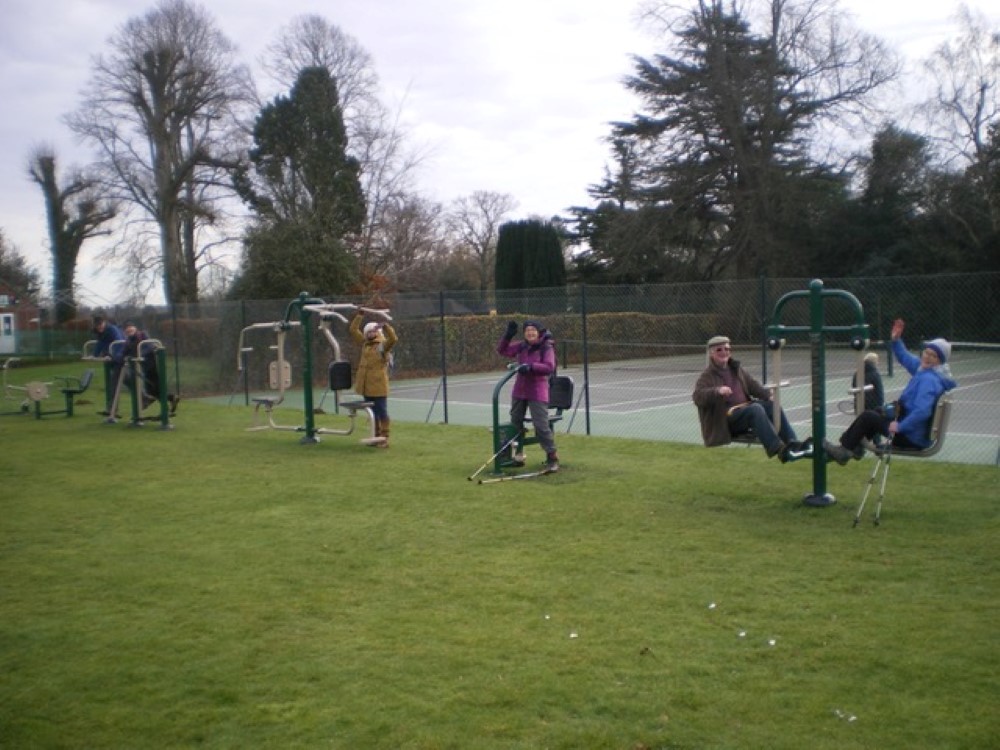 The new multi gym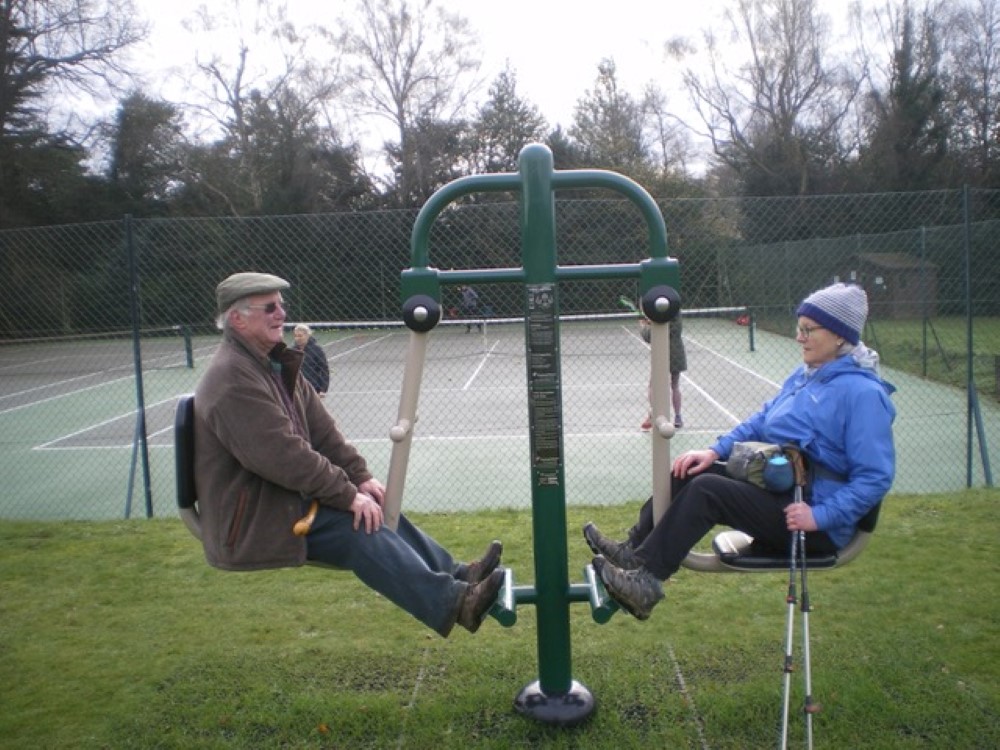 Are you going first or me?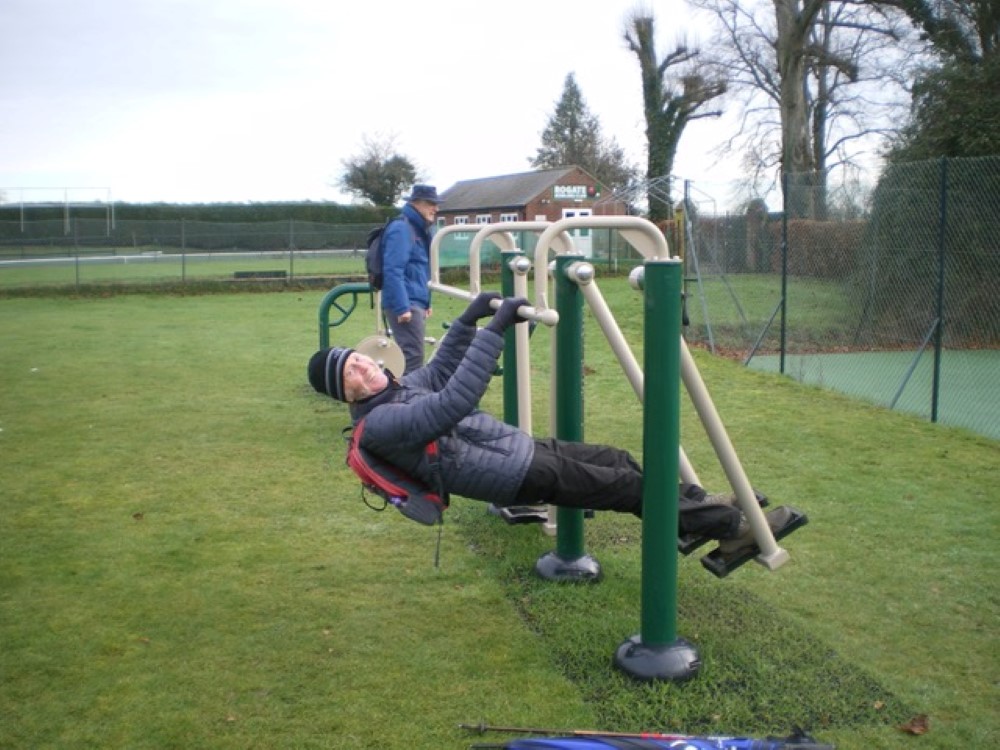 Some never grow up!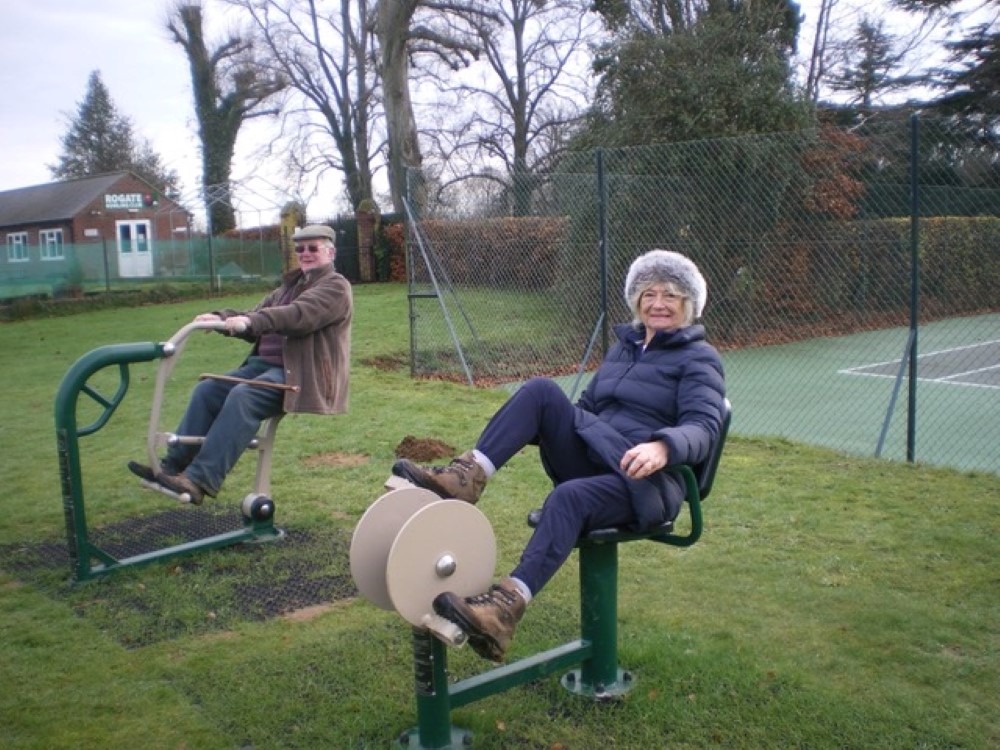 Our photographer being photographed.
---
We started in Midhurst car park and headed to Easebourne to pick up June, the walk leader for the day. We then took to the fields to head towards Budgenor Lodge but turned north towards Bexleyhill, then turning southeast towards Grevatts. There were some fine views across to the South Downs but it was a fairly cold grey day. We returned back to the Cowdray Cafe via Easebourne Lane where we stopped for refreshments. The last leg was back down to Cowdray ruins and then up the Causeway to the car park. Probably over 6 miles.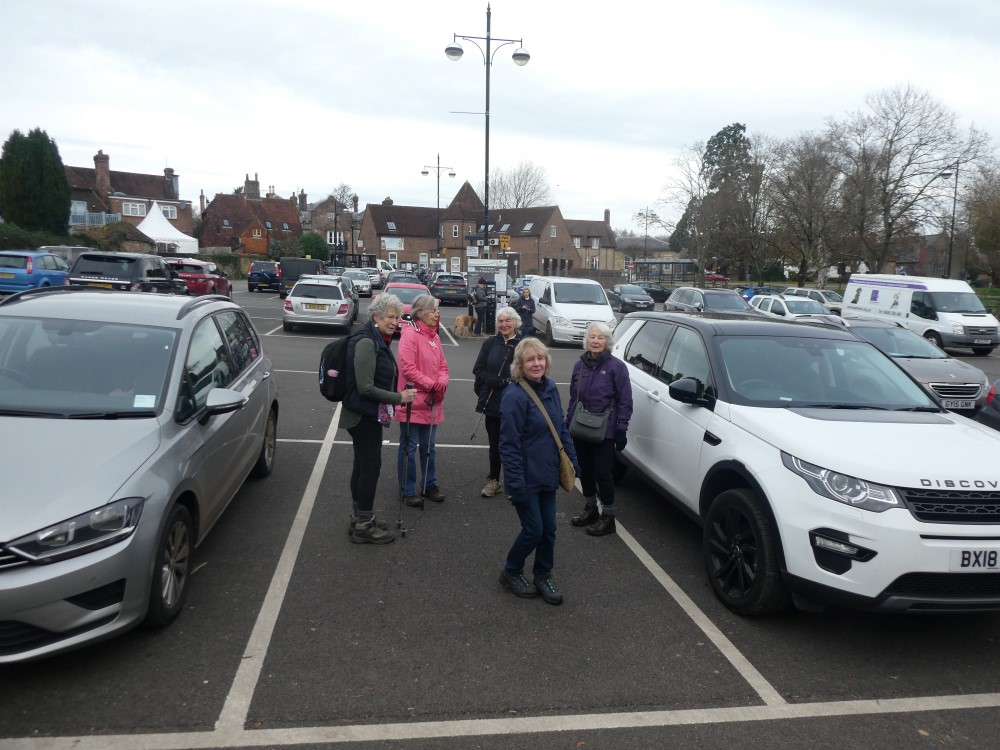 Gathering in the car park, Midhurst.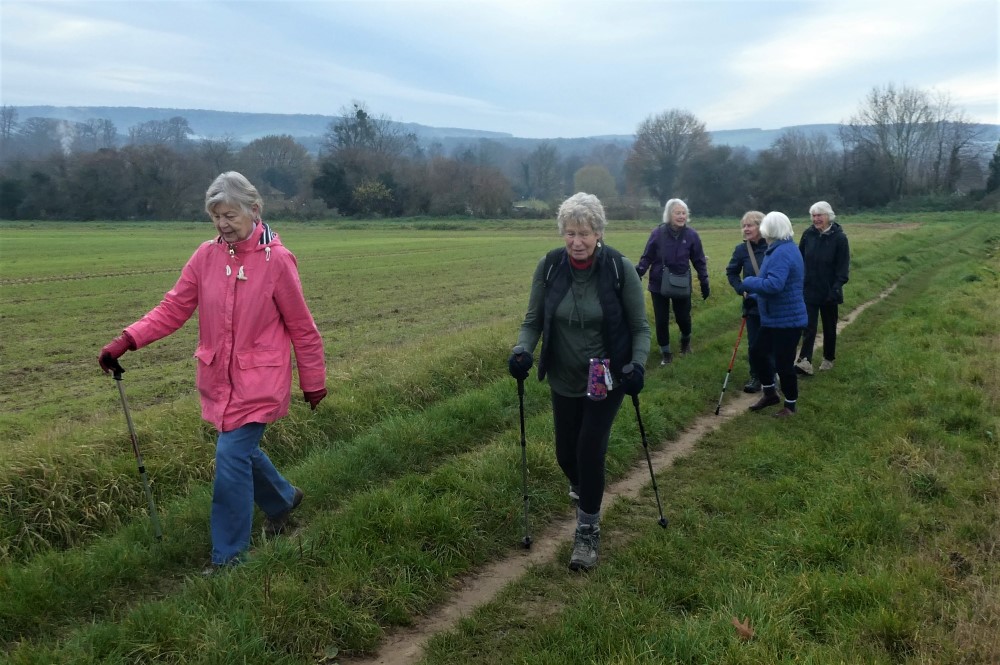 Fields just above Easebourne.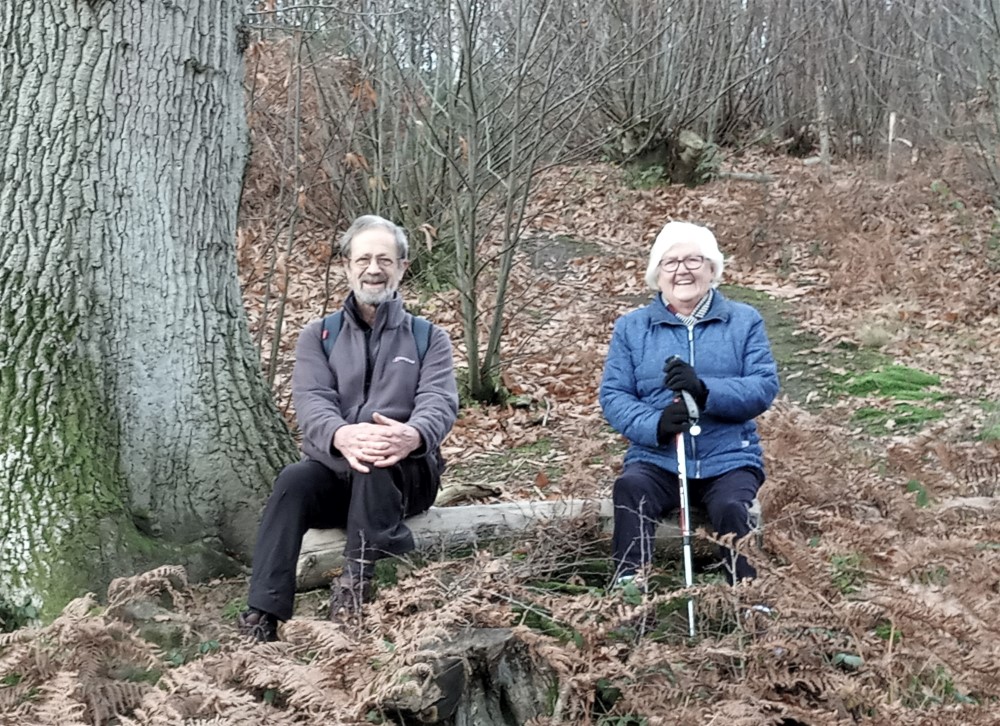 Walk leader resting.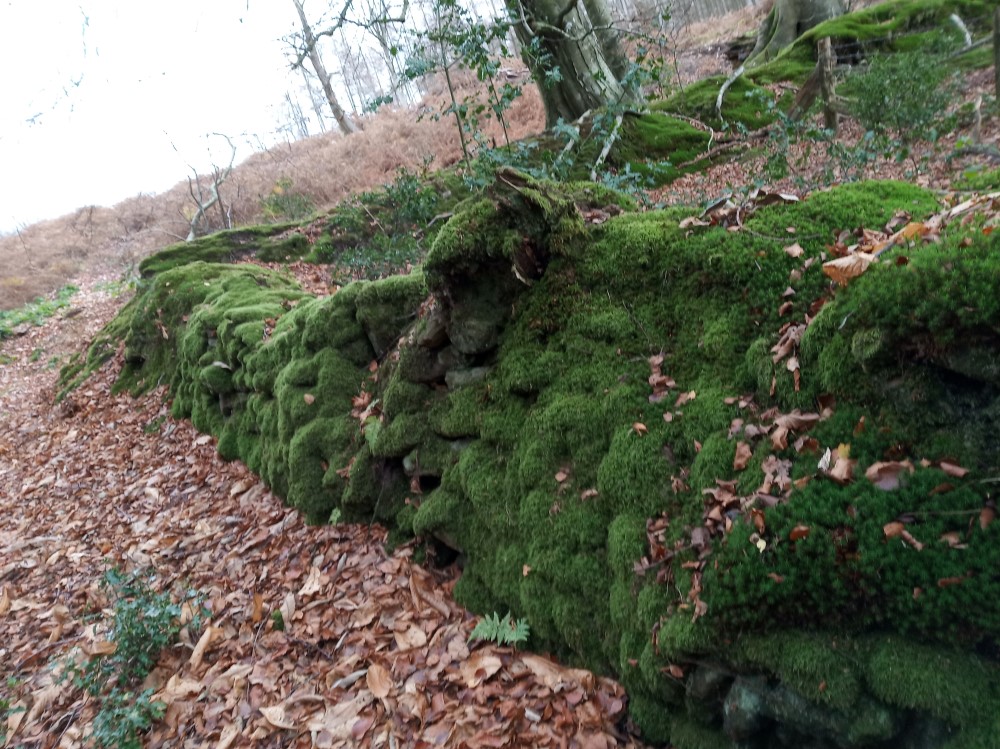 Lovely old mossy wall
Time for a break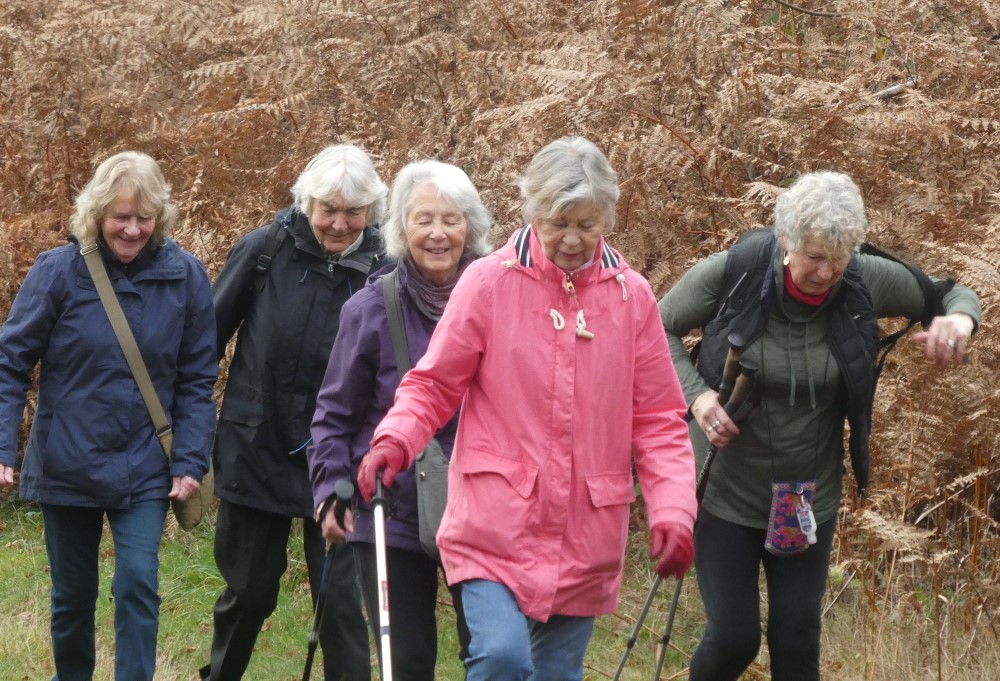 Now, let's just see how far we can get with our eyes shut.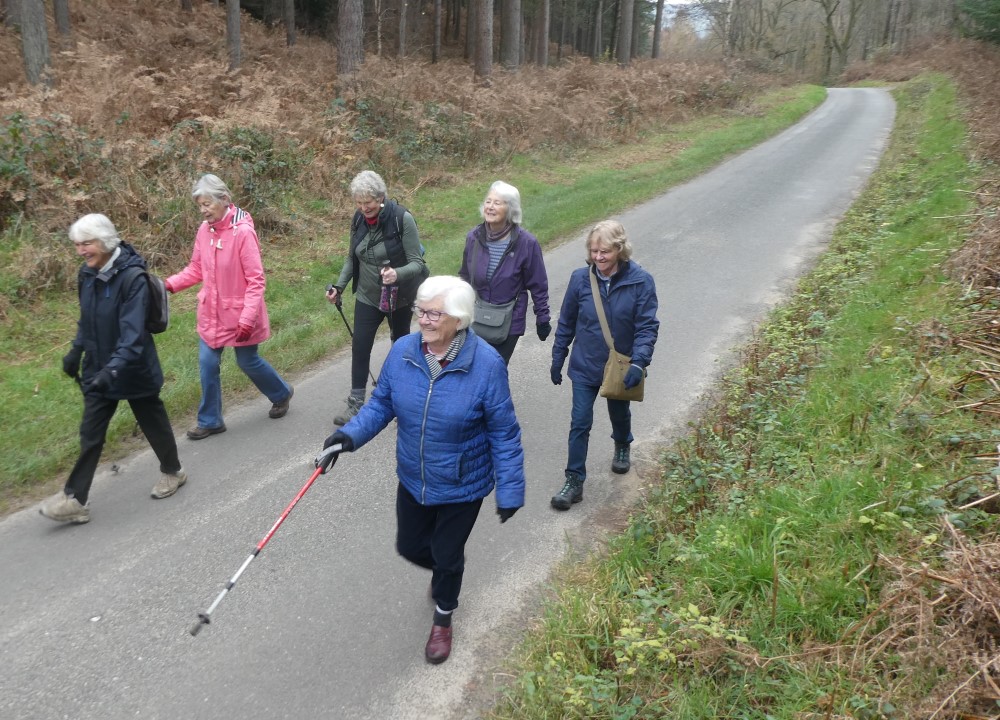 OK, you can open your eyes, we're going this way!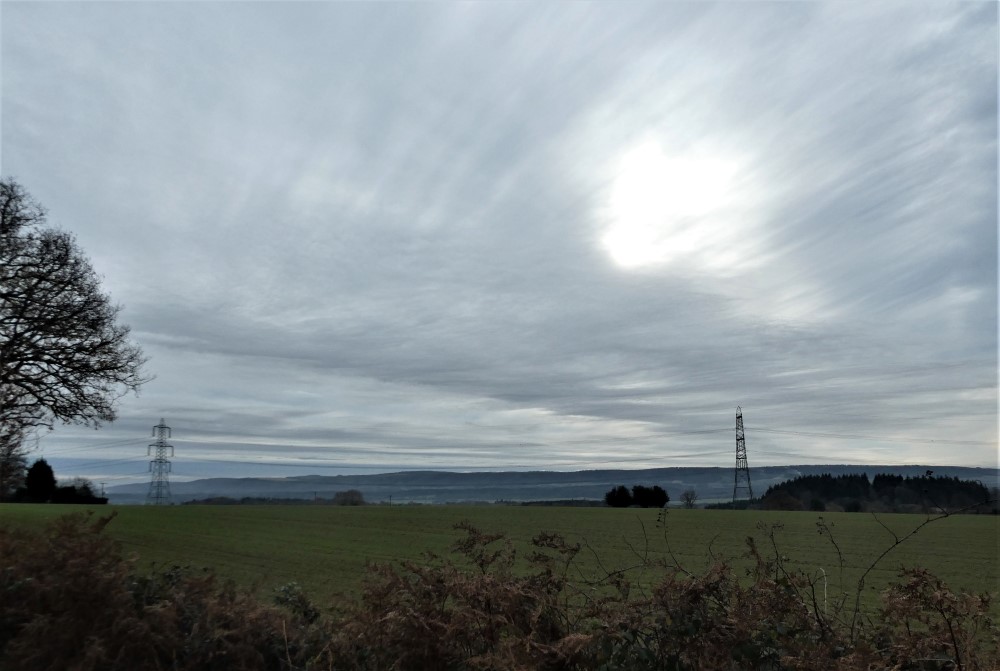 Sun trying hard to shine, but not succeeding.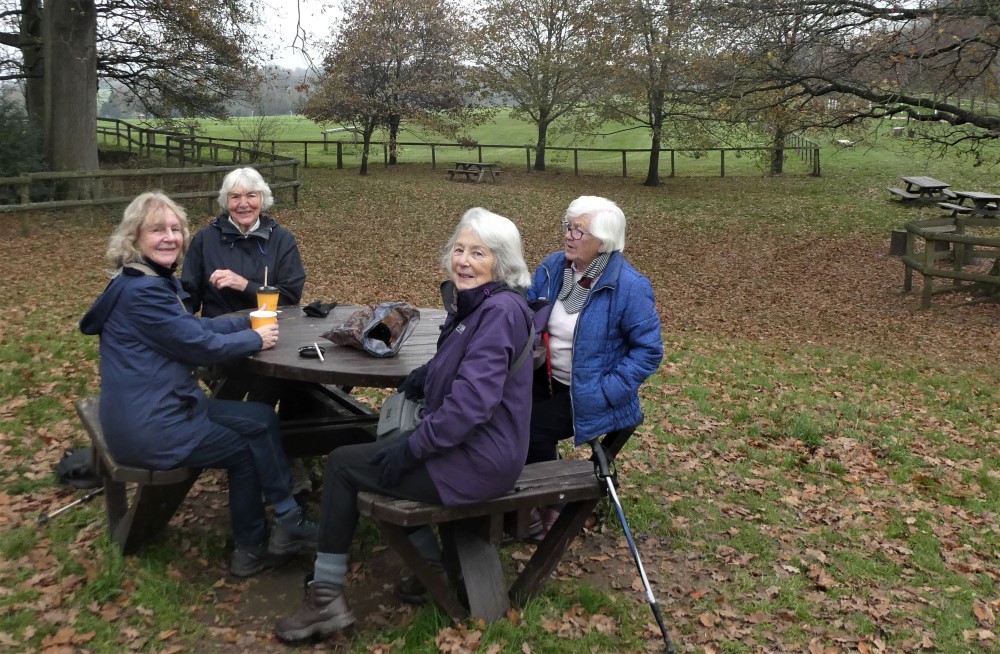 Well deserved break.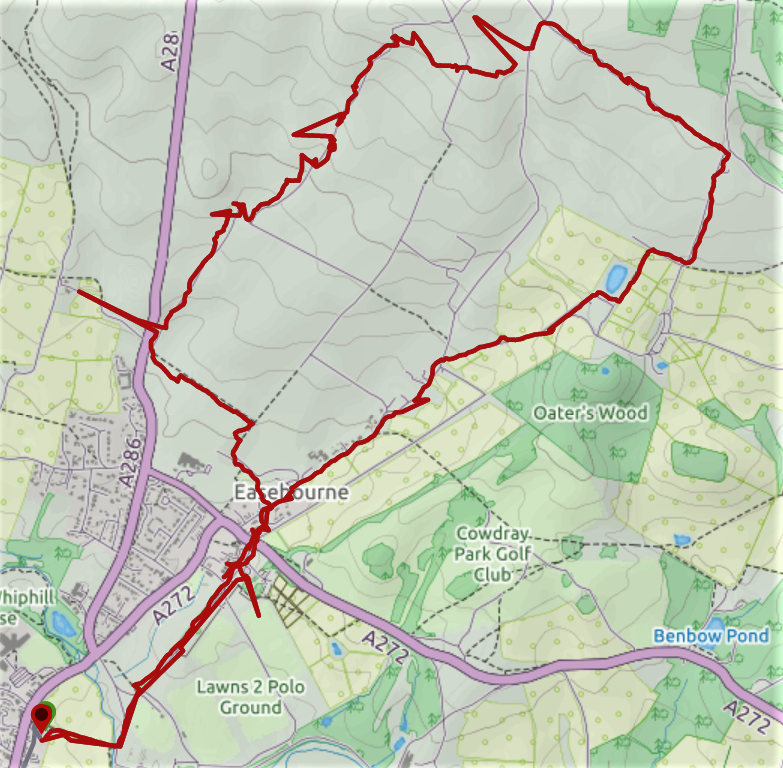 Please excuse spikes in the mapping. Over 6 miles.
_________________________________________________________________________________________-
_________________________________________________________________________________________
Peter's bubble walk started at Benbow Pond off the A272 between Easebourne and Lodsworth turn-offs, ambling across open farmland and woodland with lovely long reaching views, stopping at Lodsworth Church for coffee break, then on to Leggitt Hill, through Lodsworth village and cross country back to Benbow Pond just before the rain started, a good 5 mile walk, just what we all needed after lockdown.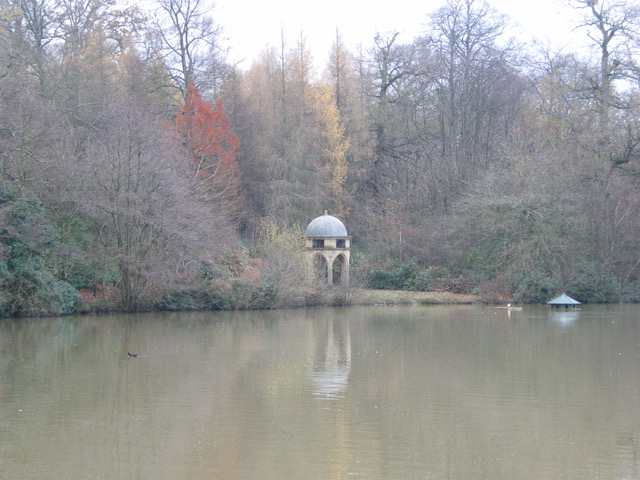 Benbow Pond. with Memorial Temple erected in 2000 in memory of the late Viscount Cowdray the Third.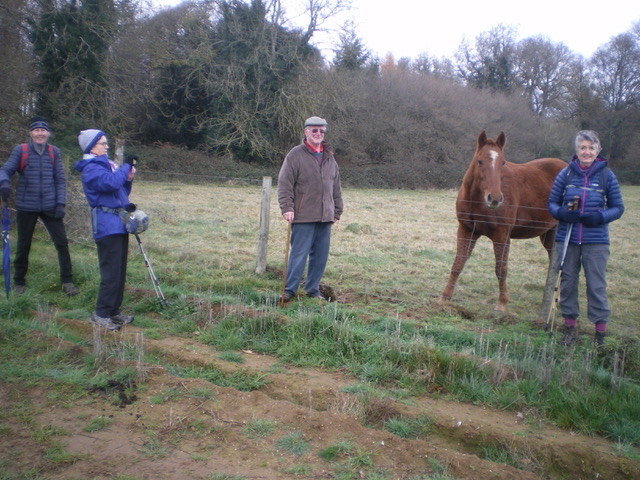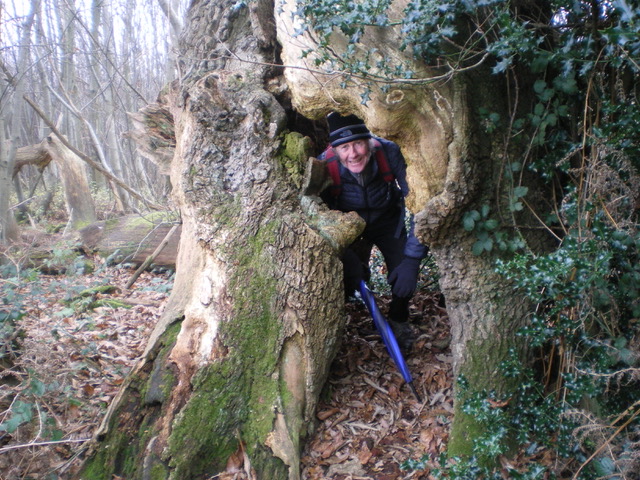 There's no hiding place for some.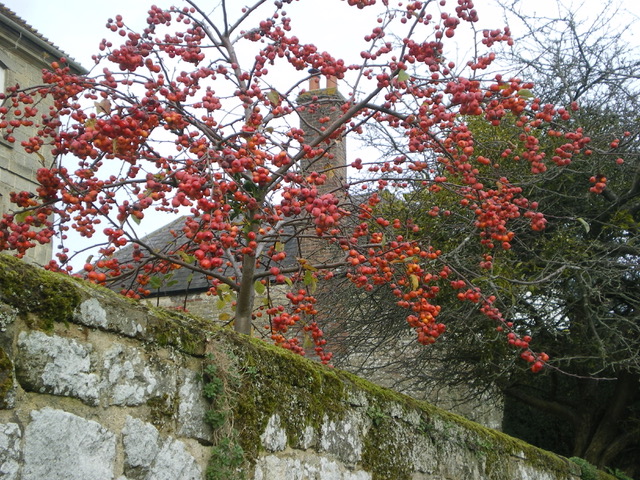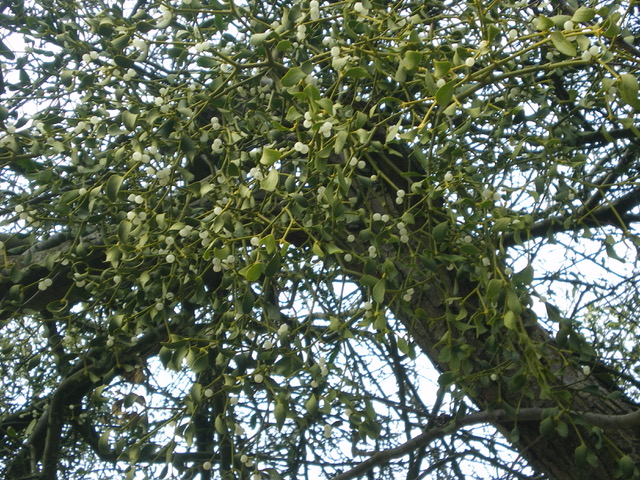 Seasonal berries.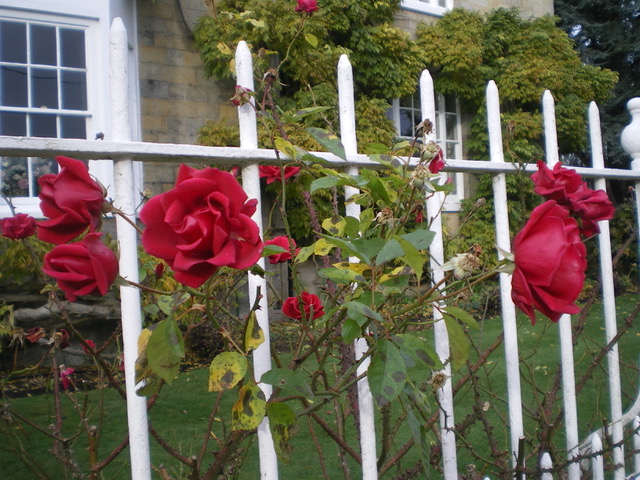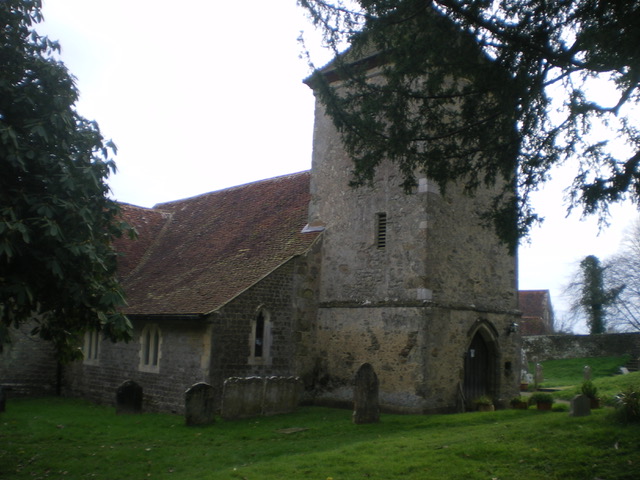 The Church of St Peter, Lodsworth, 12 or13th Century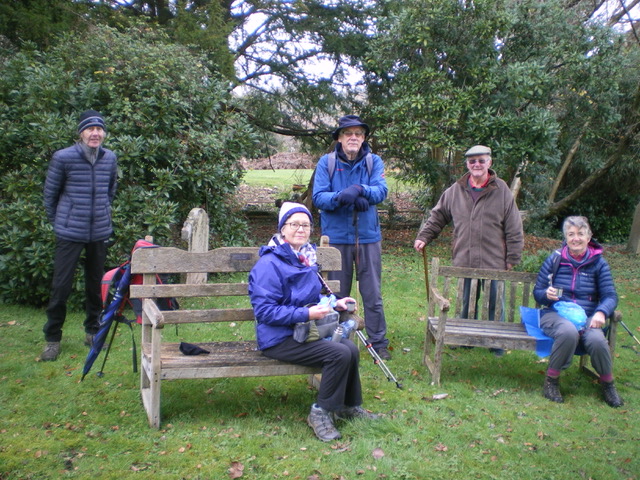 Coffee break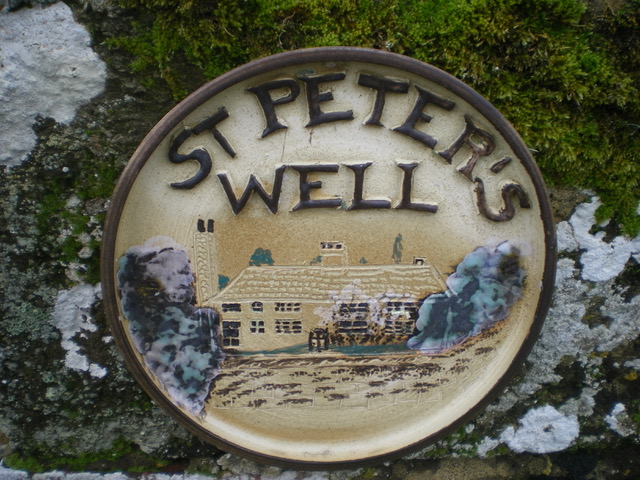 Home to Ranulph Fiennes?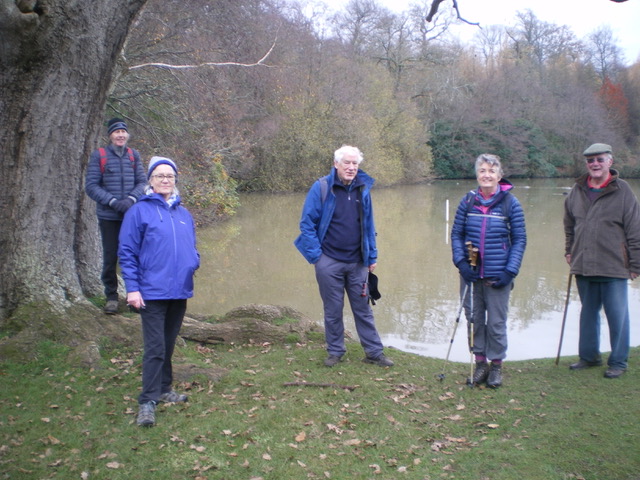 Back to Benbow Pond
____________________________________________________________________________________________
____________________________________________________________________________________________
Jean led a walk around the backroads of Bramshott, a walk of many interesting parts. From the memorials to Canadian soldiers once stationed nearby to extraordinary sculptures in a garden. One house was particularly interesting - the man who sold eggs! Buried up the end of a dead end lane the owner told the recent story of the house. Apparently the original cottage is very old and belonged to the Arundel estate, which seems a bit odd. It was on a lease for 10,000 years and the rent was an annual red rose. Someone was living in it when the egg man bought it 12 years ago, but he says it was in a dreadful state and not really fit for human habitation. He did all the work on it himself to get it to state it is now in and even used wood from the oak trees nearby! The weather managed to stay dry till the end of the walk - about 5 miles.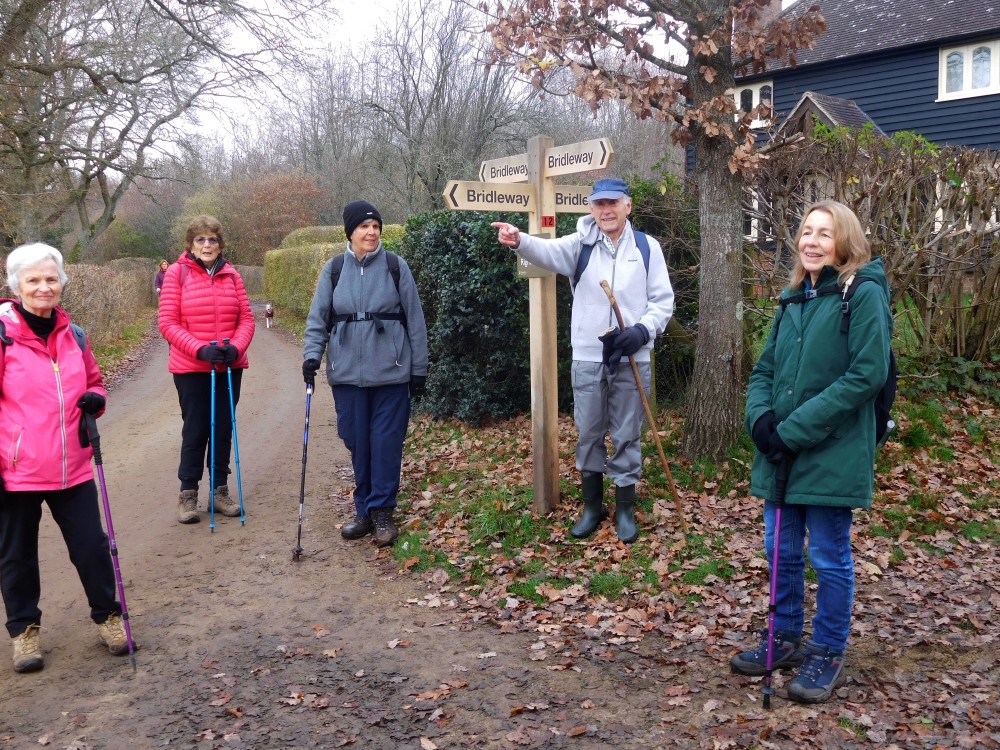 I think we'll go that way.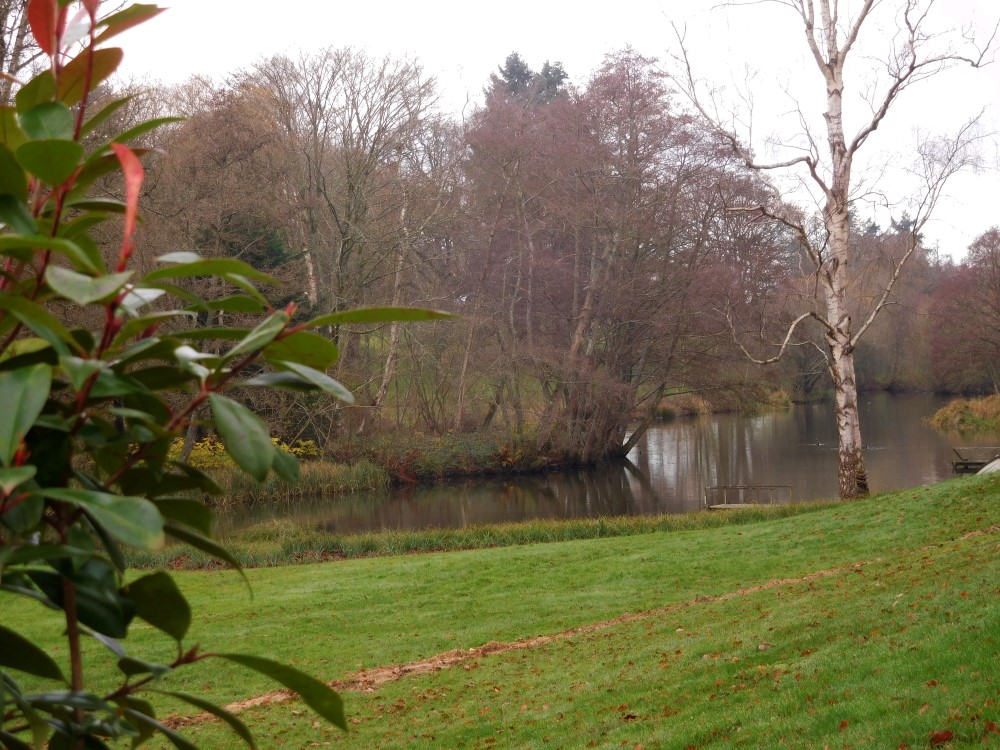 Passfield Manor 1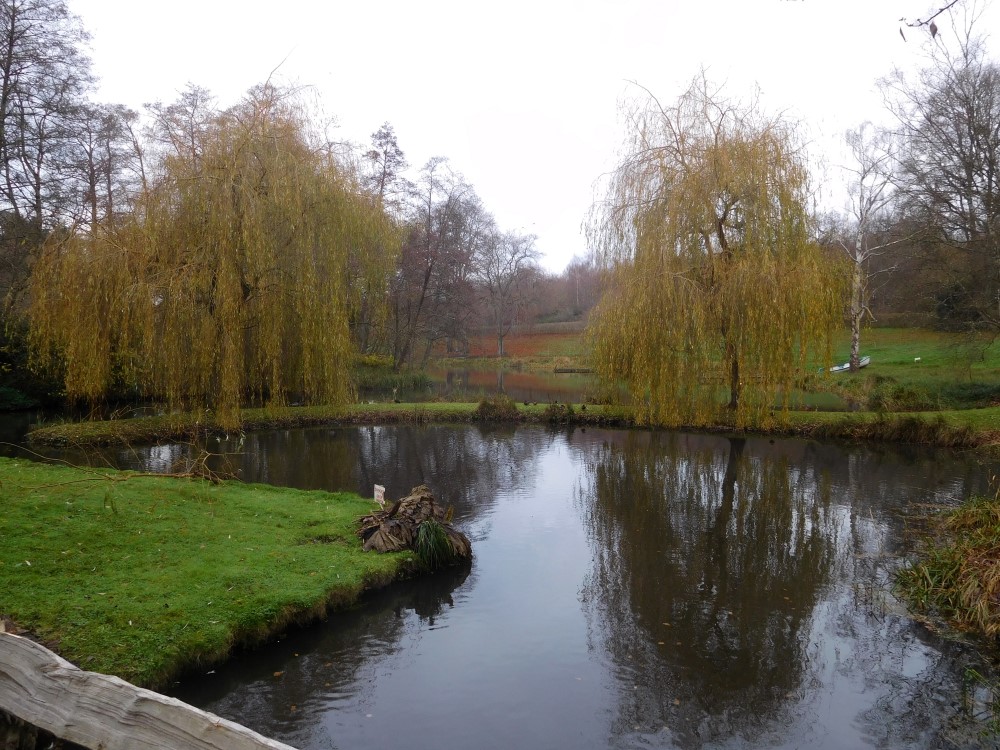 Passfield Manor 2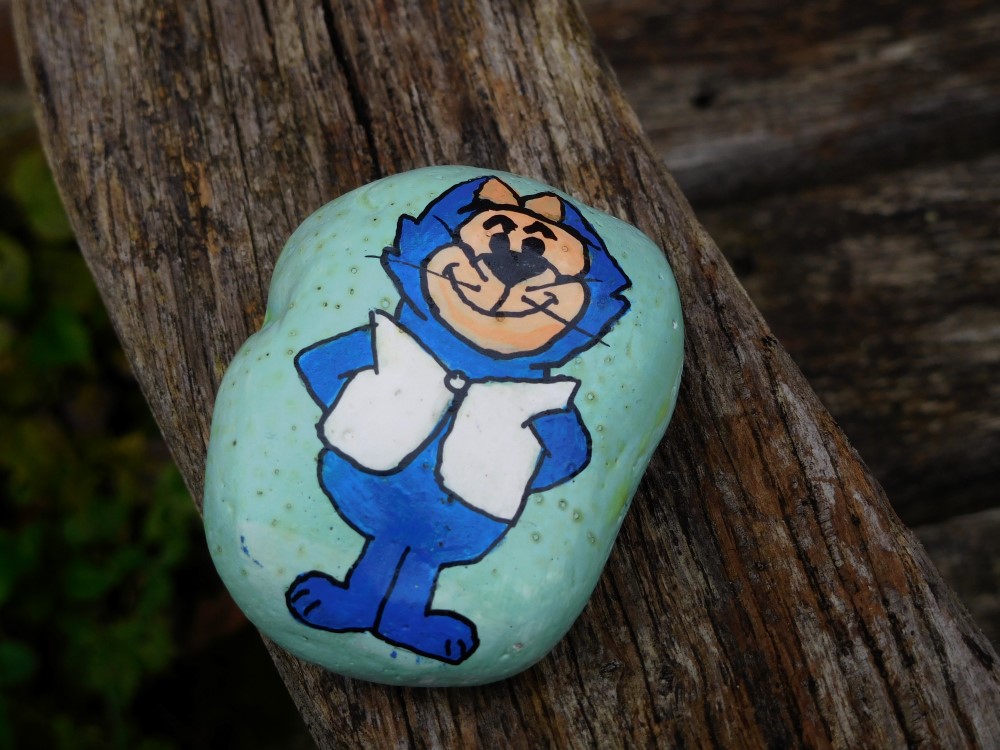 Plenty of painted stones on Conford Common.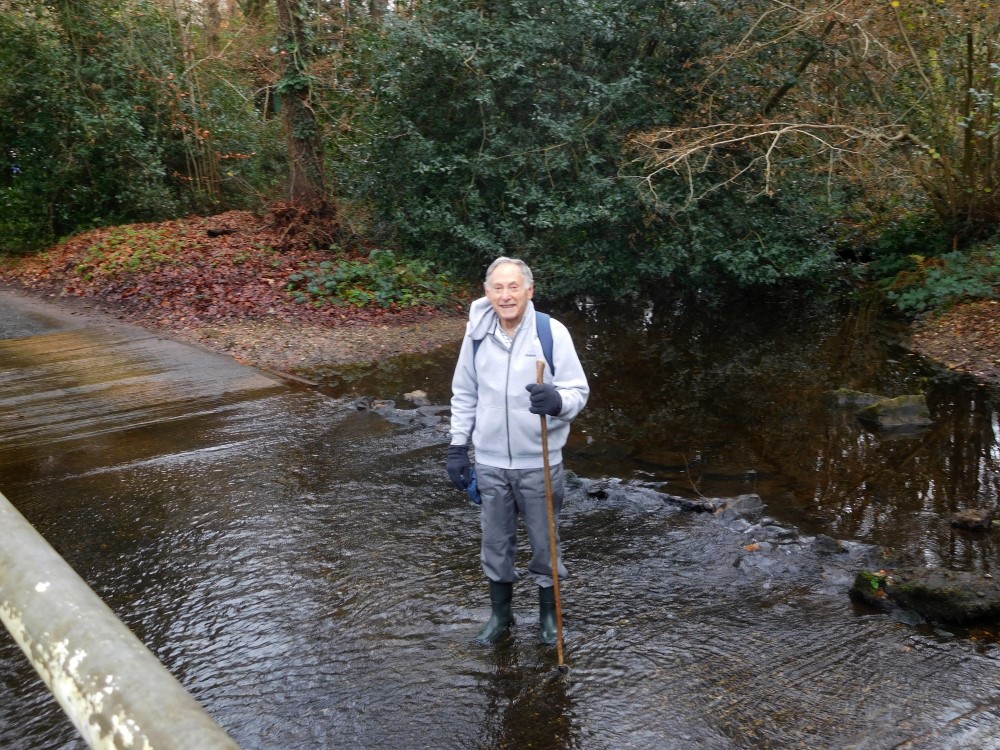 Boot testing at Conford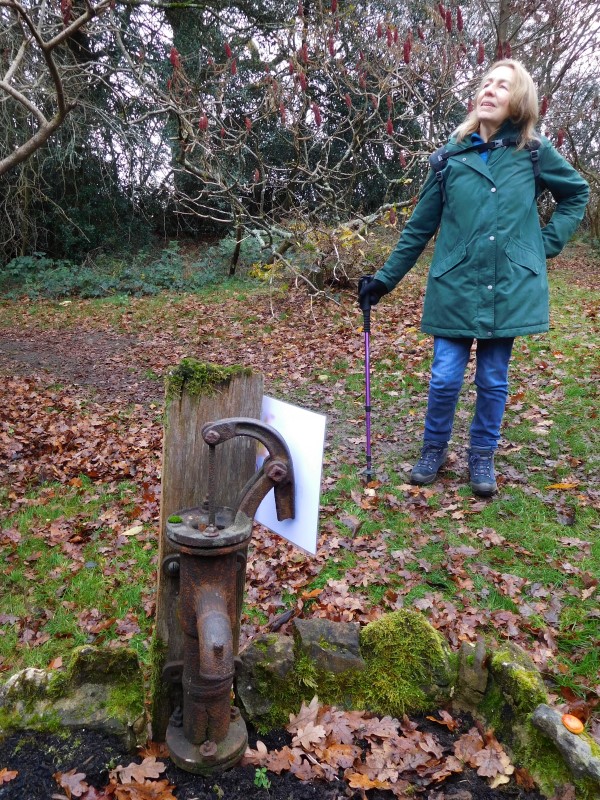 The pump outside the house of the egg man.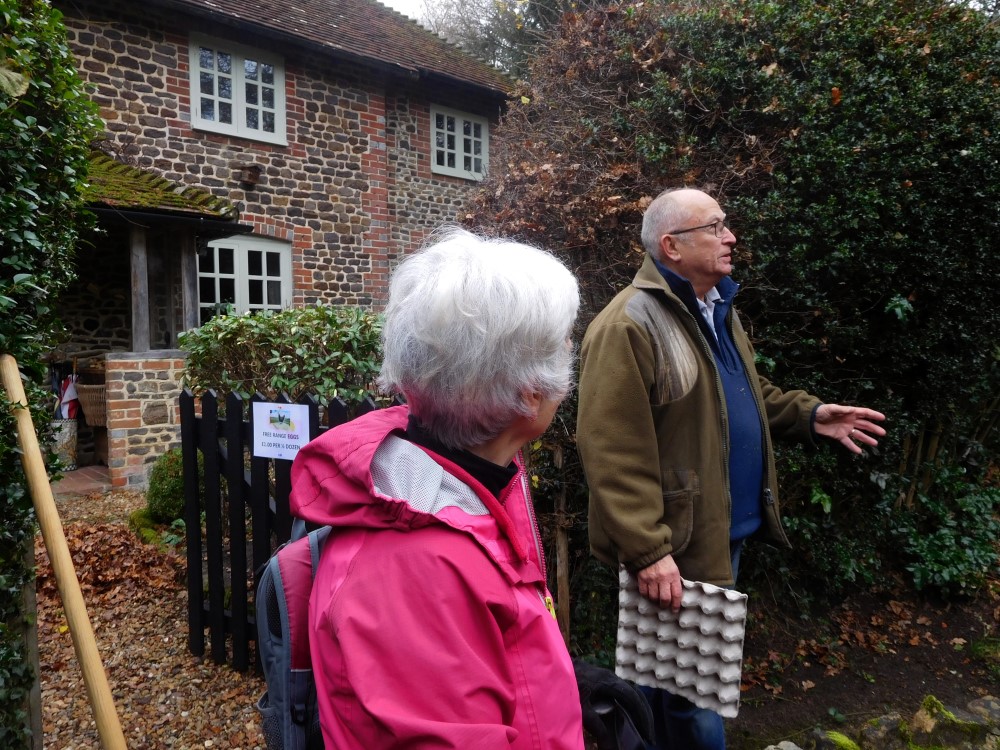 Restoration egg man!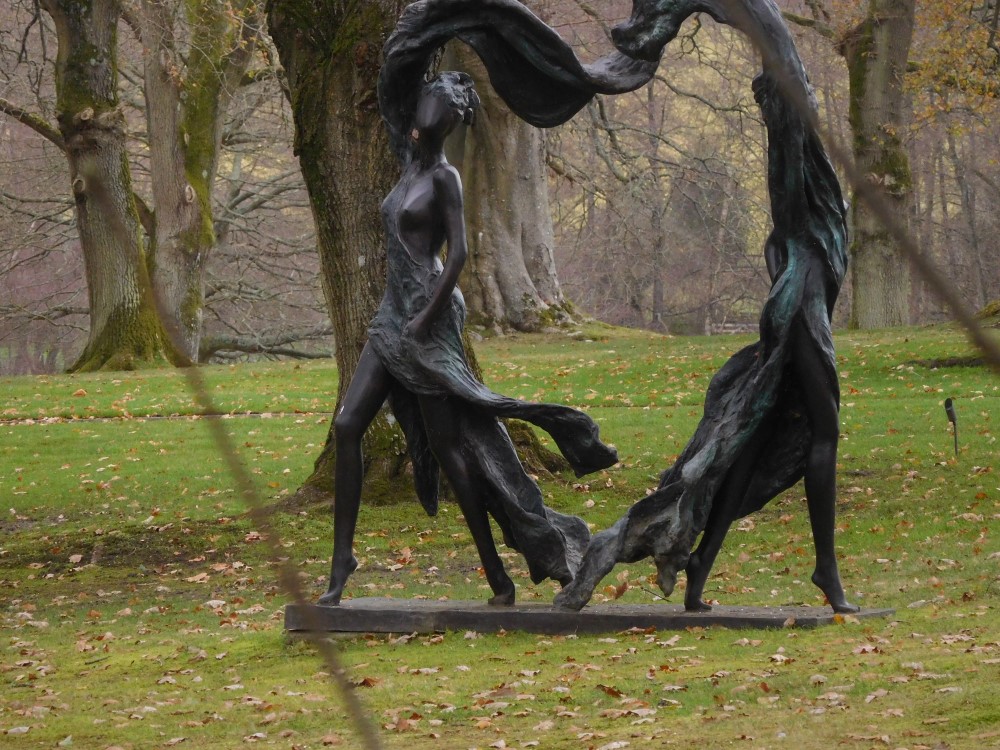 Two dancers suddenly appear on the lawn.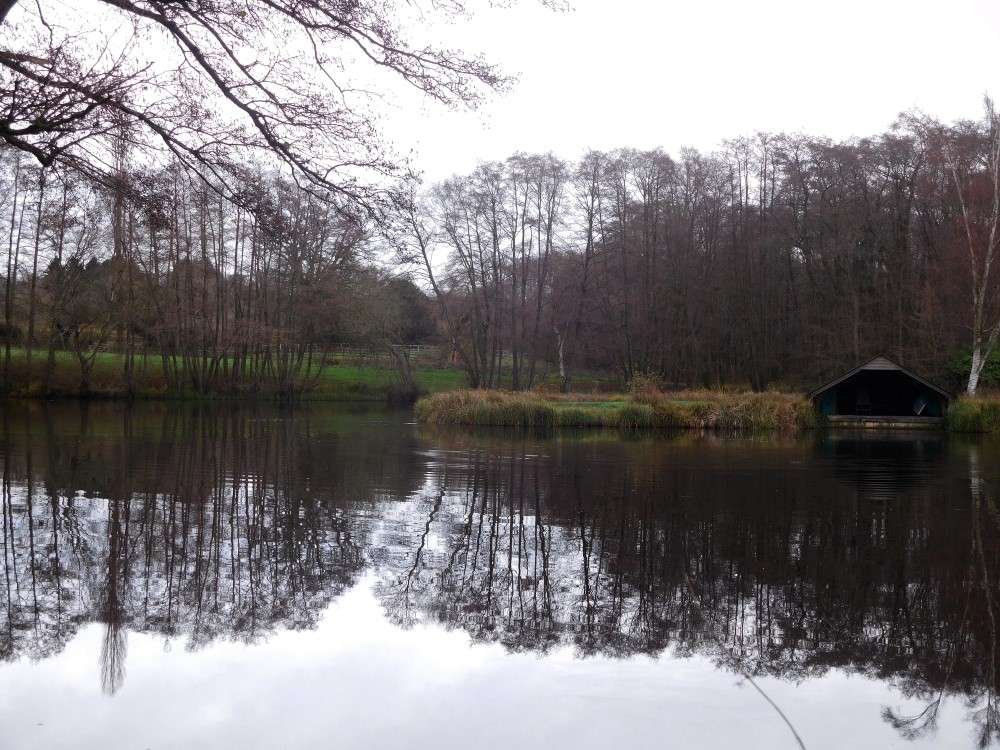 Boathouse at Conford Park Farm.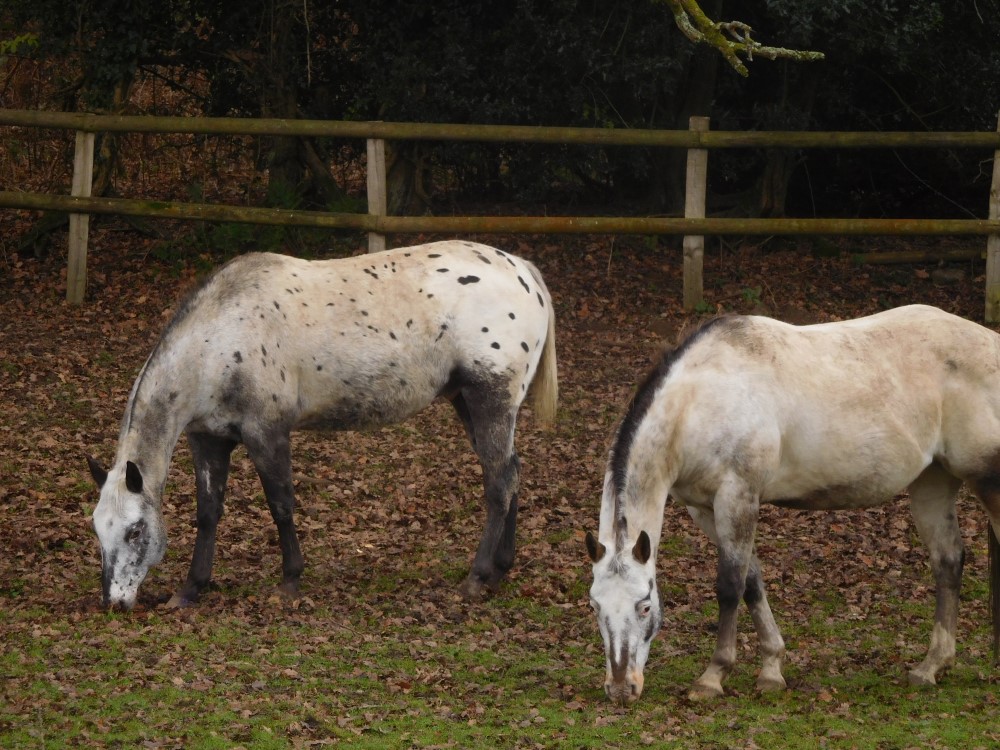 Not the normal horse - anyone know the name for the breed?
---