Viewing galleries from July, 2021
Marian led the walk from Chichester Marina and we saw the forecast was fairly dry with a bit of sun. In the event the forecast was correct but there was quite a strong wind before our coffee stop. We started out from the Marina car park and after passing the Marina we headed for Coperas Point. A very scenic wander along the path next to the Chichester Channel needed a bit of a diversion onto the shingle shore as some parts of the path were a bit on the muddy side. When we reached Dell Quay it seemed a good stopping point with some walkers getting a coffee in the Crown and Anchor, which luckily opened at 11.00am. Suitably refreshed we headed back to the Marina where most of us stayed for lunch in the Boat House Cafe, did a bit of shopping and then a final wander back to the car park. About 4 miles.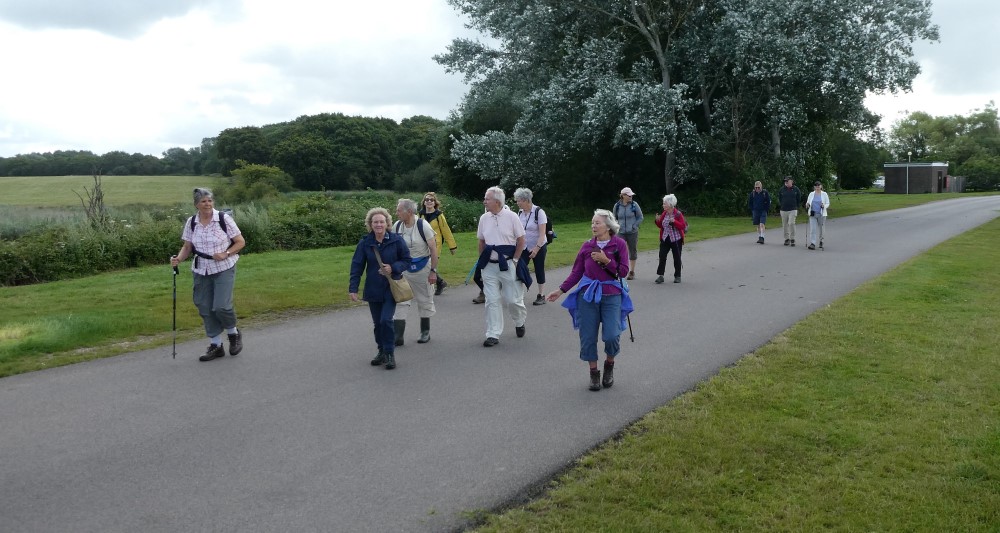 Starting out.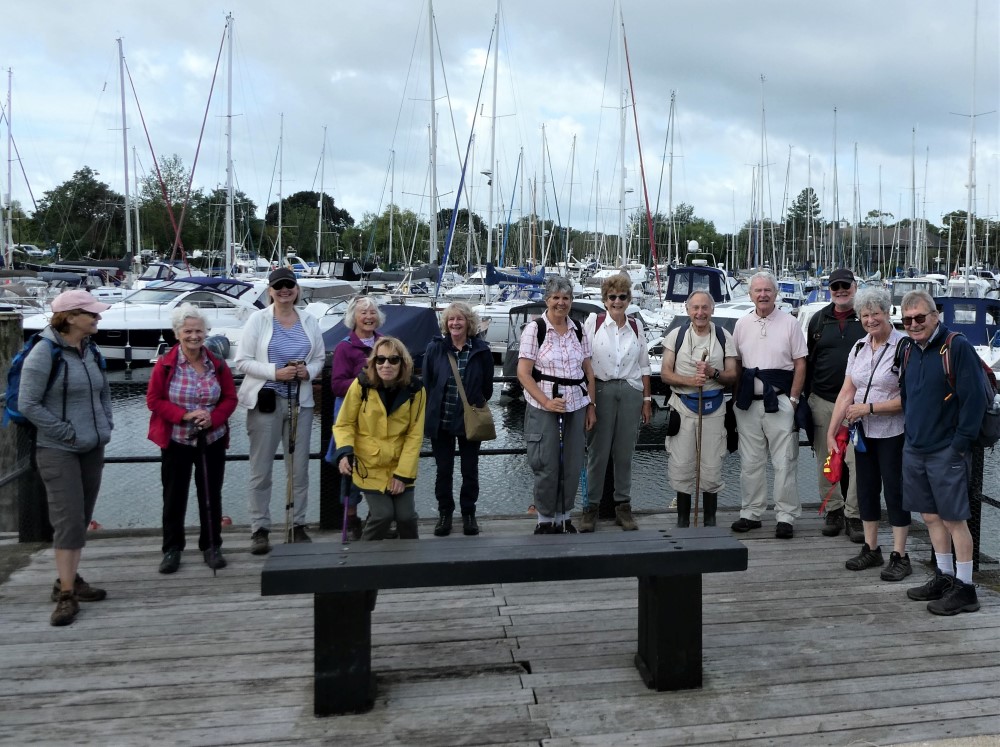 Posing by the Marina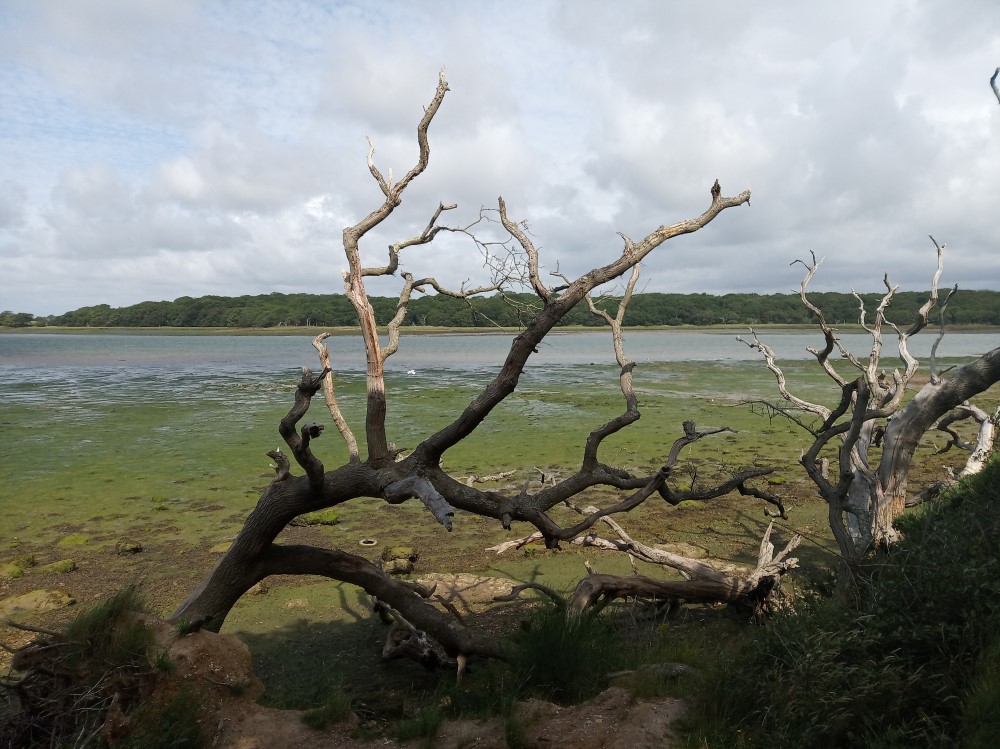 Certainly didn't die from lack of water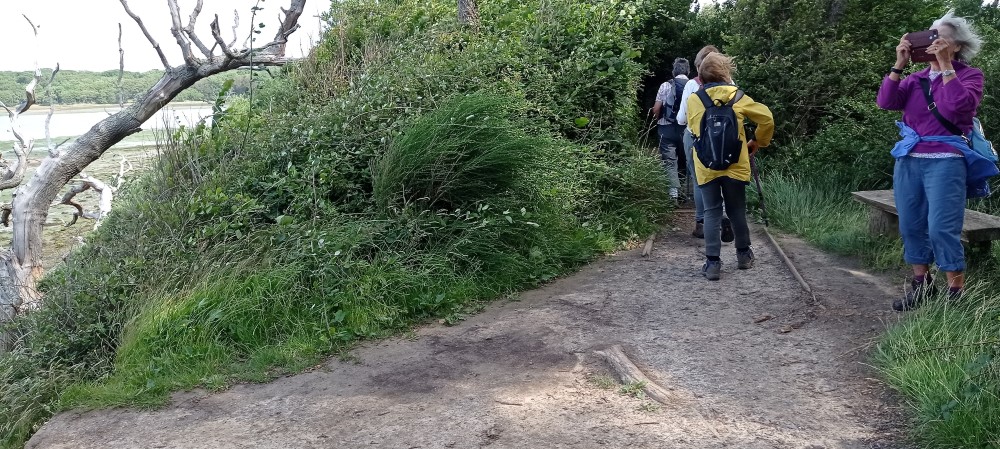 Another good shot being created!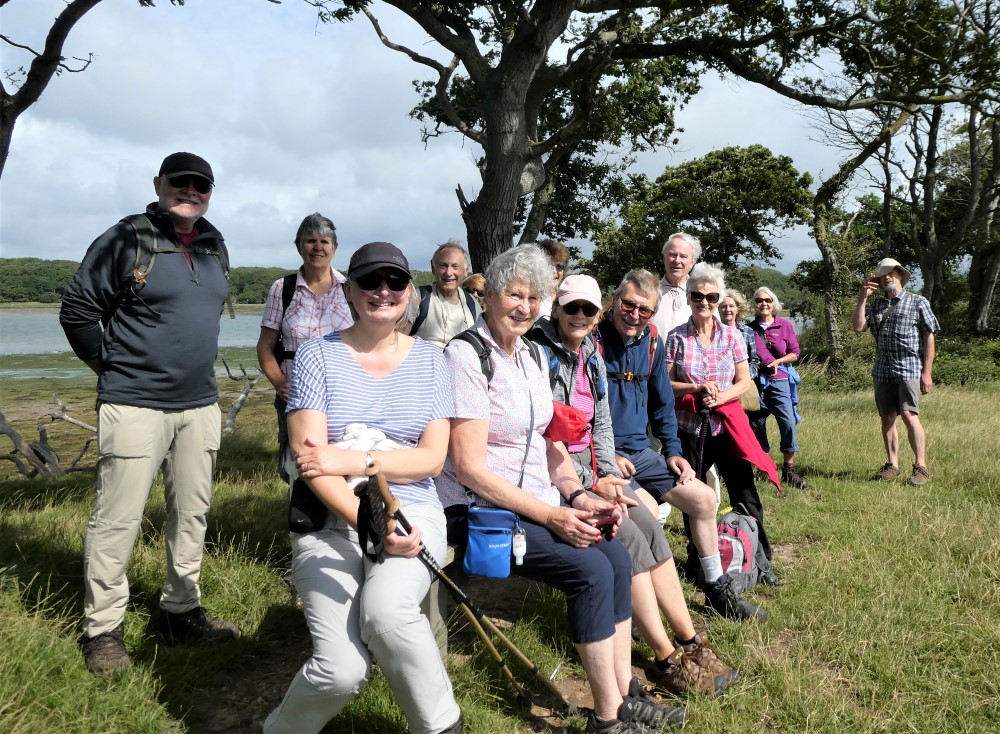 Camera sitting on a handy post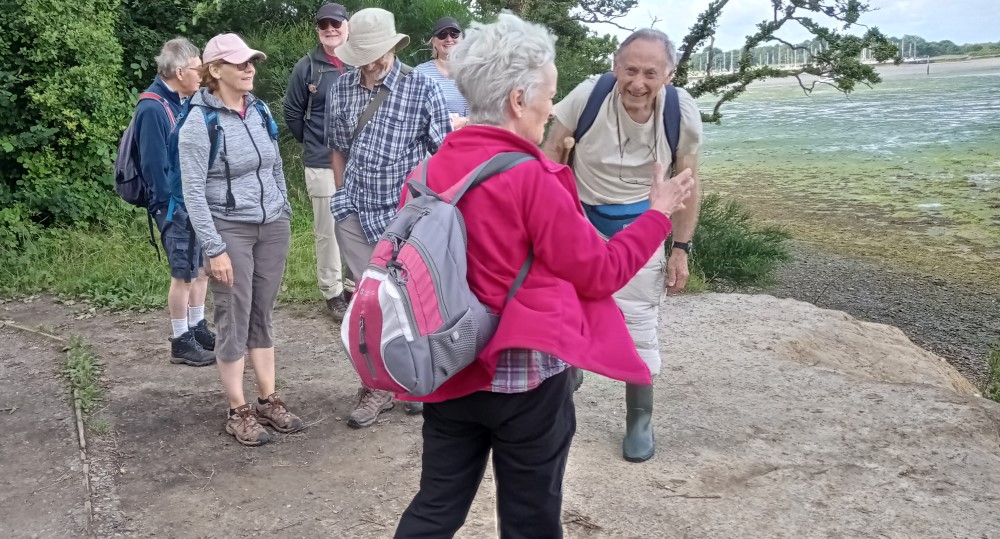 Some sea bass in Chichester Channel can be THIS big!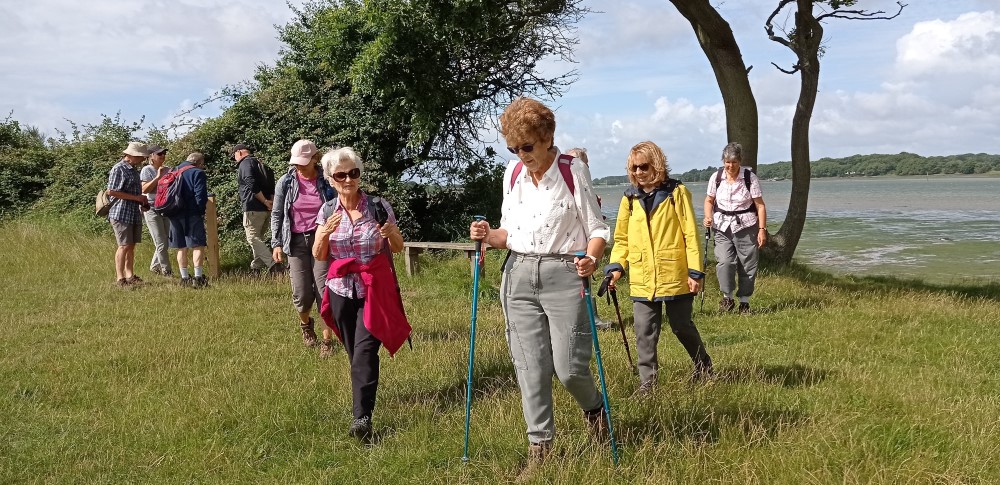 Camera post is attracting some attention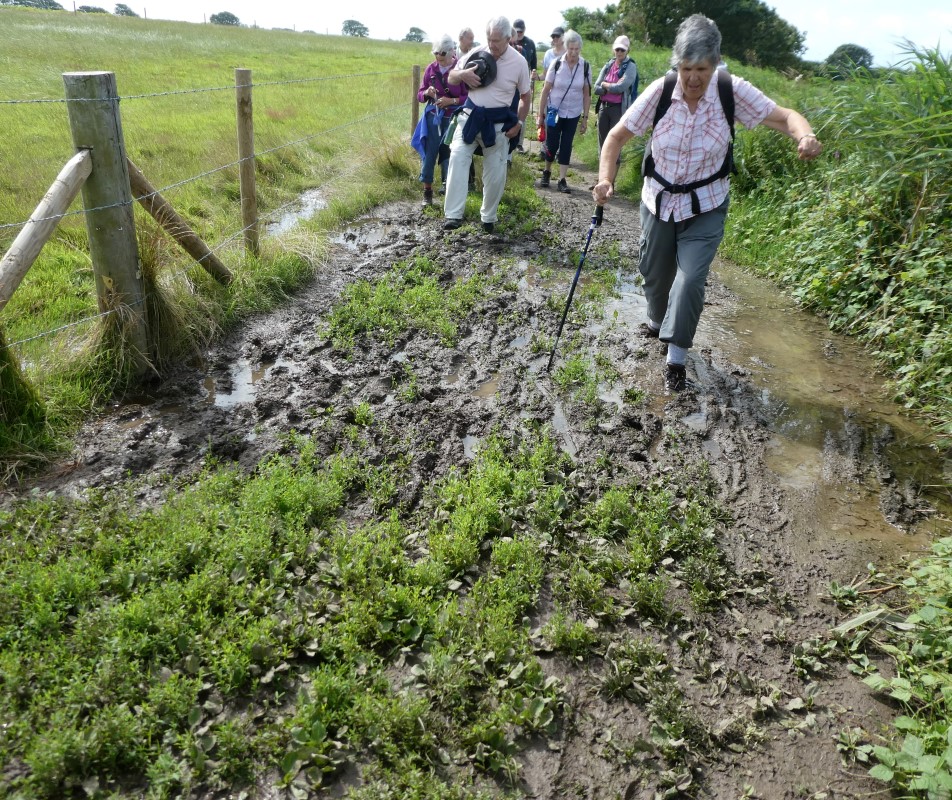 In places the path was a little challenging.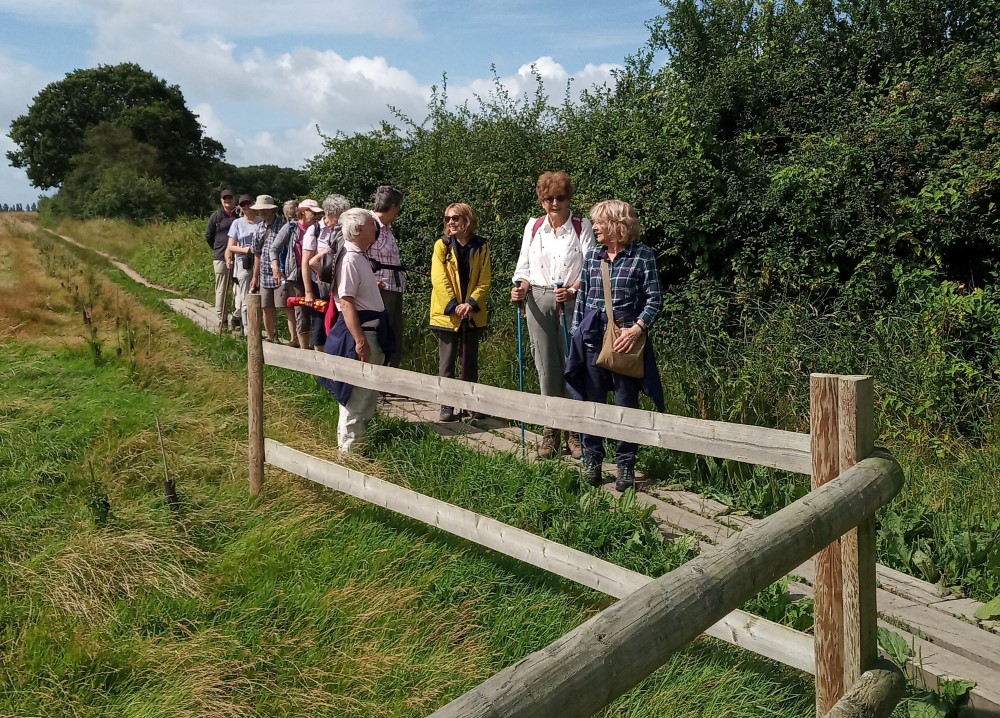 What a great idea it is to have a wooden walkway!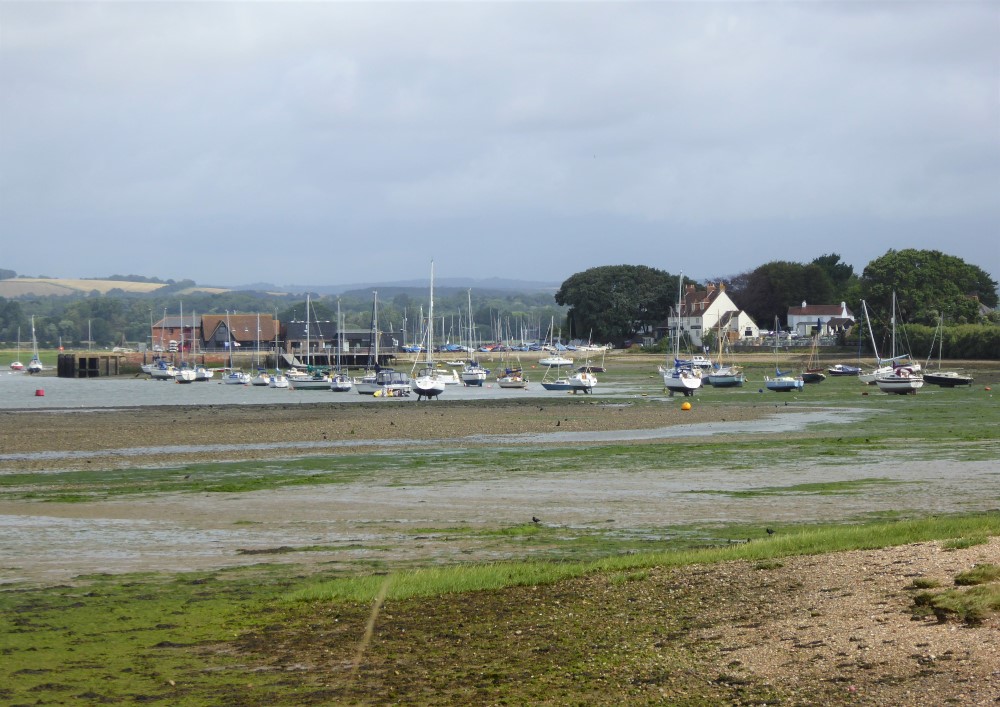 Dell Quay in sight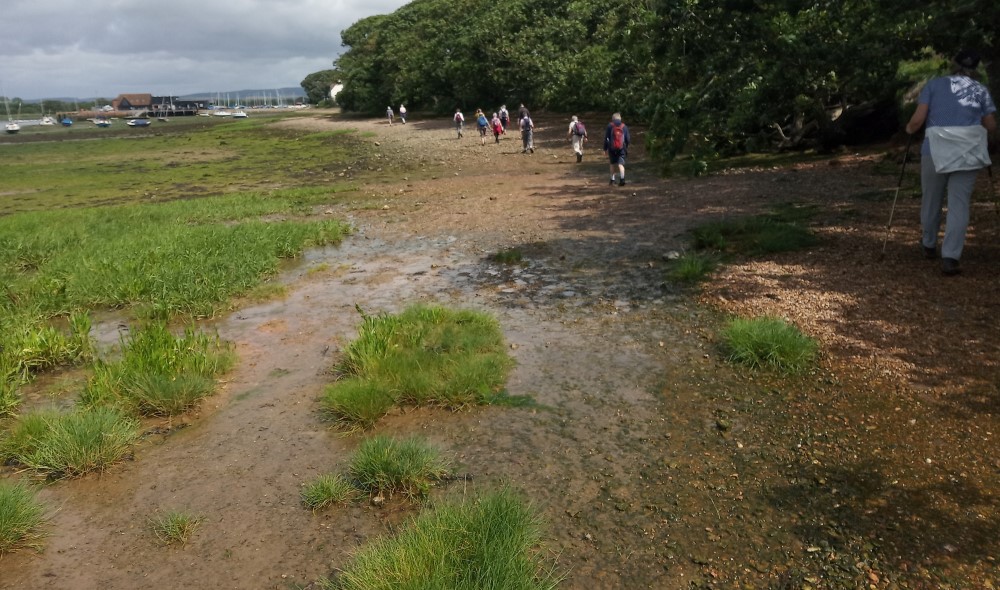 This shingle was a lot drier than the path.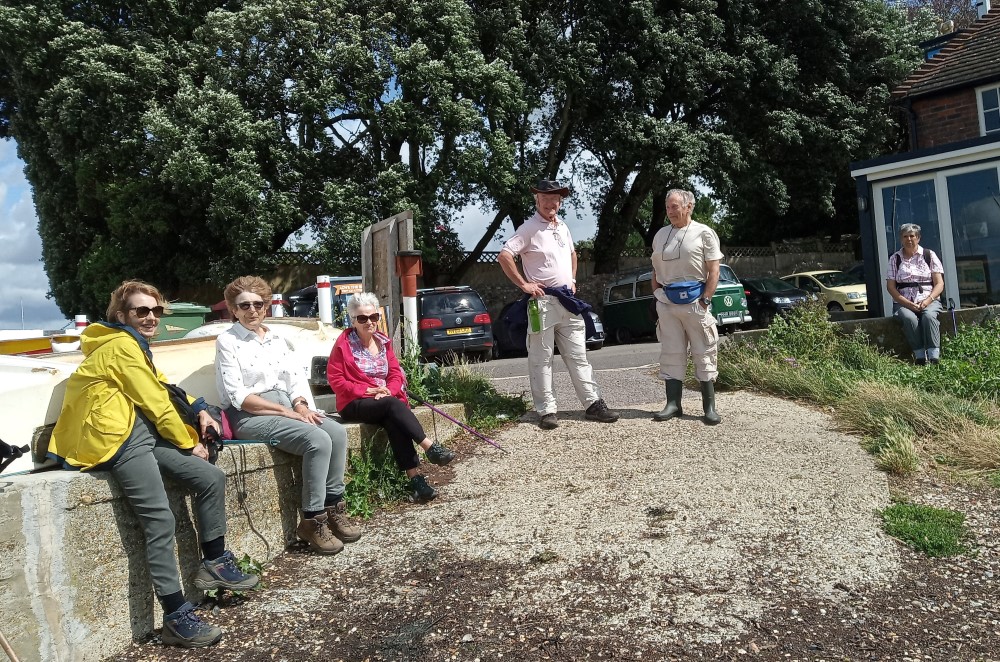 Aha, a seat at last.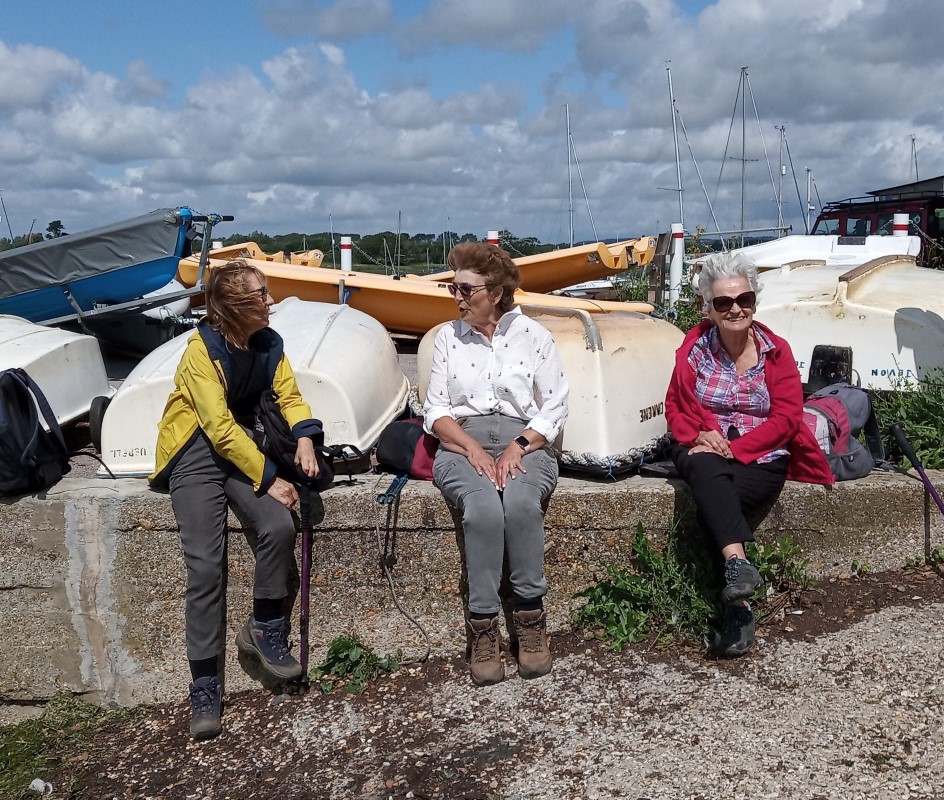 Sun and clouds were fine, but the wind was strong!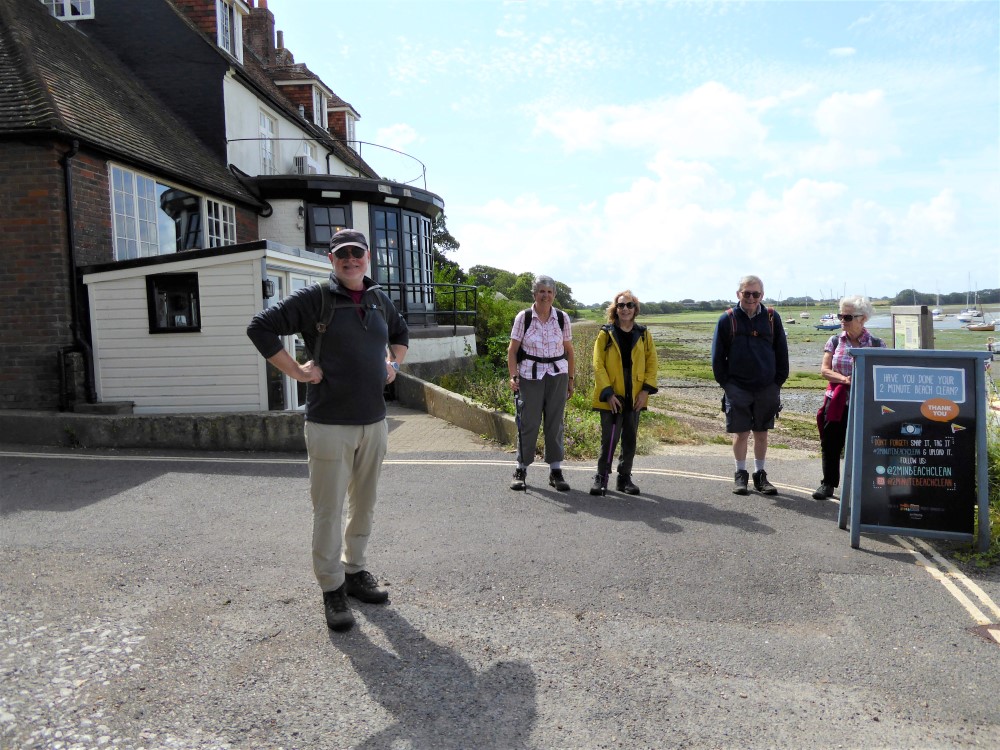 Pub has just opened for coffee at 11.00am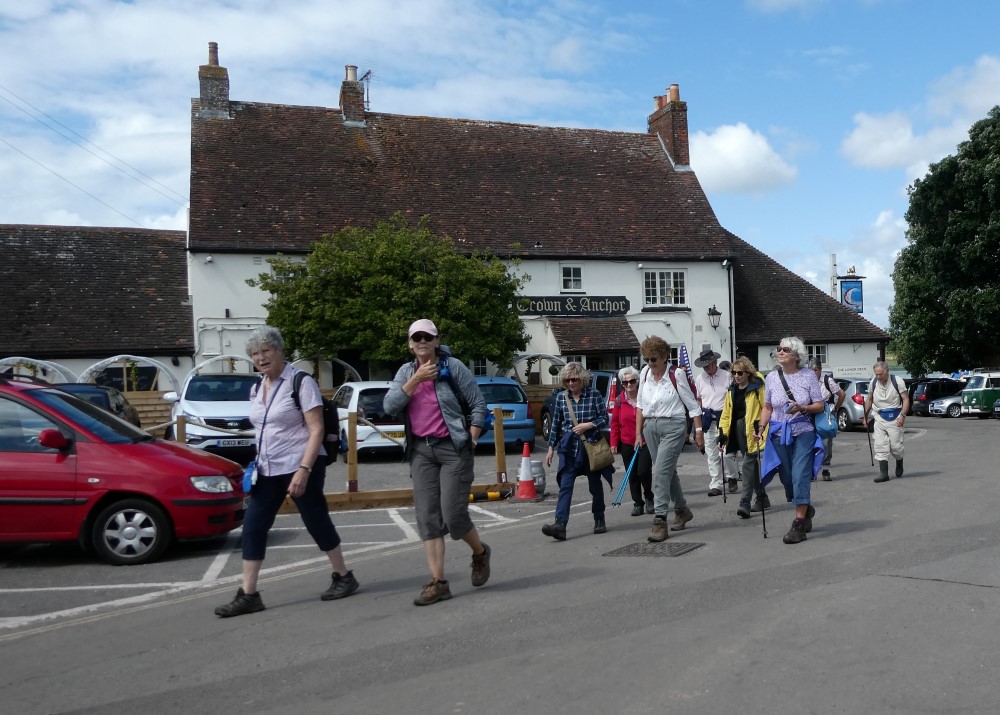 Suitably refreshed, we're heading home.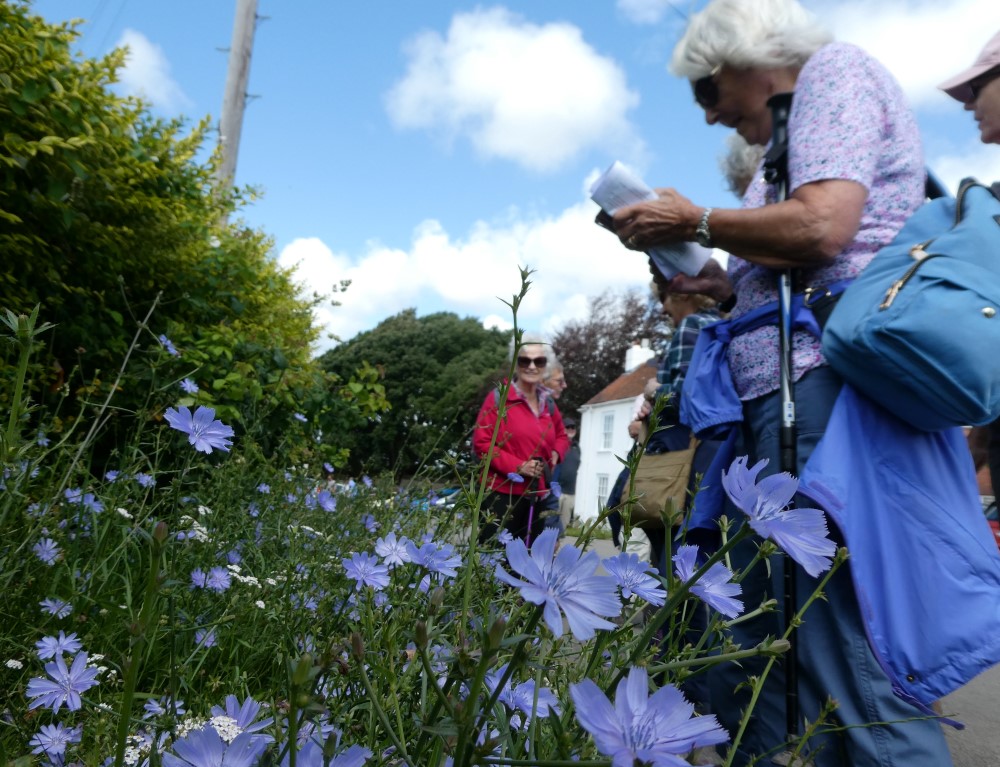 A whole verge full of delightful chicory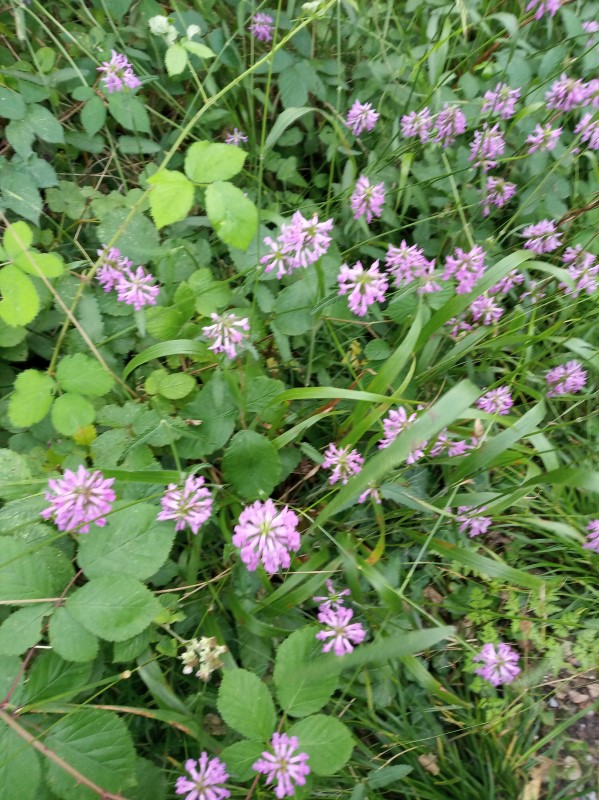 and a clump of betony?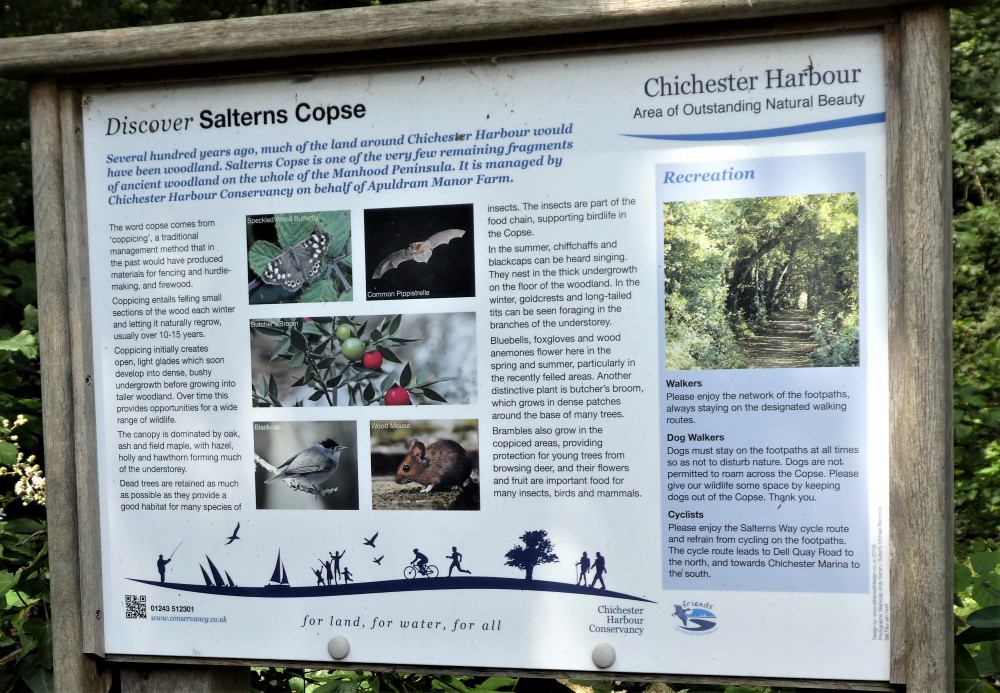 Just before Salterns Copse we had walked past the field where Clark Gable's plane had made a forced landing back in 1943.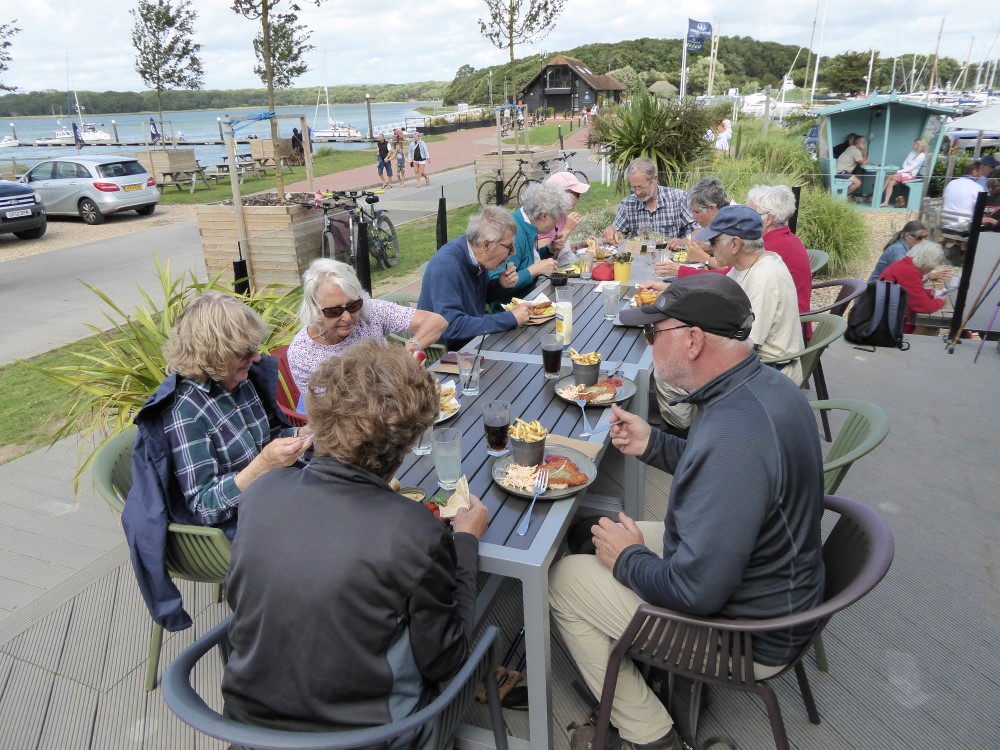 Nice lunch at the Boat House Cafe.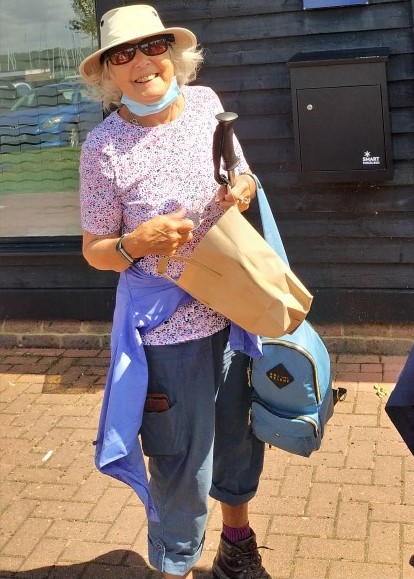 Shopping after lunch - some people just can't resist a new hat!
_____________________________________________________________________________________
_____________________________________________________________________________________
_____________________________________________________________________________________
Peters's bubble walk started in Upperton and ambled towards Lurgashall then branching off to Pitts hill, and finally through the vineyards, with all the seasons weather in one morning.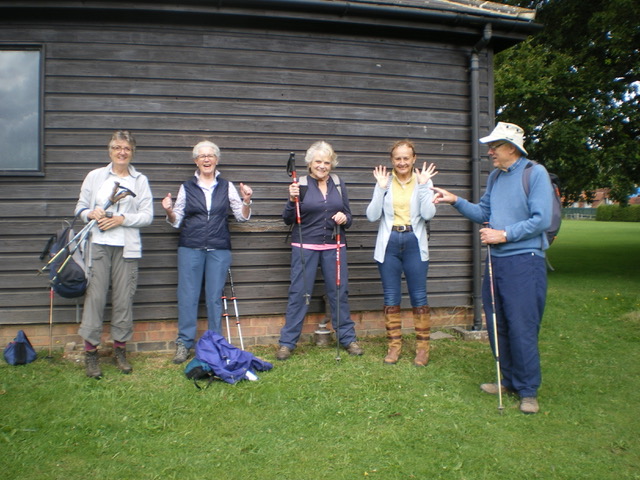 All fired up and ready to go.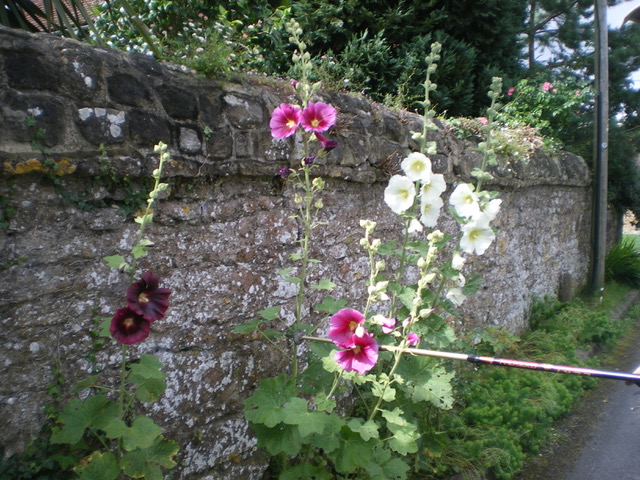 Jolly hollyhocks?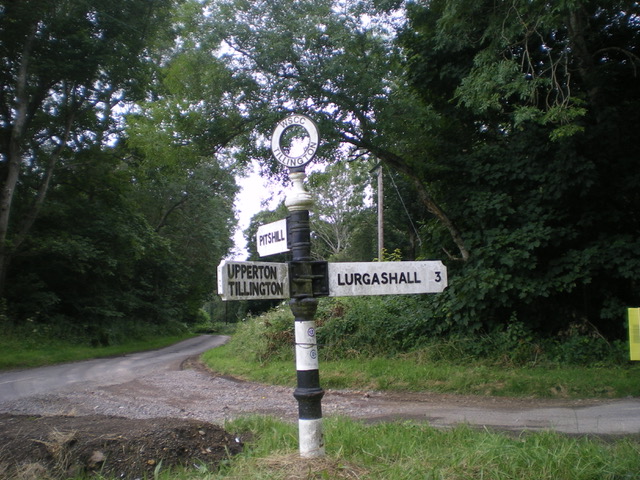 We went this way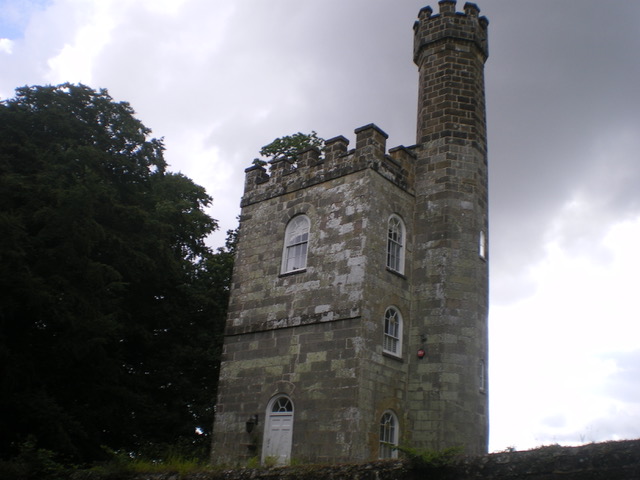 "Rapunzel, Rapunzel, let down your hair"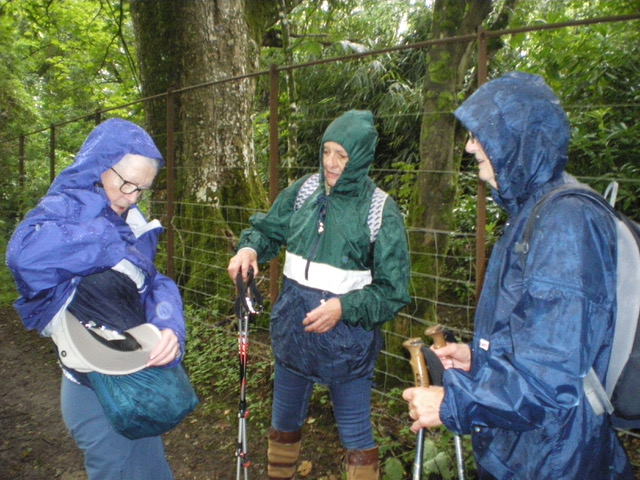 Oh, there it is!!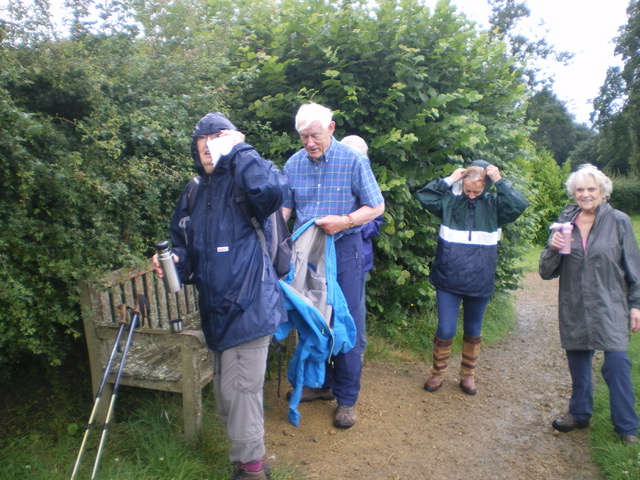 Very wet coffee break.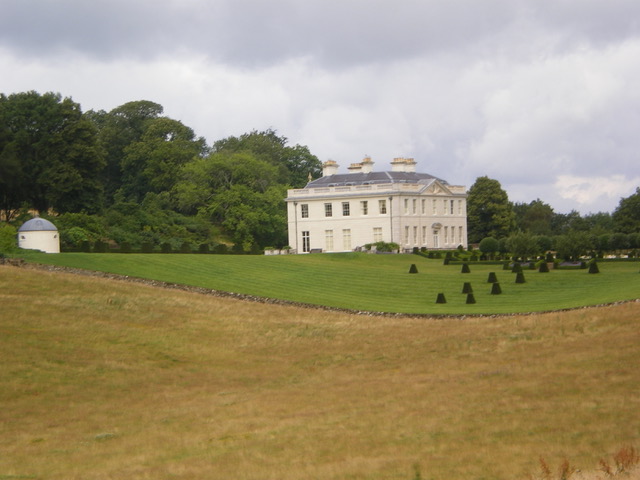 Stunning Pitshill House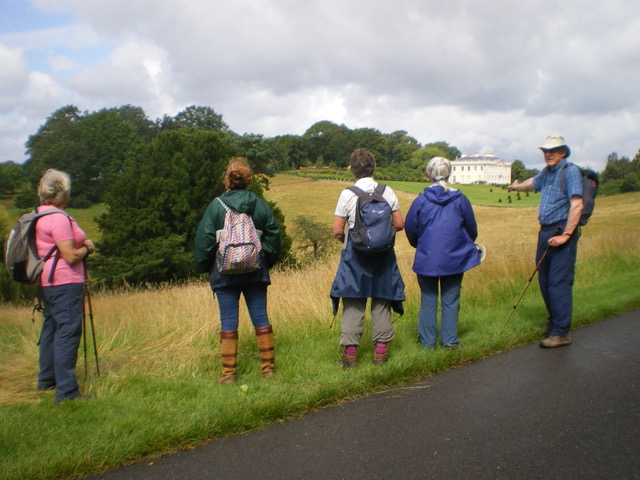 Admiring the view to Pitshill House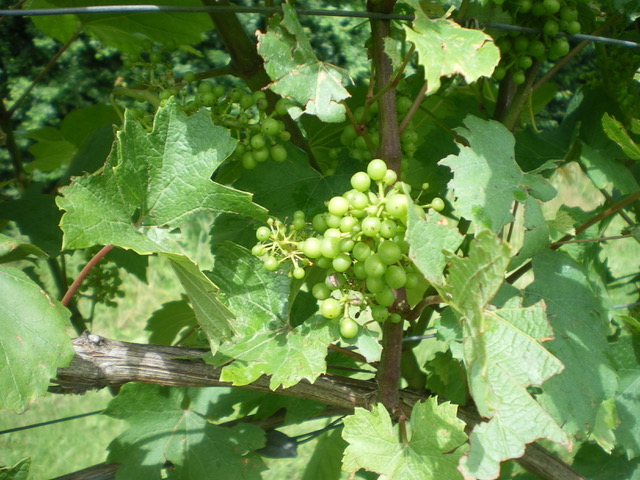 Nearly ready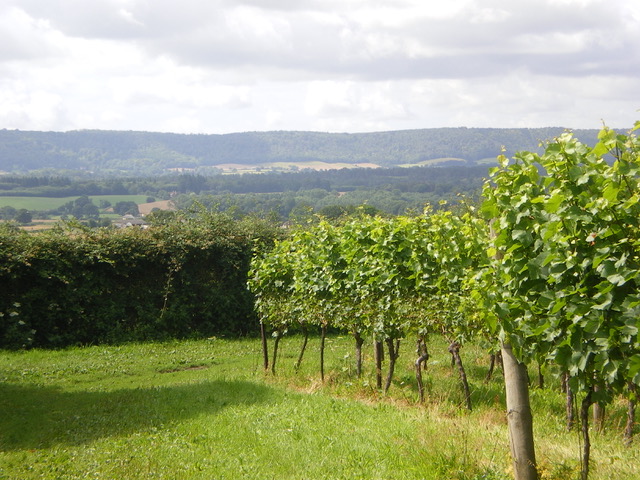 Lovely view from the vineyard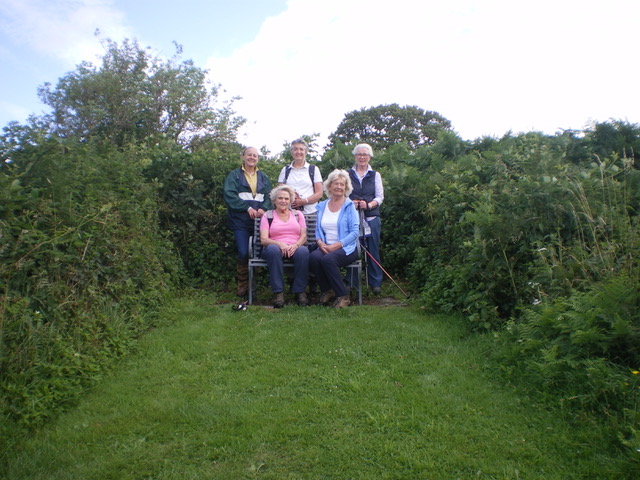 Peter's girls enjoying the view
---
With high temperatures forecast, we decided a stroll near water and in the shade of trees would be a good idea. Parking in the Applegarth Farm car park near Grayshott, we skirted round the back of the Playing Field before descending into the valley next to Hunters Moon. Turning right we followed the path down to Waggoners Wells and after passing all 3 ponds, found a pleasant spot to have a drink. A little further on we came across a well, a favourite spot for Lord Tennyson and also used by Flora Thompson as a wishing well - she used pins to drop into the water rather than coins. We had descended nearly 150 feet so a climb was inevitable but fortunately it was very gradual and in good shade. So we emerged from the shade for a short hike over Ludshott Common before getting back in the shade again for the final stretch back to Applegarth Farm. Staff there looked after us very well and served up some excellent food under two parasols - a pleasant end to the morning walk.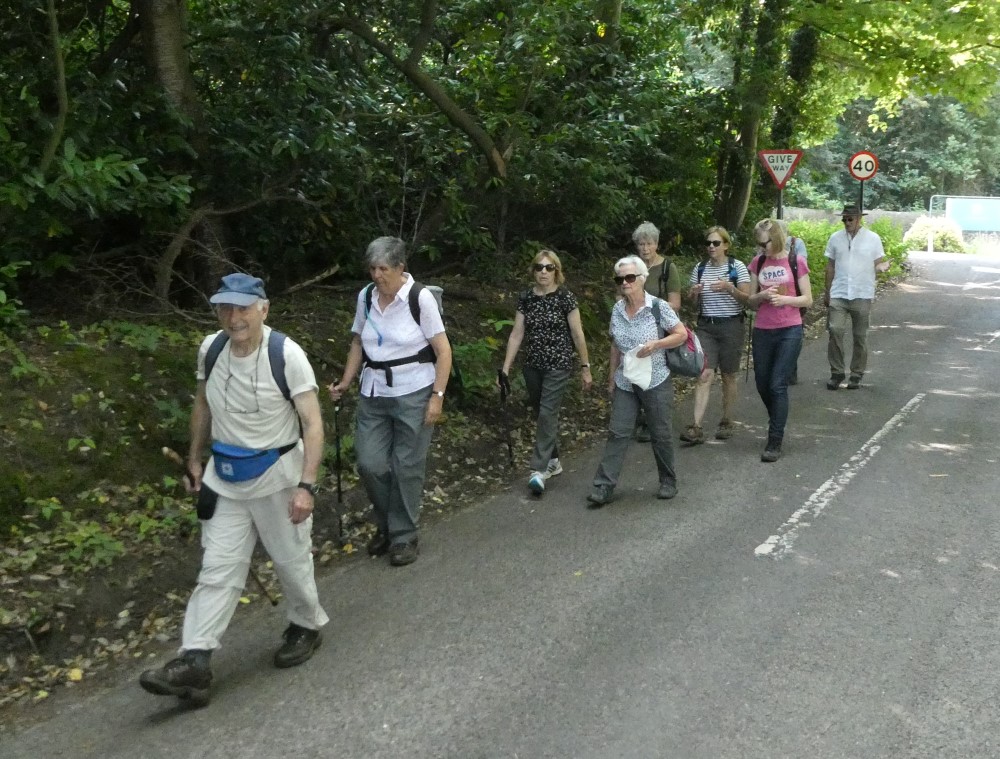 Setting off down Hammer Lane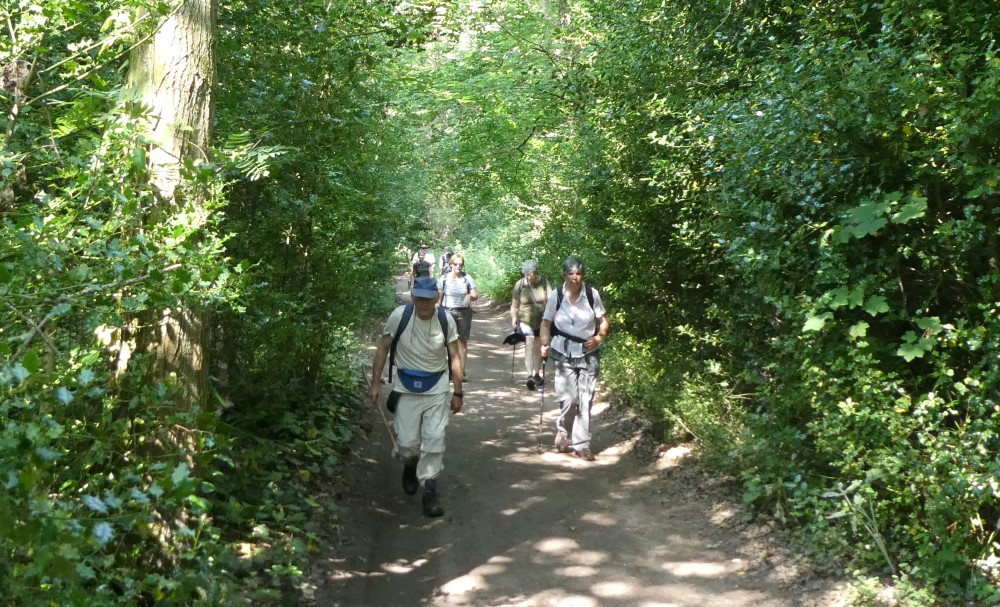 Heading towards Waggoners down Stoney Bottom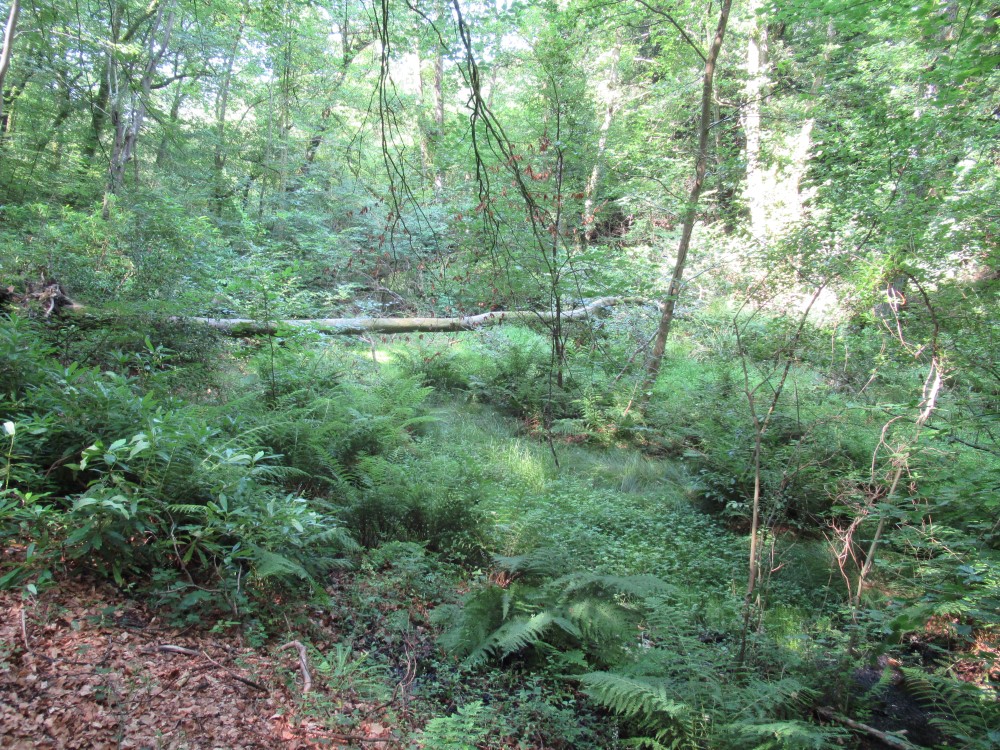 As we got nearer Waggoners Wells, the vegetation was getting quite tropical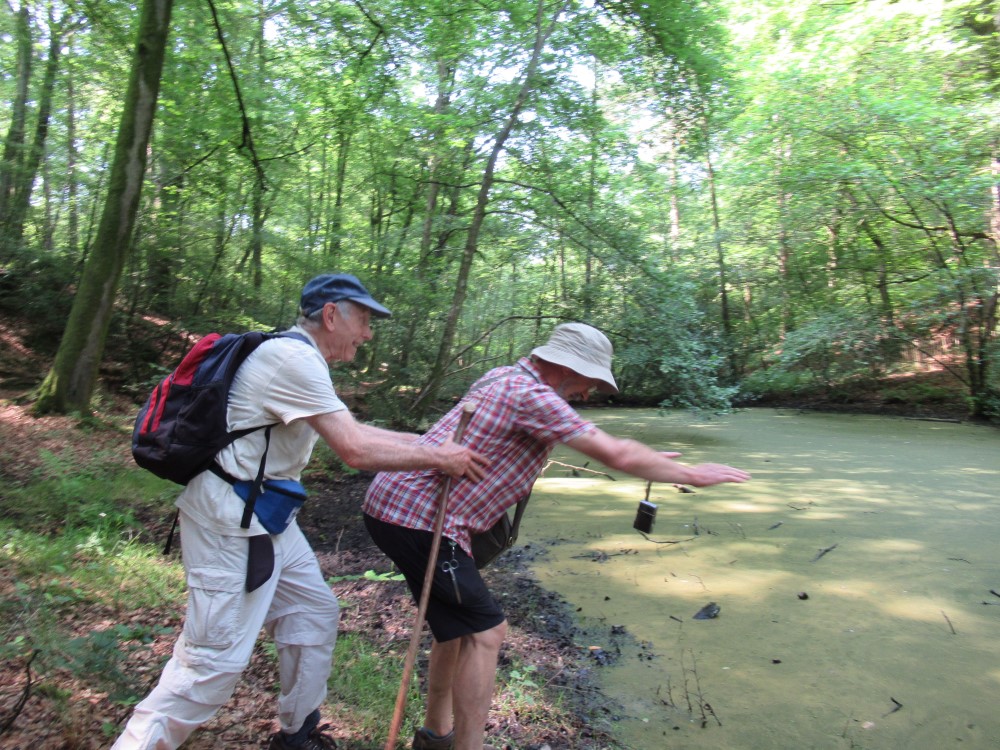 Is he pushing or saving?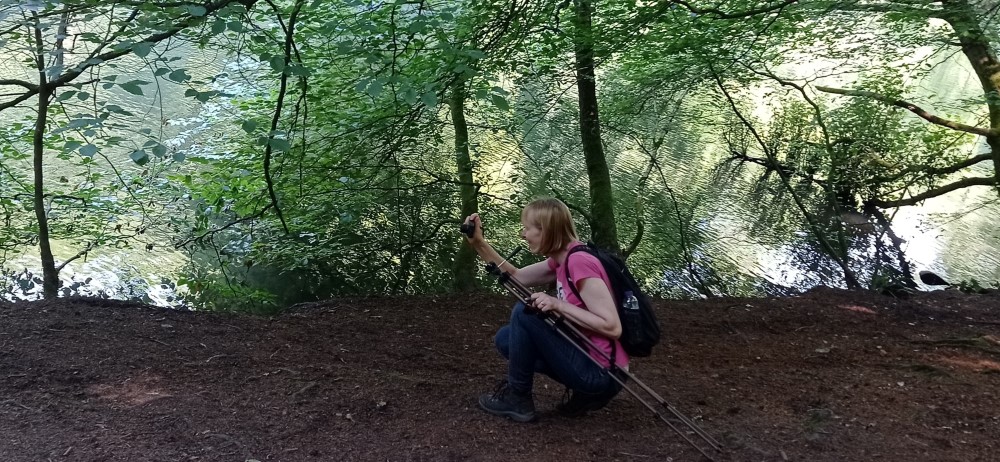 Snapping again!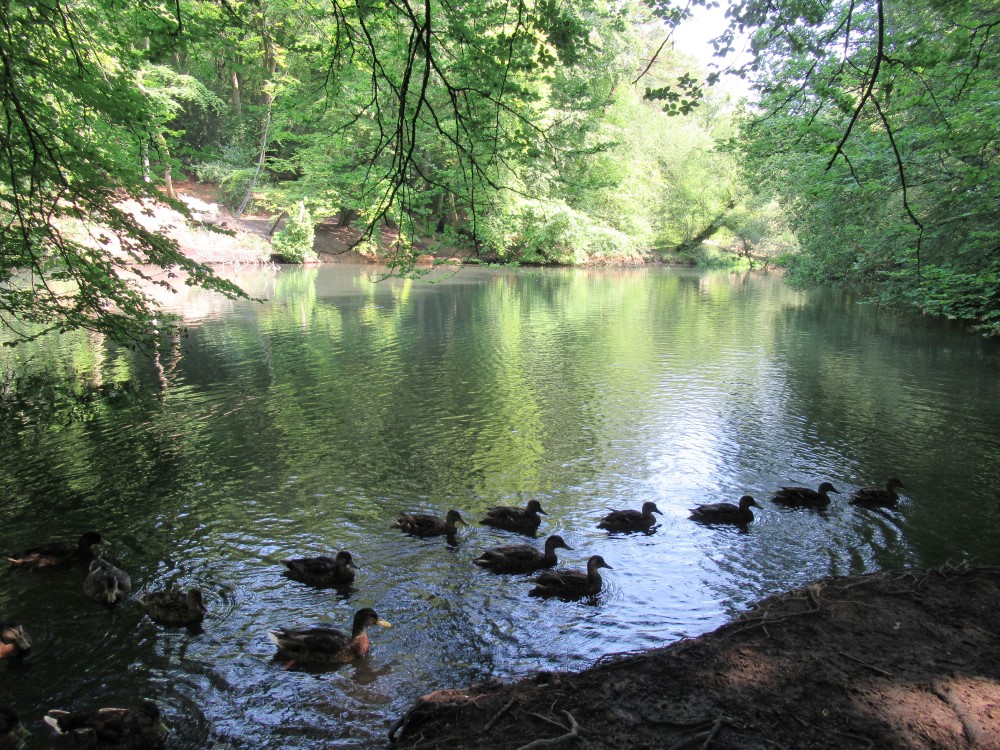 Ducks galore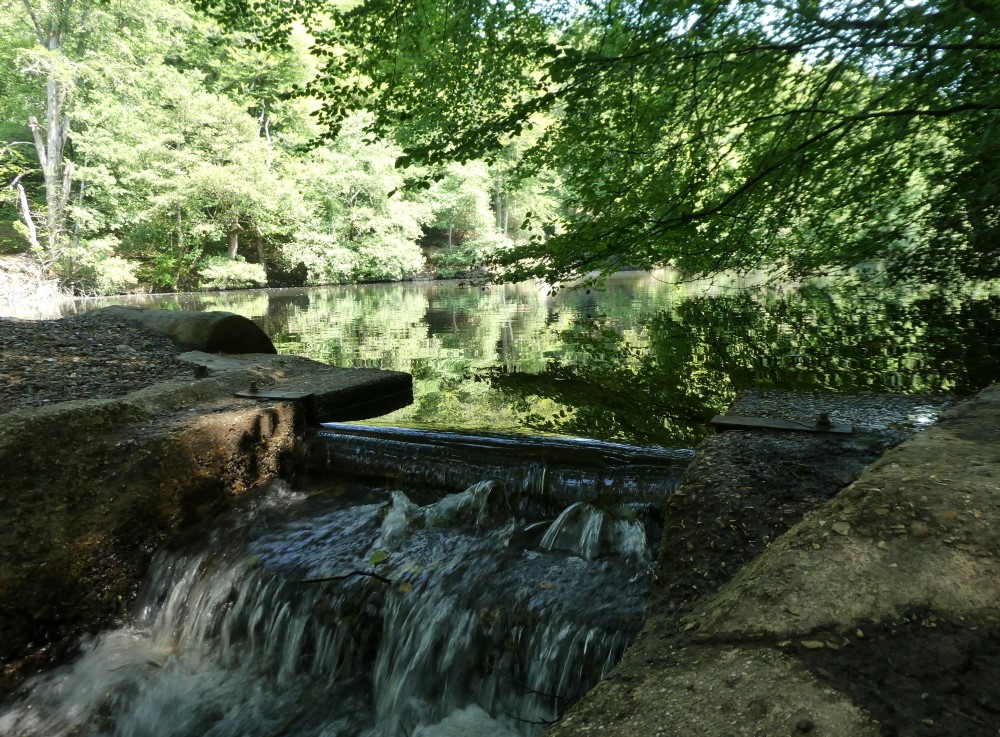 Water flowing well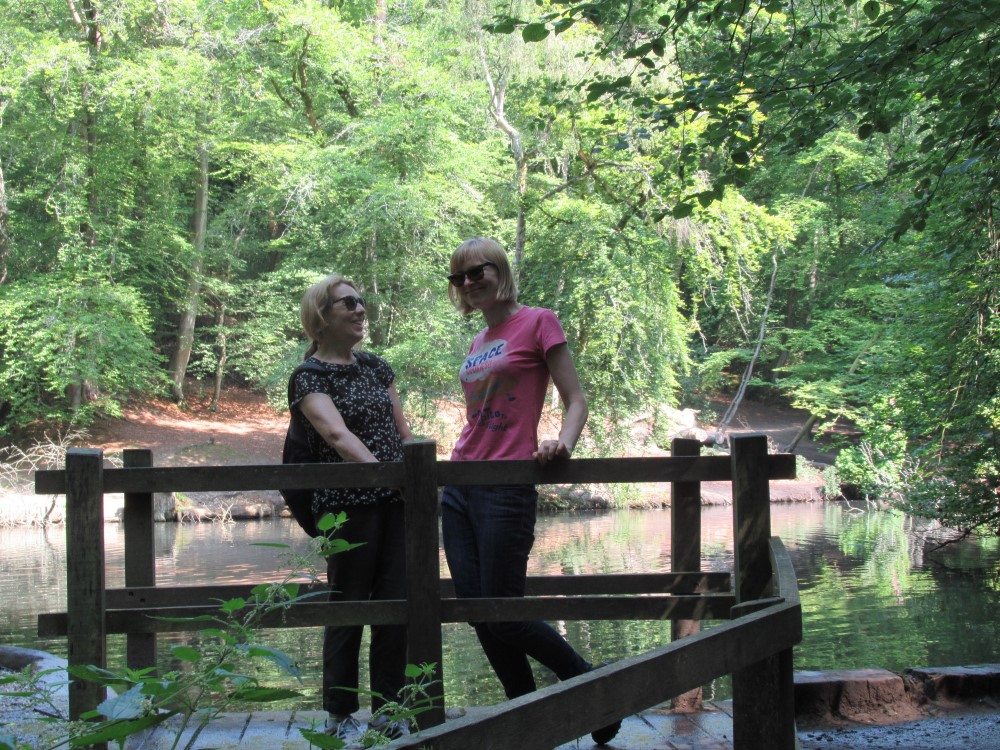 "So, I said to him" ?????????????????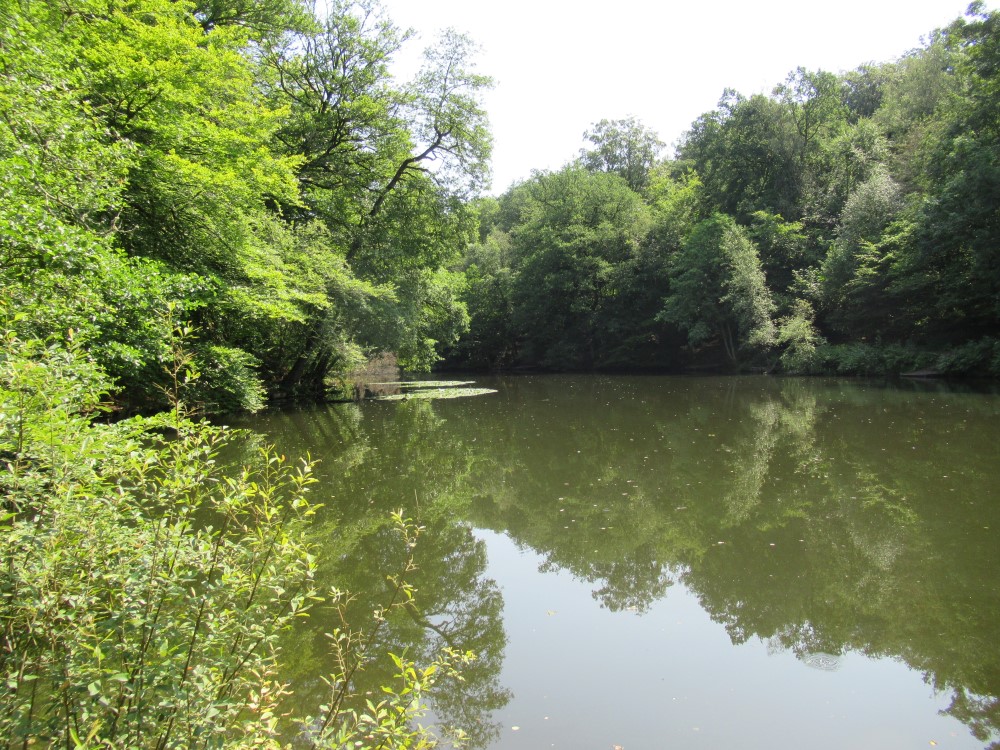 Last of the three ponds.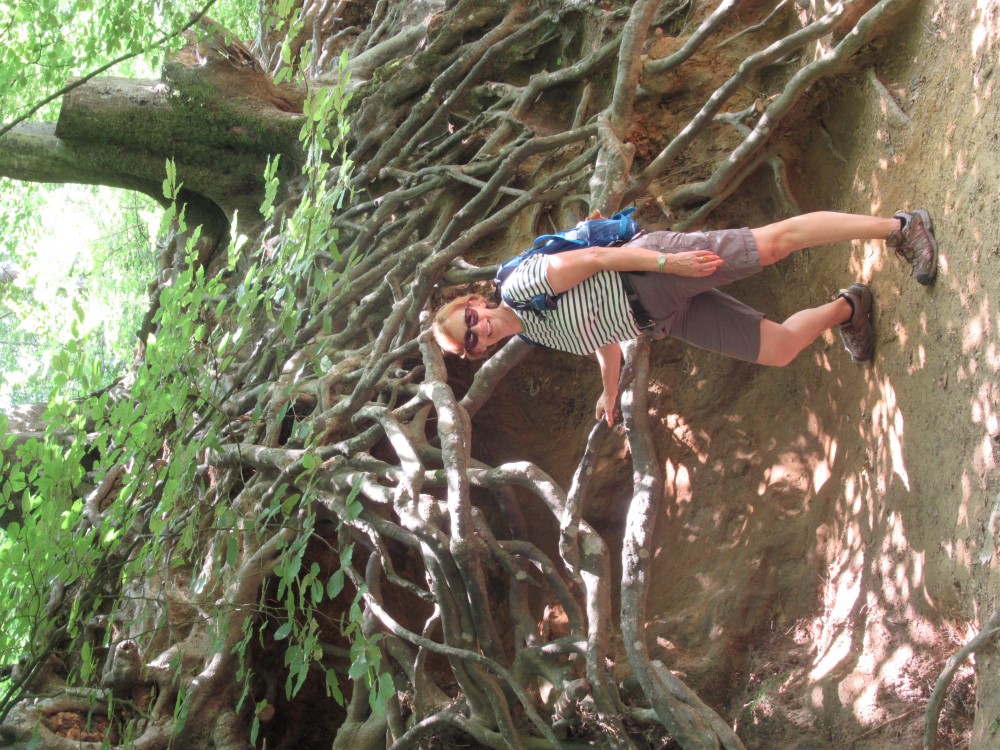 Waggoners Wells is notable for its mature beech trees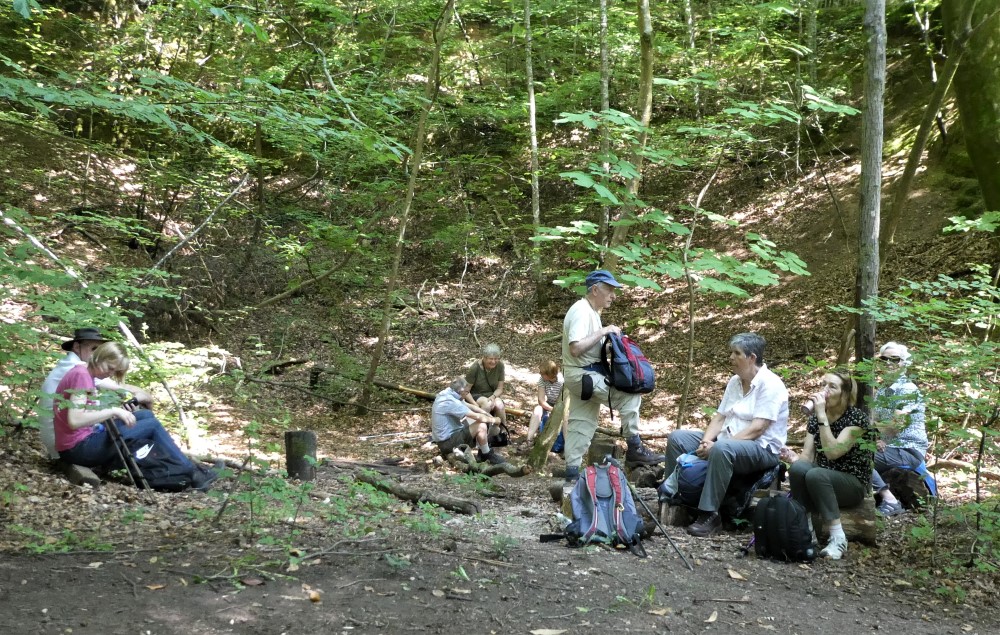 A shady picnic spot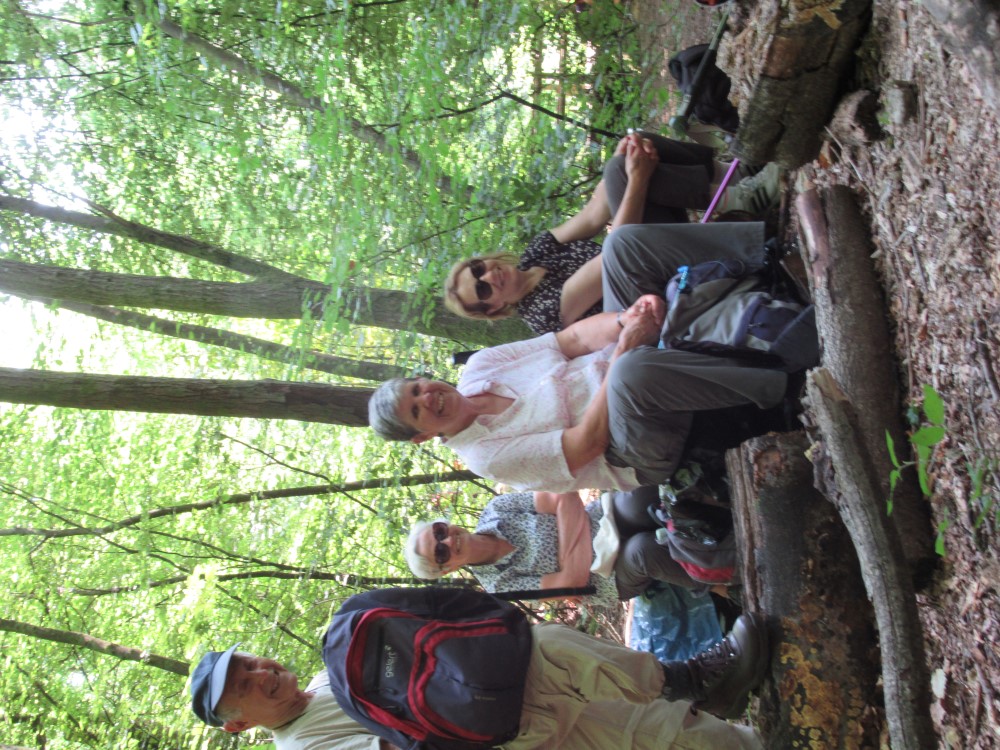 A sit down at last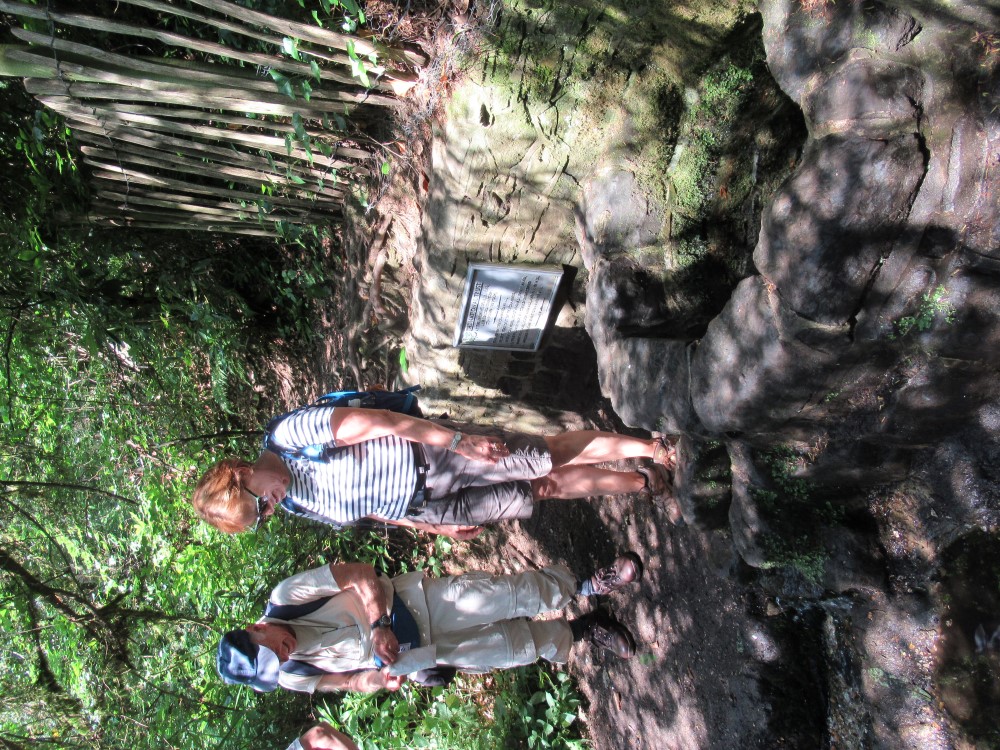 Wishing Well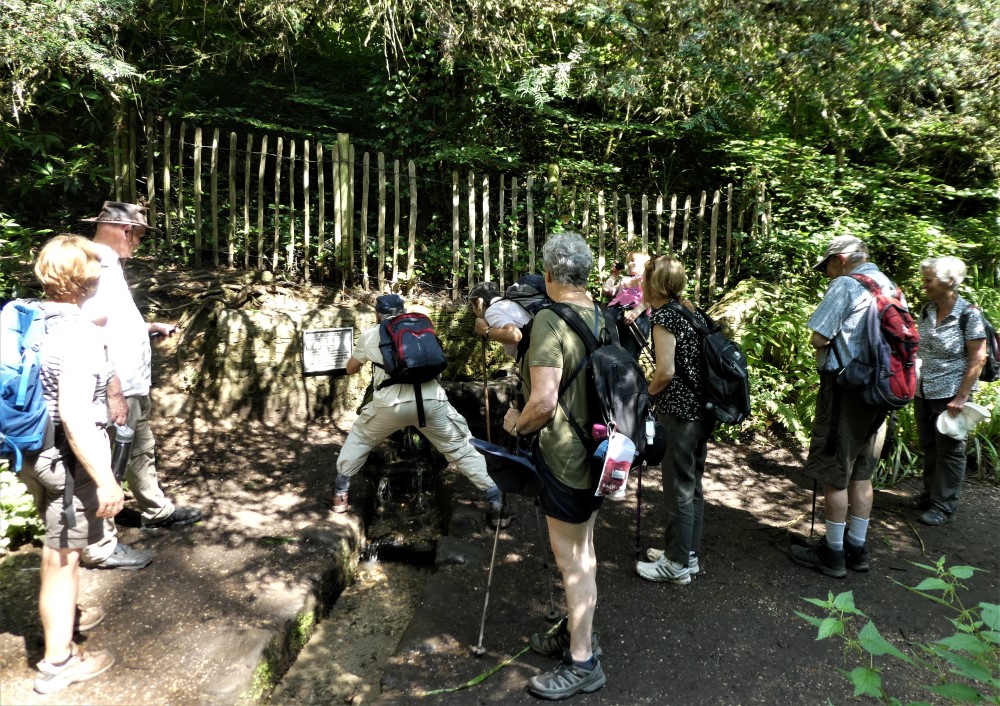 Reading the Tennyson plaque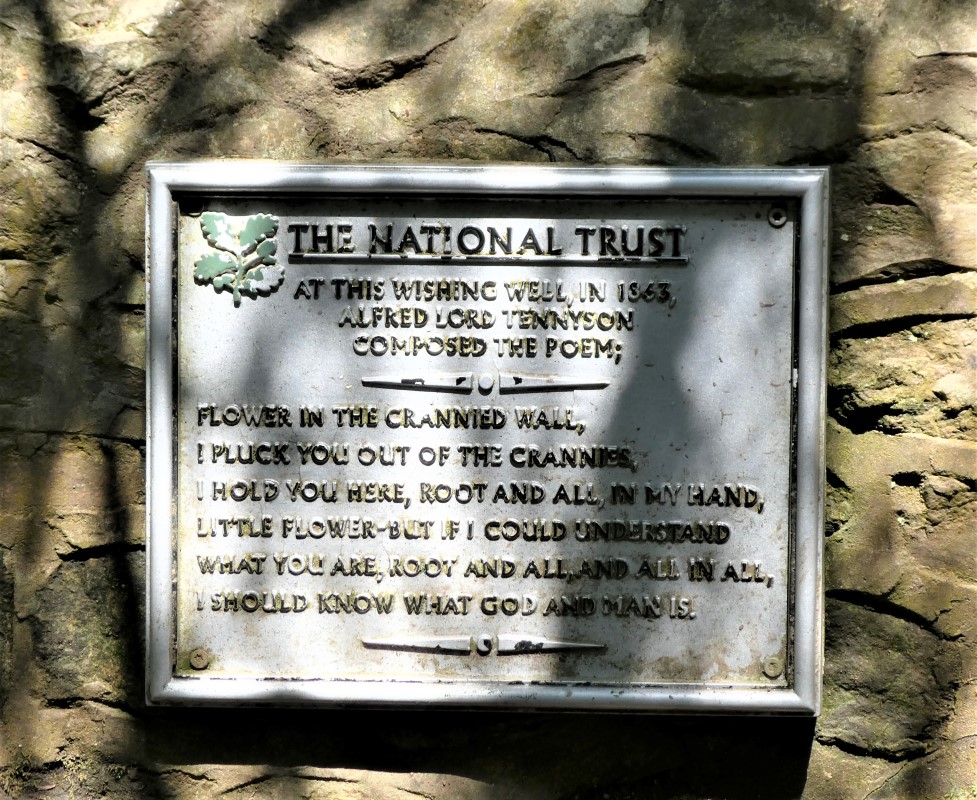 Written when he was a mere lad of 54.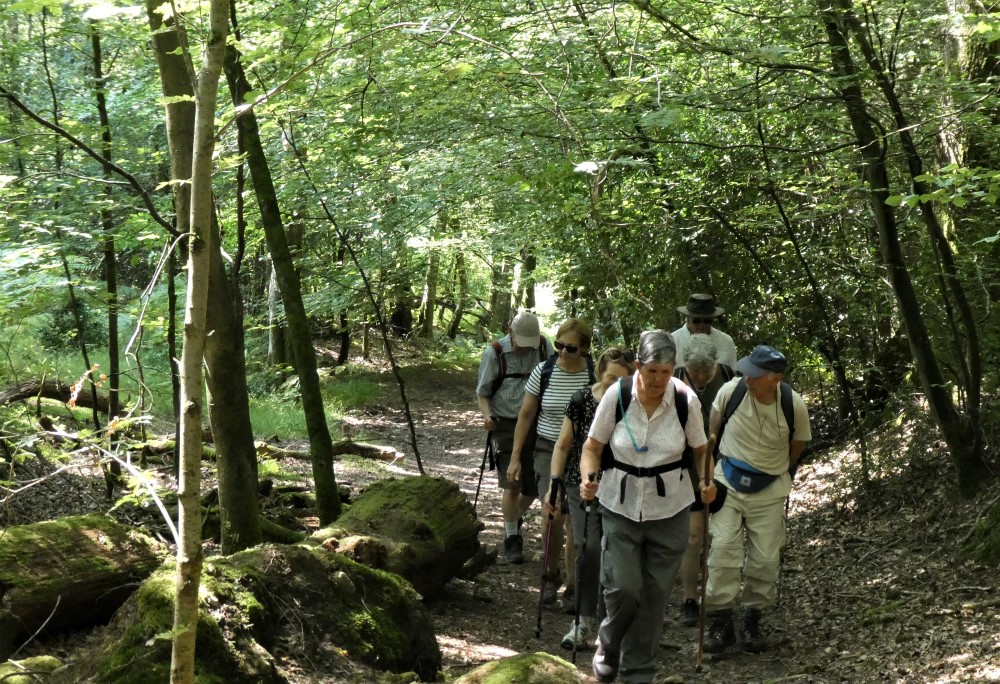 Tramping up towards Ludshoitt Common. The common is now a Site of Special Scientific Interest (SSSI) and is one of the largest areas of Heathland in east Hampshire. In 1945 it had been devastated by the Canadians who used it for tank training.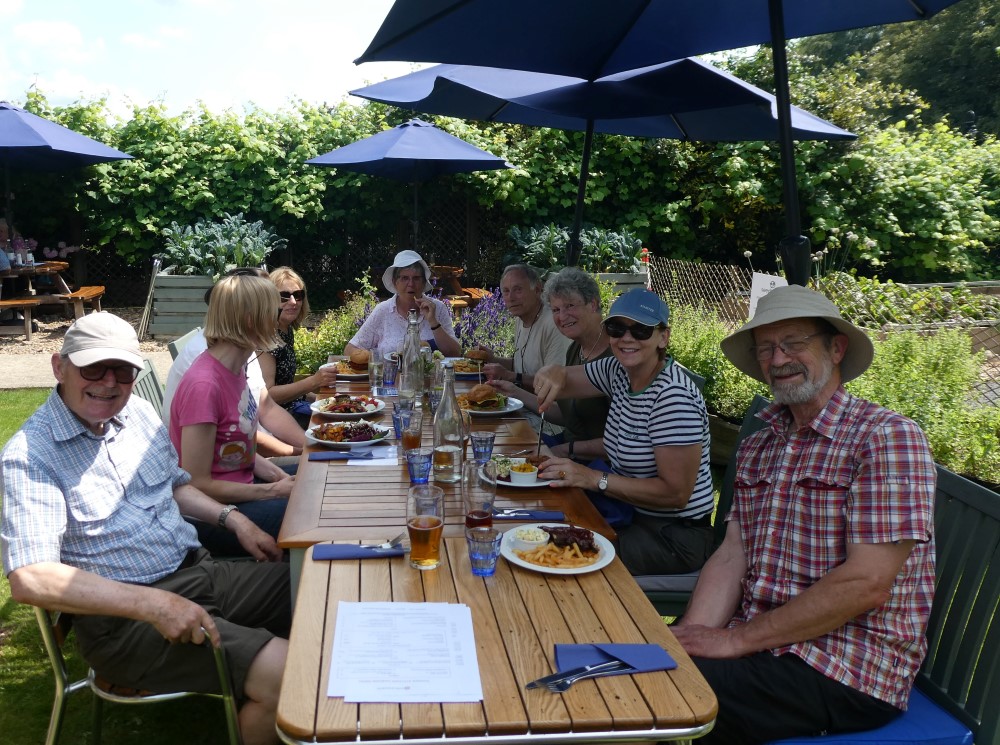 Applegarth Farm served an excellent lunch.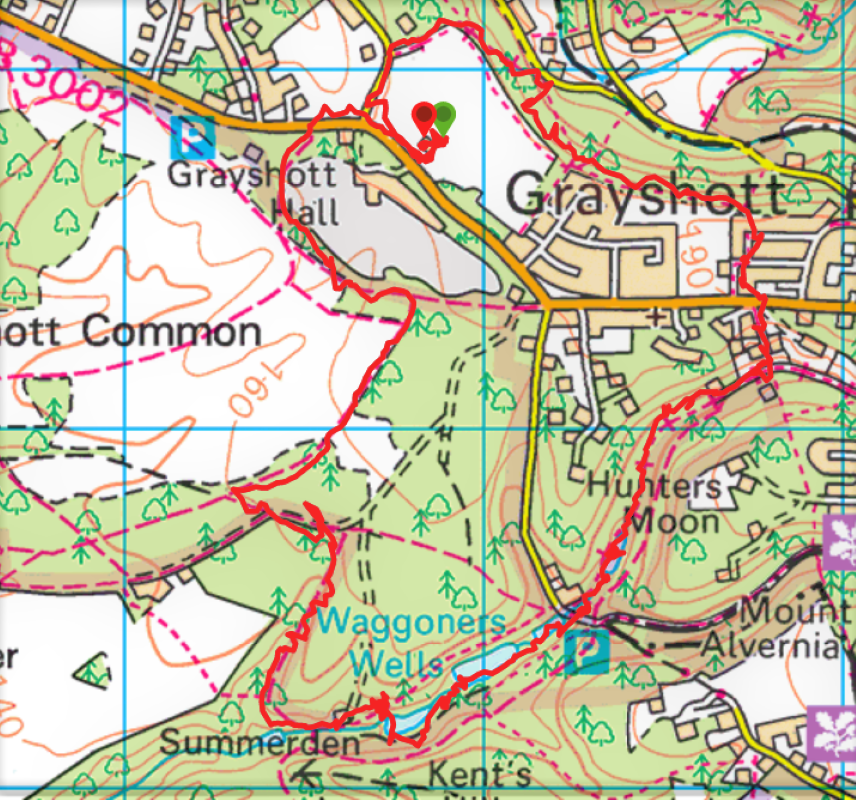 About 4 miles
---
Peter led a very interesting walk for two of the bubble groups, starting from The Street in Sutton. The weather was beautiful as we took a triangular route towards the White Horse public house in the village and then past many fields of crops on our way to Bignor, from there the walk included a number of woodland paths, not yet dry from the recent rain. Peter skilfully avoided areas and also a ford that would have been too difficult to pass and led us on a path where a railway line ran long ago. After a lovely walk of four and a half miles we were back at the cars ready for a quick drive to the Badgers where we enjoyed a delicious lunch in the garden.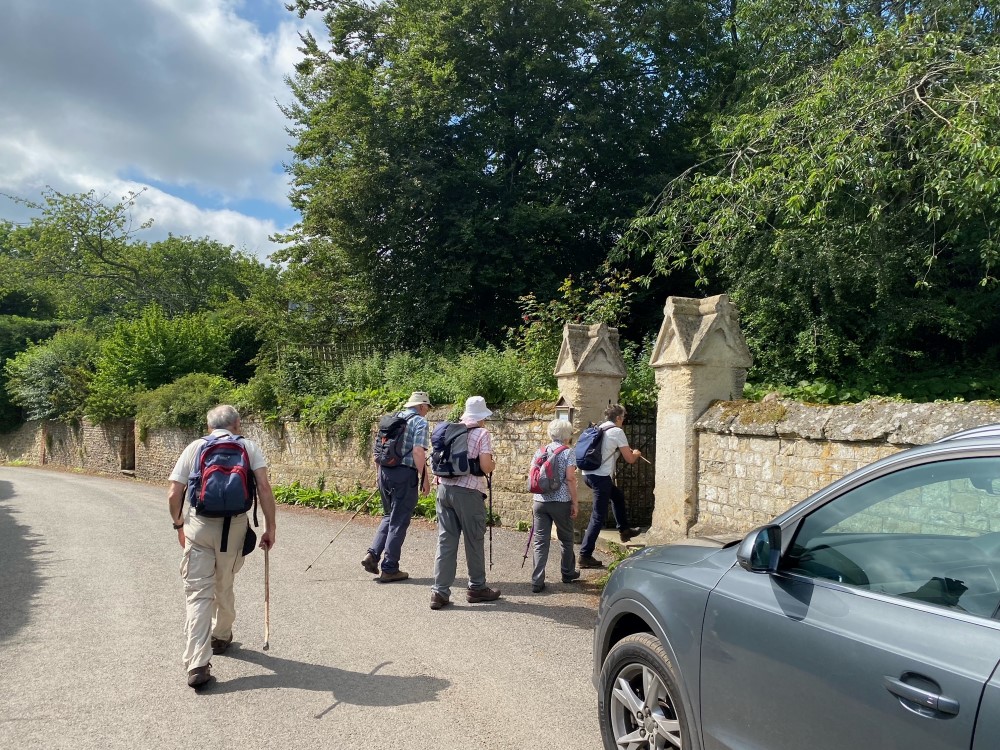 Start of walk through the Church grounds of St John the Baptist Sutton.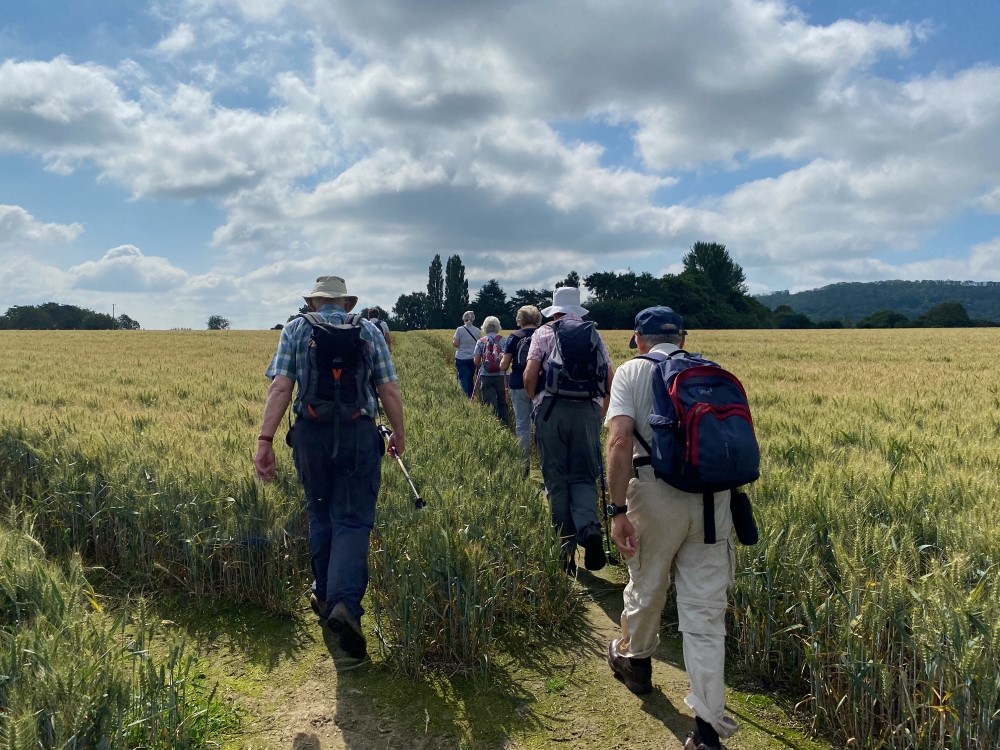 Our walk leader keeping an eye on the stragglers at the back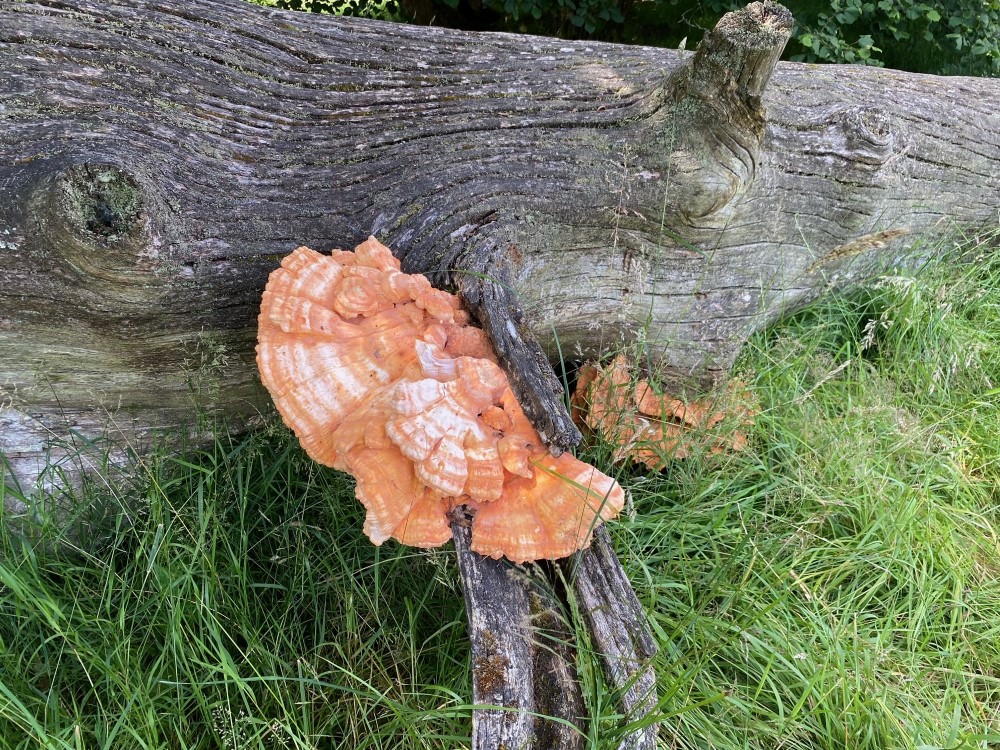 Bracket fungus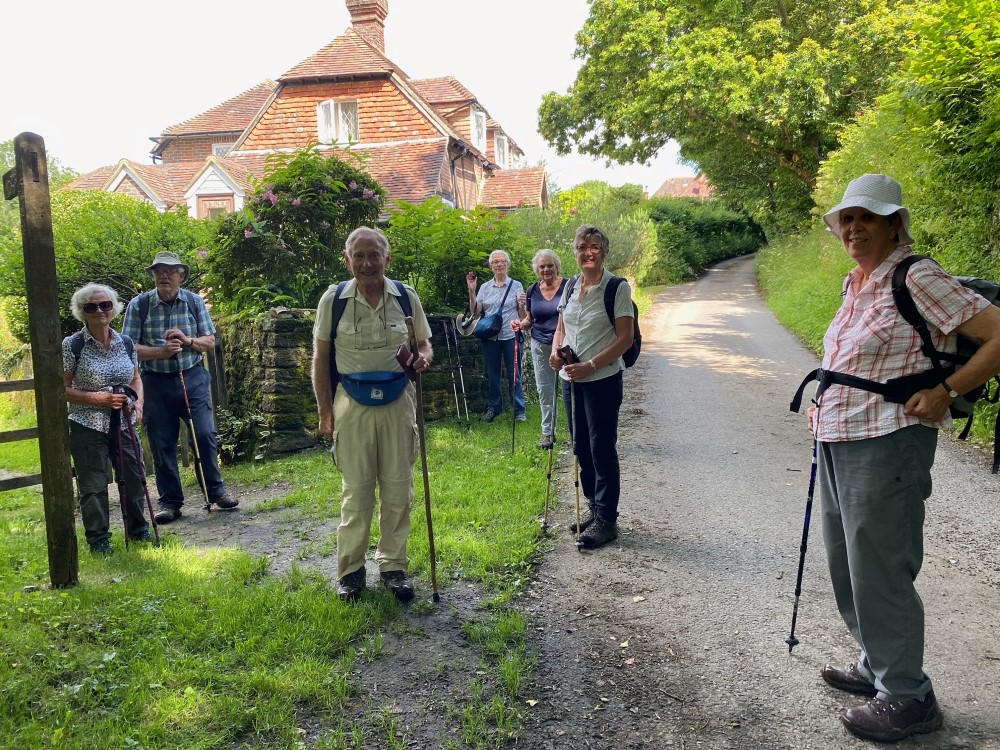 Smile for the camera!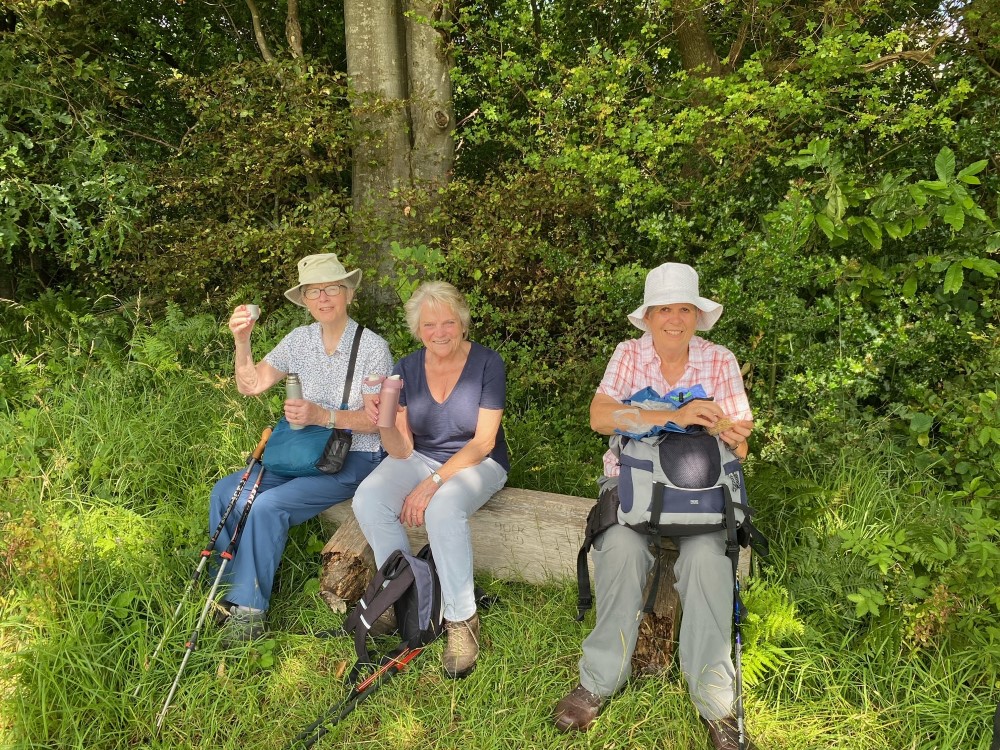 Cheers!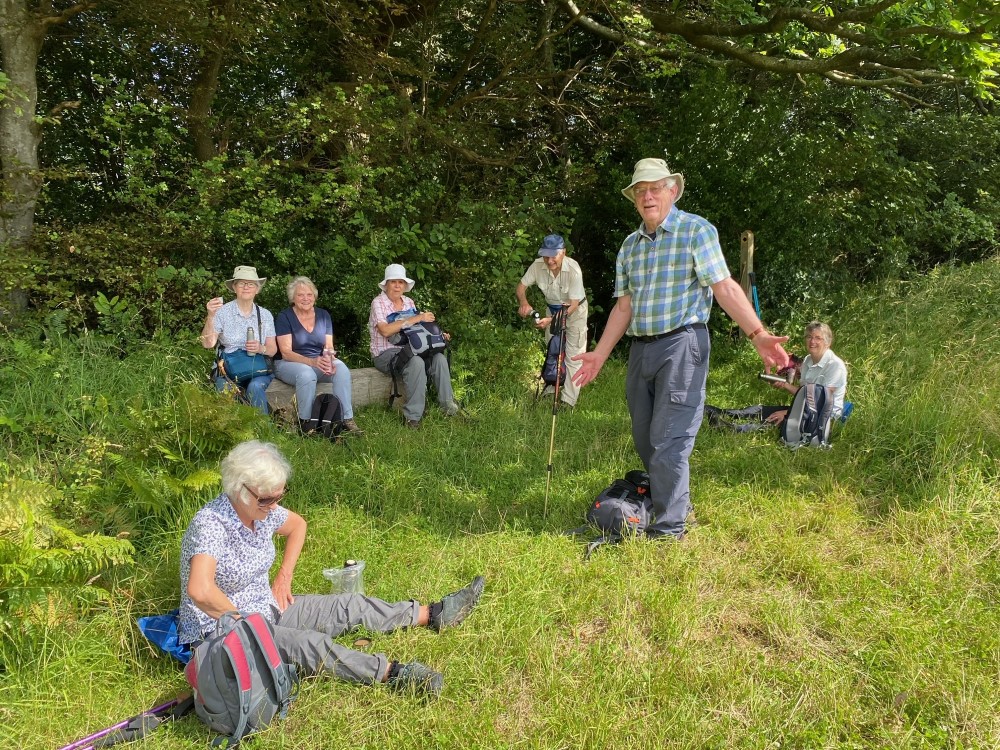 Time for coffee and chocolates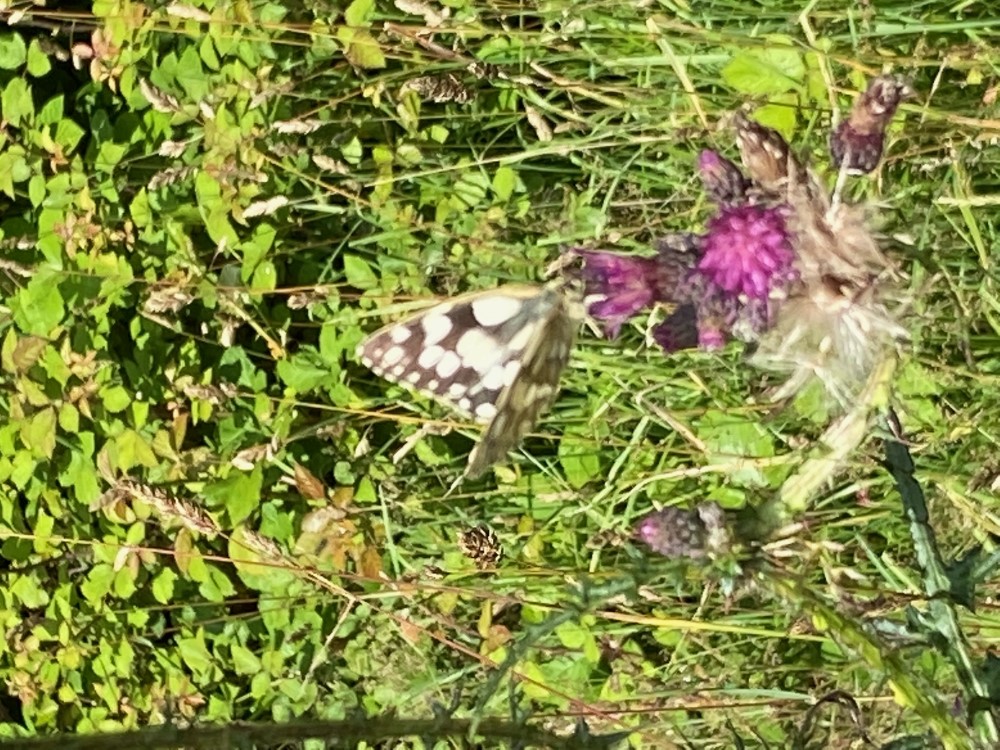 A marbled white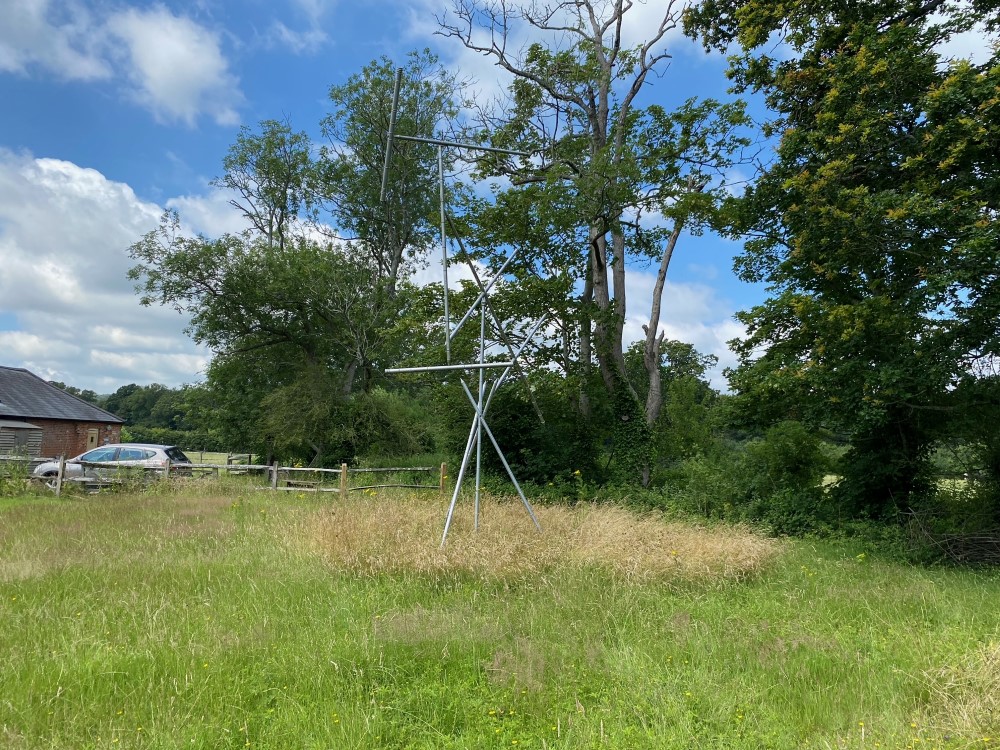 An aerial or a sculpture?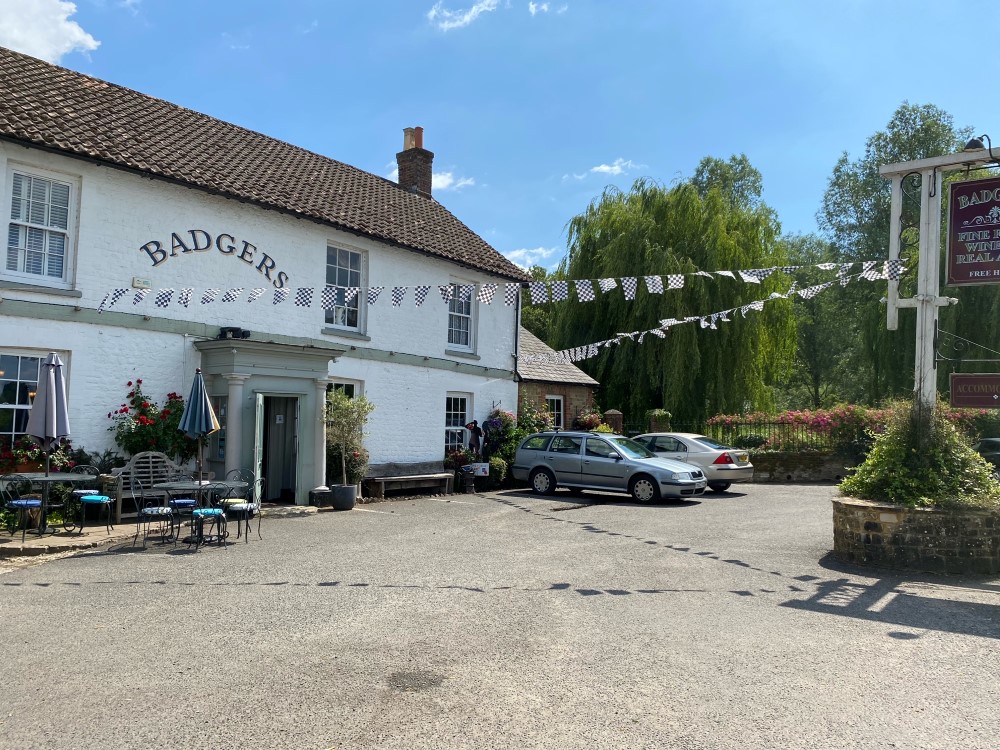 This looks promising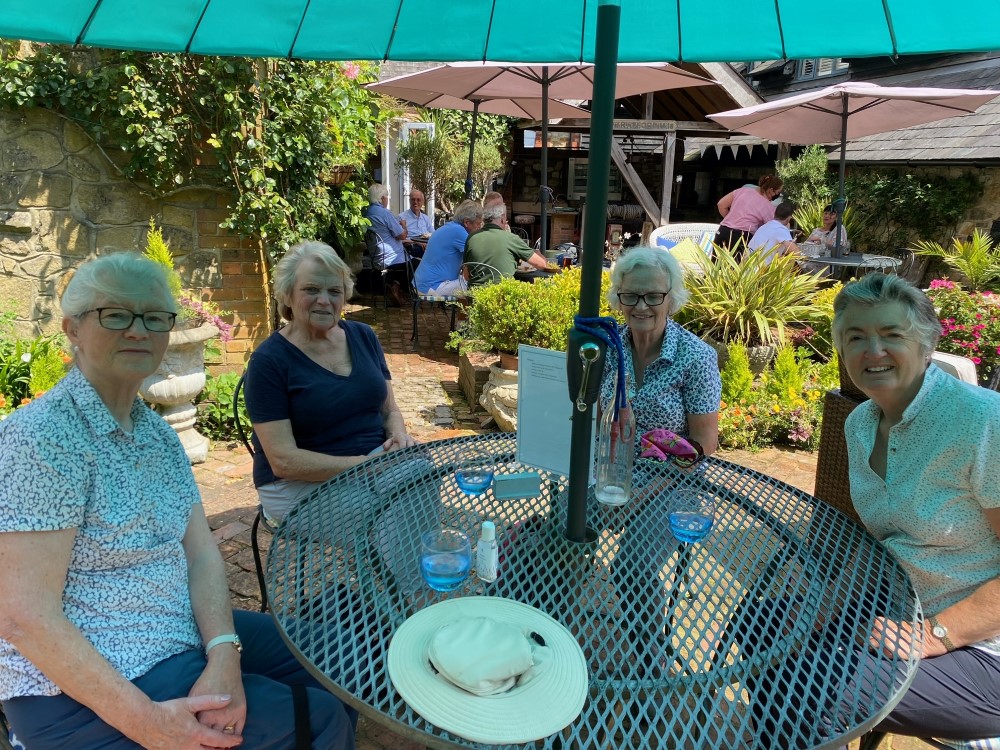 Waiting for lunch to arrive in the sunshine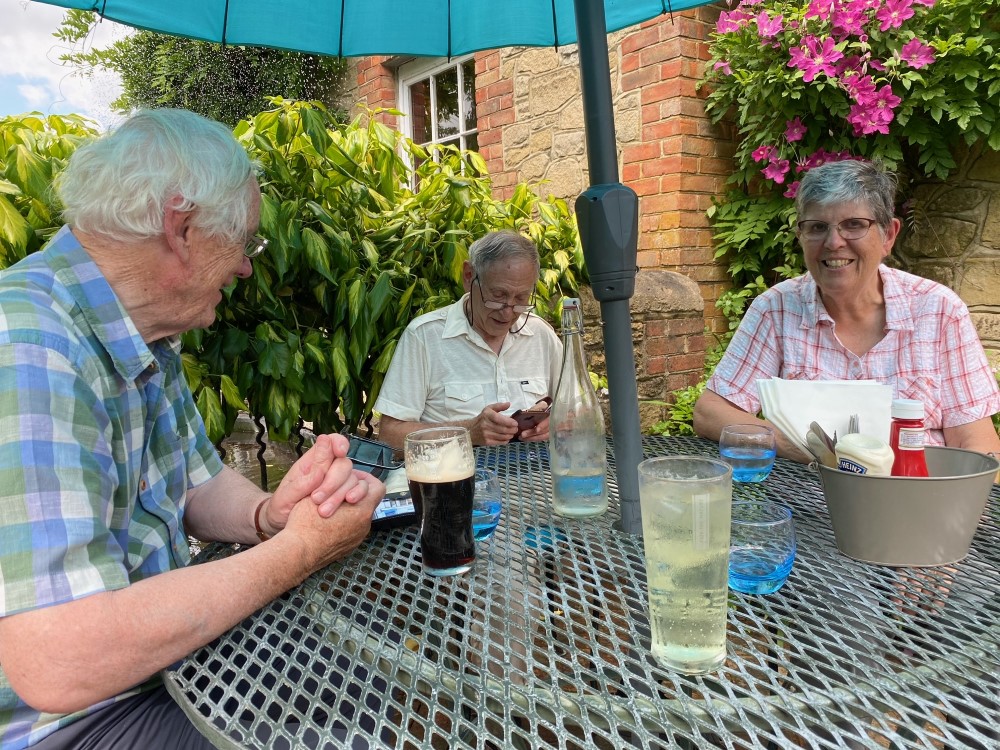 Nice cold drinks before lunch
______________________________________________________________________________________
______________________________________________________________________________________
______________________________________________________________________________________
Geoff and Kathryn kindly volunteered to lead a walk in the Tilford area. The weather was good and although some rain had happened the day before we felt that the sandy soil around Frensham should have drained it all away. Starting from Tilford Green we followed the path going up the River Wey towards Frensham. Some sheep and pigs provided a sideshow before we reached the main path in Tilford Common. We met a couple of cyclists who said the road ahead was impassable but we were not deterred. To be fair they were almost correct but didn't bargain for our tree felling, branch moving, log placing skills and after an interesting passage over a flooded ford we eventually reached a board walk and relative dryness. We stopped for an early coffee at the cafe at Frensham Little Pond before heading for Tankersford Common, via Pierrepont Home Farm. Crossing The Reeds Road we entered the Farnham Heath Nature Reserve. After Tilfordmill Bridge our esteemed leaders warned us of an incline and the possibility of some mud on the path but we as we had already dealt with the Sea of Frensham, the Mud of Tilford was of little consequence. As we neared Tilford we noticed a pill box between the path and the river, one of a huge chain of defences erected during WW11, stretching from Farnham to Edenbridge in Kent, fortunately never actually needed. At our walk end we retired to the nearby coffee shop/post office/grocery and general store. About 4 to 5 miles.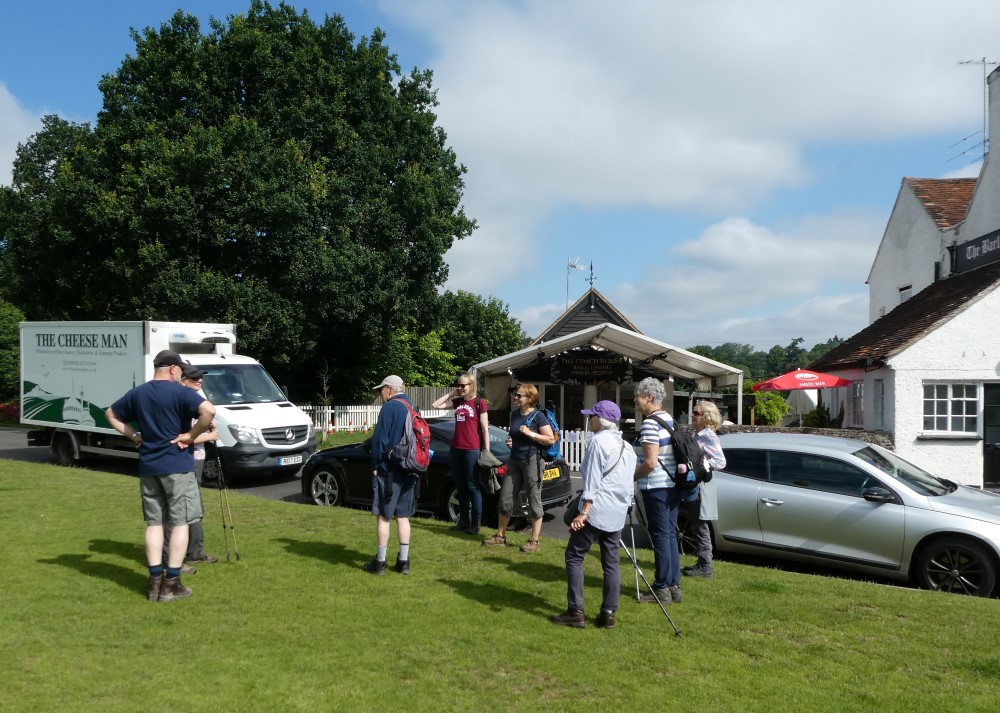 Gathering together outside the Barley Mow, Tilford Green.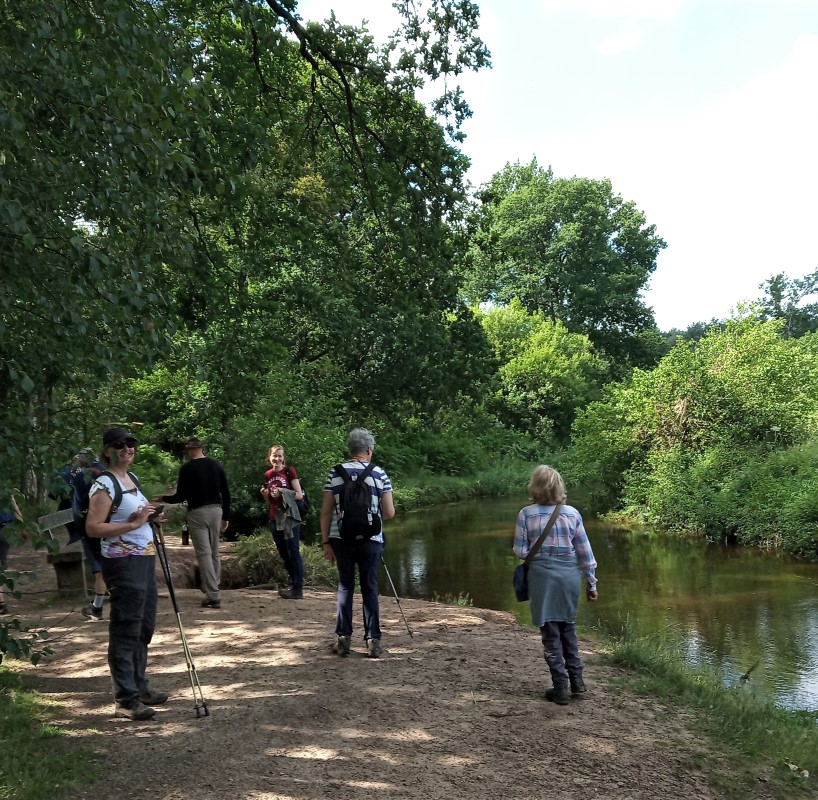 River Wey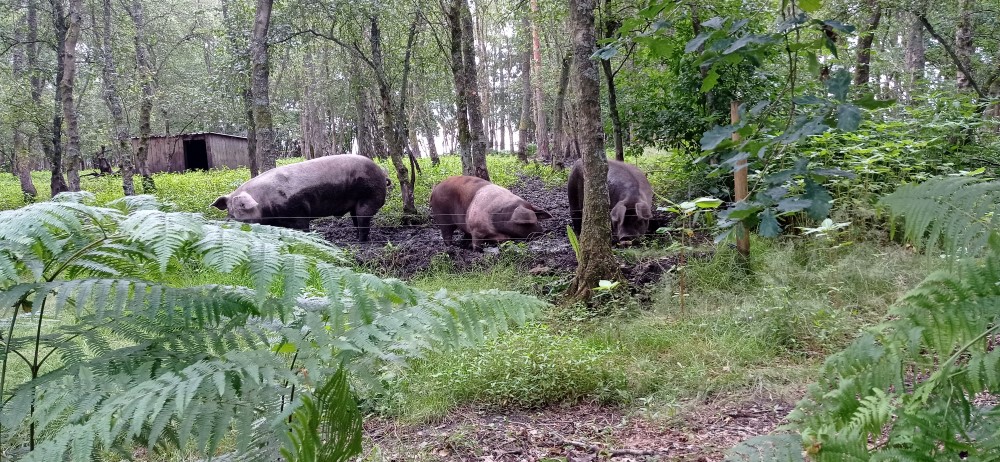 Happy pigs with fresh pasture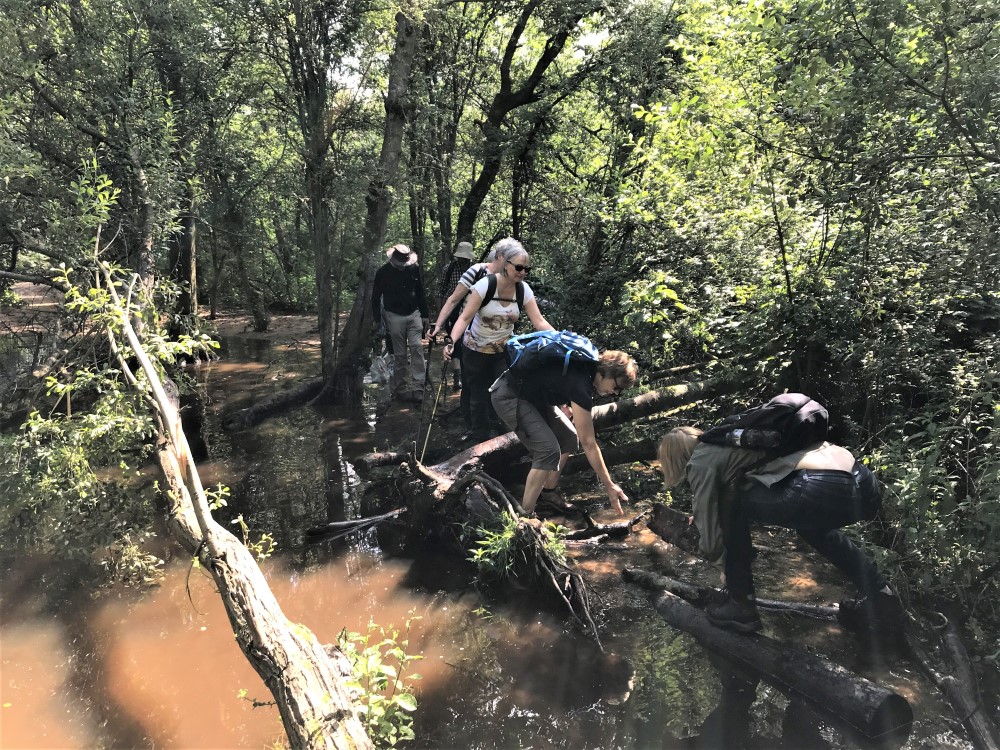 Building bridges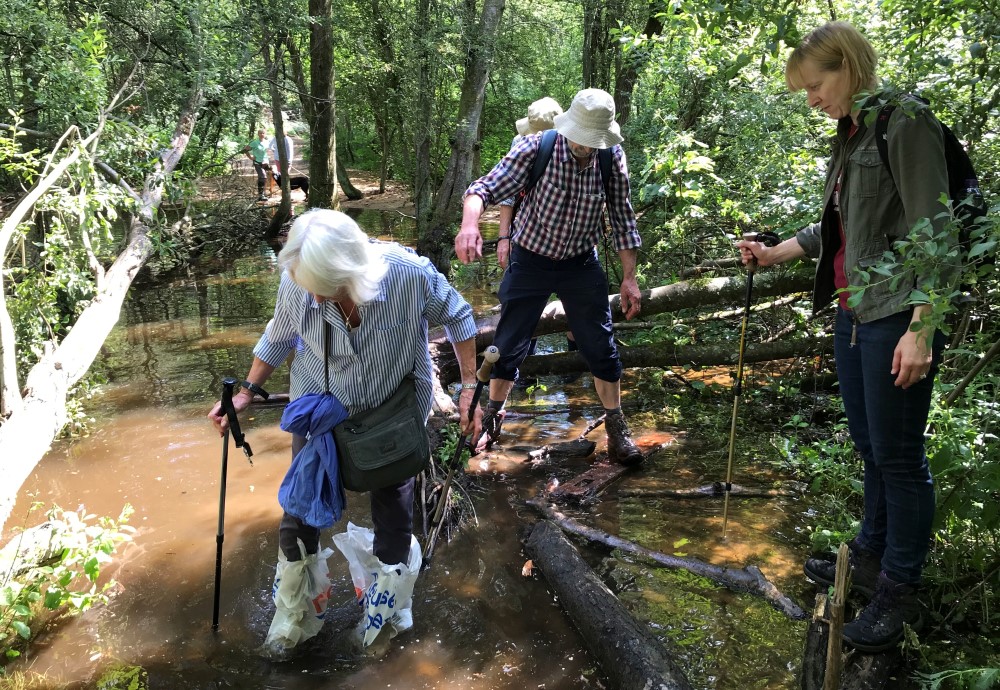 Recycling carrier bags, as recommended by all major supermarkets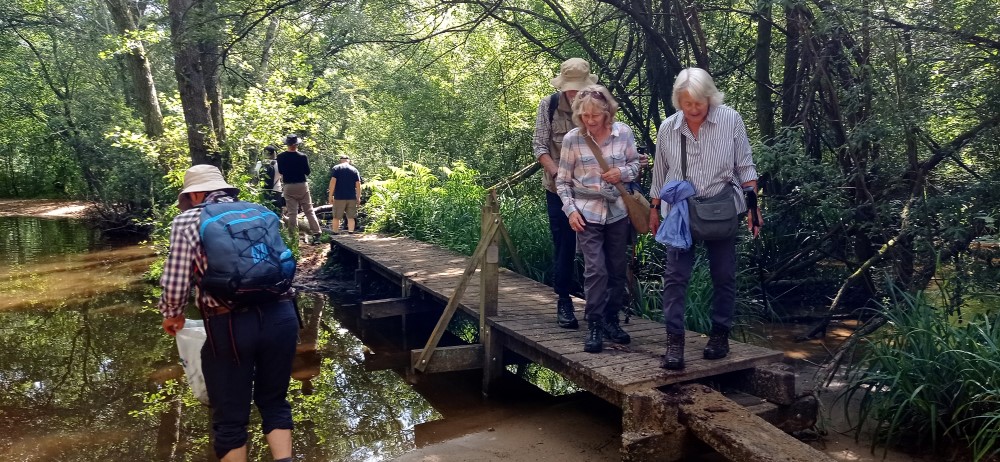 This boardwalk was about 50 feet too short!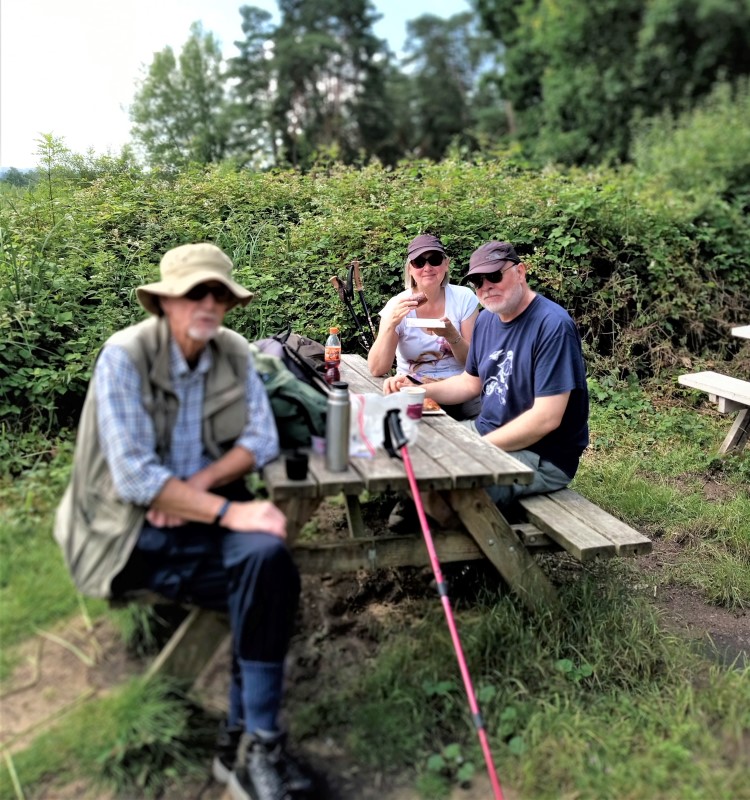 The drama is over, let's have a coffee.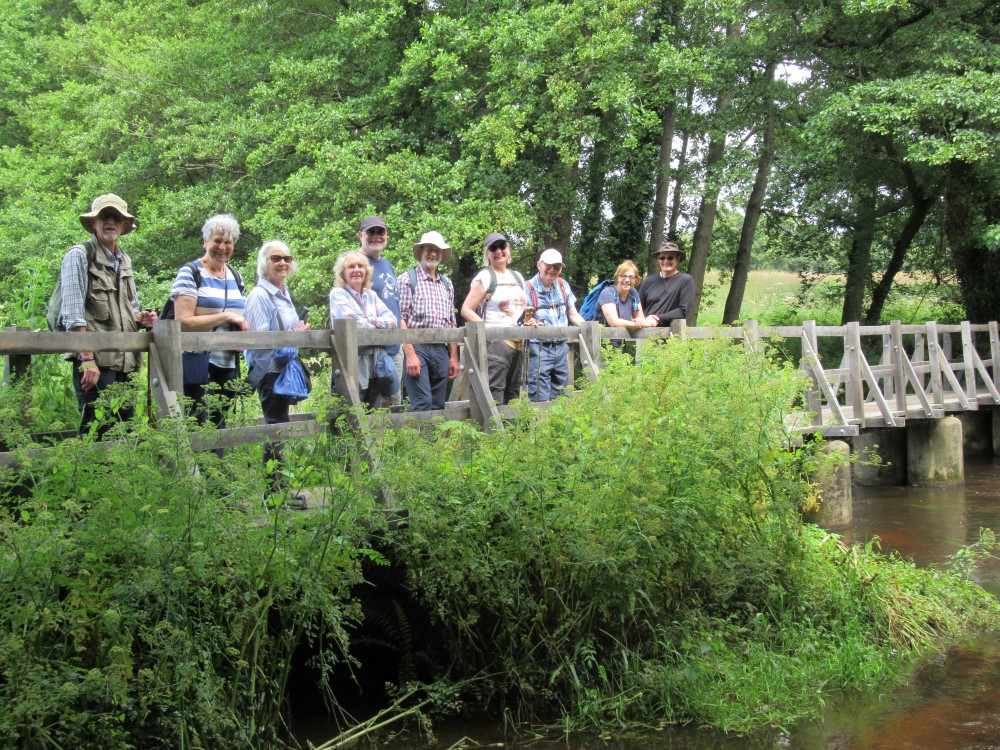 Taking the easy way to cross water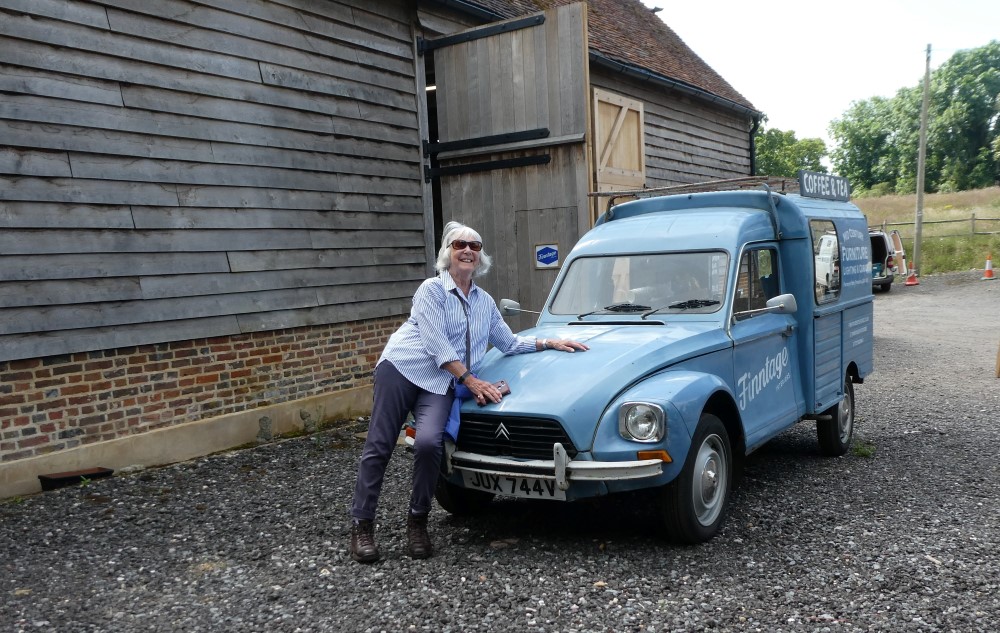 Posing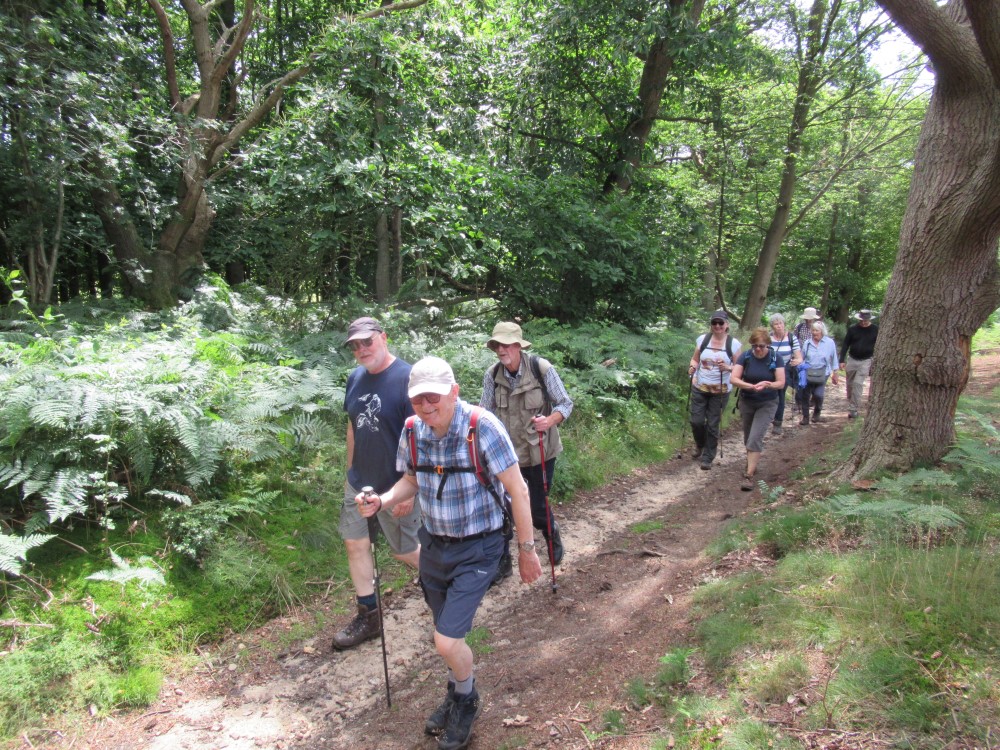 Honourable leader taking us through Tankersford Common.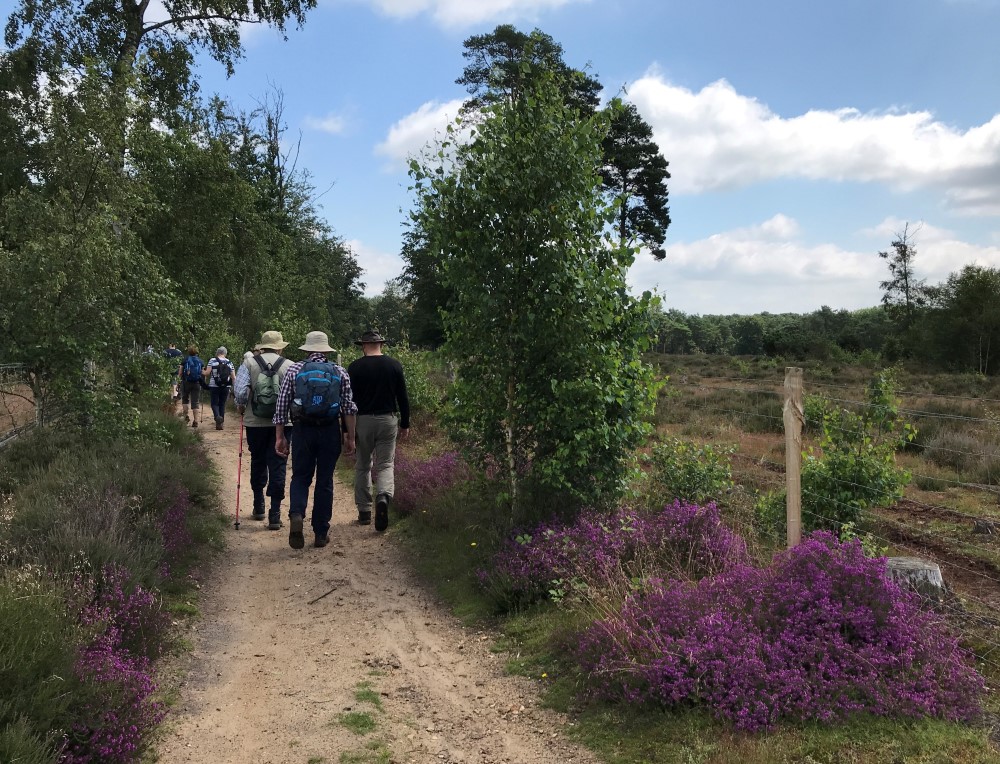 Farnham Heath Nature Reserve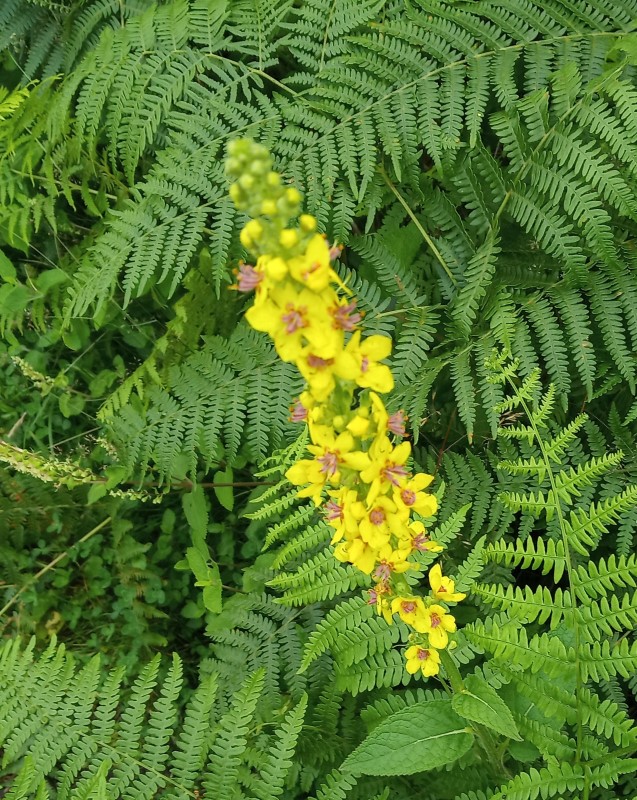 A lone mullein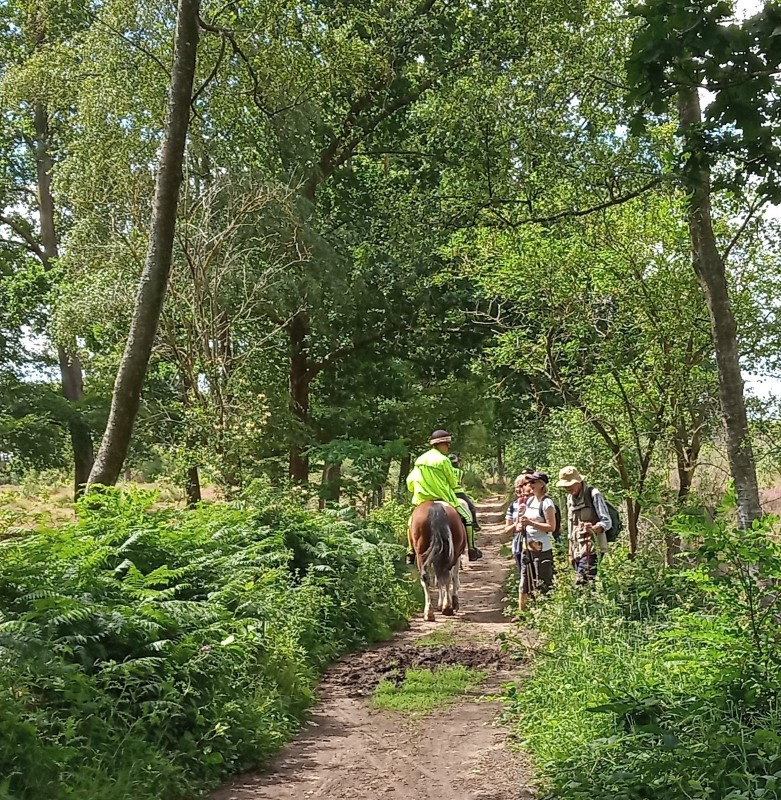 Excuse me, is the the way to Tilford?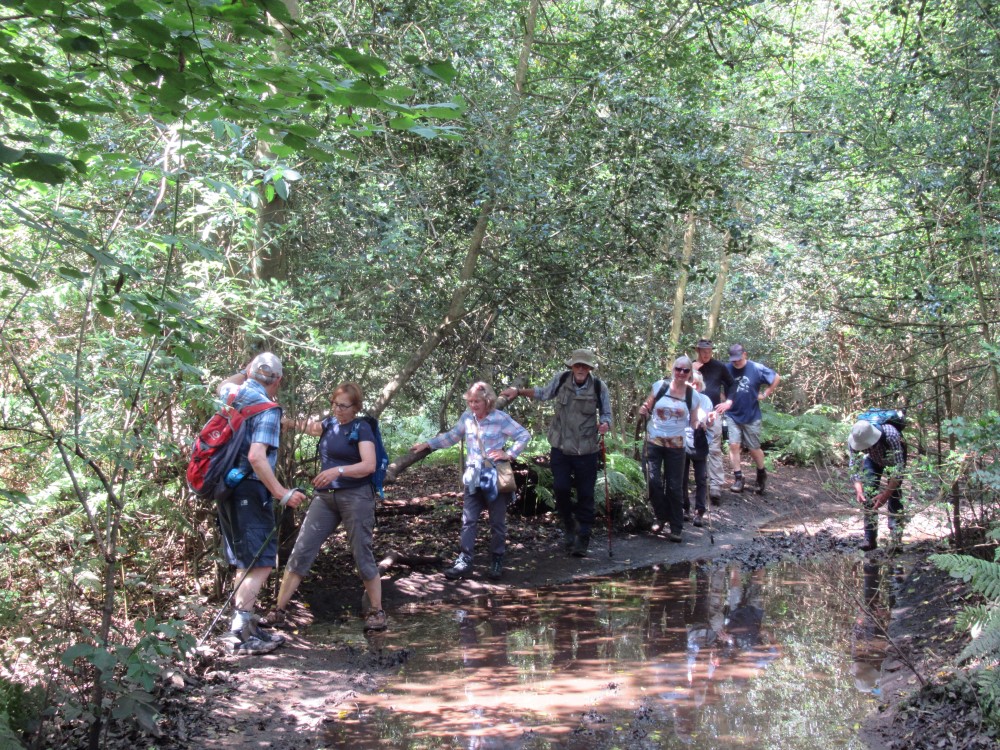 Heading home, one last crossing to make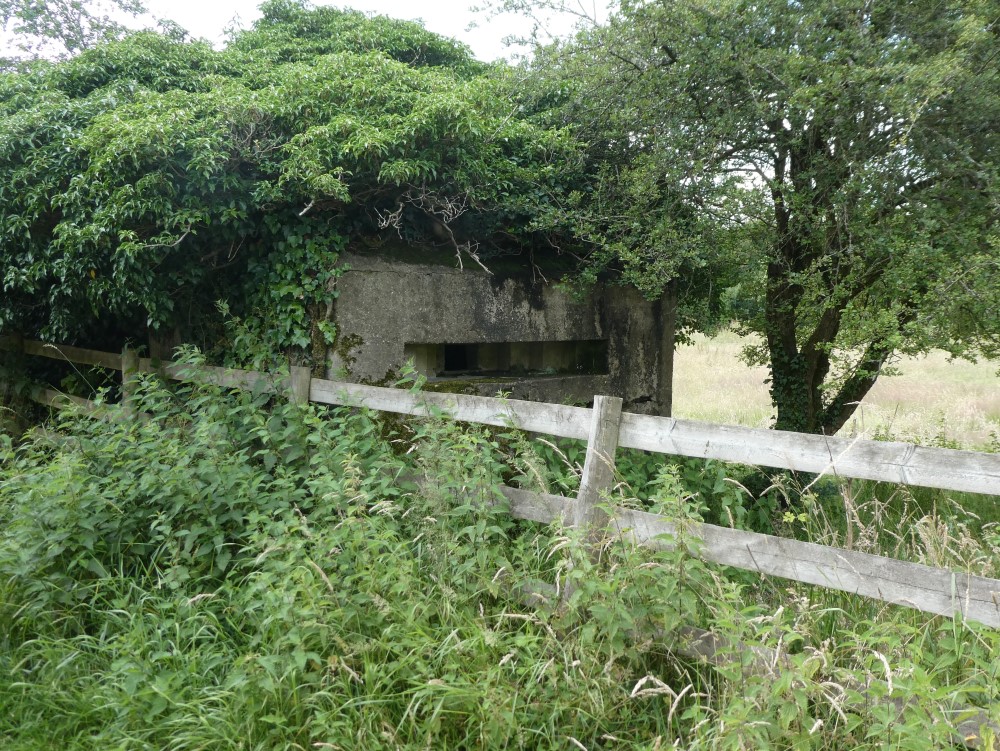 Pillbox from 1940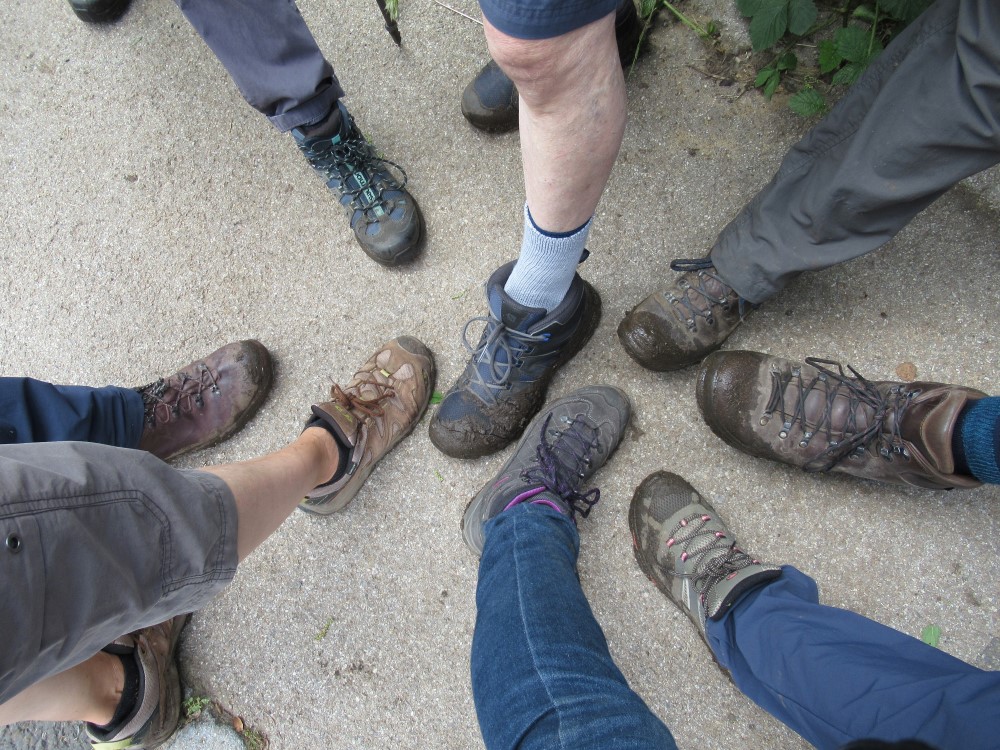 Some remarkably clean boots at journeys end.
---
Denis kindly led a walk from the Ironhill car park near Liphook, where we were joined by Pauline's group to have a walk up to Linchmere. Why Ironhill has that name remains a mystery. There were iron producing furnaces in Sicklemill, Hammer, Redford, Fernhurst and just below Henley village, so perhaps this was a good source of raw material to be processed elsewhere. Iron production stopped in the area during the 17/18th century. This area is now a nature reserve. After climbing through the bracken of Stanley Common we walked through Linchmere Common to have a coffee break in the church. Seating was excellent with a wonderful view. Almost as good as Pauline's biscuits. The way back was interesting - with some areas still flooded from the previous day's rain. One steep hill was a good test for those recovering from leg surgery and thankfully surmounted successfully. In the middle of a wood we found an ancient memorial stone, engraved IM.1679, RS.1791 and RL1802, but searching on the internet has not produced any further information. After visiting some hobbits in the nature reserve we eventually reached the car park after 4.3/4 miles over some lovely countryside. Footnote - apparently the Selborne wishing stone tested on 9th June does work, sometimes within 10 days!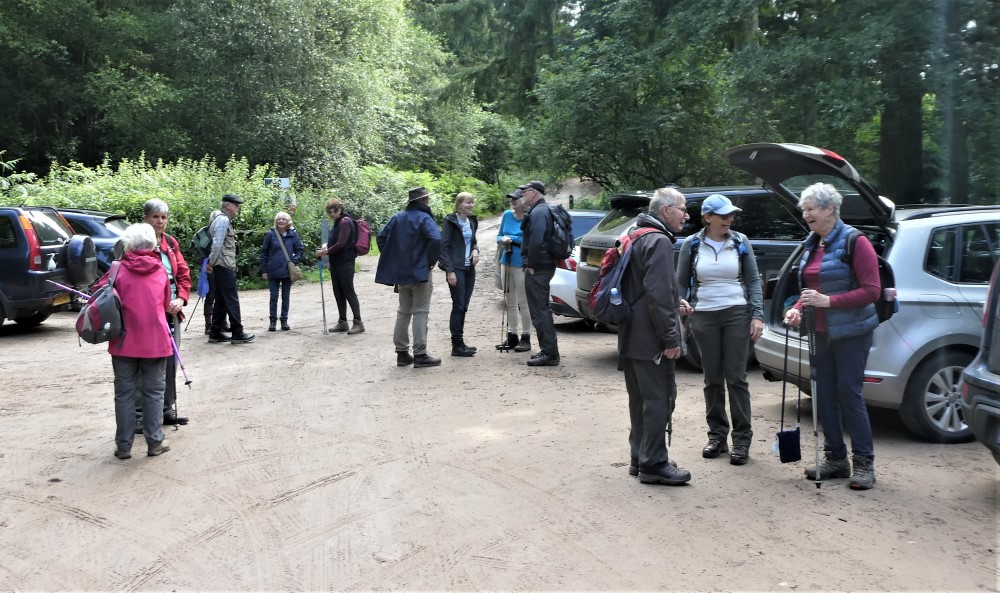 Meeting up once again. The Ironhill car park.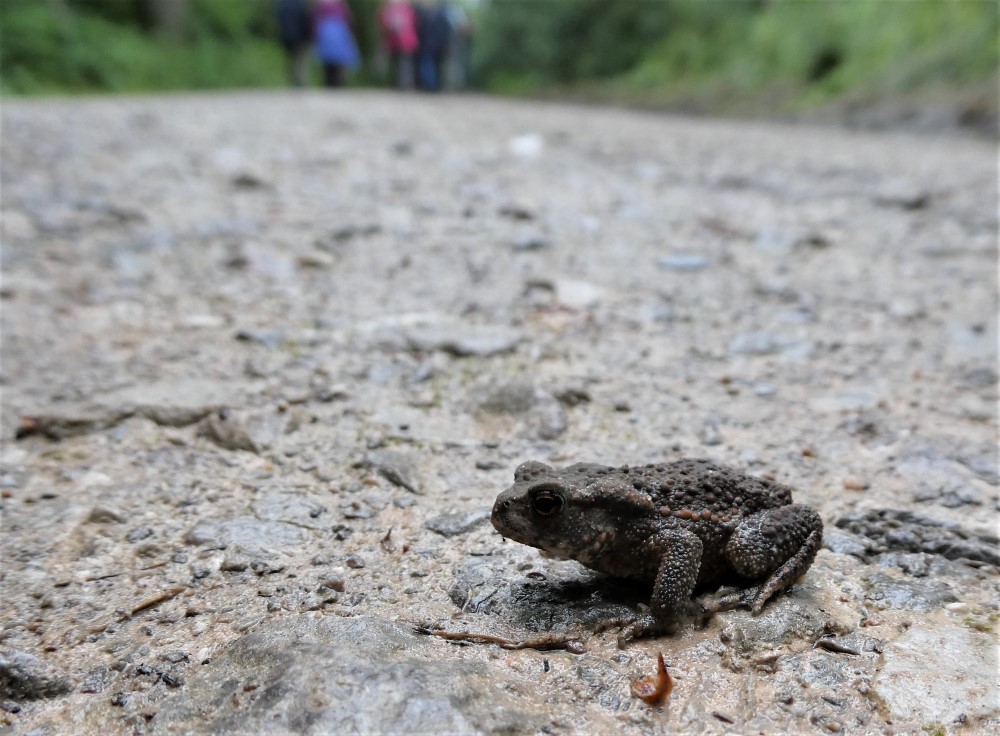 We rescued this lucky toad
and took him over the road.
Poet, don't know it!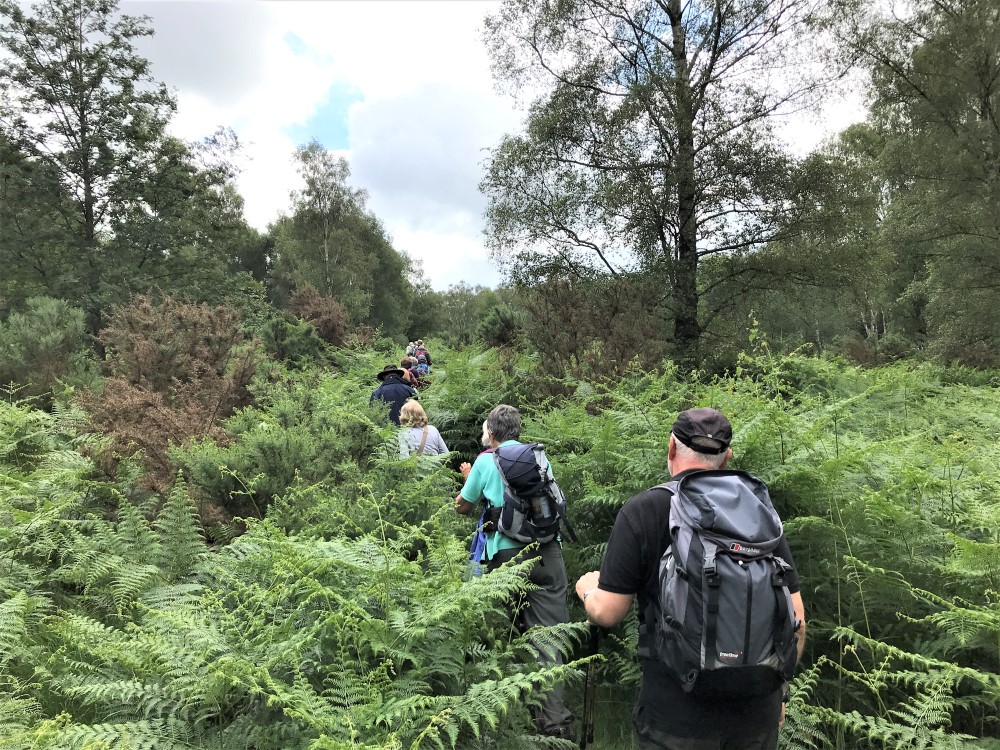 Stanley Common bracken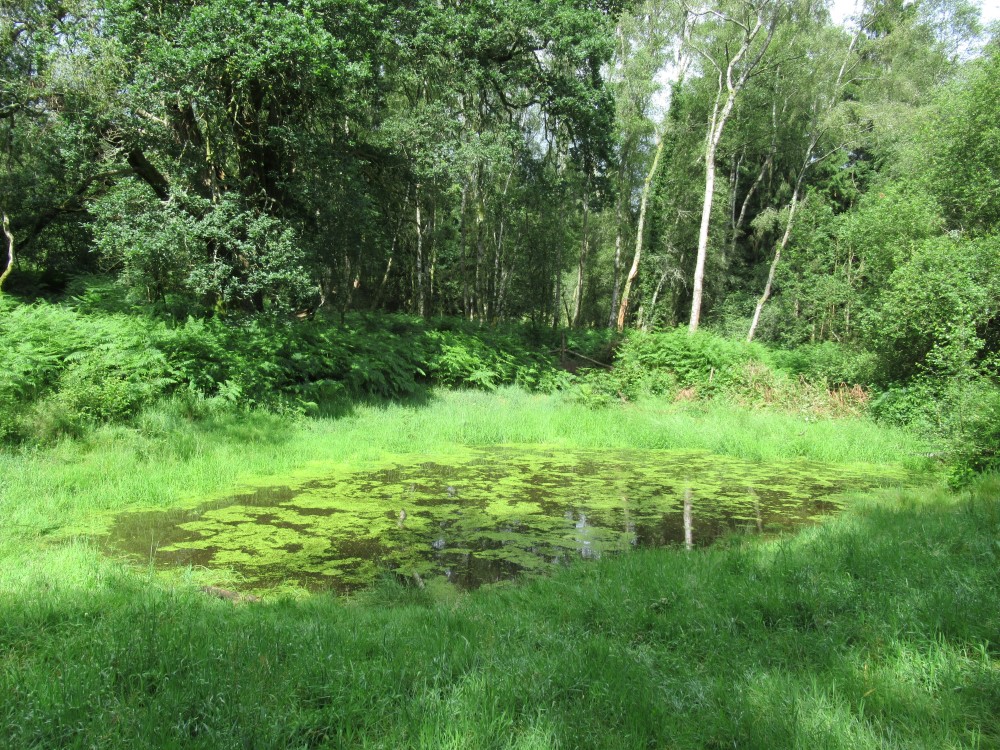 Small pond on Stanley Common.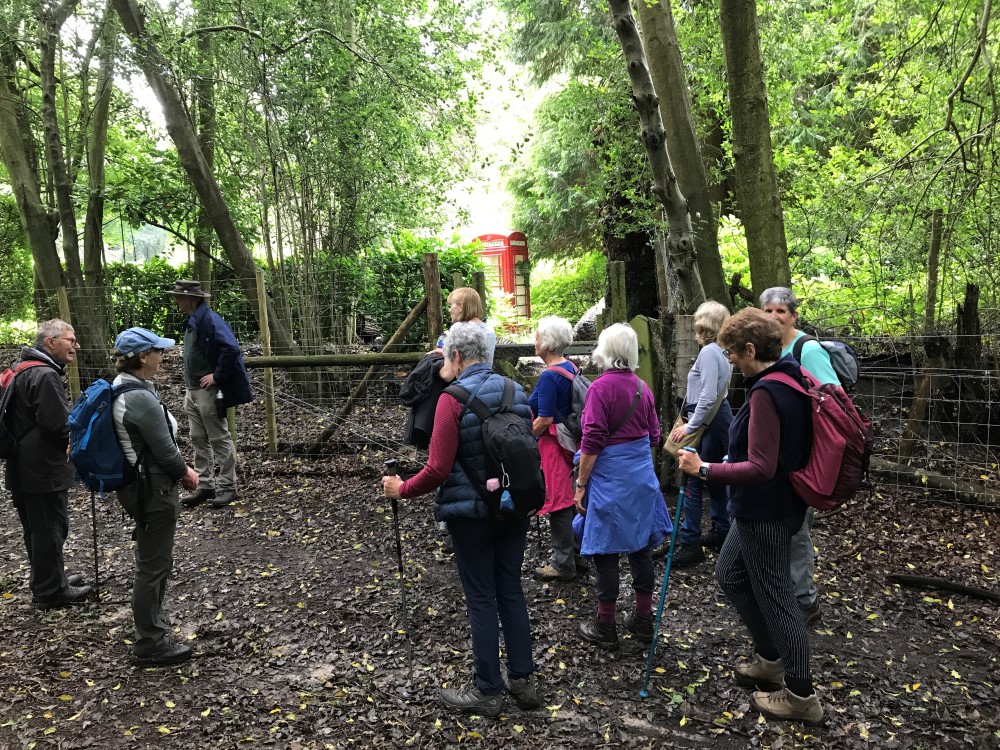 Some residents of Danley Lane still need a phone box.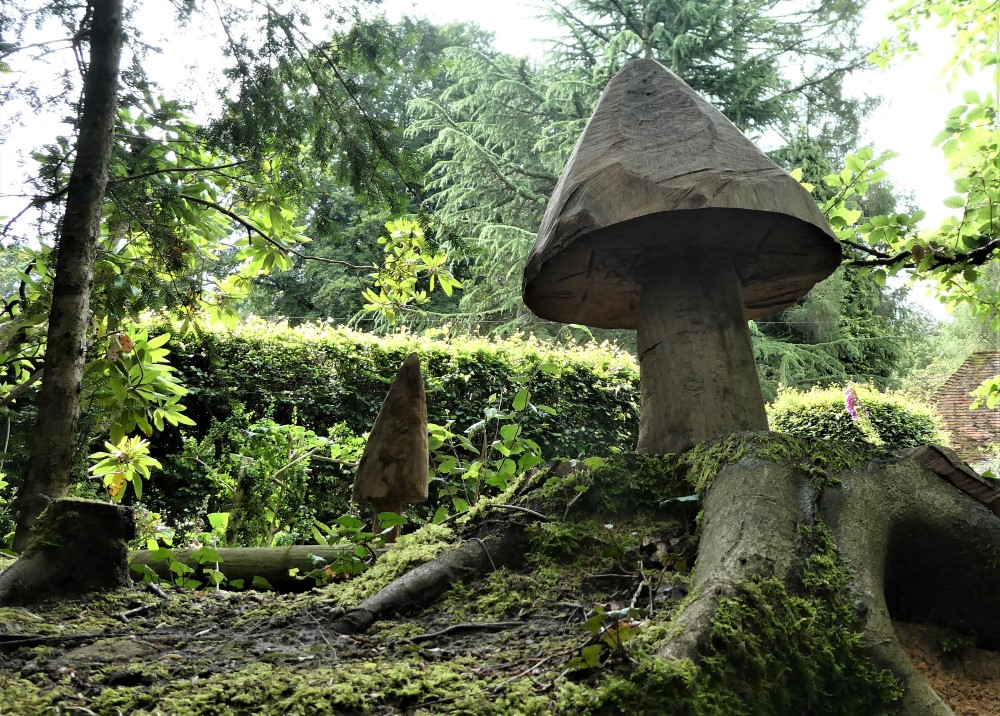 Nice piece of chainsaw sculpture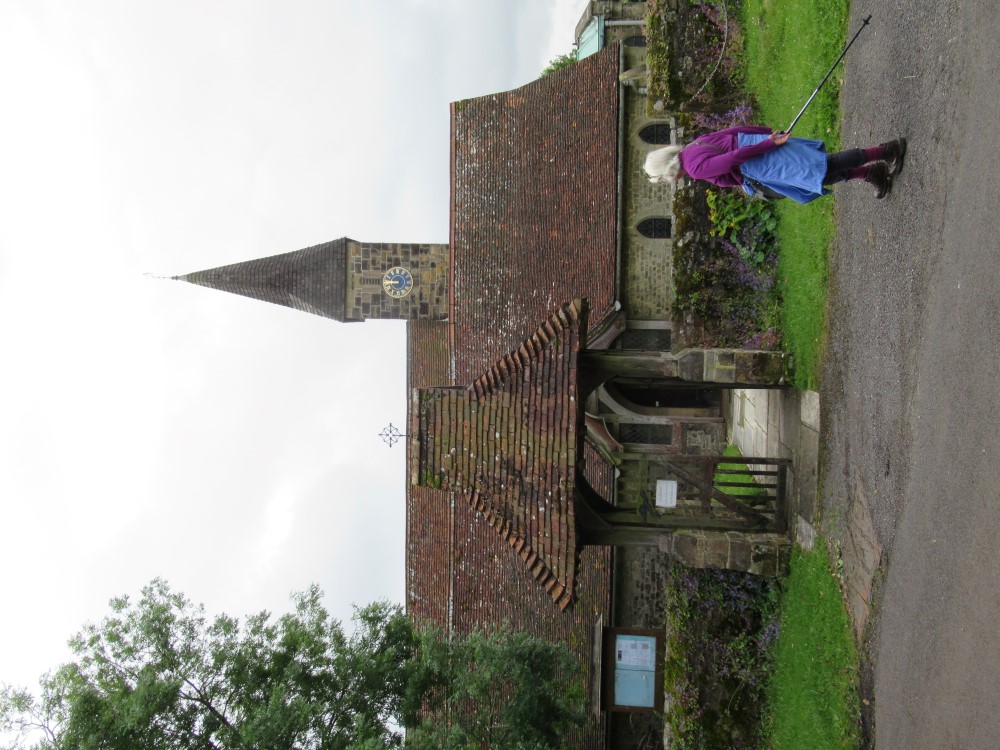 Linchmere Church, originally Saxon and rebuilt in the 12th century.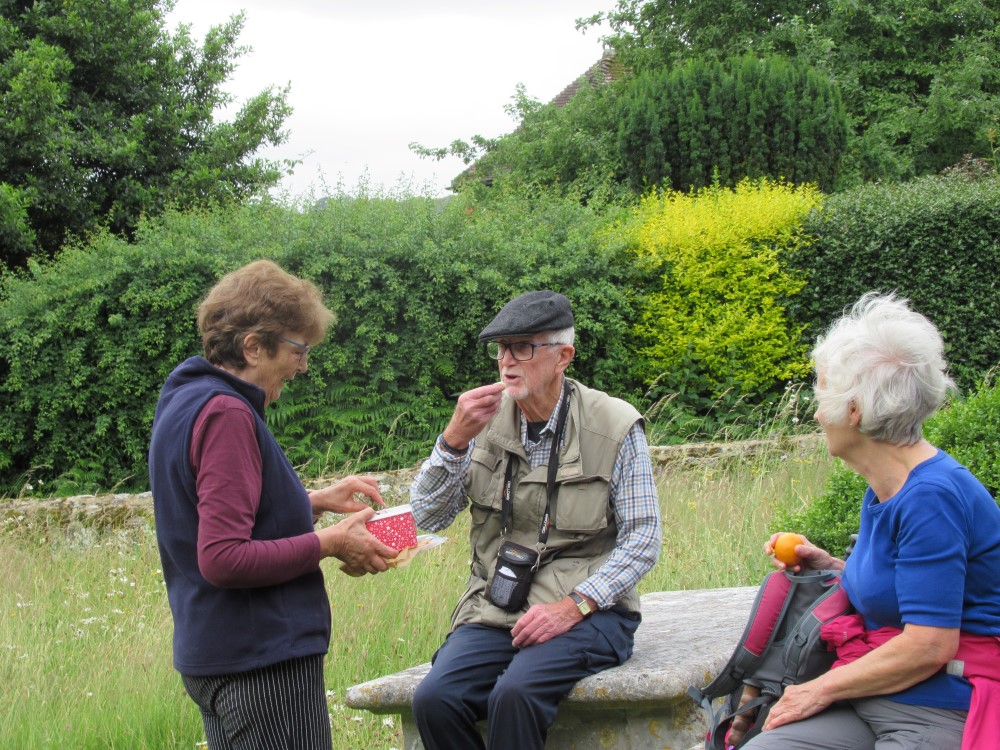 Oooooh, they look nice.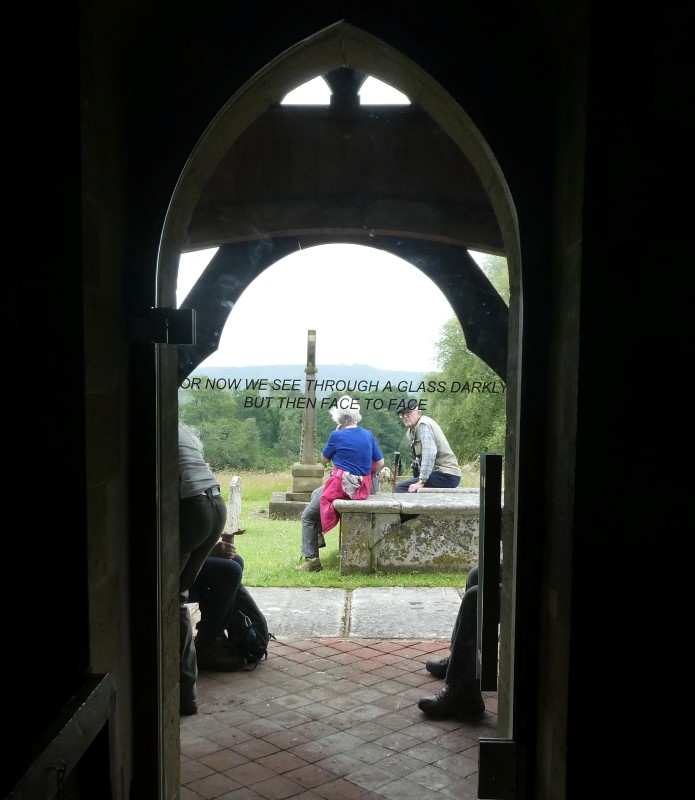 View through the glass South door. "For now we see through a glass darkly but then face to face."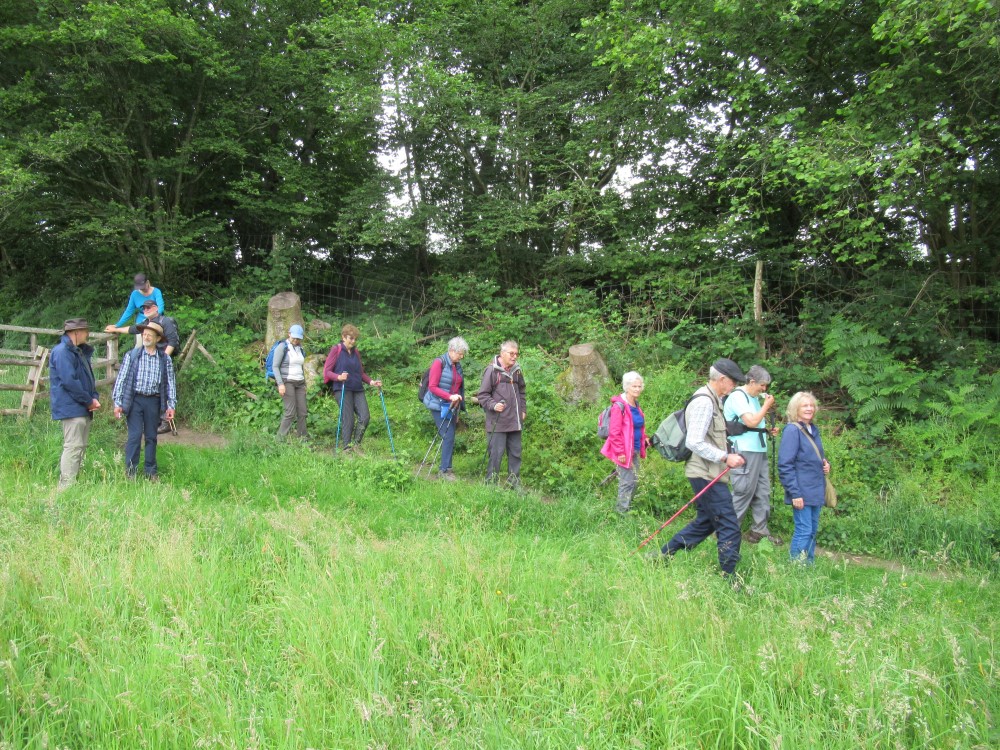 Approaching Poison Copse.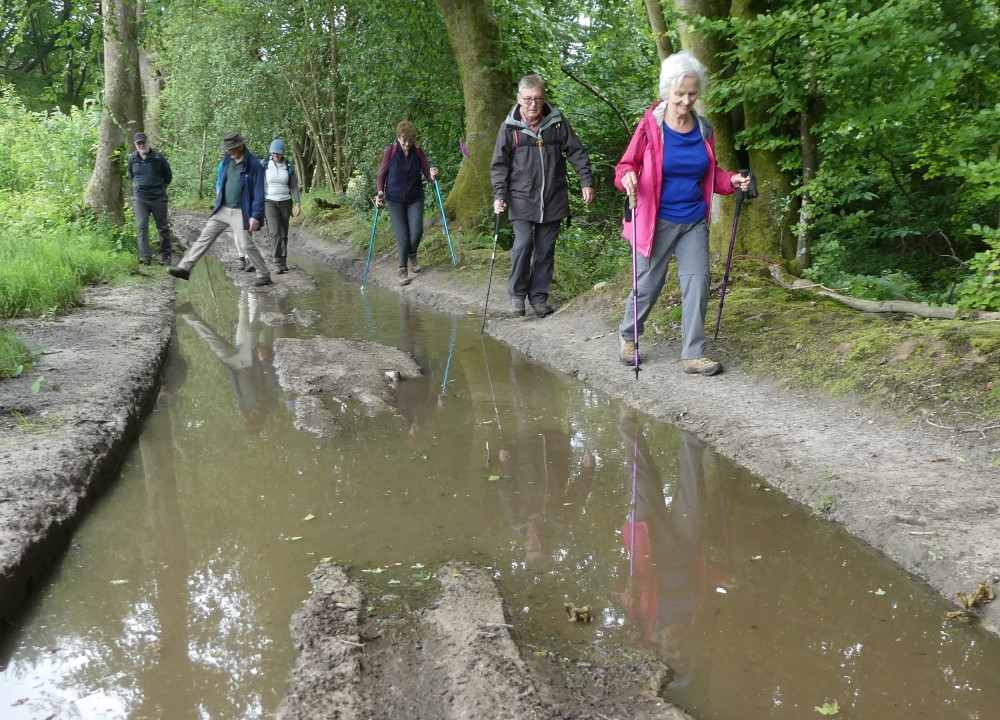 Some paths were drier than others.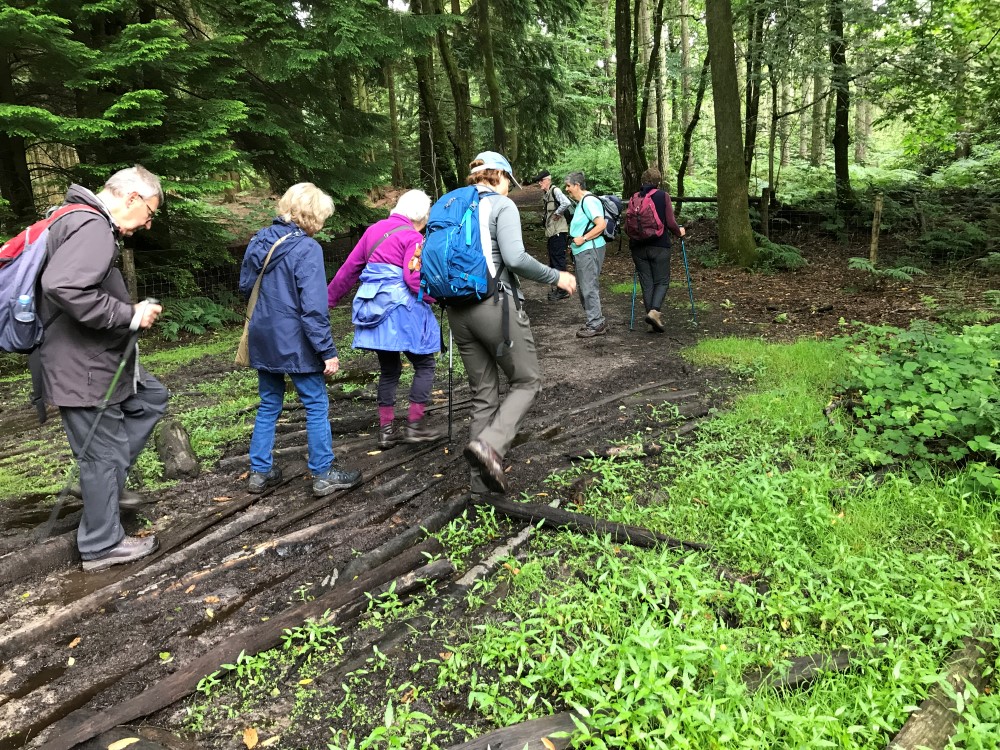 Luckily in some places planks have been placed to cover the puddles.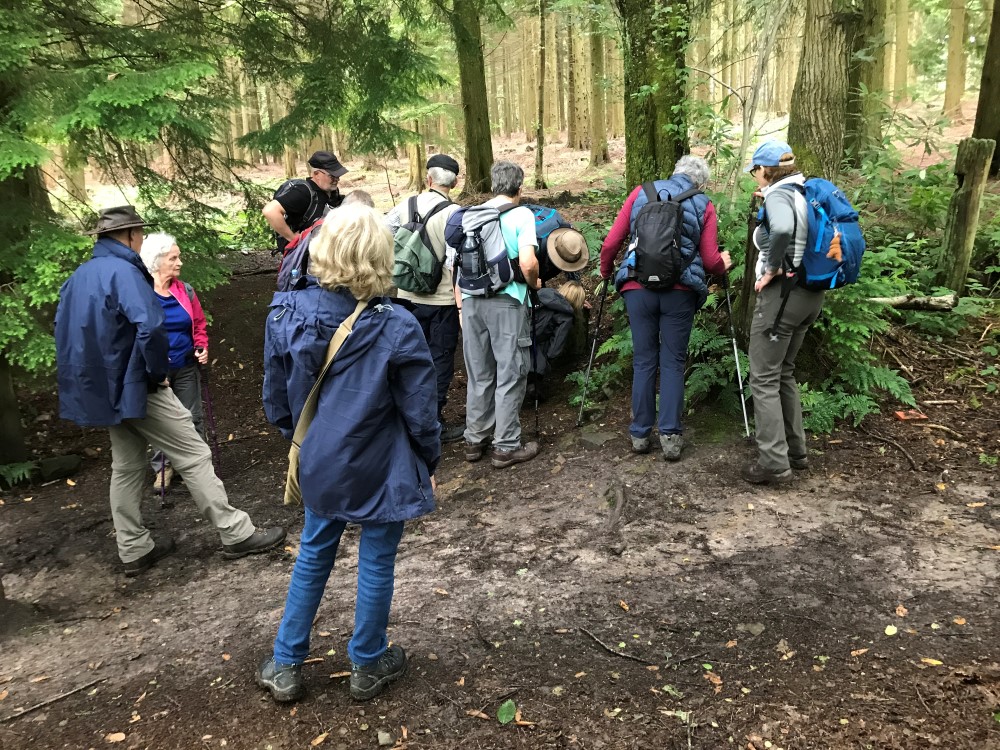 We found a mystery stone.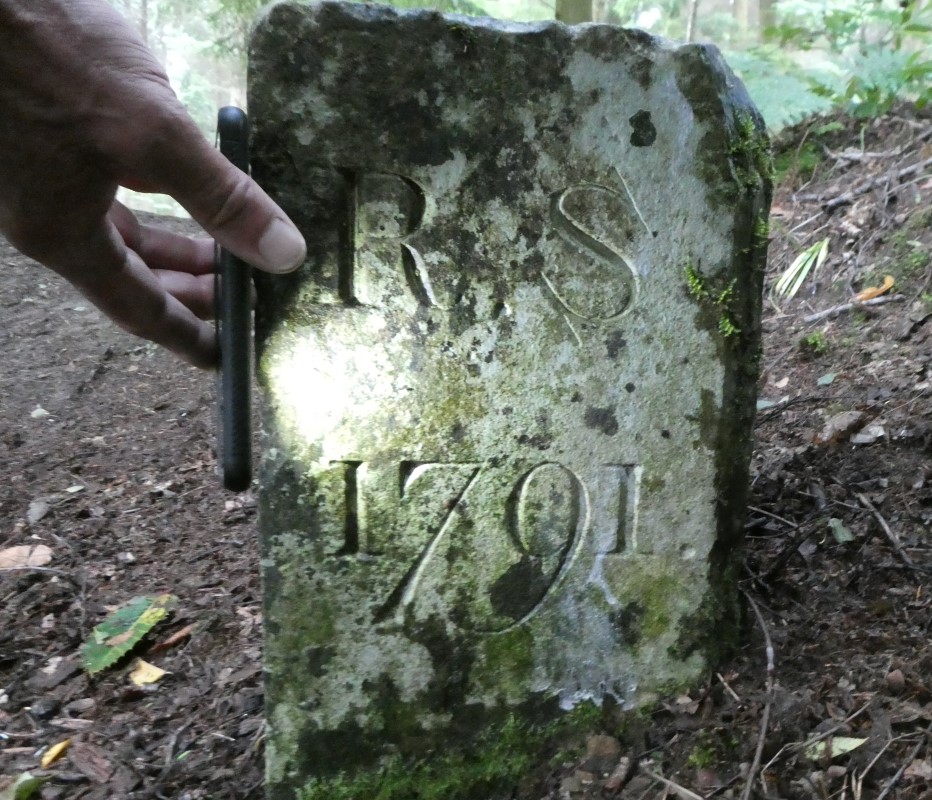 RS 1791, IM 1679 and RL 1802. Any ideas??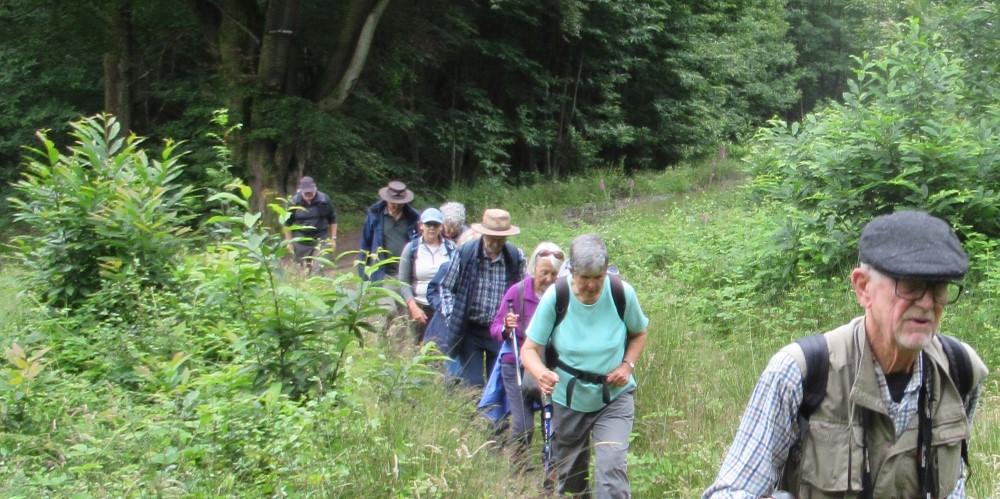 Is that a hill approaching?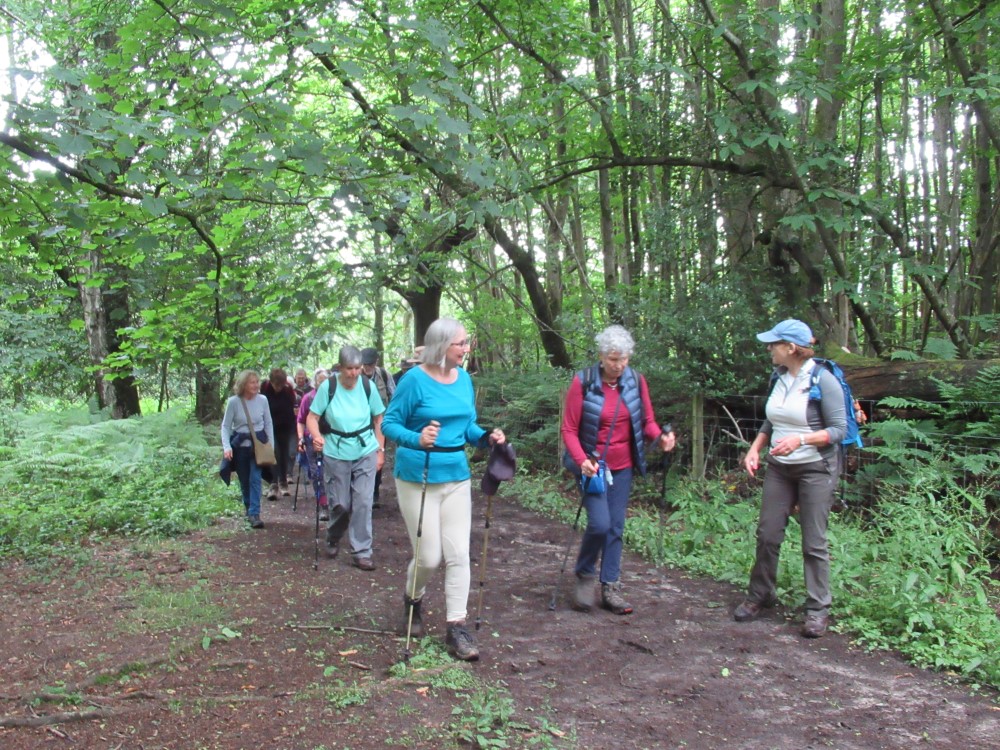 "So, it was like this".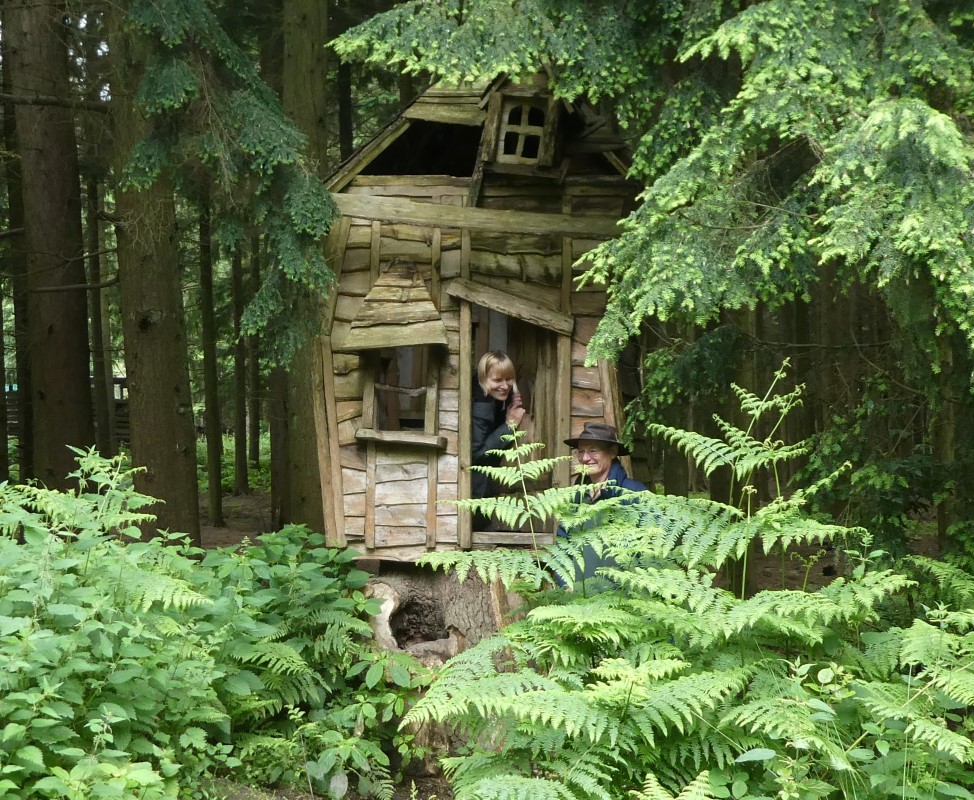 Perhaps Celina was wishing for a tree house!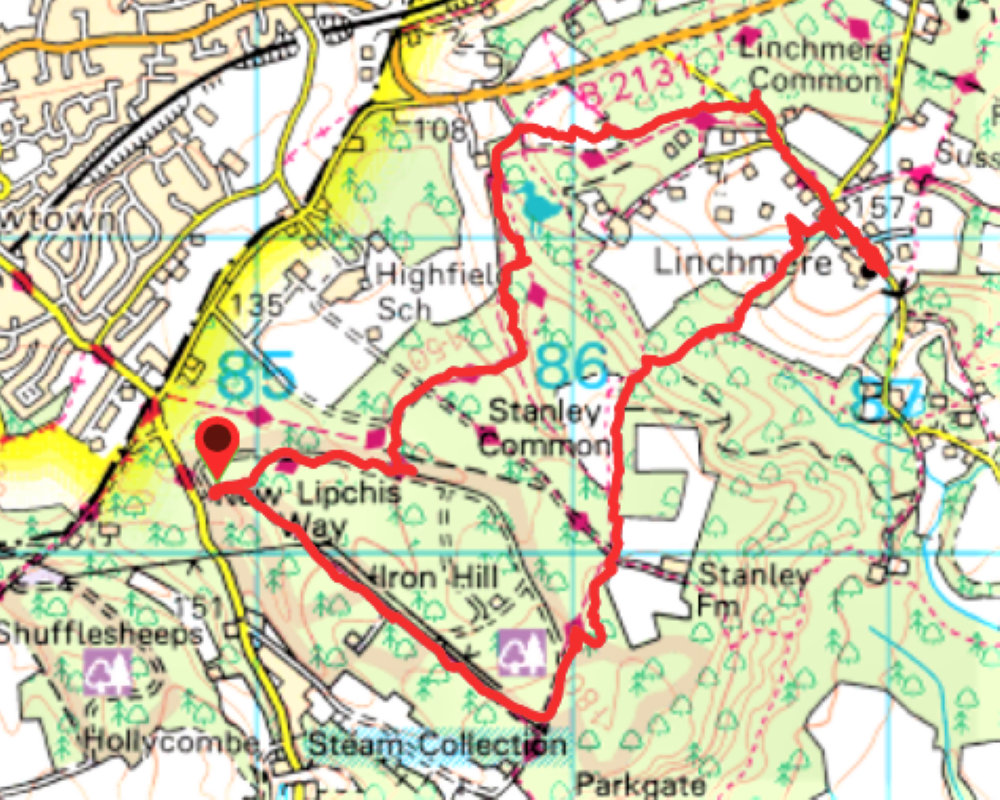 About 4.3/4 miles.
___________________________________________________________________________________________________
___________________________________________________________________________________________________
___________________________________________________________________________________________________
Peter's bubble walk was in and around Bosham, we started from the car park with overcast skies and a slight drizzle, and headed for the sea front. Soon the weather brightened up with sunshine and a light breeze, and we all enjoyed a lovely walk with picturesque views.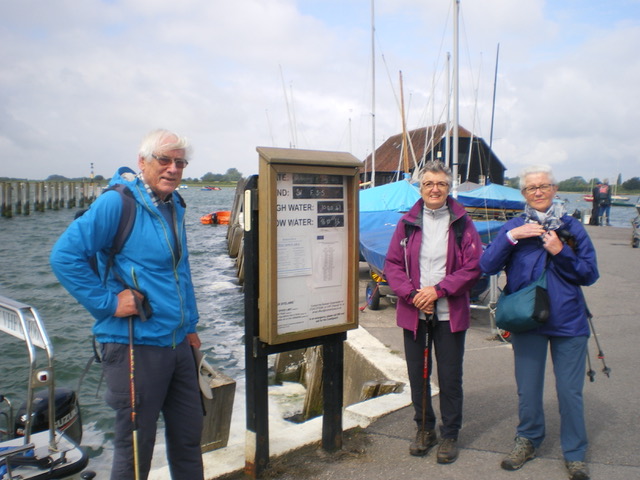 Just checking the tides before continuing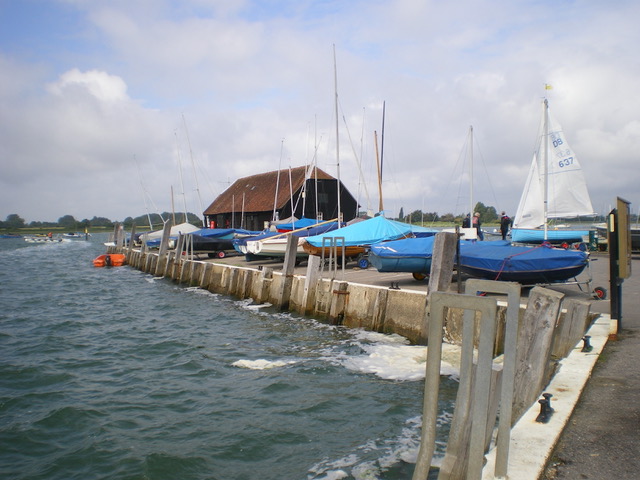 Bosham Quay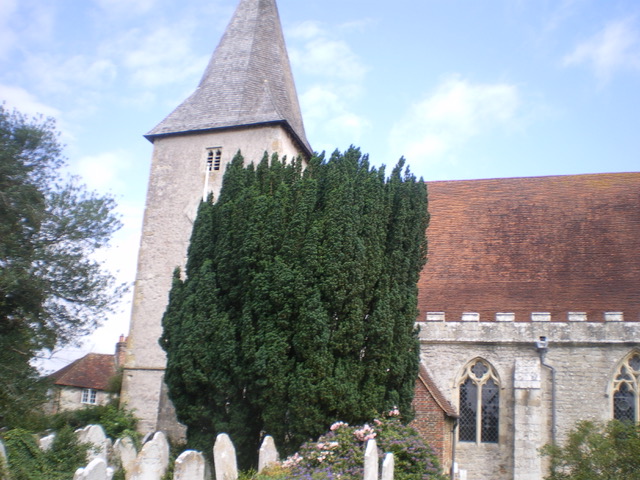 Holy Trinity Church is the oldest known place of worship in West Sussex, a grade one listed Anglican church, there was a church on this site in Saxon times.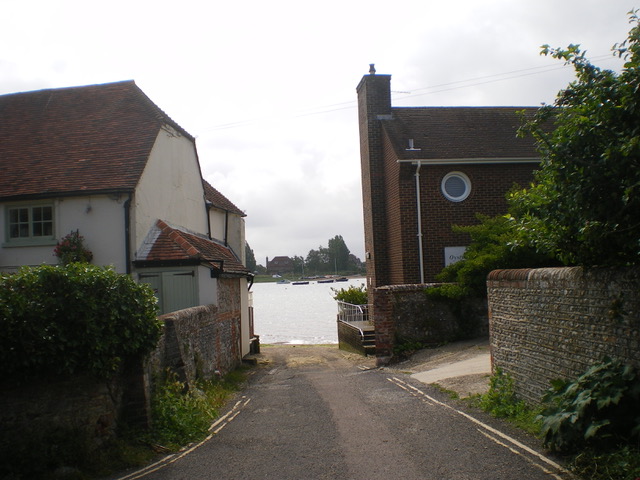 A wet end street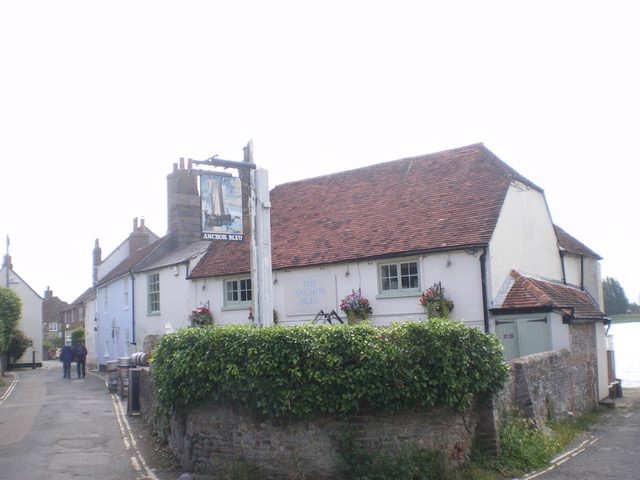 The Anchor Bleu, circa 18th century with early 19th century additions.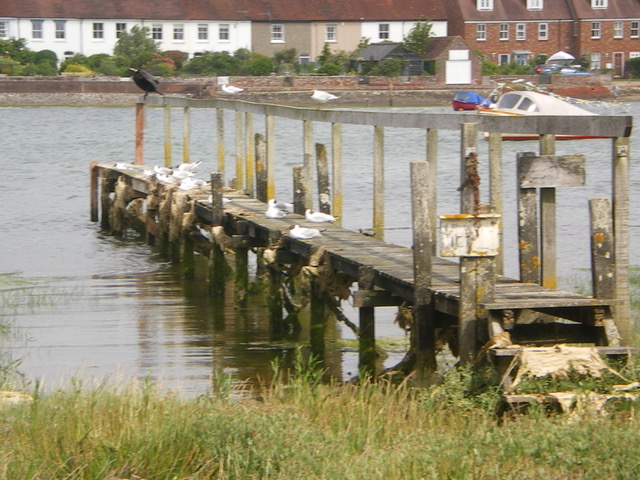 Spot the black bird, any suggestions what it could be?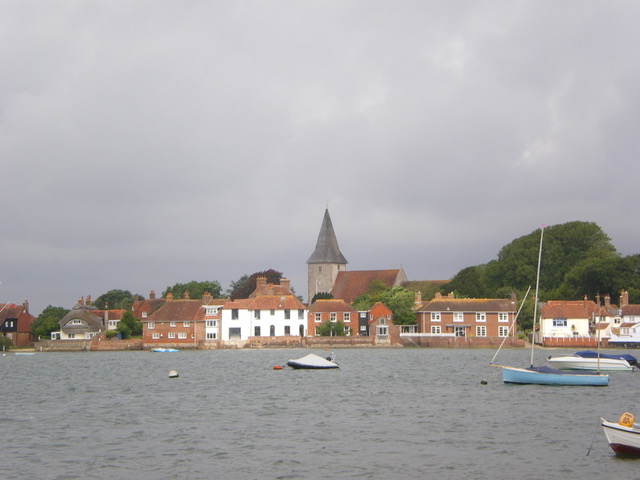 Idyllic view.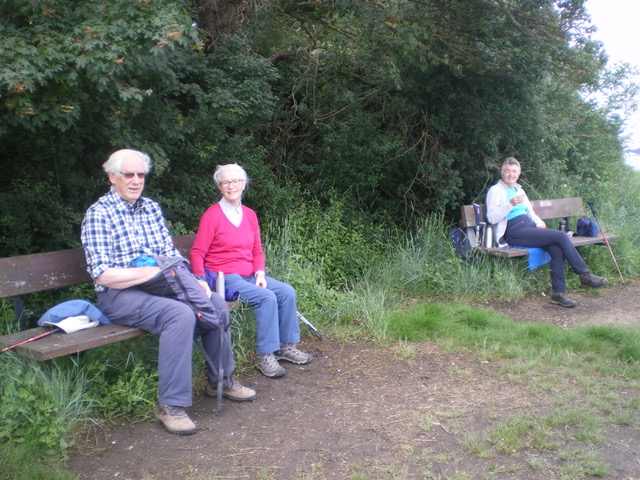 Coffee break.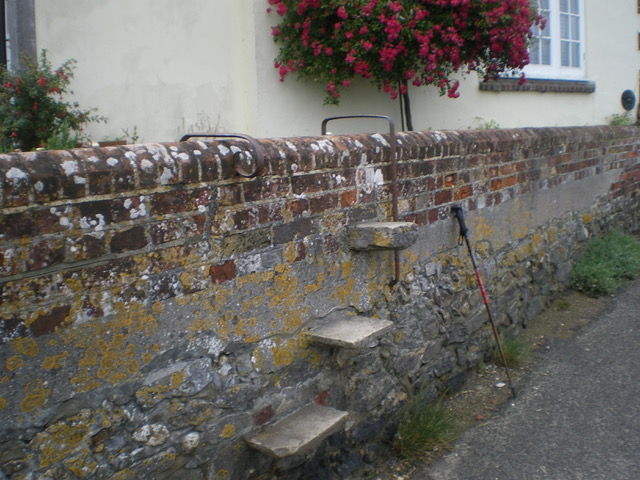 Horse mounting blocks?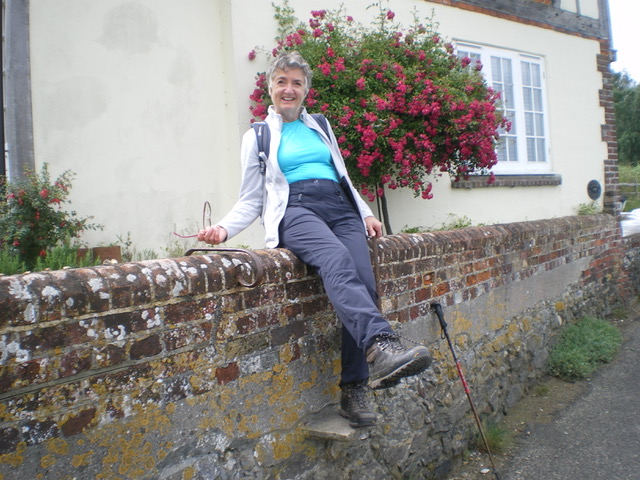 "Hello sailor"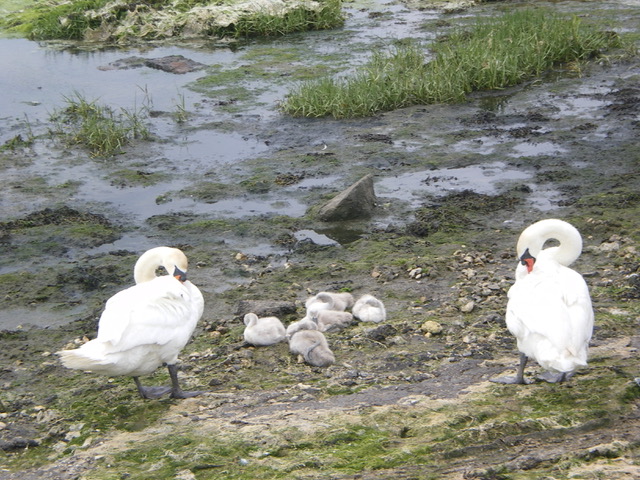 Lovely family group.
---
With several people on holiday or with sick notes, Pauline kindly agreed to sharing her walk with the Marian/Linda bubble. We started out from the stream at West Dean and headed up the Monarch's Way towards the Trundle. It was not easy walking but very rewarding at the top of Haye's Down. A vast area was covered in poppies and added to the superb views over towards Goodwood. After many many photographs we headed even higher and eventually reached the top of the Trundle. The effort was very worthwhile with excellent views and whole banks of pink orchids. A tractor cutting a field for hay attracted several red kites, on the look-out for a ready meal. A drinks break was taken in the car park before we headed down the Sussex Literary trail and eventually back to West Dean. The shop in West Dean provided us with excellent coffees and sausage buns.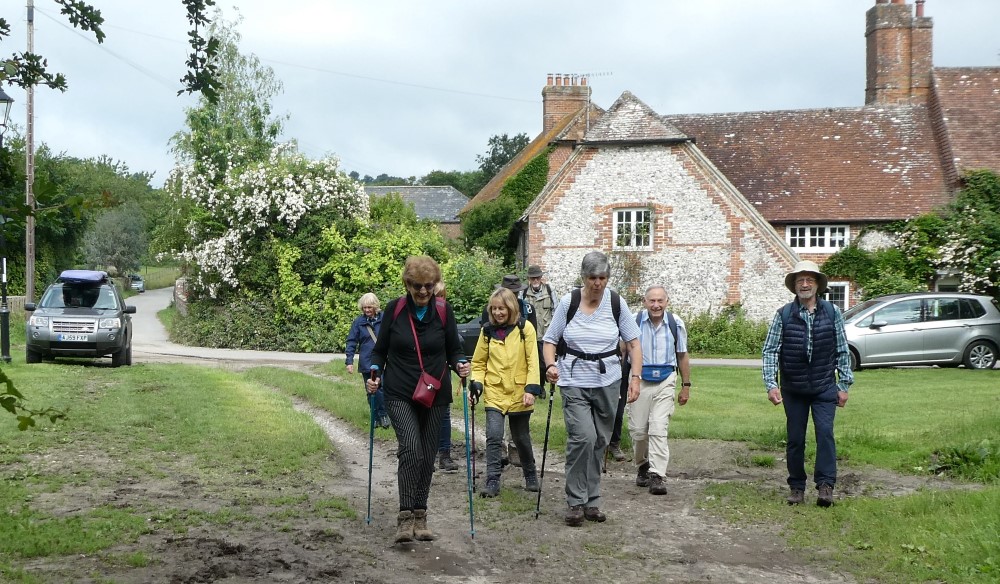 Leaving West Dean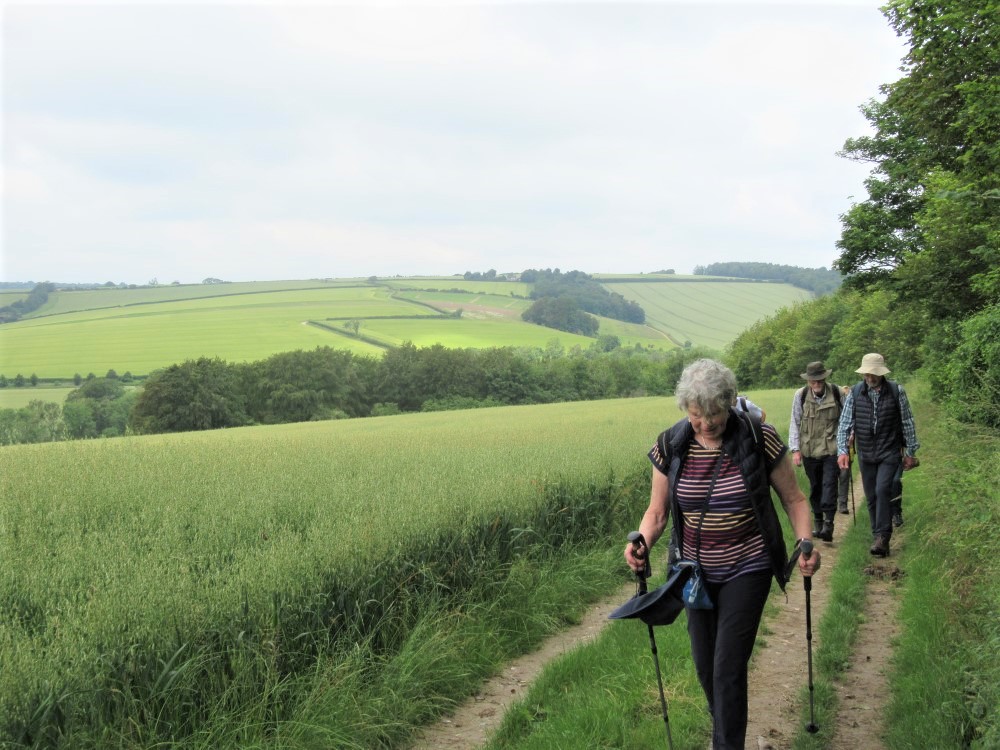 Walking the Monarch's Way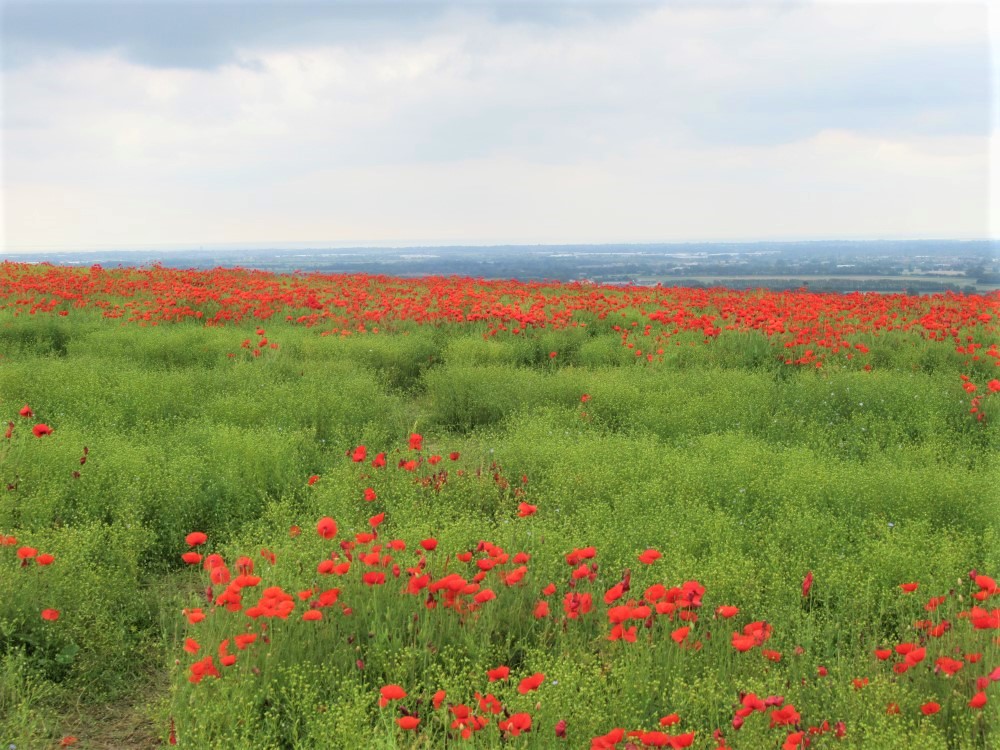 Stunning poppies in amongst the linseed.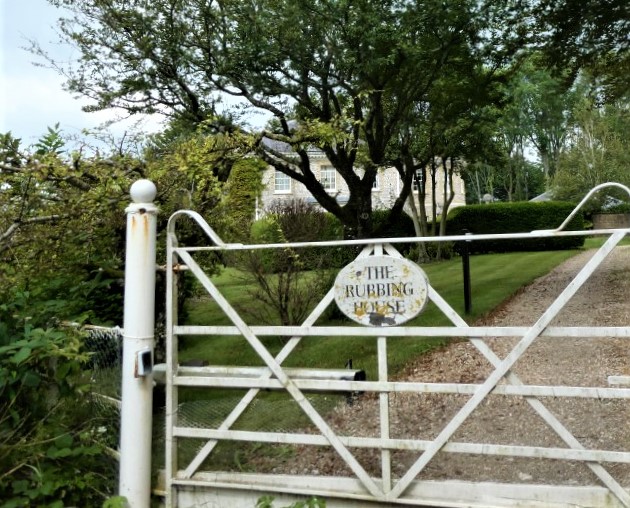 House for hire on top of Haye's Down. Yours for a week in September for £12.000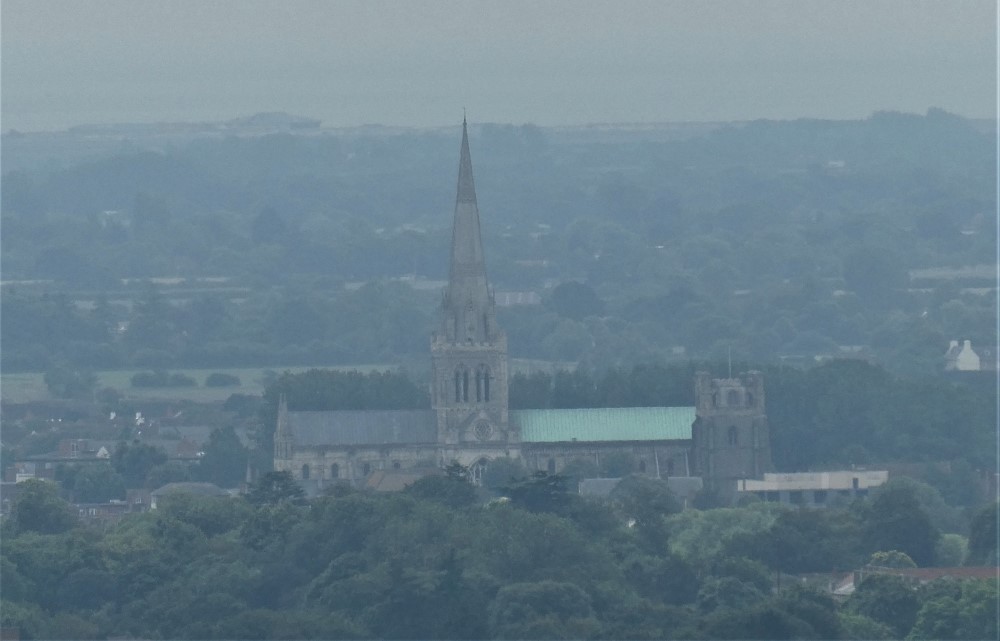 Distant view of Chichester Cathedral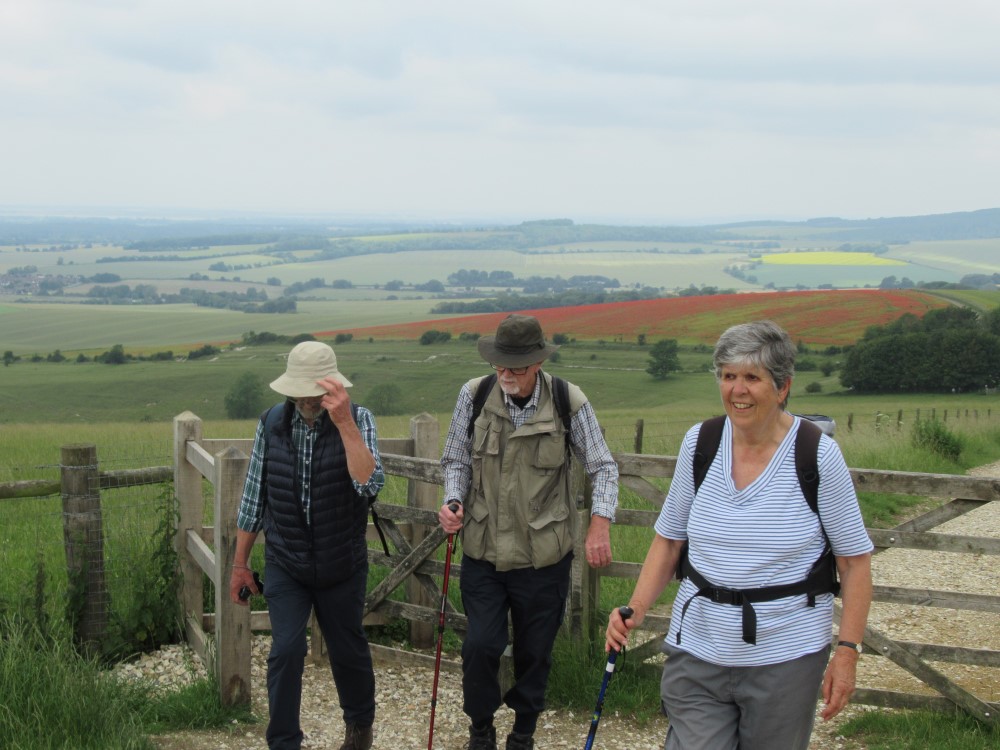 Just before the final climb.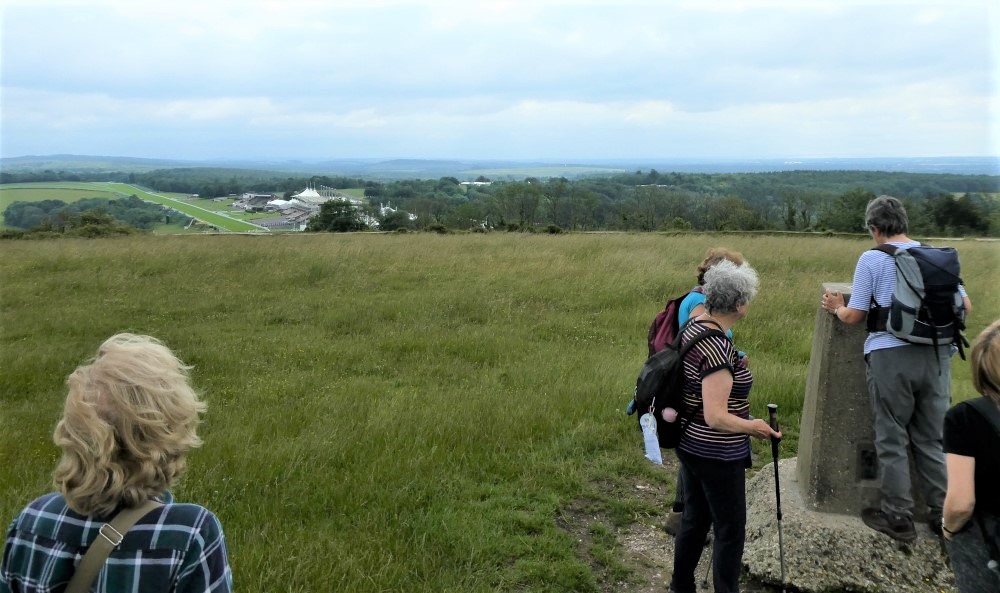 Trig point on top of the Trundle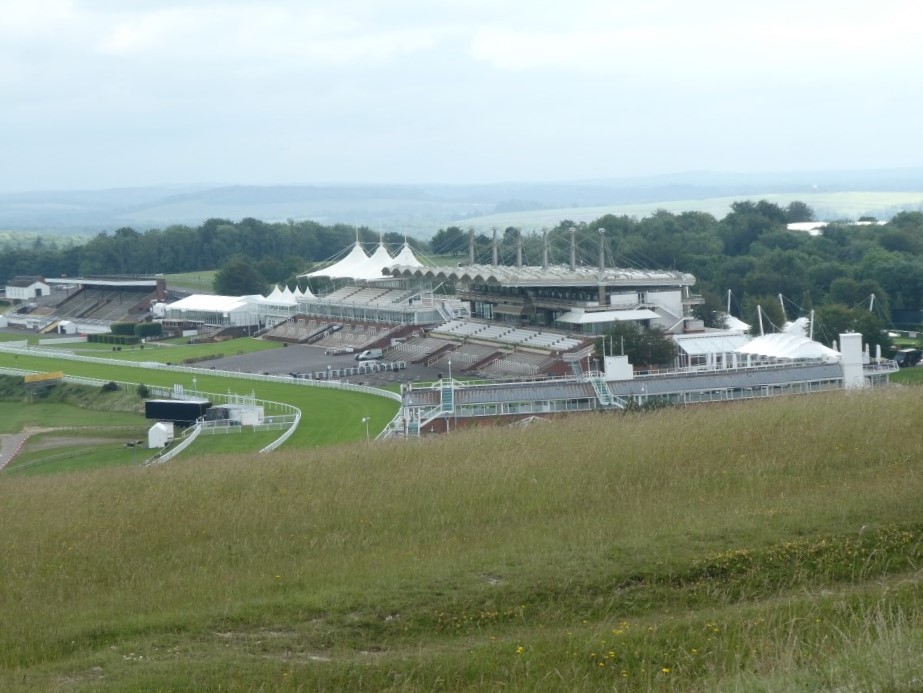 Not many punters at Goodwood today.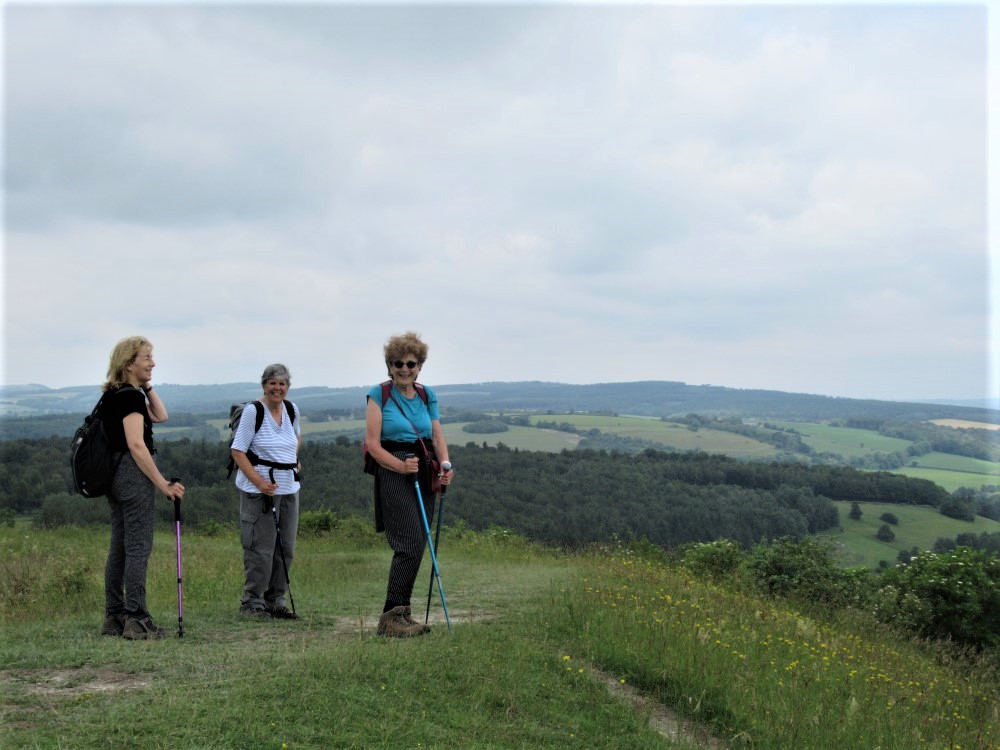 On top of the world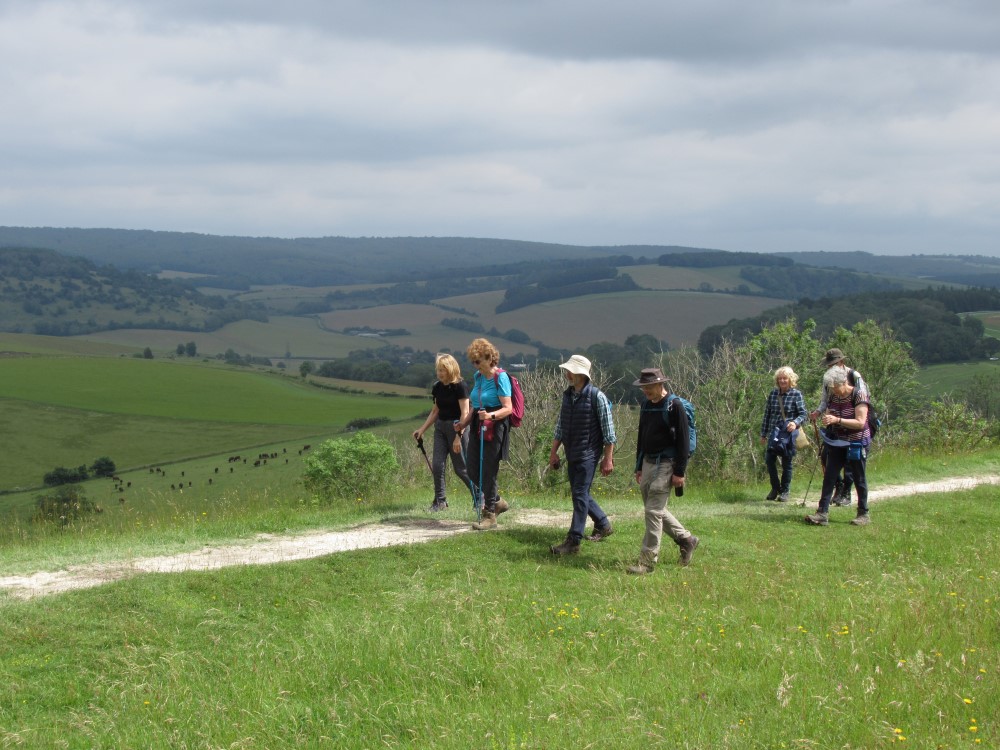 Circling the Trundle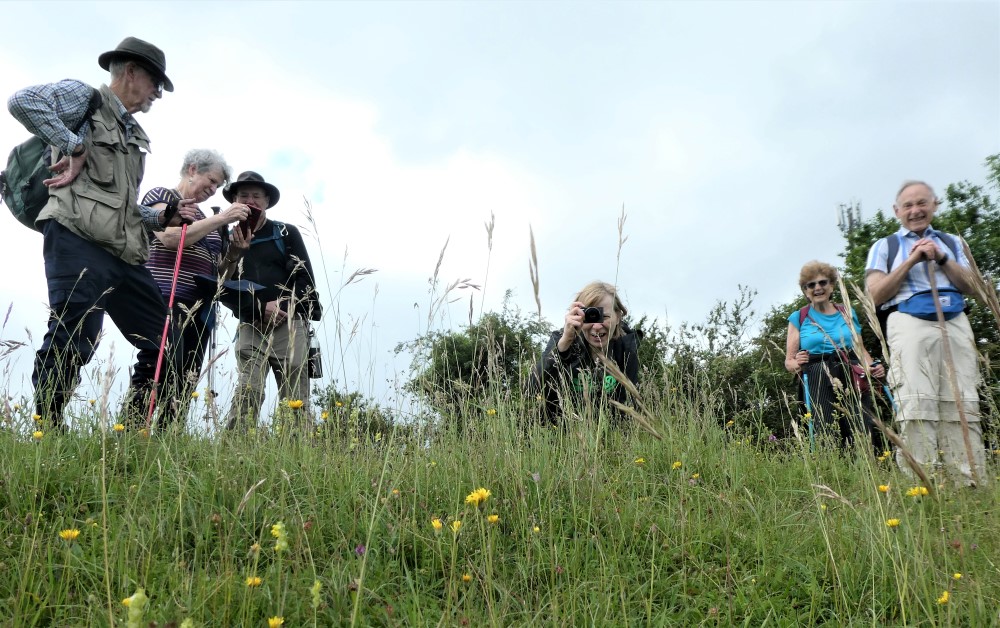 Flowers everywhere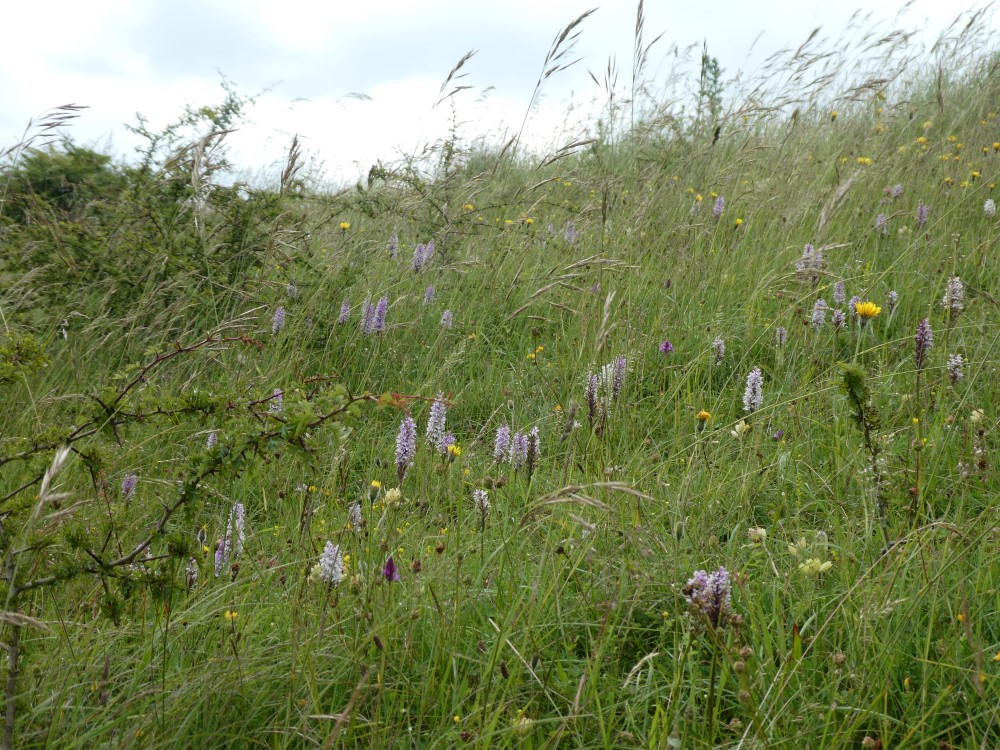 Especially orchids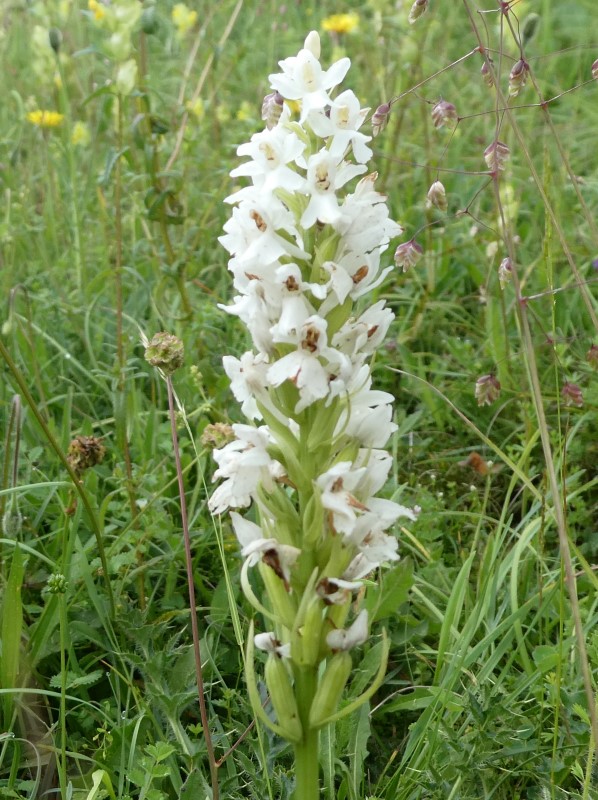 Even white ones!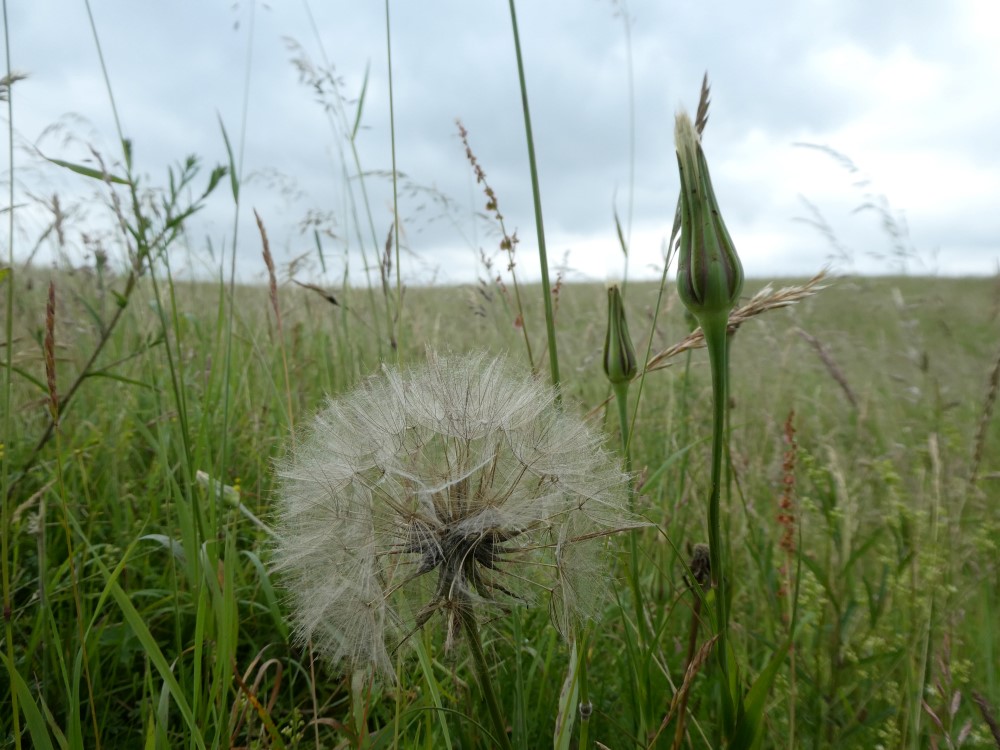 Wild Goat's Beard - also known as Jack-Go-To-Bed-At-Noon.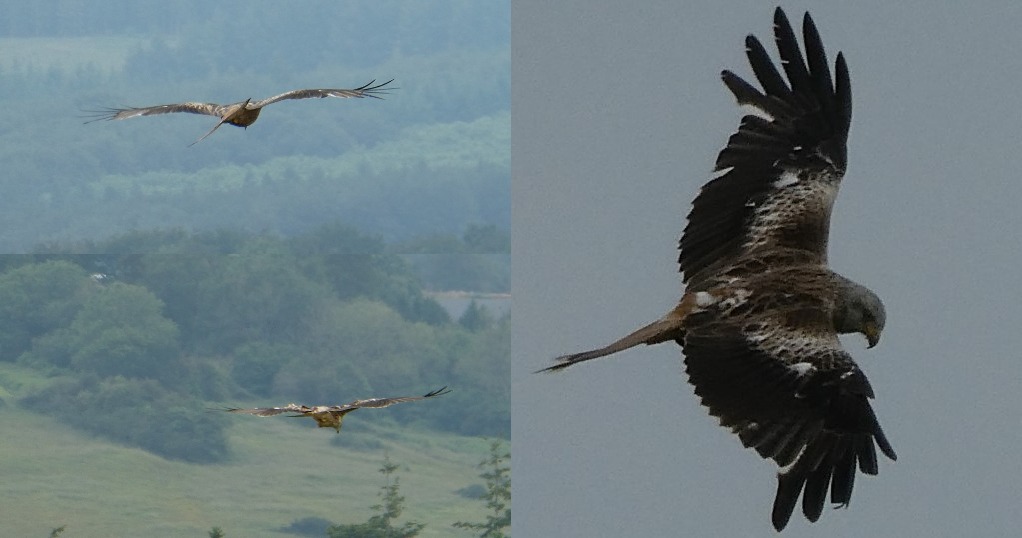 Red Kites constantly hovering, looking for a meal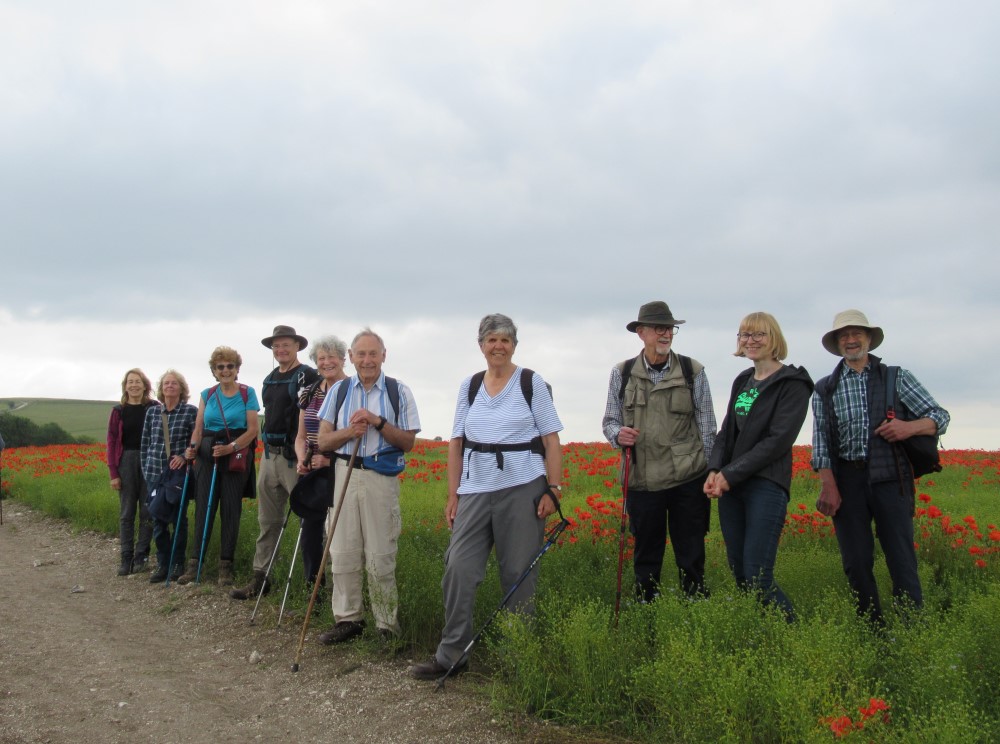 We couldn't resist a group photo as we again passed the poppies.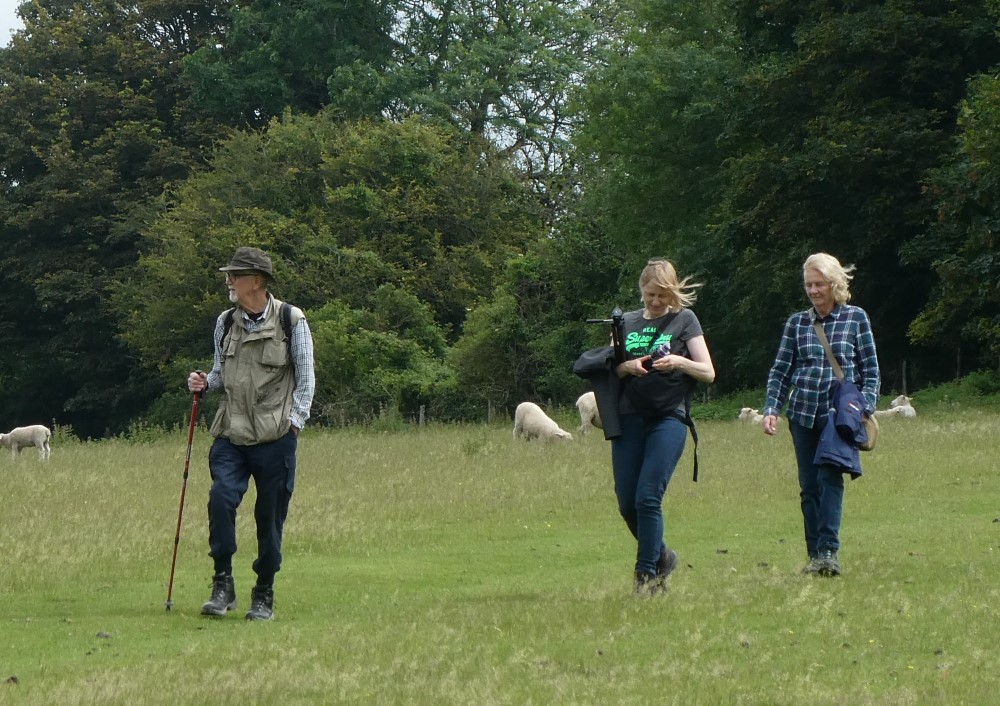 Descending the Literary Trail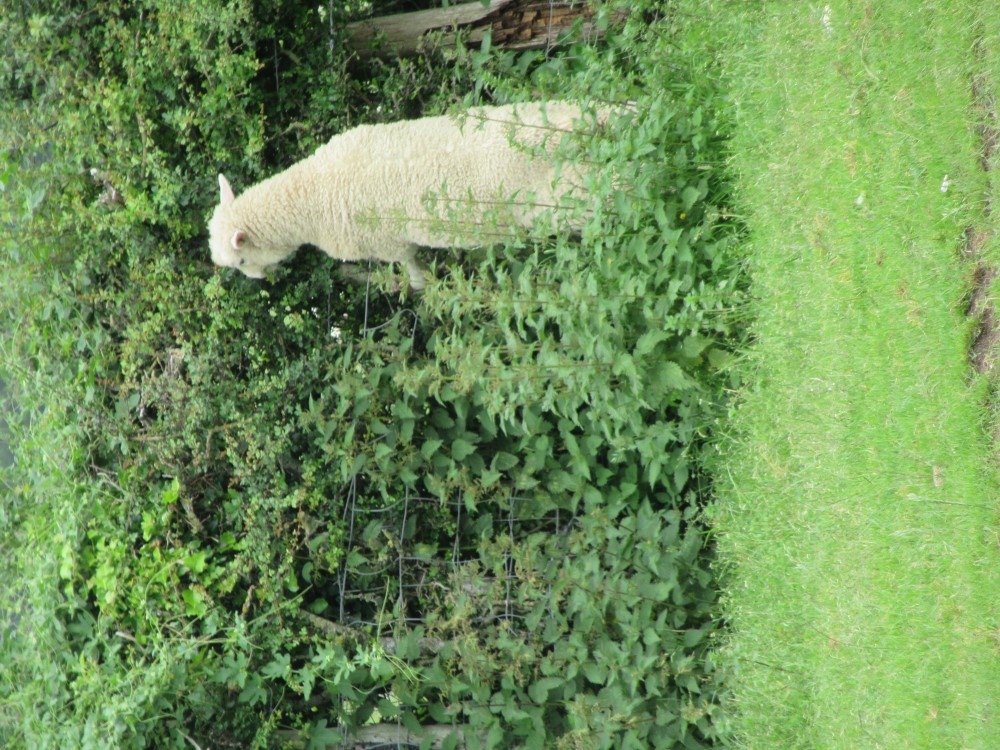 A call of nature?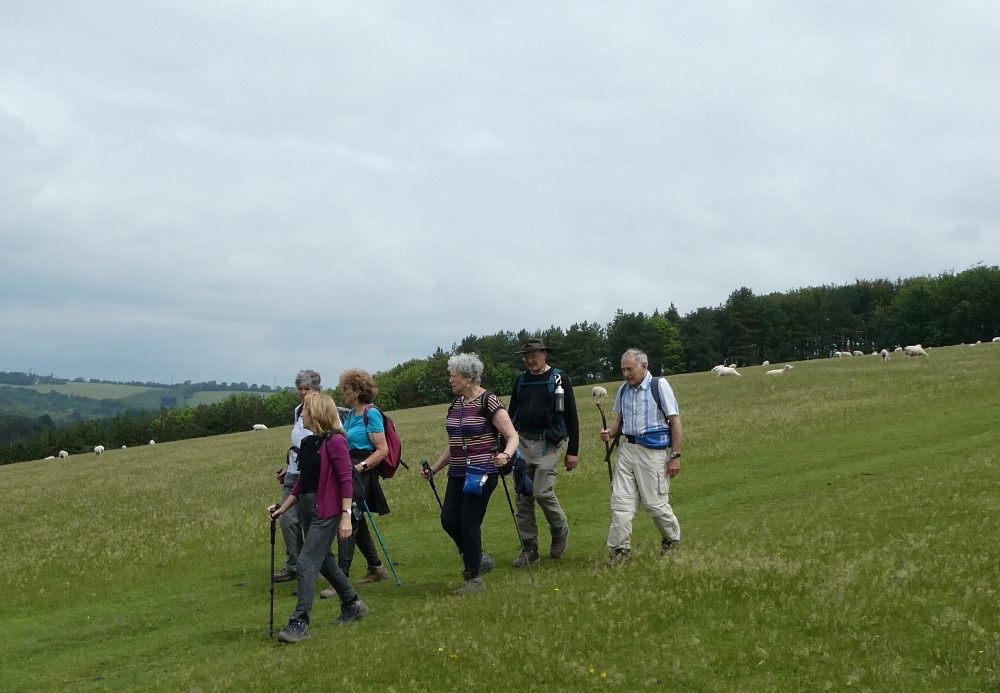 Going downhill at last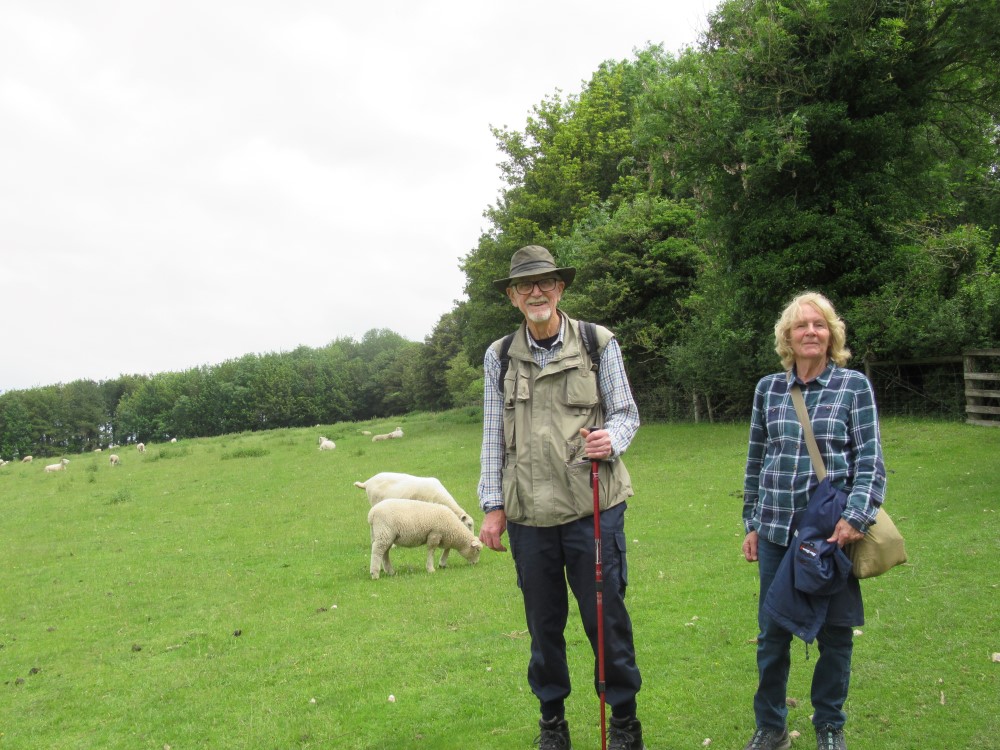 Linda's found a shepherd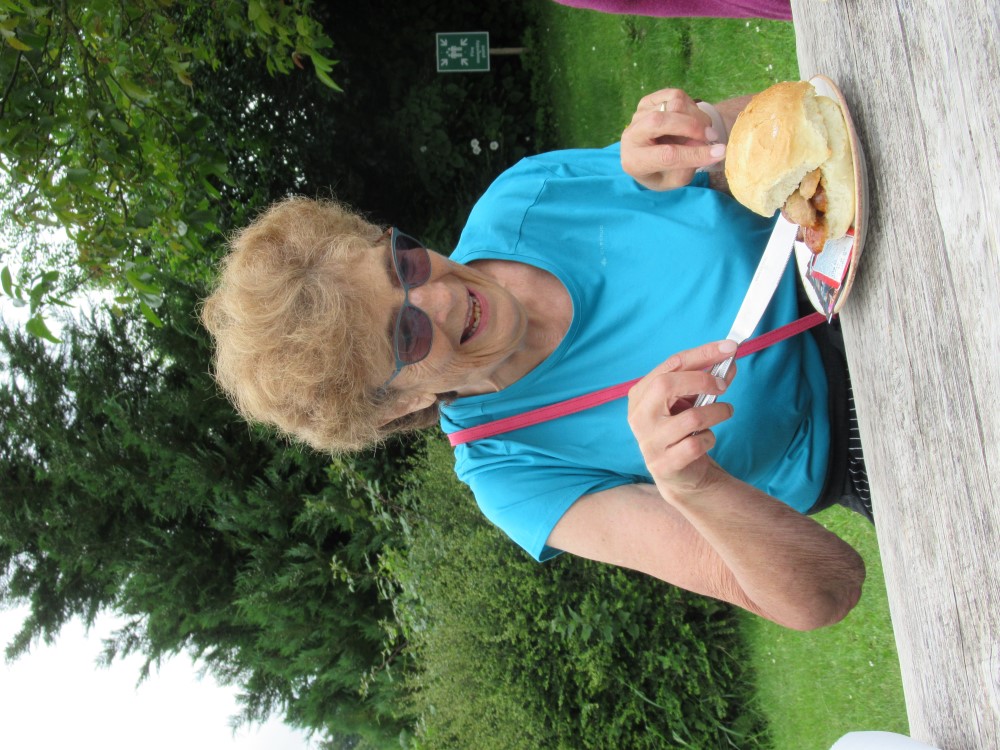 Wonderful walk leader richly deserved the huge sausage roll.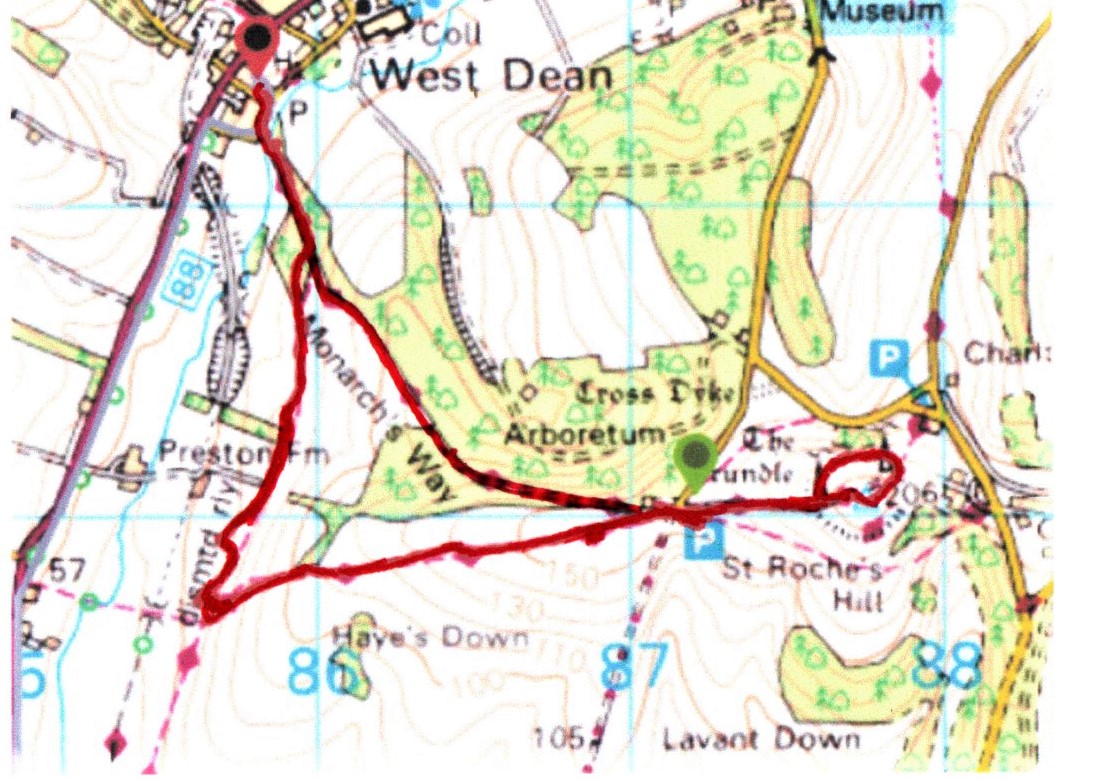 ---