-
Eight walkers represented all three bubble groups which started well with a gift of some lovely mixed beans left out by a kind person, walking past South Pond and onto the Wharf. The weather was warm but with a threat of rain. Continuing along the New Lipchis Way and into the wooded area of Todham Roughs and after finding a suitable place for a coffee break, the Serpent Trail path was used to reach Walkers Farm and then Dunford. The house at Dunford was once the birthplace of radical Victorian politician Richard Cobden, best known for the major part he played in the Repeal of the Corn Laws 1846. He was well respected locally, it's said amongst other kindnesses that he paid his workers sixpence (old money) a week more than others were paying at the time. Many stories of the modest Sussex farm house where Cobden was born, to an Italian style family home that many years later he shared with his wife and family. After his death it became a centre for debate, with 30 bedrooms and many meeting rooms, the house now is about to start a new life with a new owner. The walk continued with a steep climb to Pendean and to the Royal Oak, where we not only welcomed some old friends that we had not seen for a long time but enjoyed a delicious lunch. After an enjoyable time catching up it was back to walking, cutting brambles as we made our way back to the cars.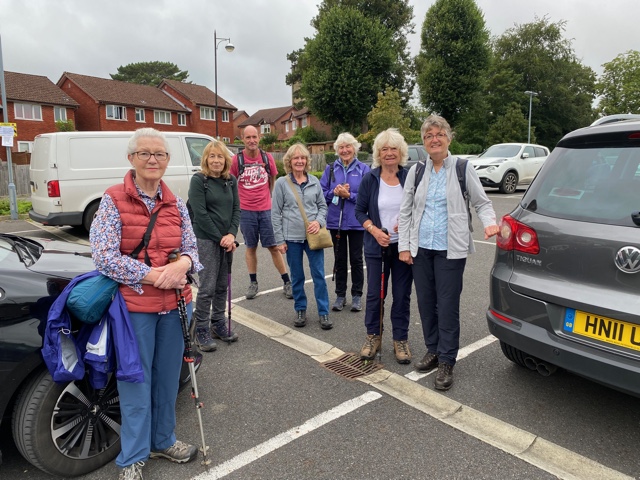 Let's get walking!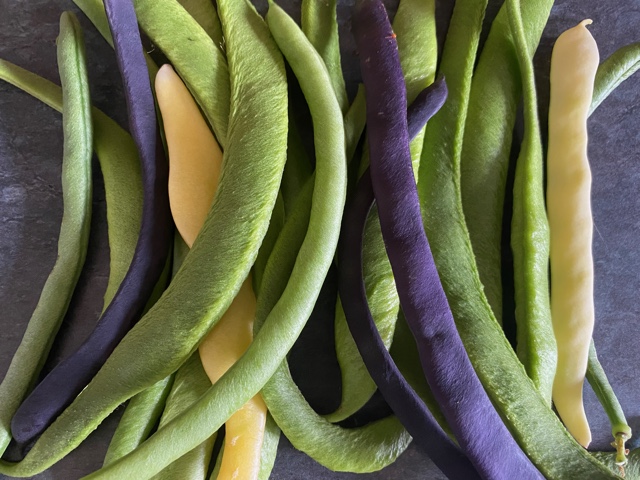 Thank you to the kind person that left beans to take, it was much appreciated.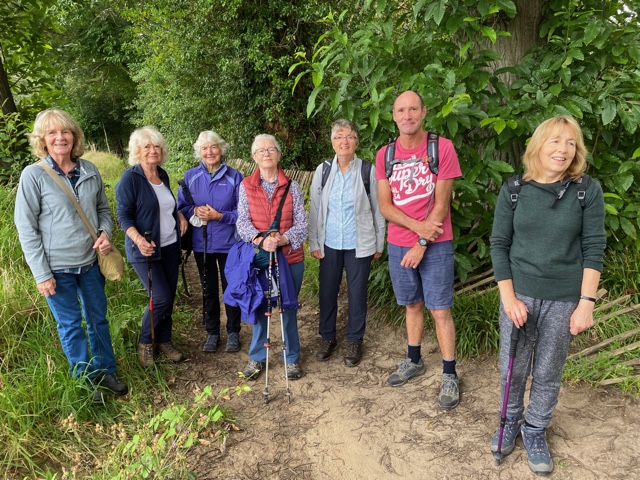 Will it rain or won't it?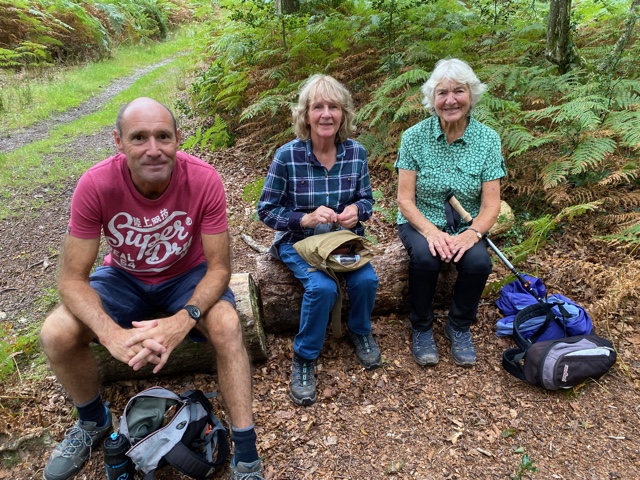 Nice logs to sit on.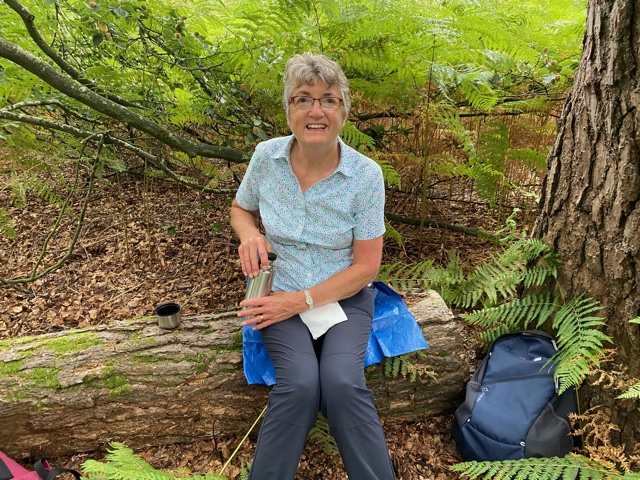 An even bigger log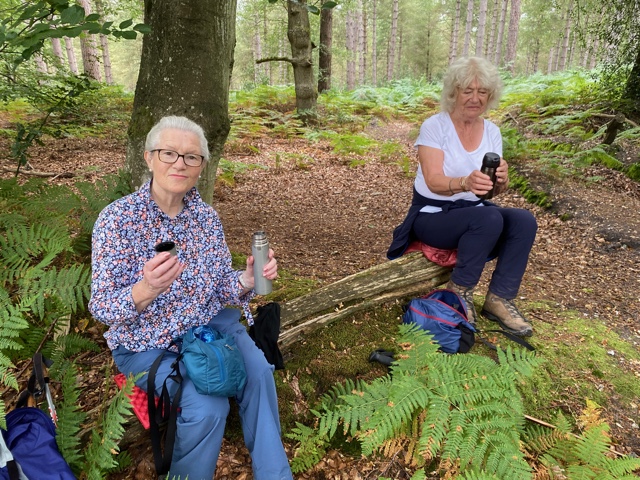 Nice distancing!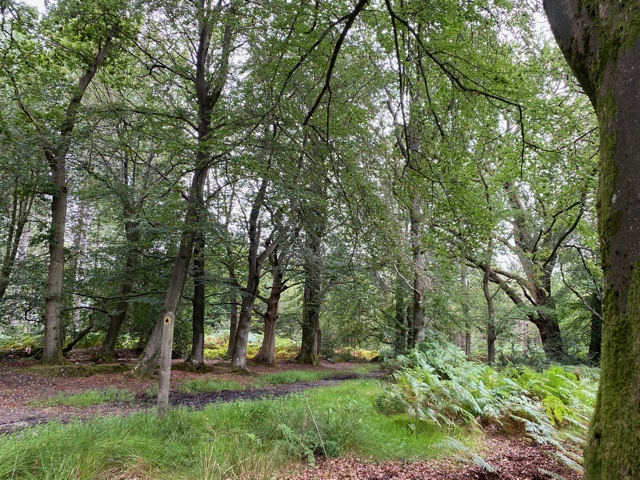 The Serpent Trail runs from Haslemere to Petersfield, 11 miles apart in a straight line but 64 miles taking Serpent snake shape route.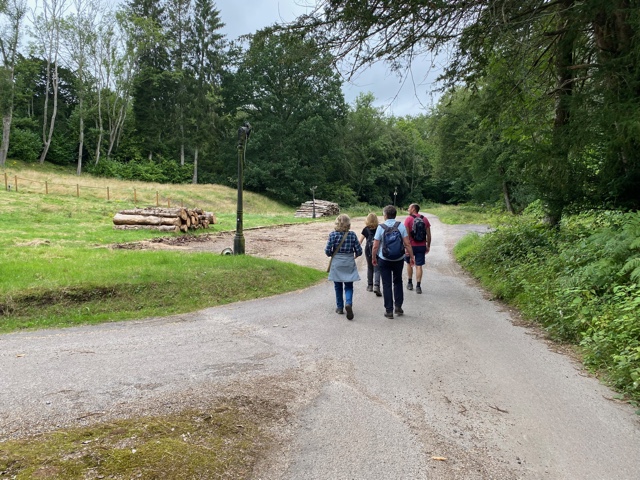 Are we there yet?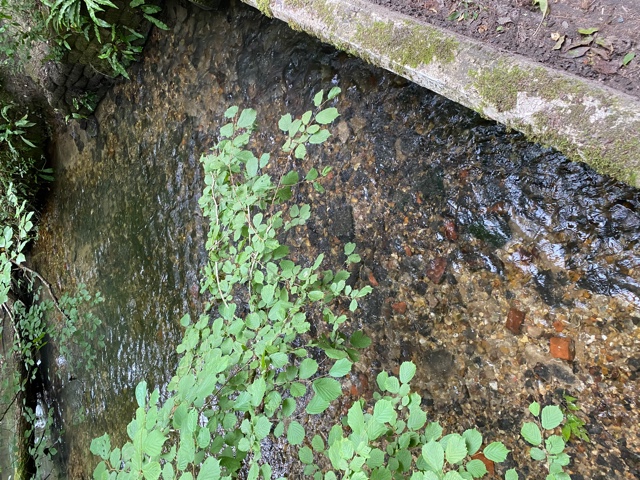 Costers Brook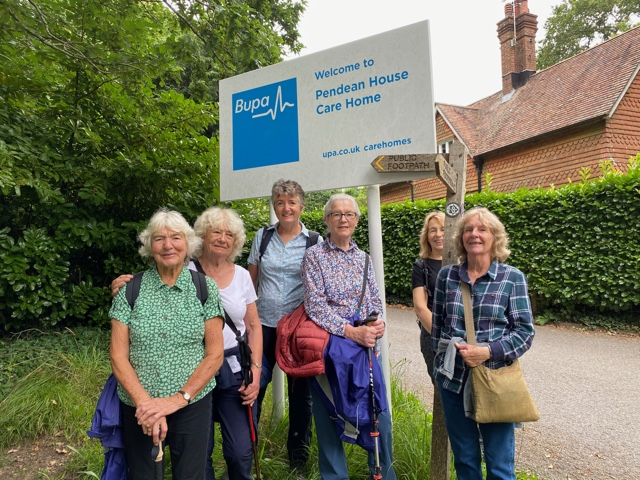 Surely these young girls are not having to queue for a place!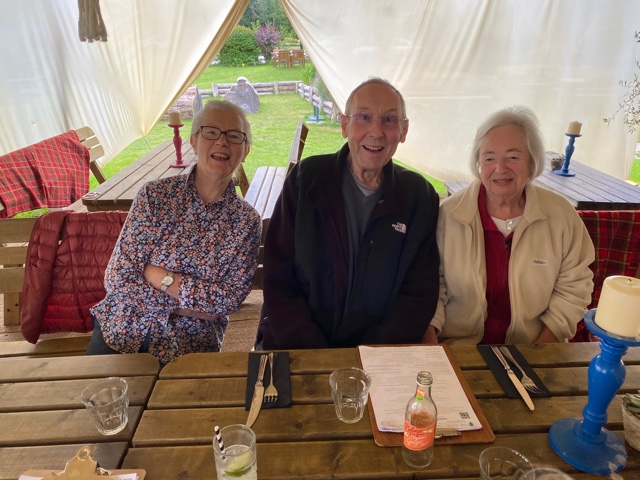 Our Guests of Honour!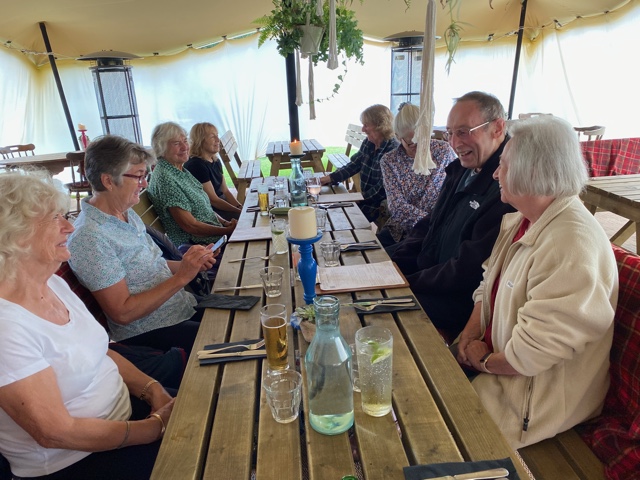 The marquee outside at the Royal Oak a perfect place for lunch, drinks and a catch up.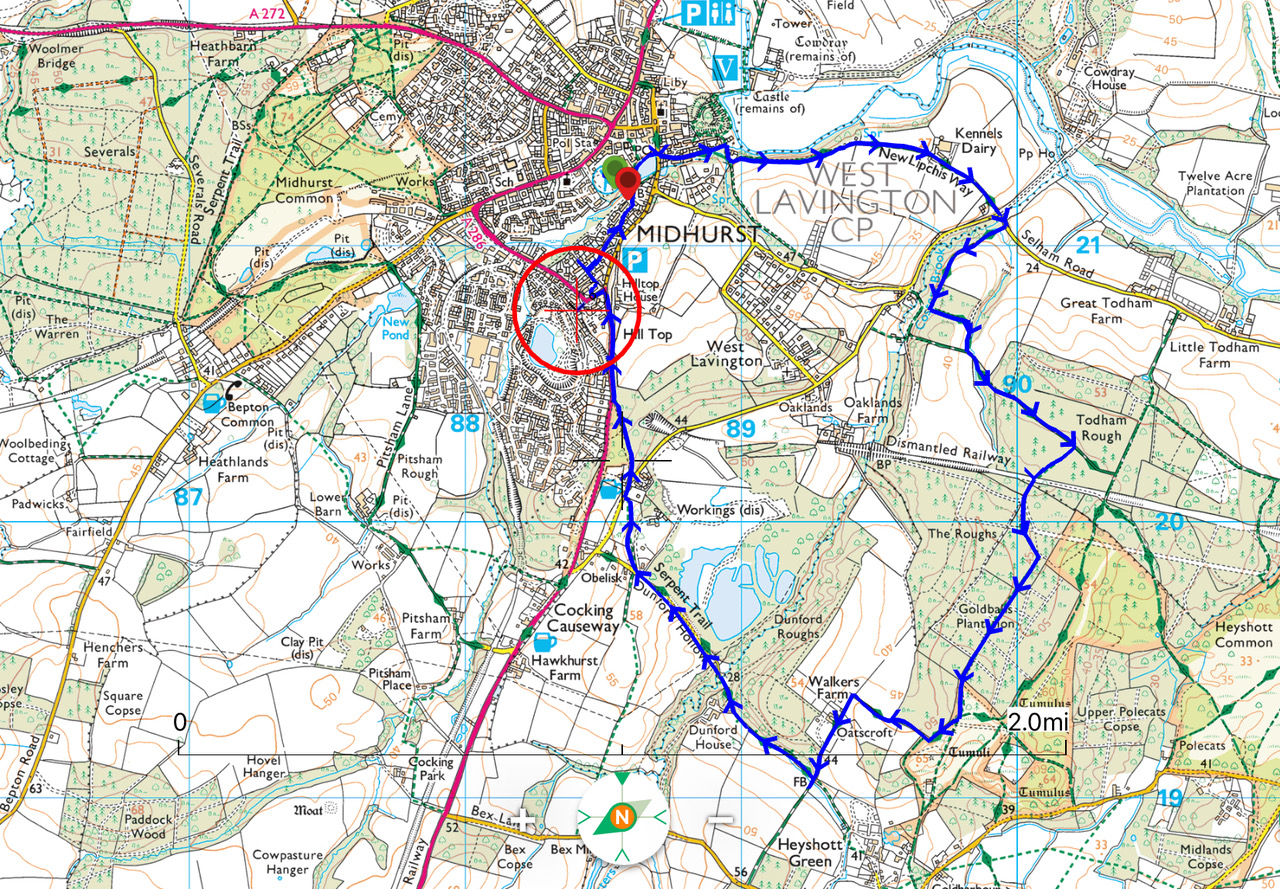 Four and three quarter miles.
---
With a few people on holiday we decided to have a single walk from Elsted Recreation Ground, finding new paths and generally heading towards Didling Church. The route took us through a number of rarely walked paths, including one that took us to Brimbrook Lane. It looked like an very old, wide track, with oak trees either side but Google searches have yielded nothing. Old maps show a house in 1892, but this has long disappeared. By the time we were in sight of Didling Church, we voted for a coffee stop rather than seeing the church. Perhaps another day! After passing through Treyford we found ourselves passing through the Three Horseshoes pub garden, where some walkers bravely sacrificed their picnic to support the local economy. The walk was about 4.1/2 miles, lots of sheep and wonderful views.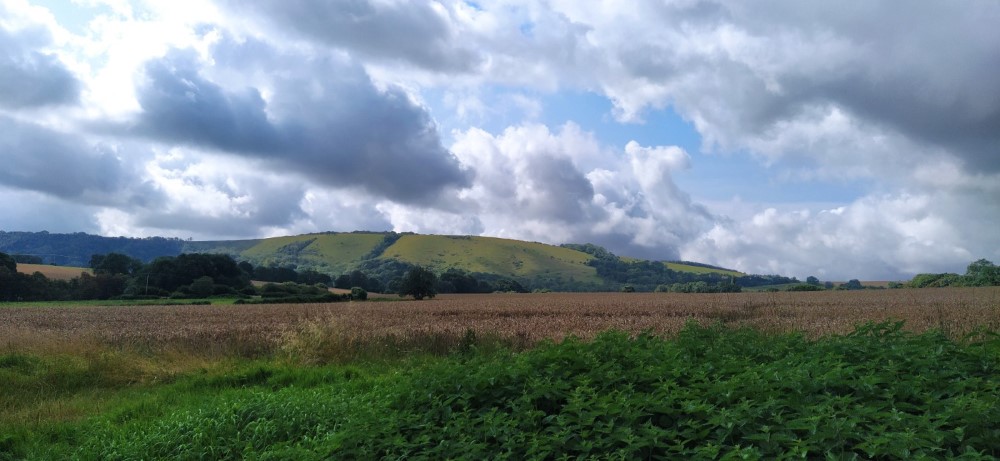 What a view to start the walk!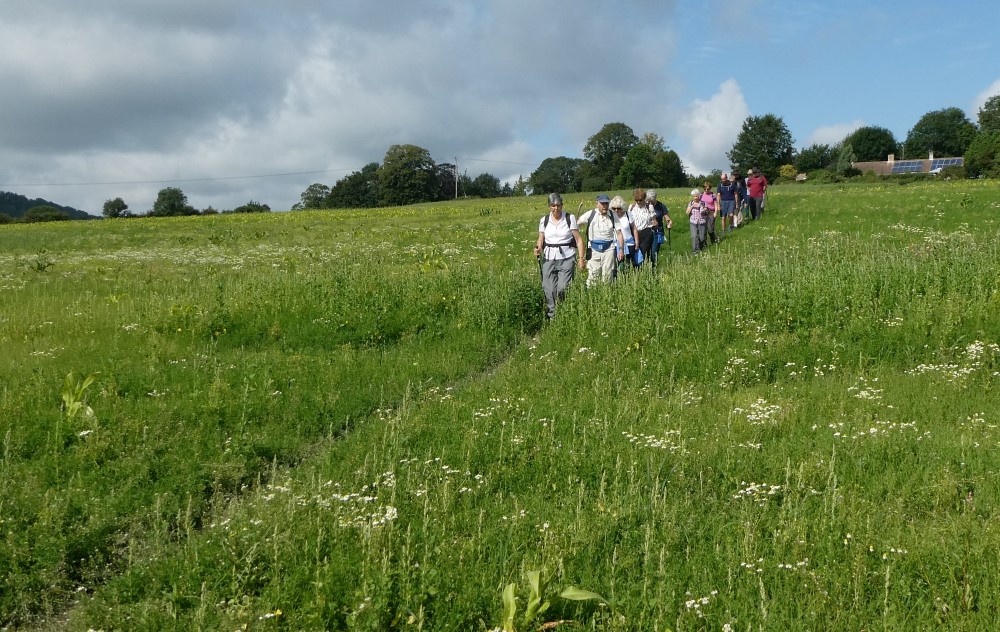 but there's a muddy bit coming up!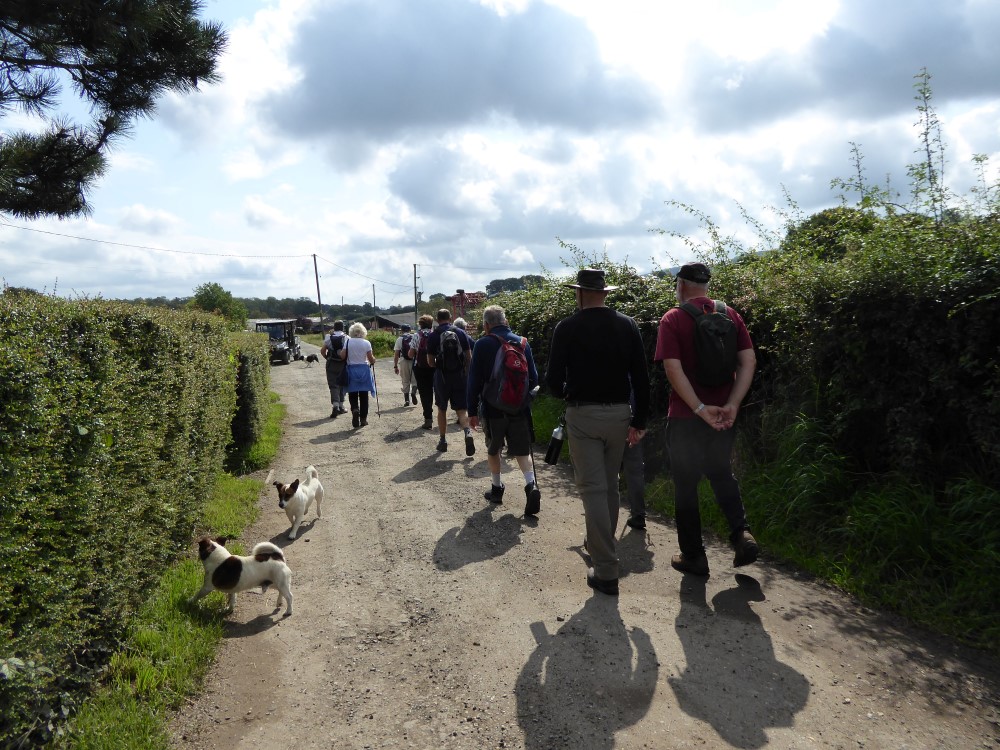 Don't know where they're going, but I think we'll just play in the grass.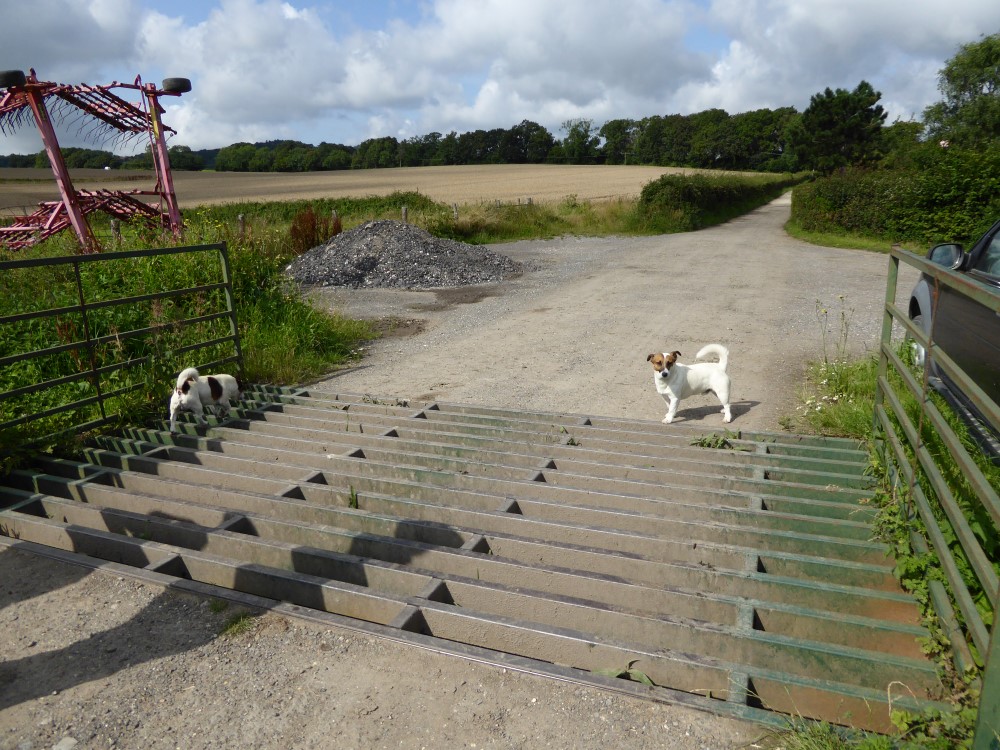 It's easy peasy Fred...just give it go! Humans manage ok....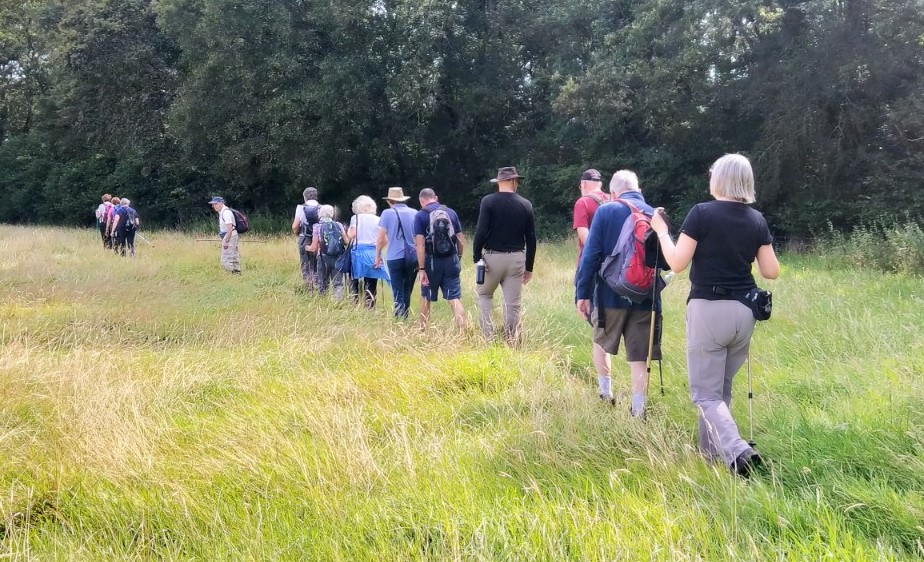 Some footpaths were less trod than others.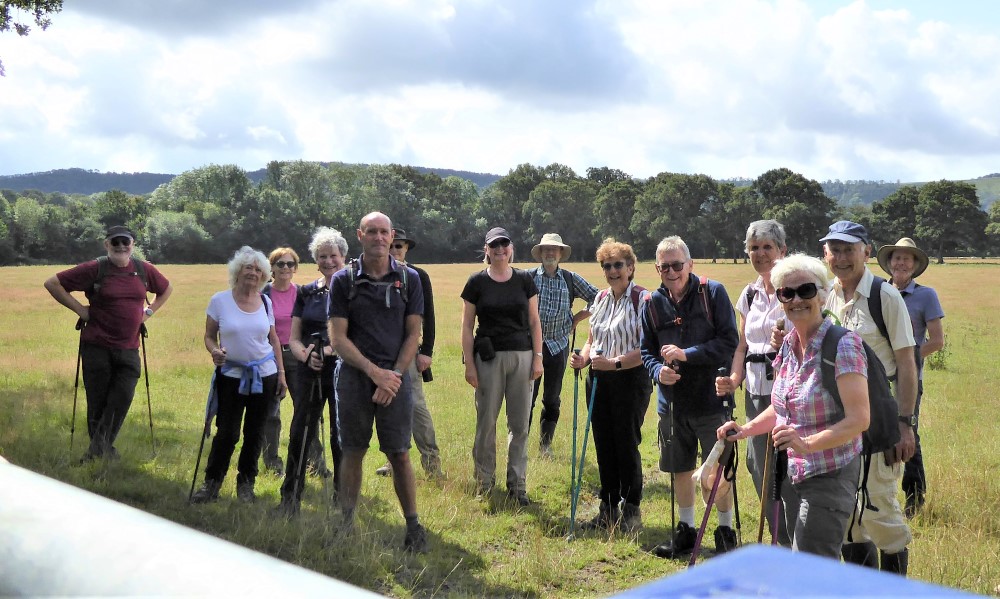 Handy blue camera post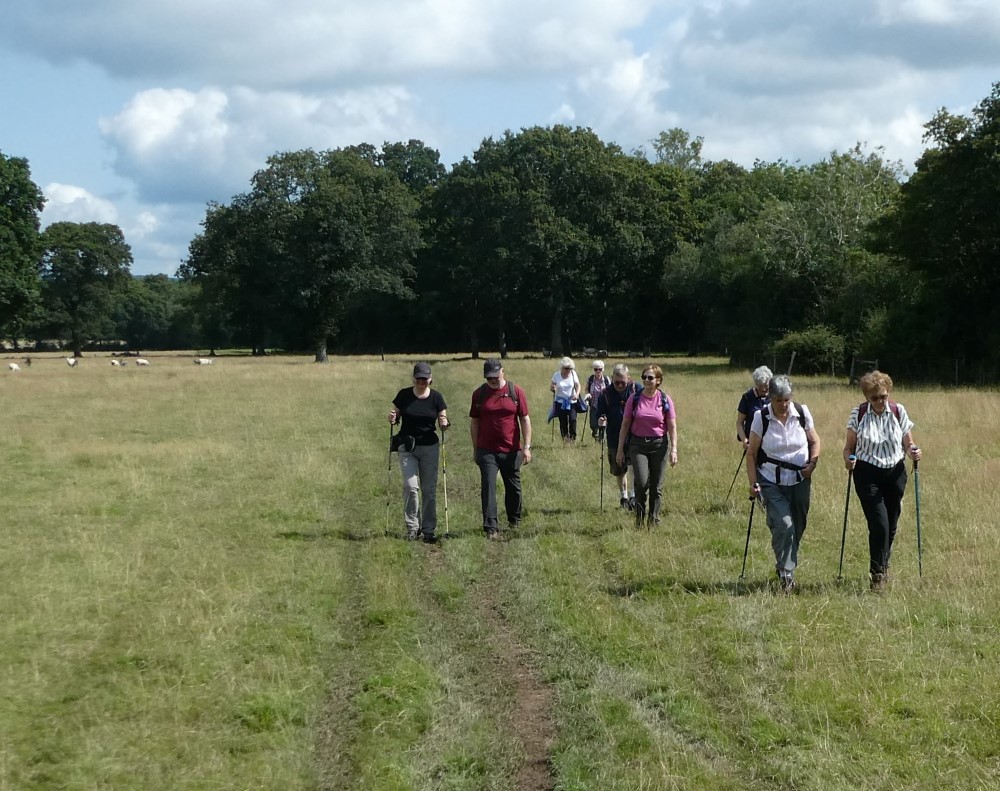 One of many sheep fields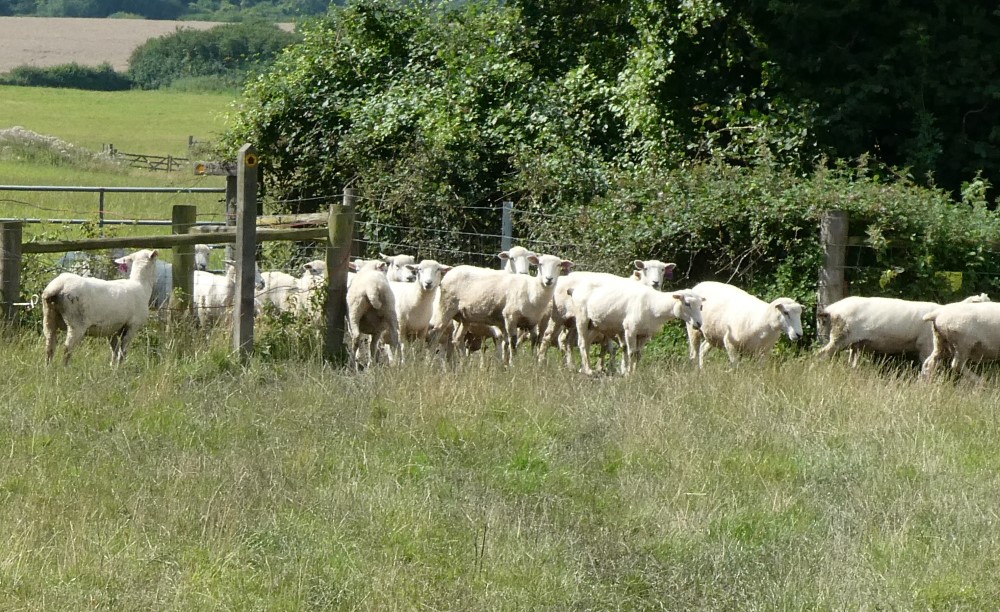 Sheep like to use the footpath it seems..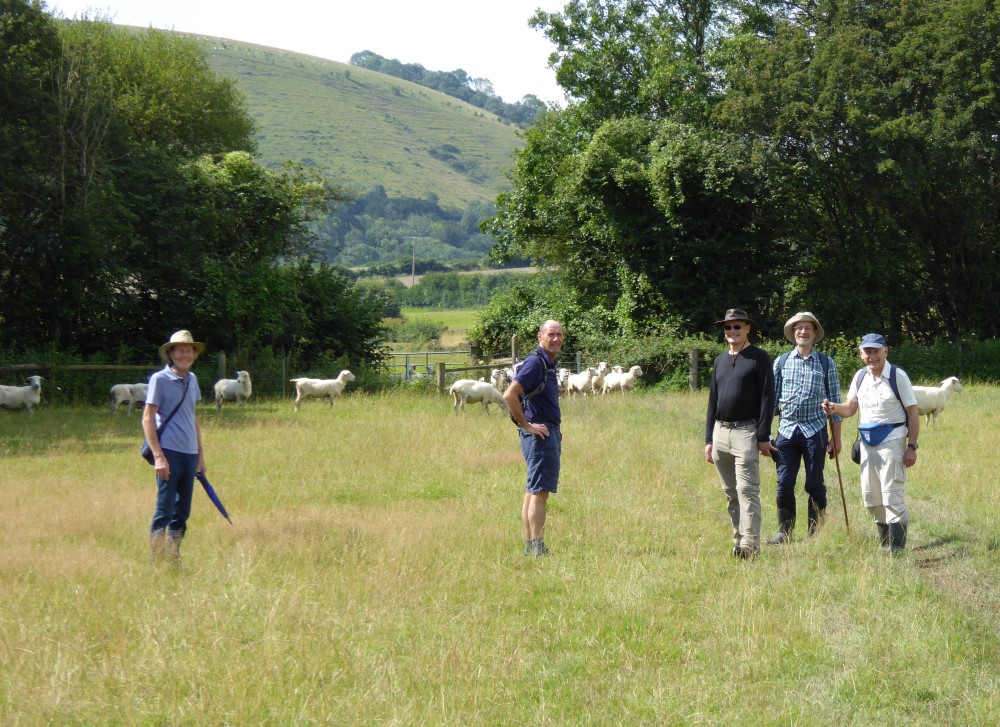 Boy's Brigade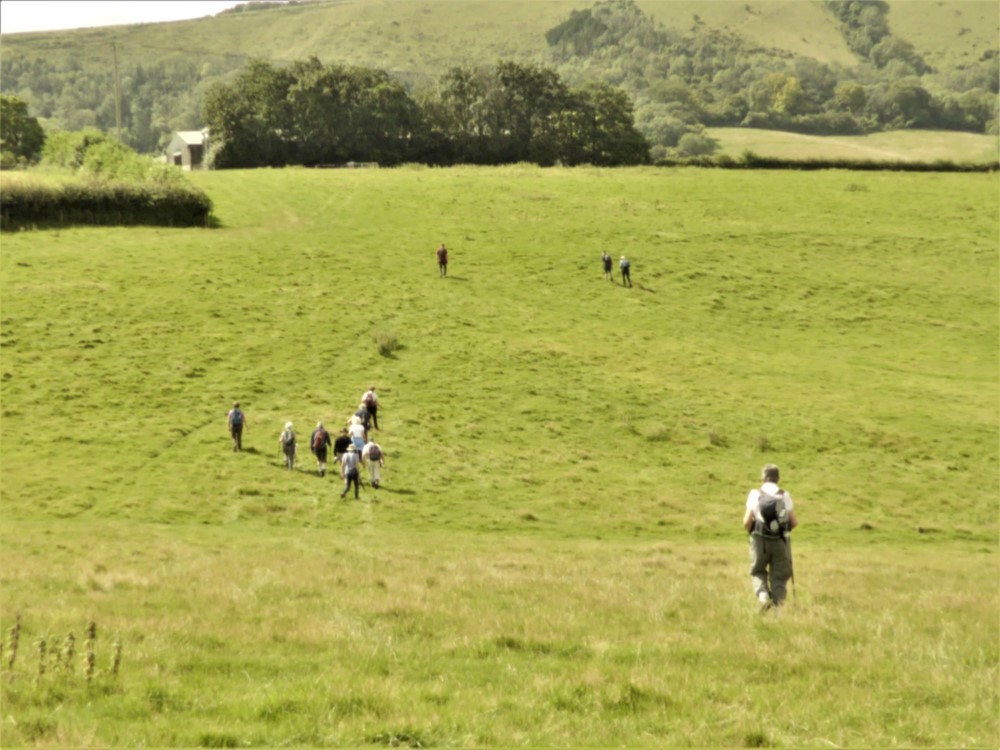 Approaching Didling
A bit of uphill work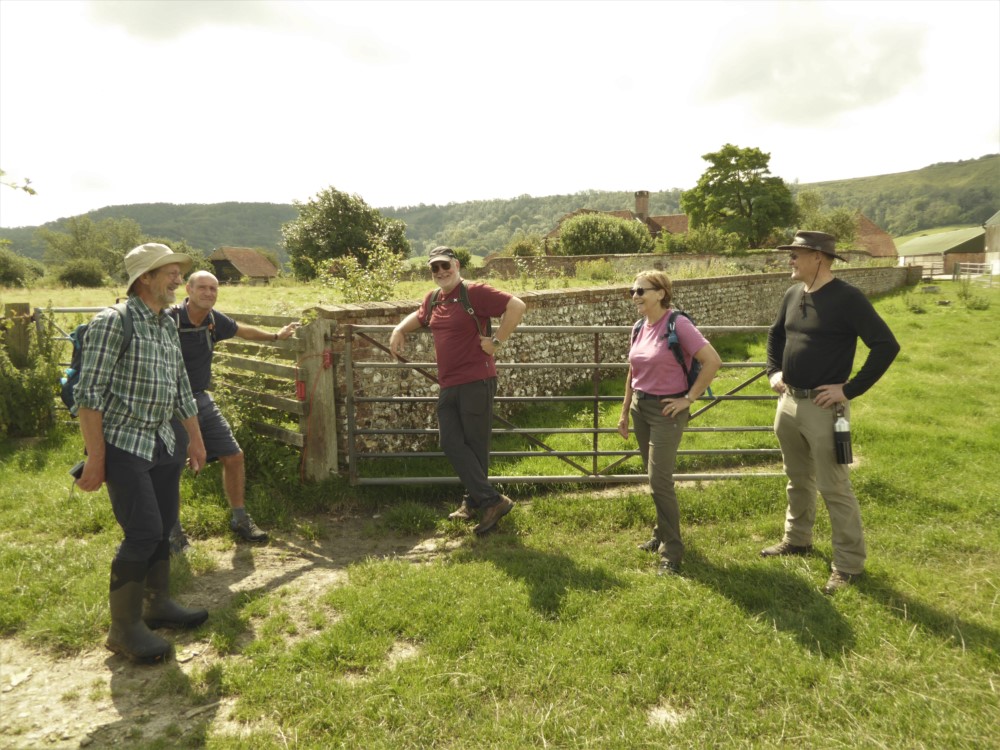 Another tall story.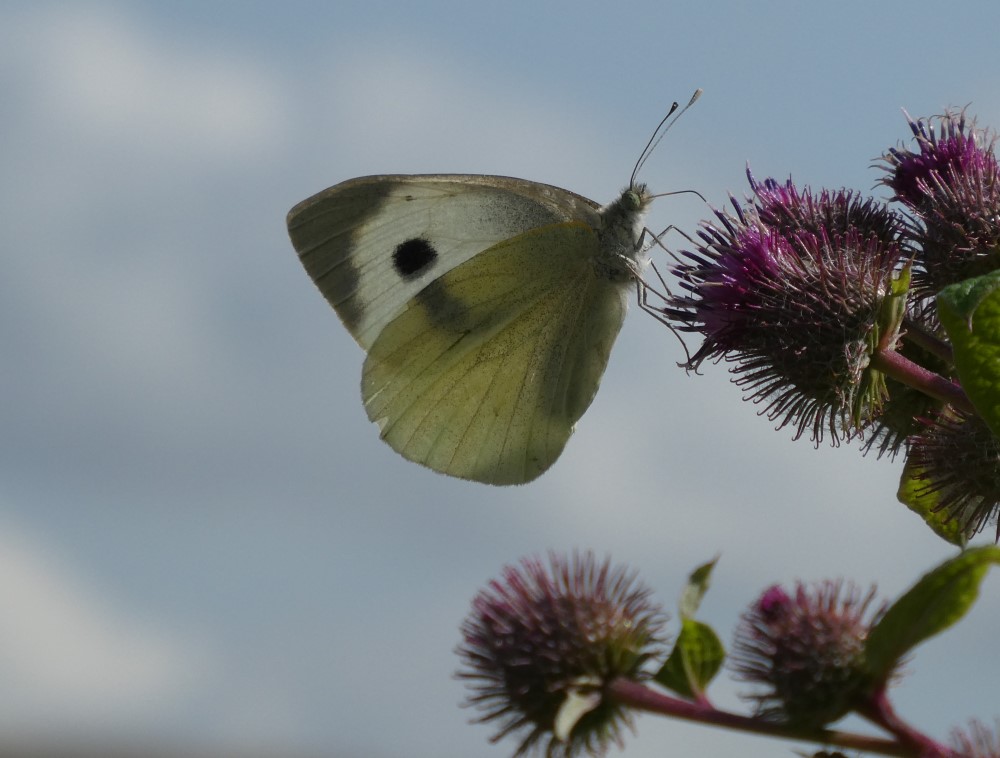 Somebody must know the name of this butterfly please? And it's not Eric............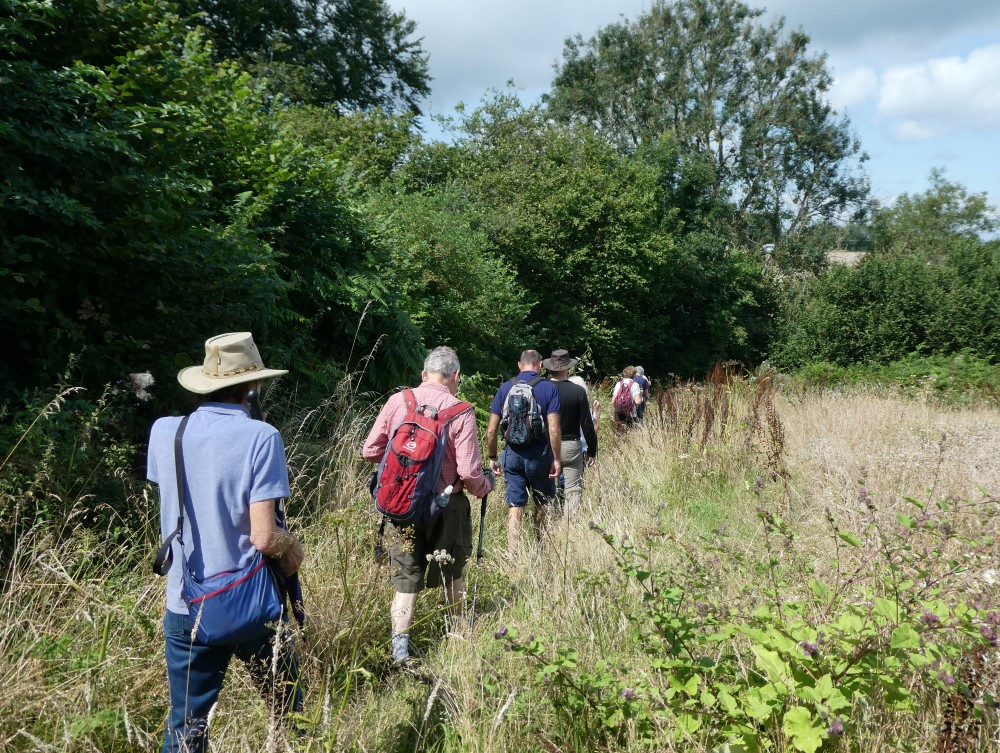 Heading home and still the grass is long!
---
Pauline volunteered to lead a walk and also accepted a load of guests so we ended up with a group of sixteen walkers. Starting from the South Harting car park we wandered past the parish church of St Mary and St Gabriel and then on to Torberry Hill, although we didn't go to the top to the site on an Iron Age hill fort. After crossing the B2146 we took the Sussex Border Path to join the Southdowns Way along Forty Acre Lane. After a coffee stop and a puddle crossing we eventually reached the Main Down above South Harting before descending to a delightful picnic stop on South Harting's recreation ground. A very pleasant walk of about 4 miles.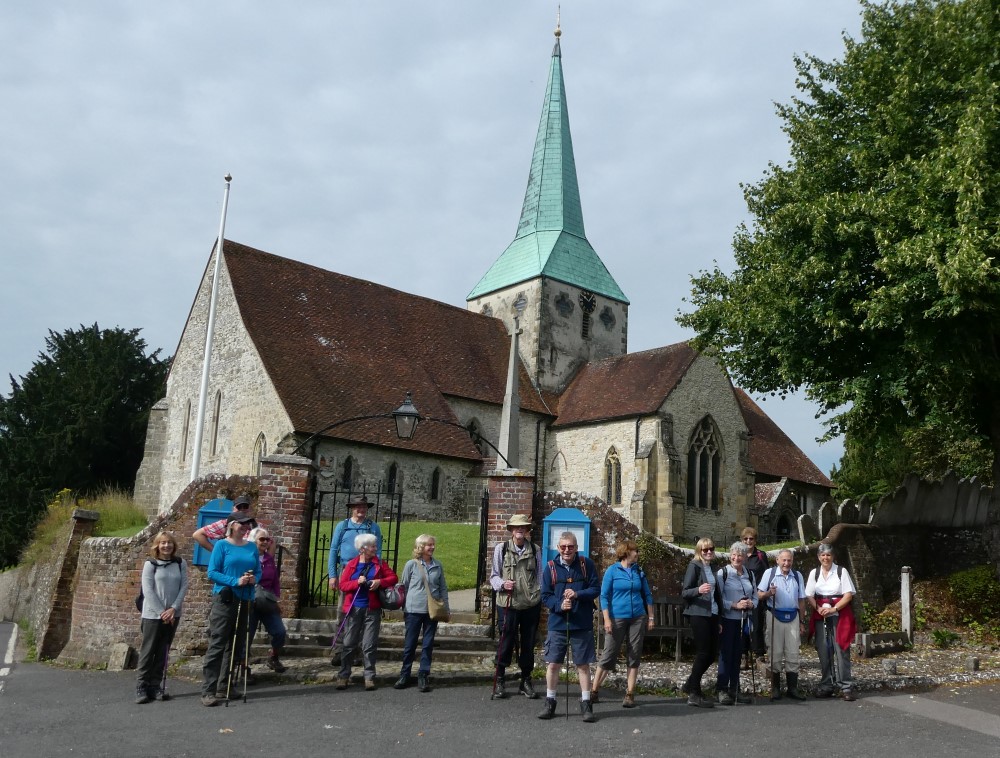 Mustering outside the church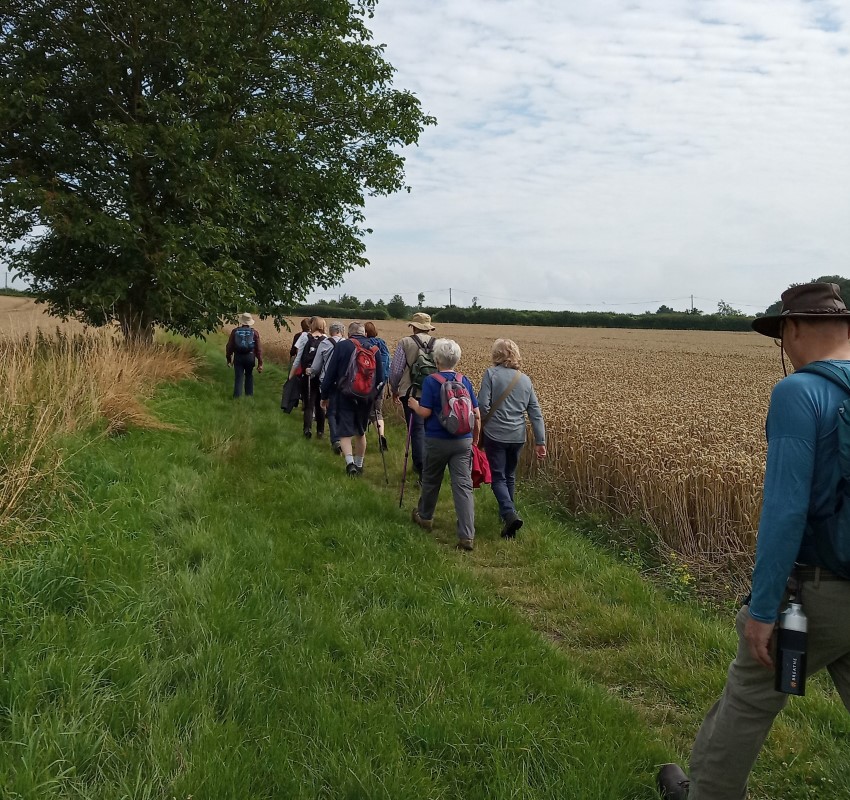 Crossing the field towards Torberry Hill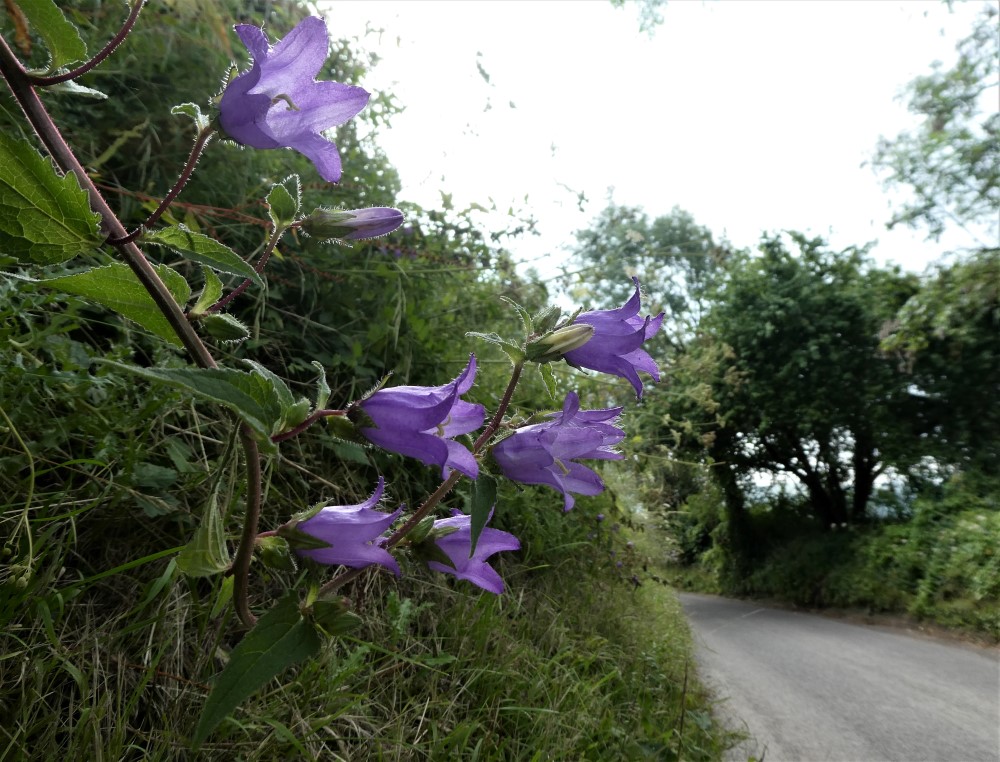 The roadside was host to many Campanula - Bellflowers along the way.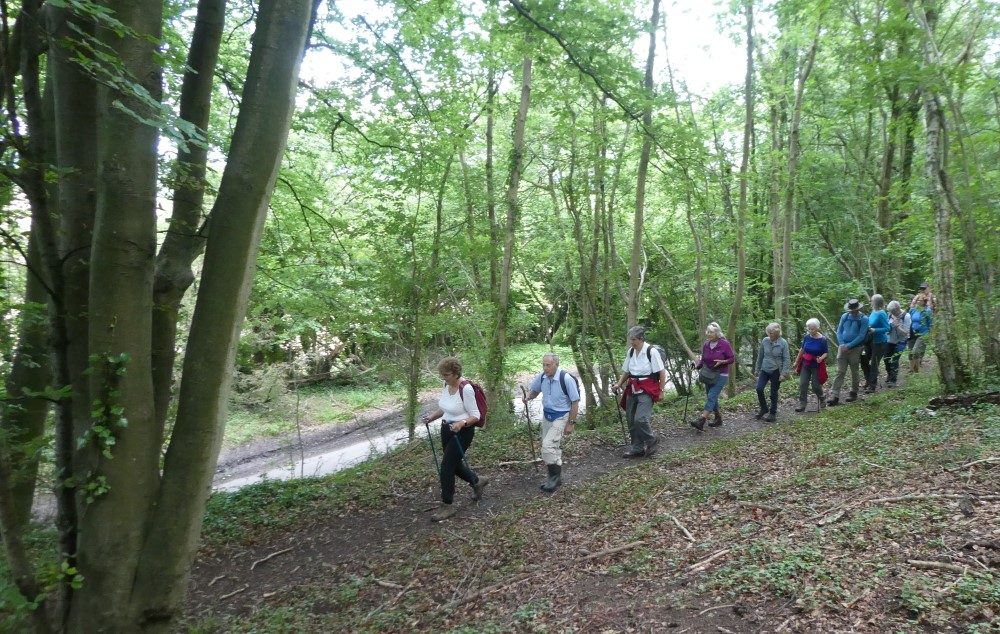 Tramping along the lower slopes of Torberry Hill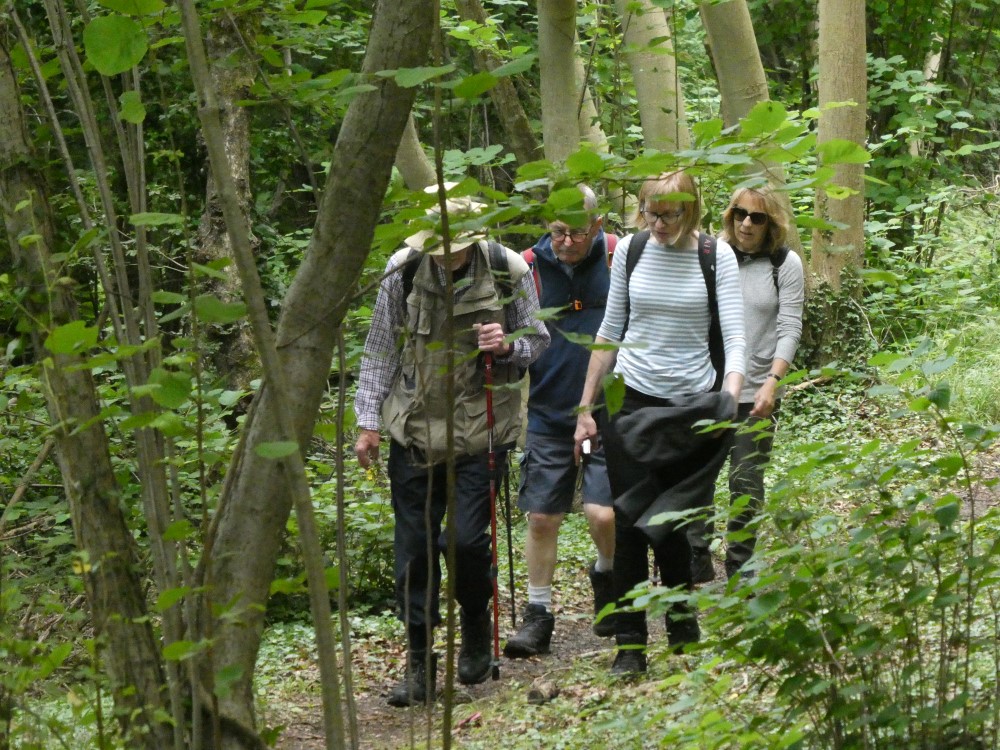 Backmarkers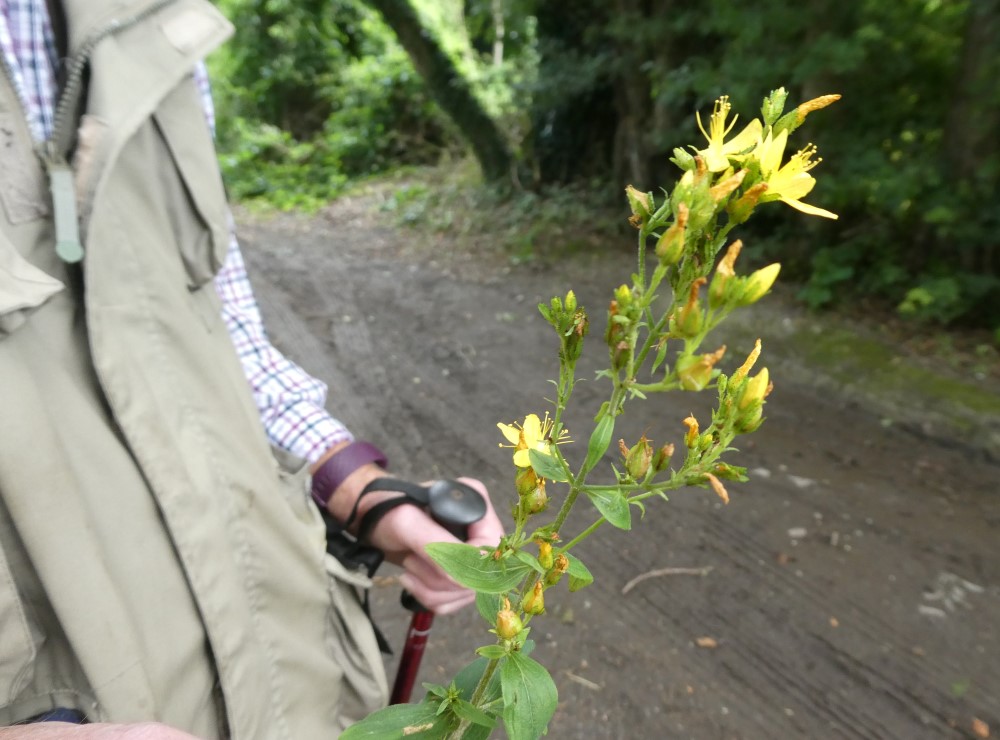 Perforate St Johns-wort. Witches had to drink it and it was believed it made them tell the truth later when they were tortured. This handy plant has leaves which supposedly heal wounds caused by bruising or stabbing. Nowadays it is used as an anti-depressant. Rumoured to be good for many other disorders but banned in France. And we thought it was just a yellow flower.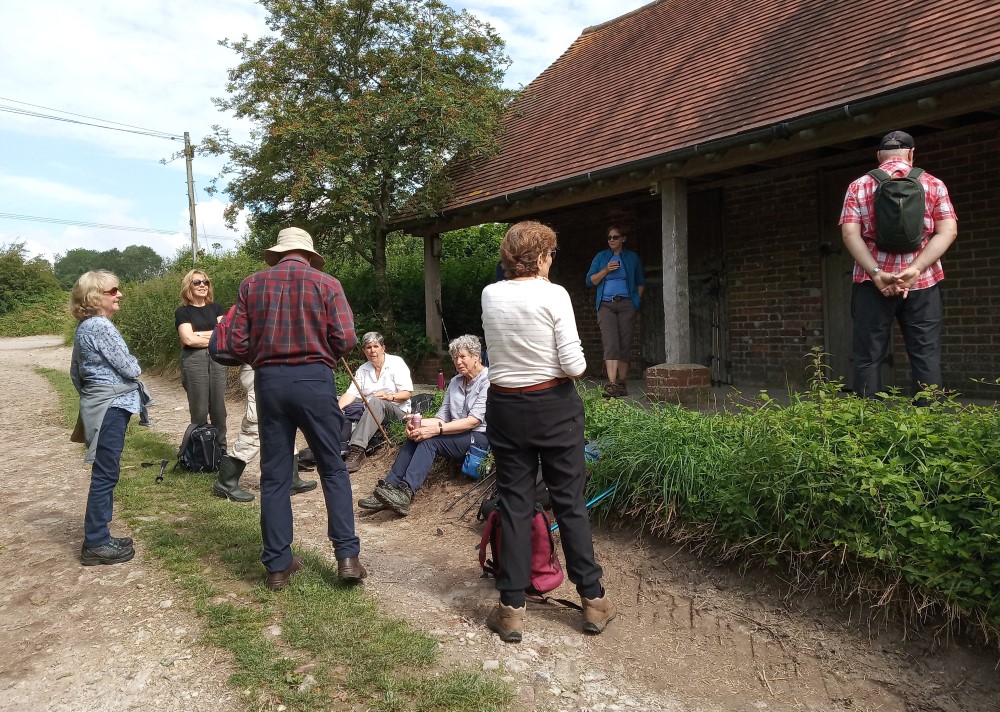 Coffee stop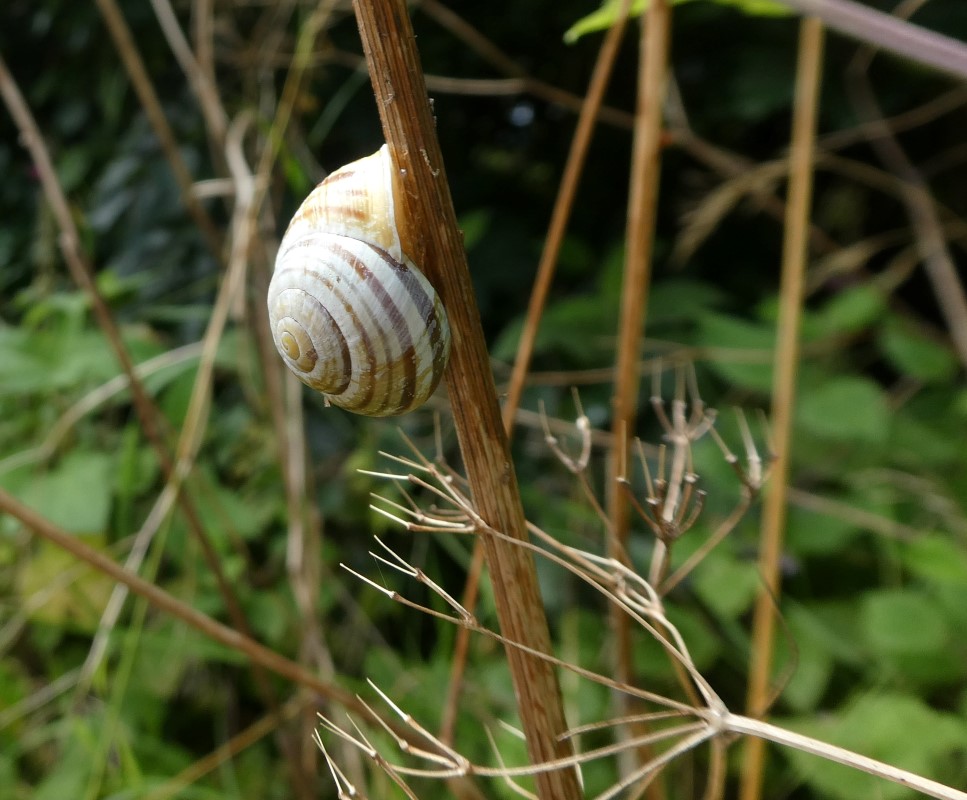 White lipped snail, favoured food of song thrushes.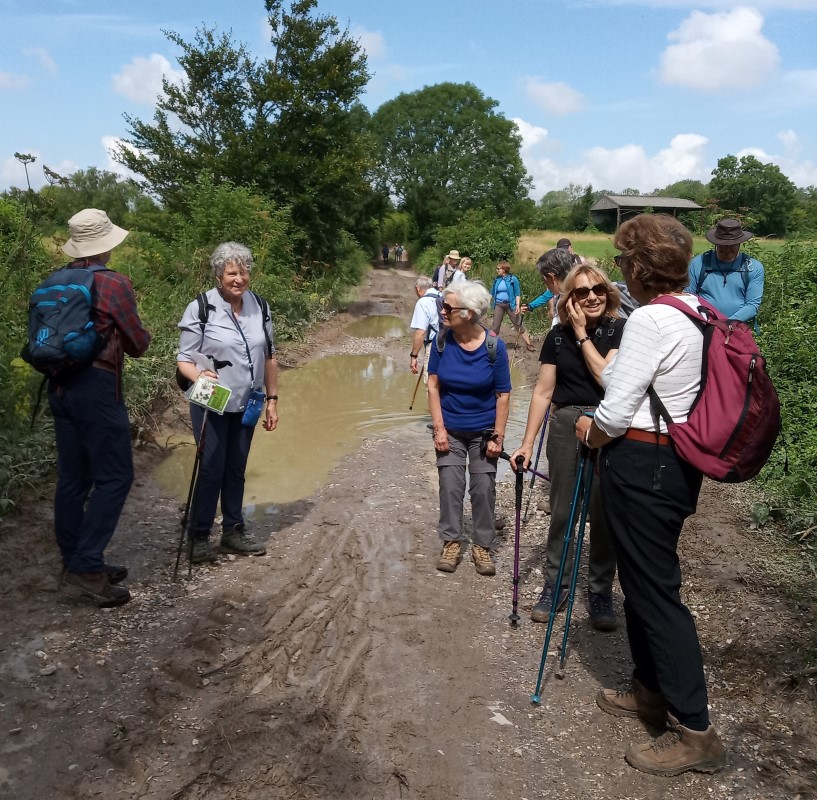 In spite of the puddle, boots are looking clean.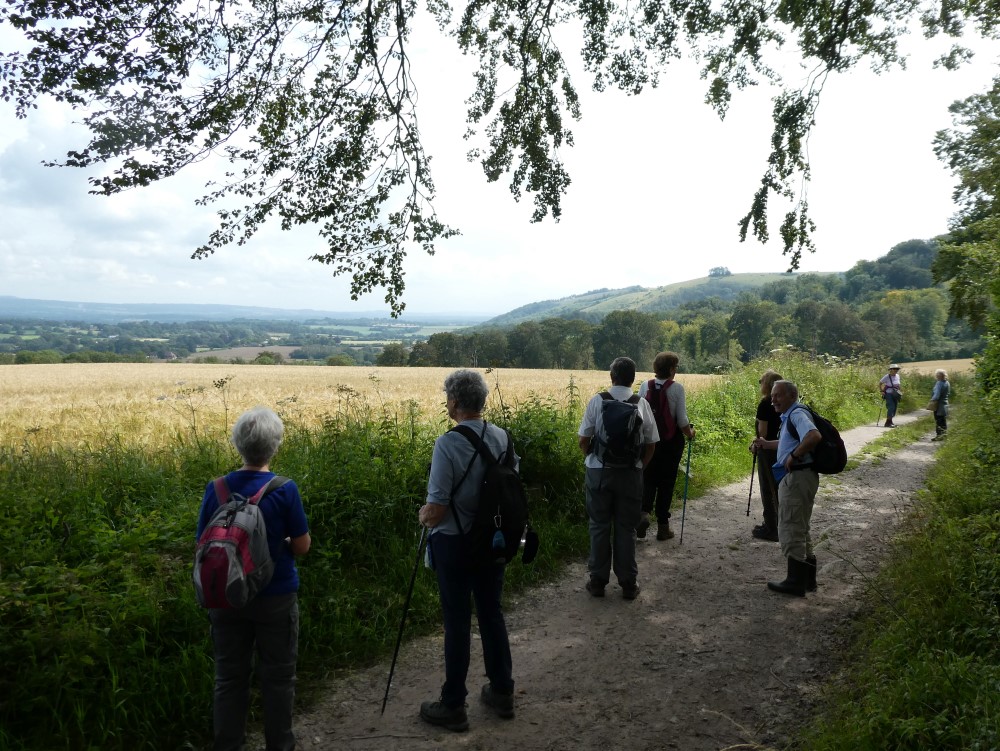 Beautiful view over the valley.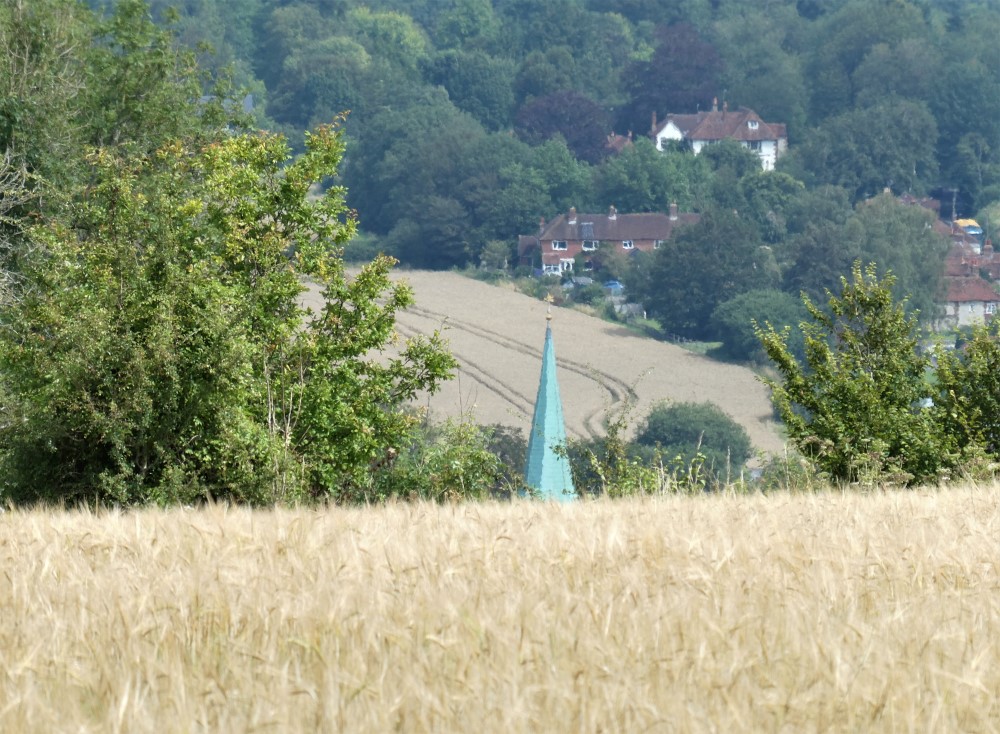 Church spire just in view.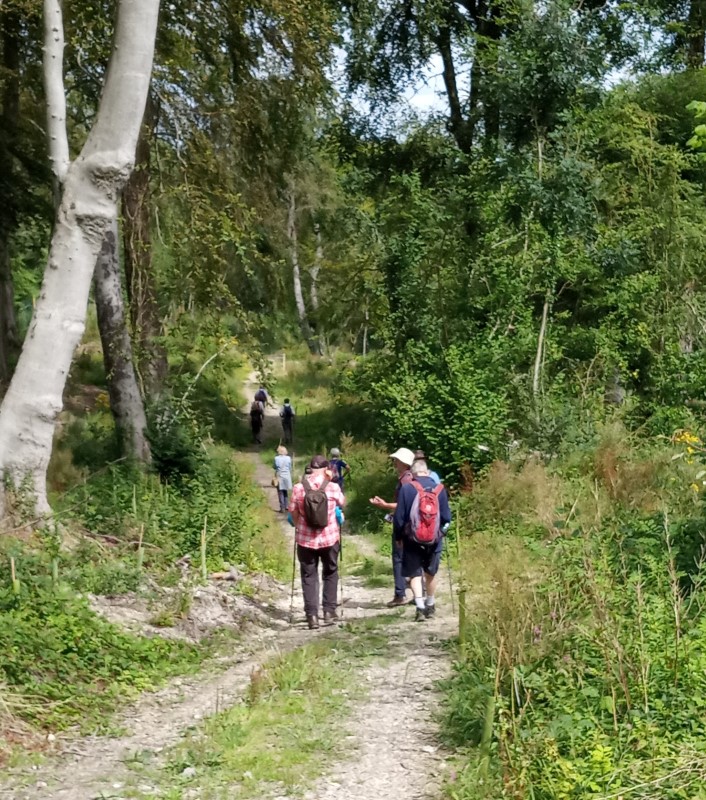 Last descent into Harting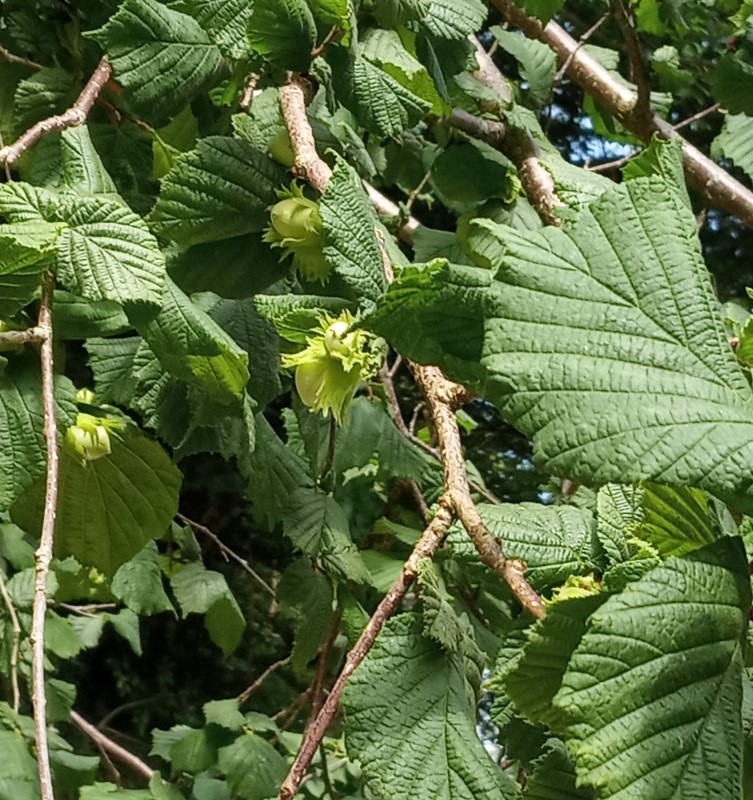 Hazel nuts are developing nicely.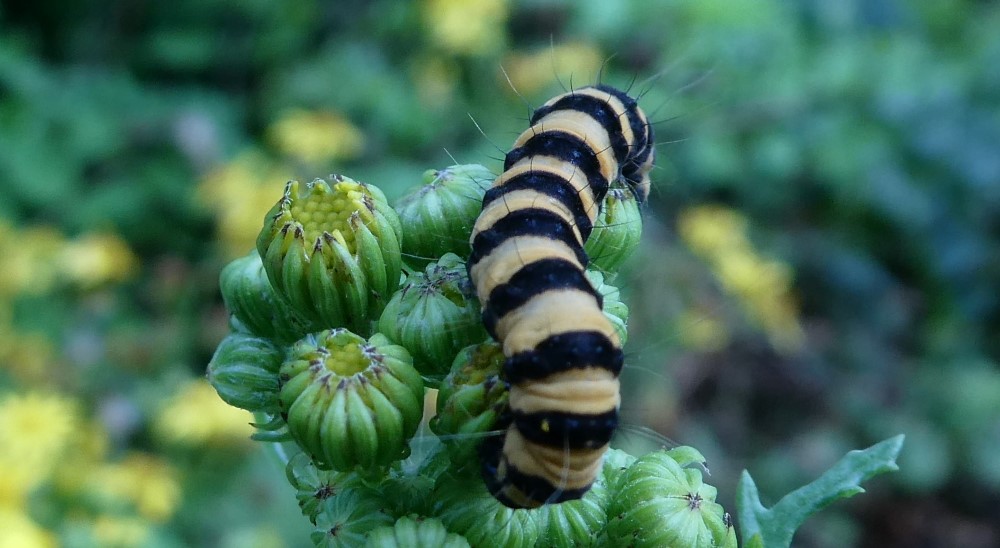 Cinnabar moth caterpillar, loves the poisonous common ragwort and therefore can cause a rash if handled. This one is safe from birds because of its poison and will probably spend the winter in the soil before emerging as a brilliant black and red moth in early summer.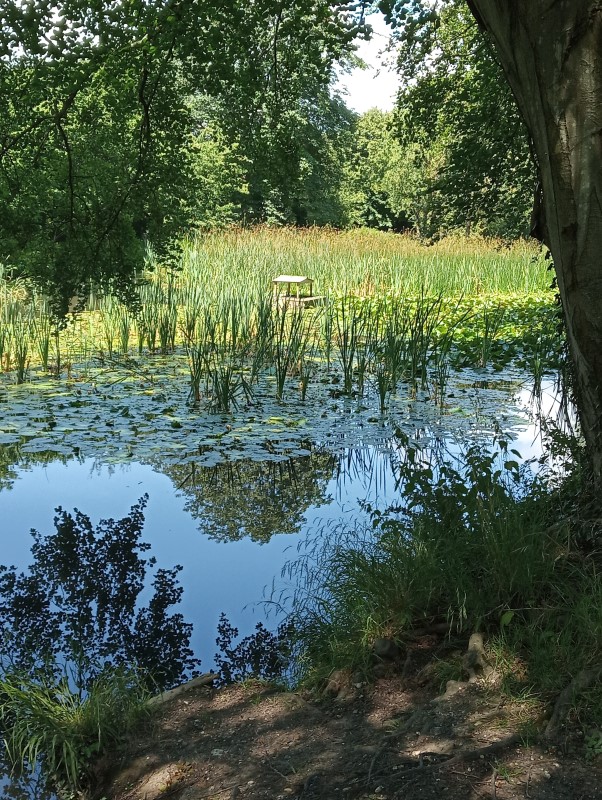 Recreation ground pond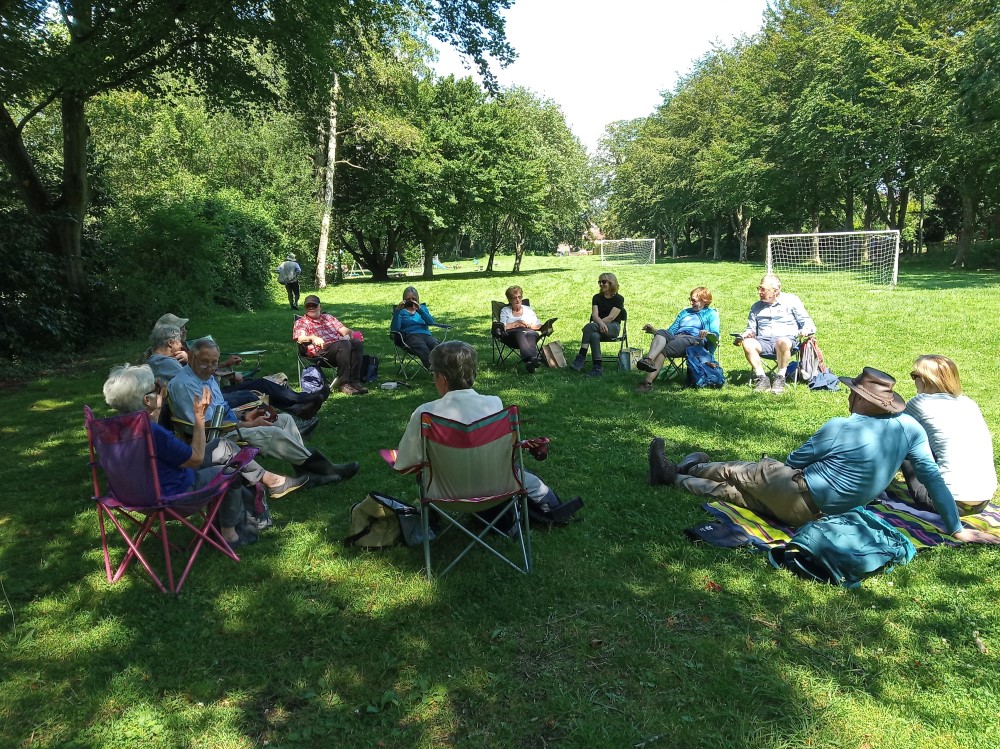 Picnic time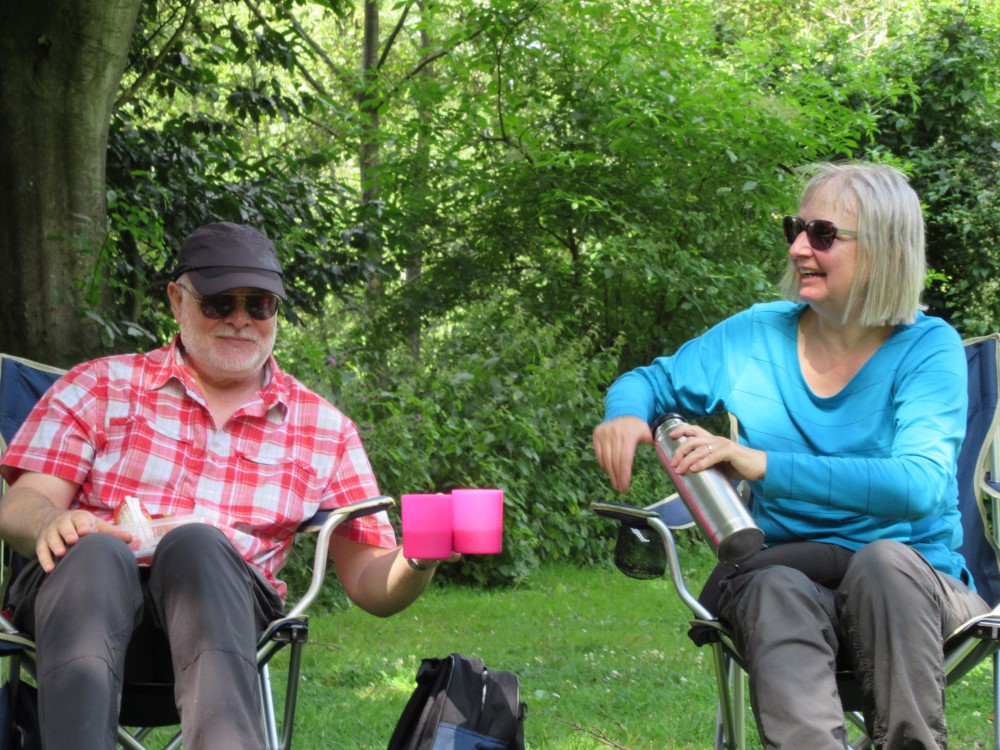 "Catherine, I'll hold the mugs - you can tell the jokes" says Andy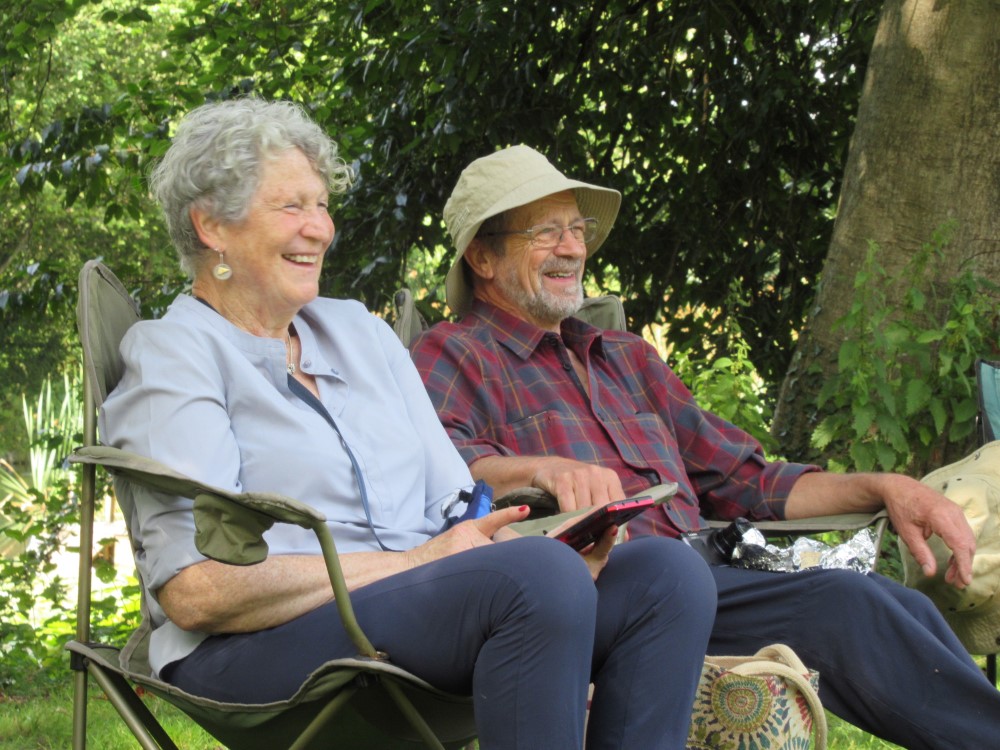 "That was a cracker, Catherine!"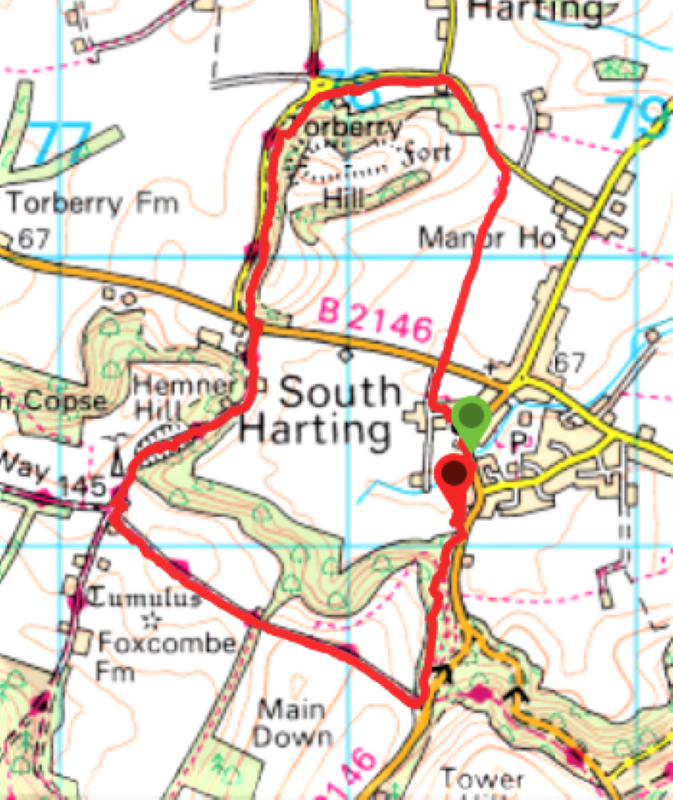 About 4 miles.
________________________________________________________________________________________
________________________________________________________________________________________
________________________________________________________________________________________
Peter's small bubble walk (minus Peter) Just four girls, was around Selborne and Noar Hill nature reserve, to see the stunning wild flowers, returning by the wishing stone and zig-zag path. a lovely sunny walk, just over five miles.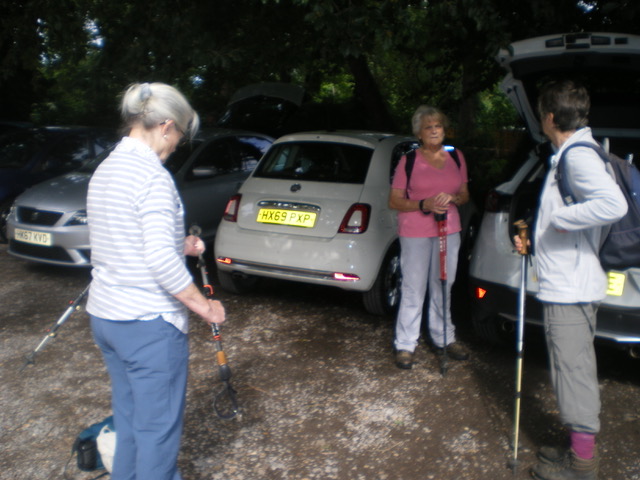 "Shall we go up or down the Zig-zag?"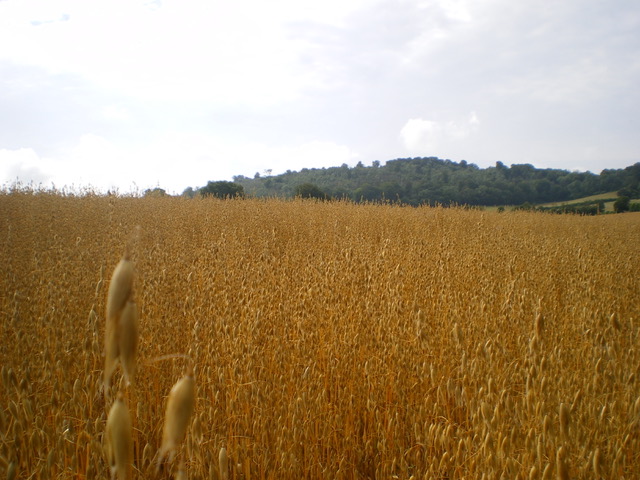 A field of Golden Oats, porridge in the early stages
Tantalising Teasels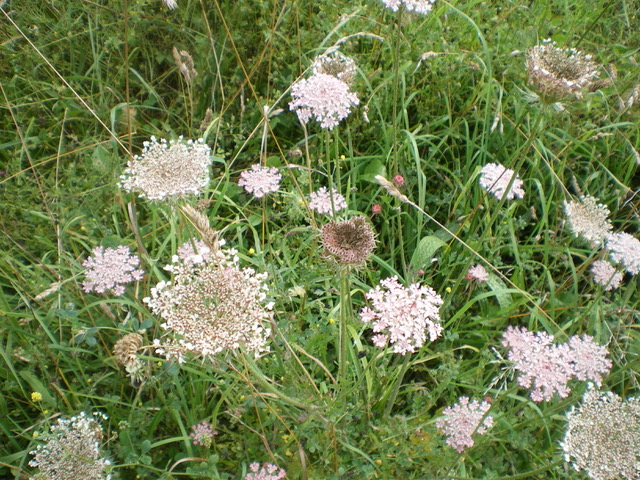 Daucus Carota Dara (Wild Carrot)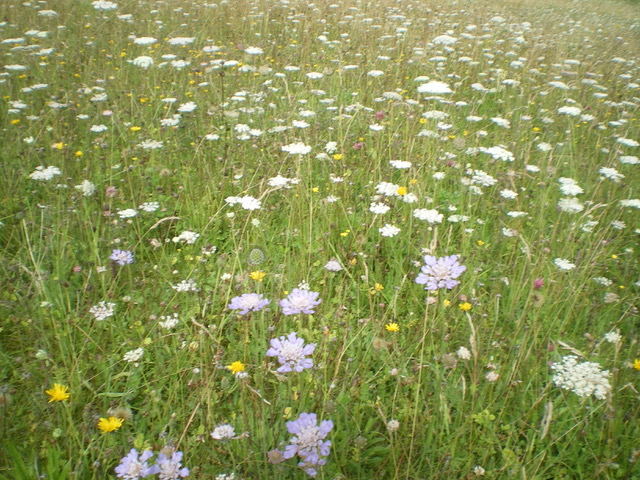 Wild Scabious (pin cushion flower) with many friends.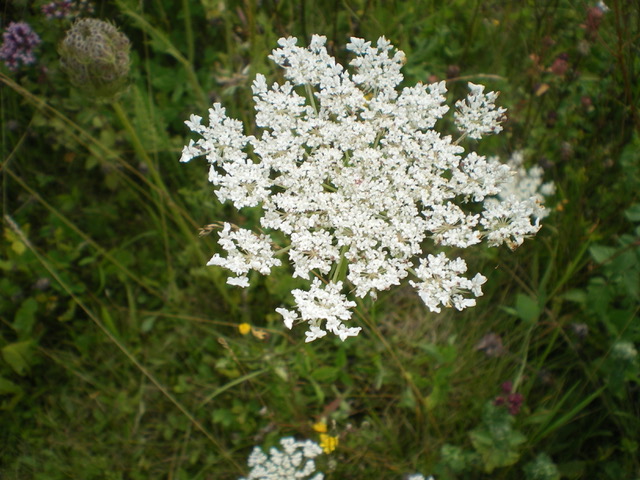 Daucus close up intricate flower head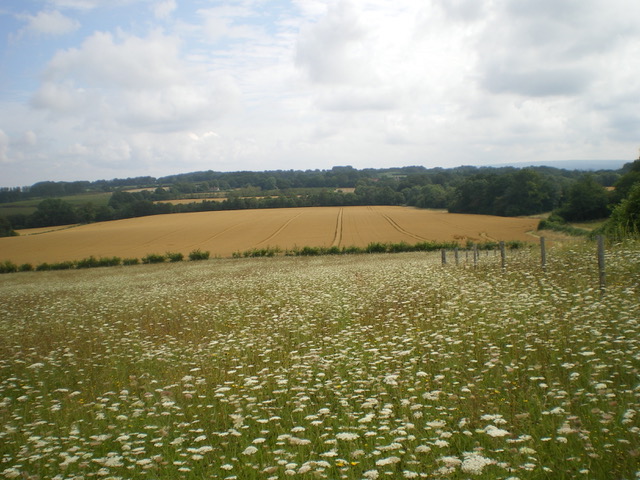 We rest a while and listen to the Skylarks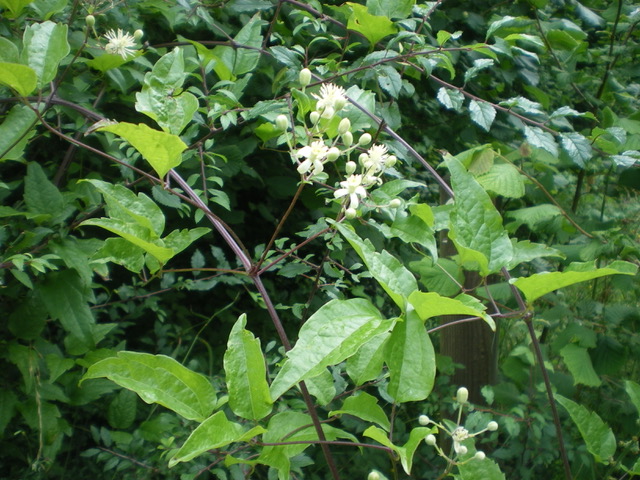 Wild Clematis in abundance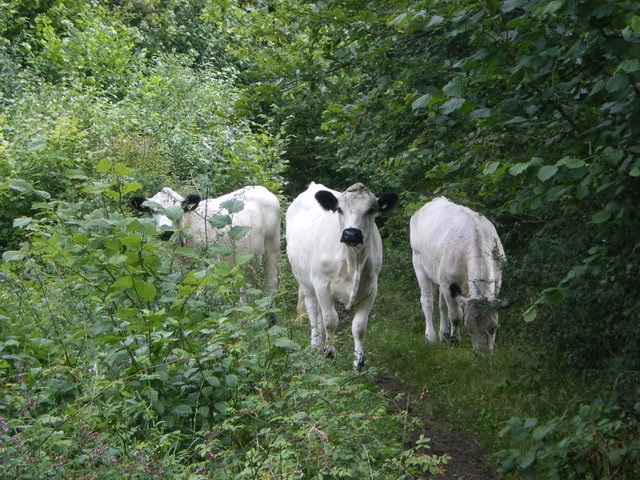 We met other friendly walkers ———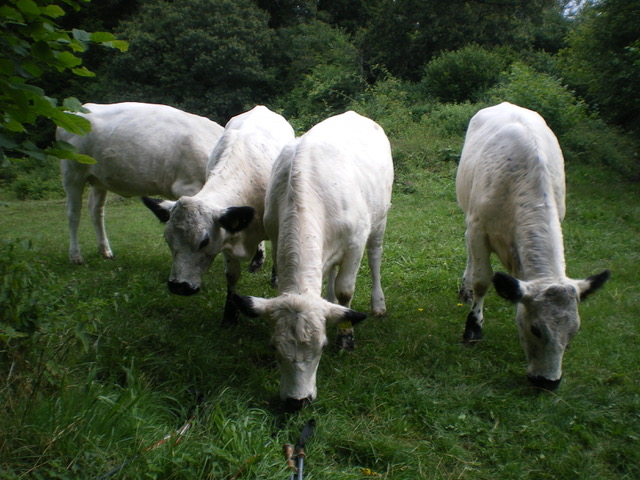 ——— who then joined us for our coffee break (British White cattle, ancient breed)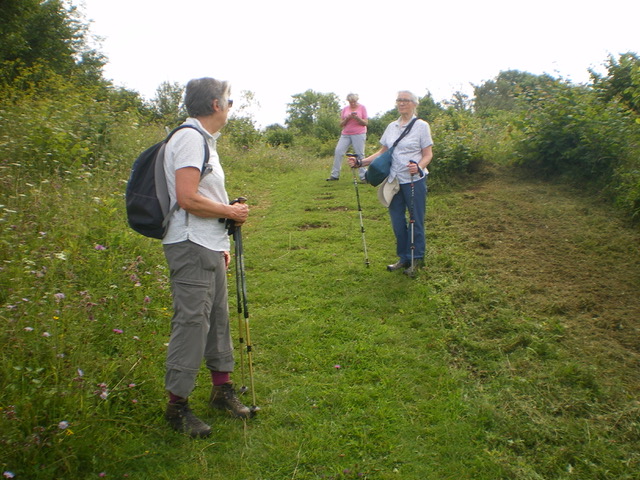 Janet's short phone break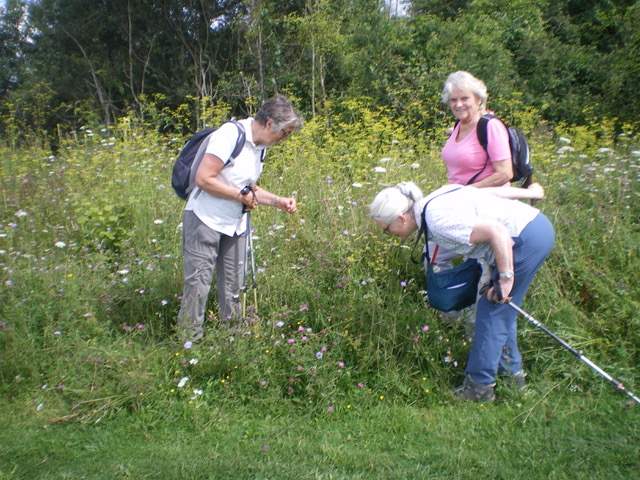 Mary testing for wild flower scent.
---
Marian led the walk from Chichester Marina and we saw the forecast was fairly dry with a bit of sun. In the event the forecast was correct but there was quite a strong wind before our coffee stop. We started out from the Marina car park and after passing the Marina we headed for Coperas Point. A very scenic wander along the path next to the Chichester Channel needed a bit of a diversion onto the shingle shore as some parts of the path were a bit on the muddy side. When we reached Dell Quay it seemed a good stopping point with some walkers getting a coffee in the Crown and Anchor, which luckily opened at 11.00am. Suitably refreshed we headed back to the Marina where most of us stayed for lunch in the Boat House Cafe, did a bit of shopping and then a final wander back to the car park. About 4 miles.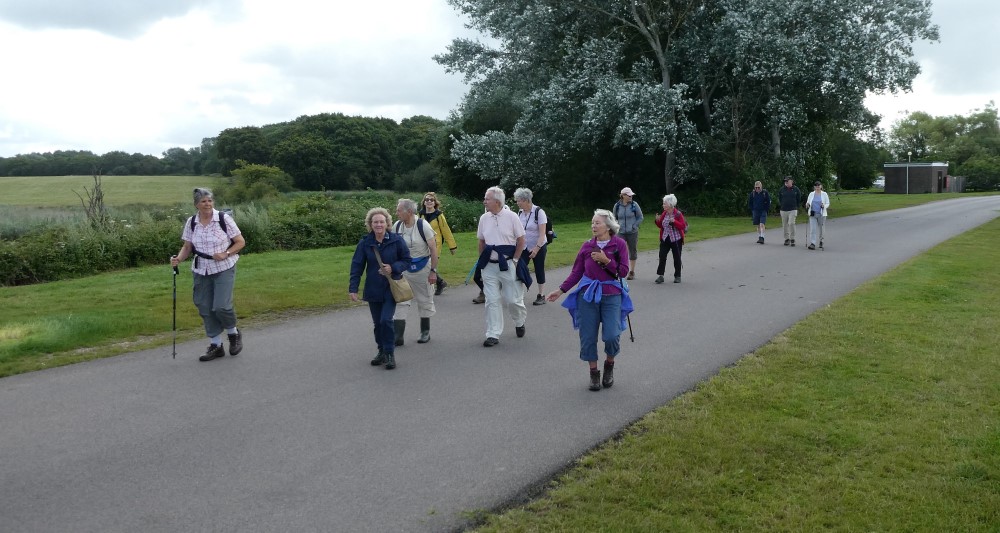 Starting out.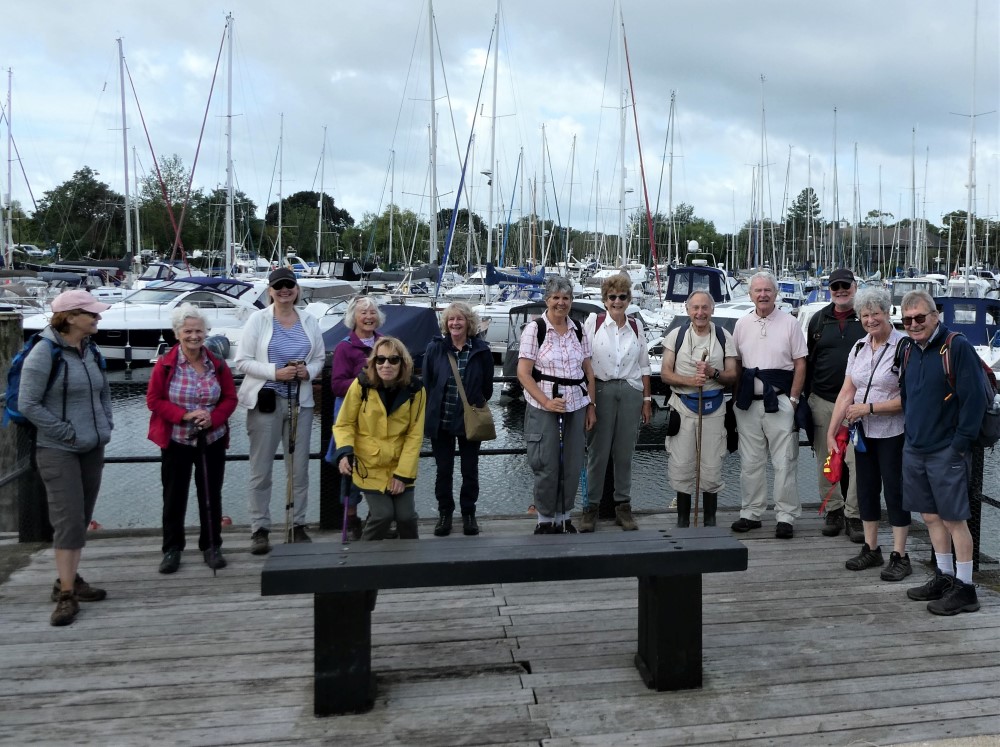 Posing by the Marina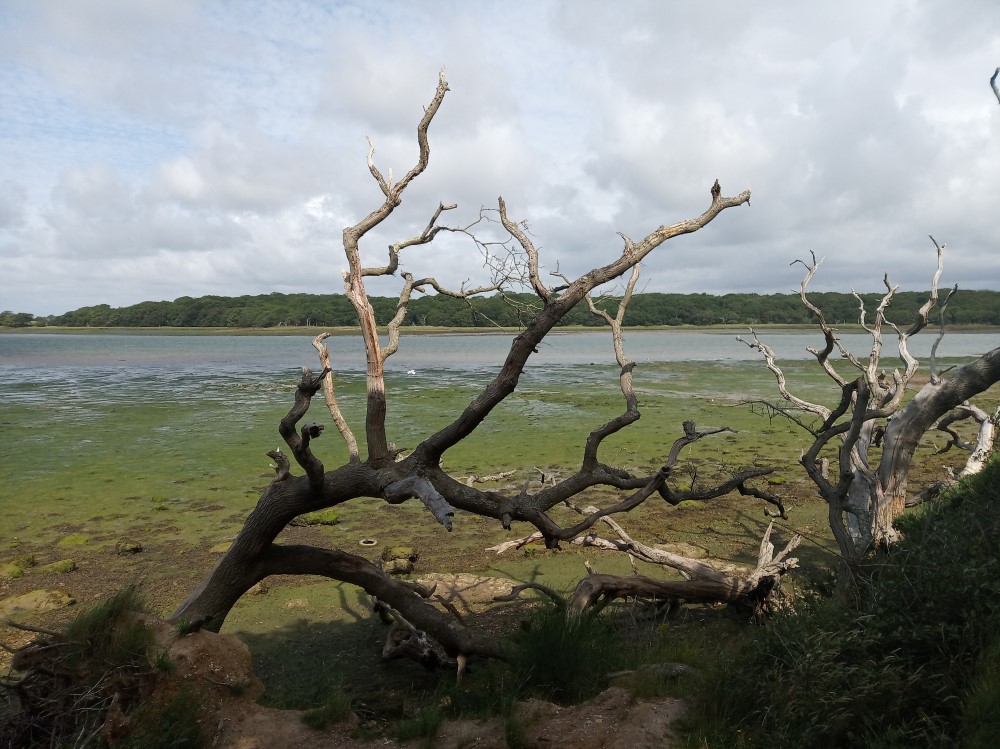 Certainly didn't die from lack of water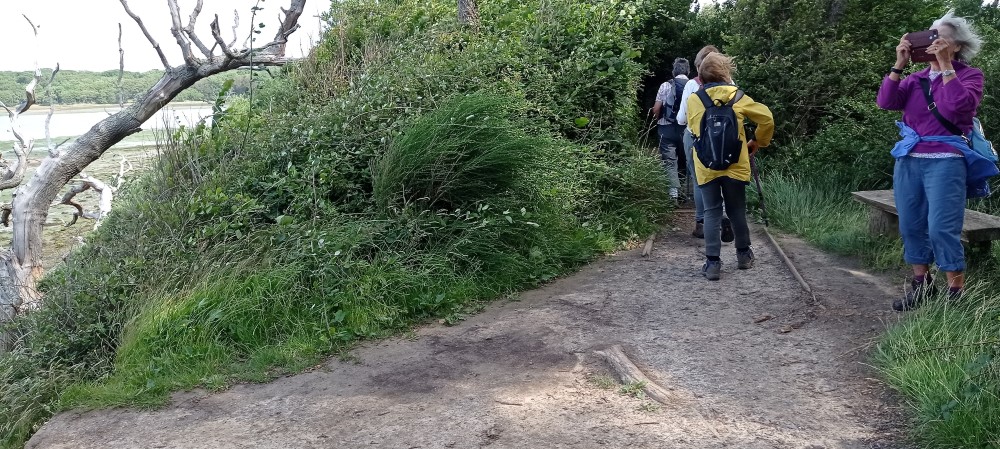 Another good shot being created!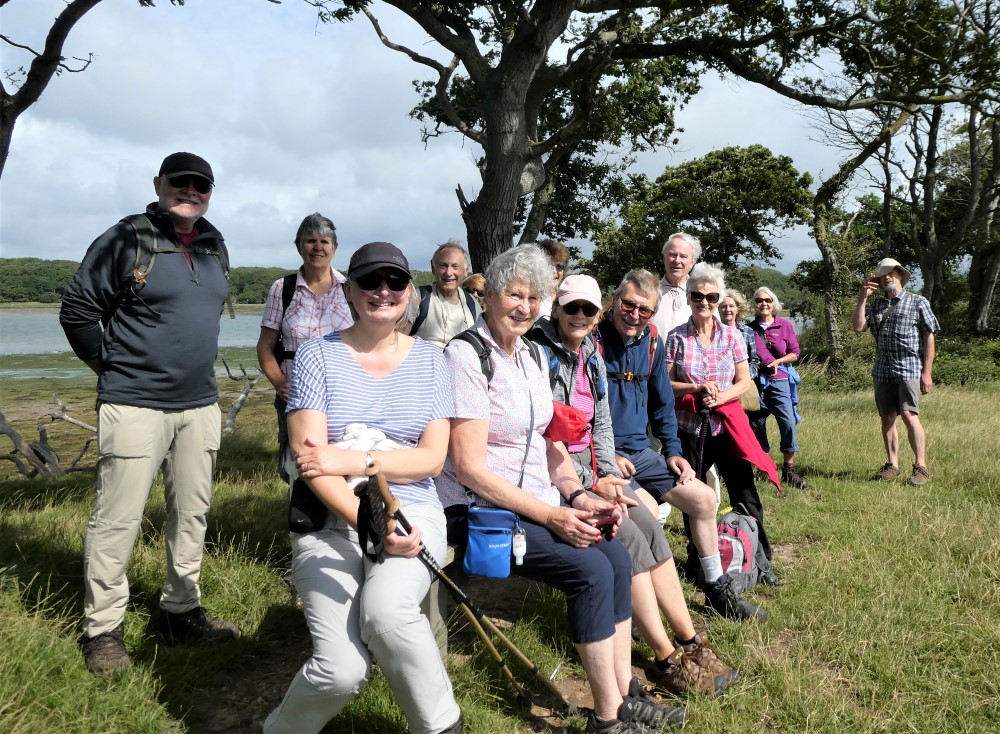 Camera sitting on a handy post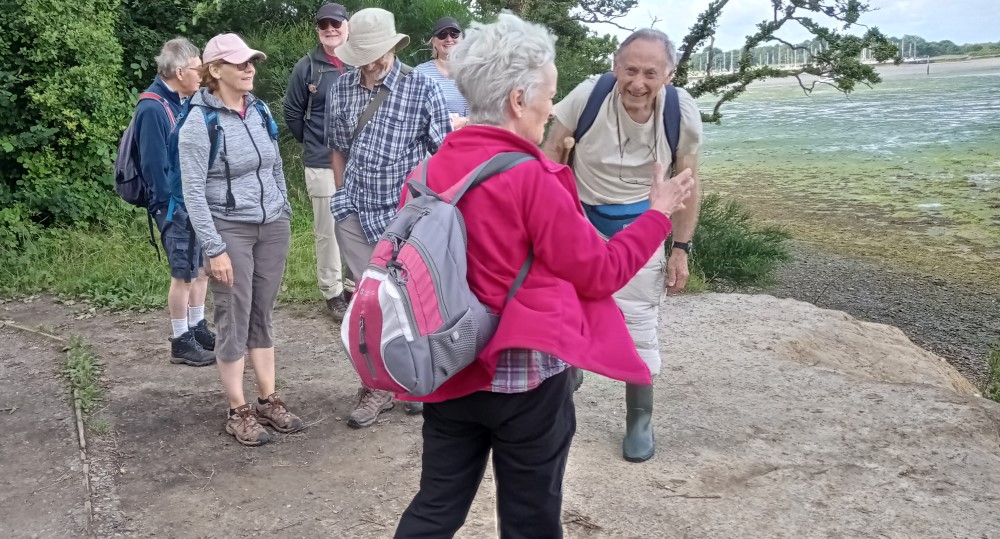 Some sea bass in Chichester Channel can be THIS big!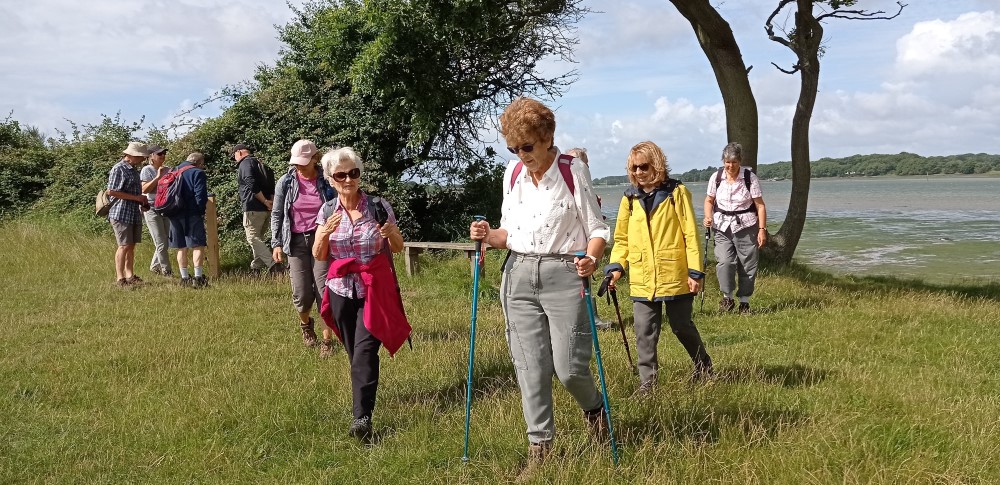 Camera post is attracting some attention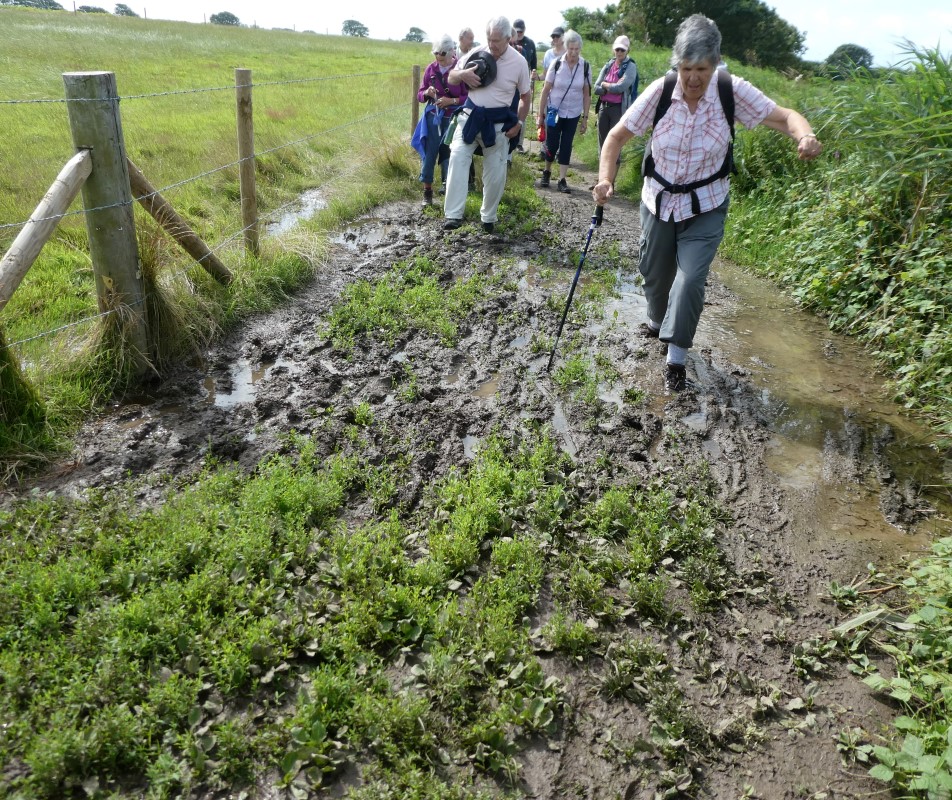 In places the path was a little challenging.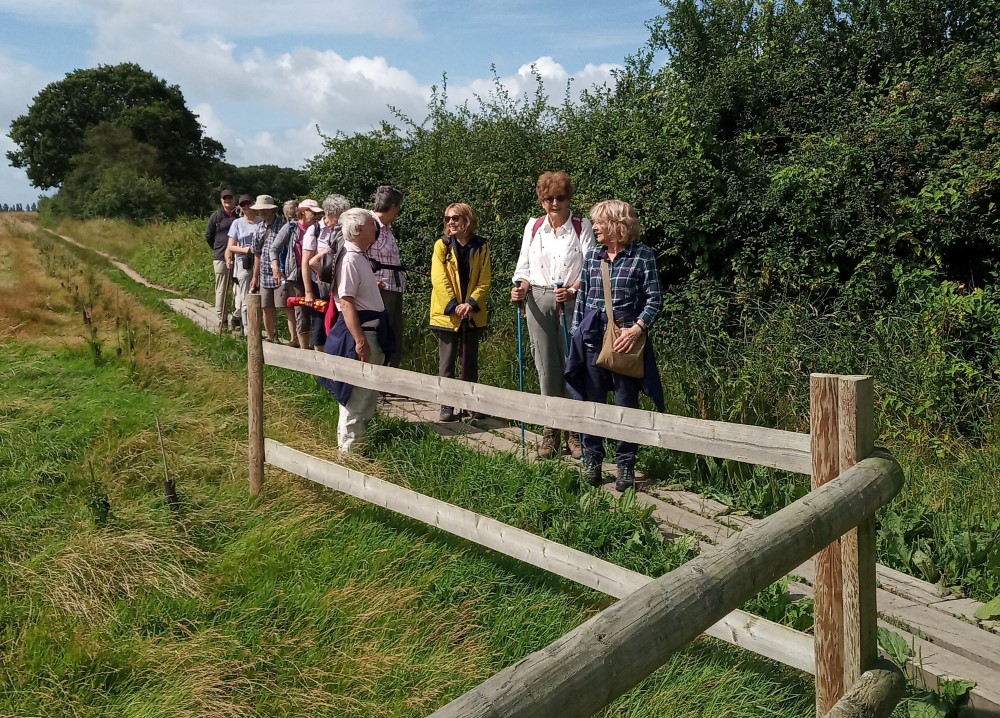 What a great idea it is to have a wooden walkway!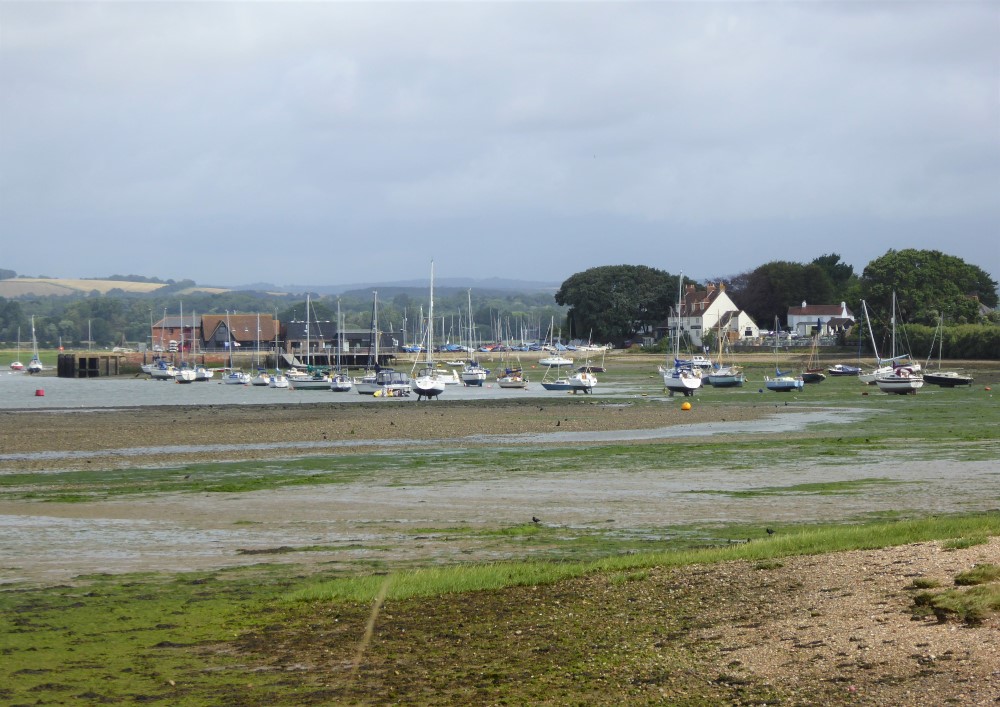 Dell Quay in sight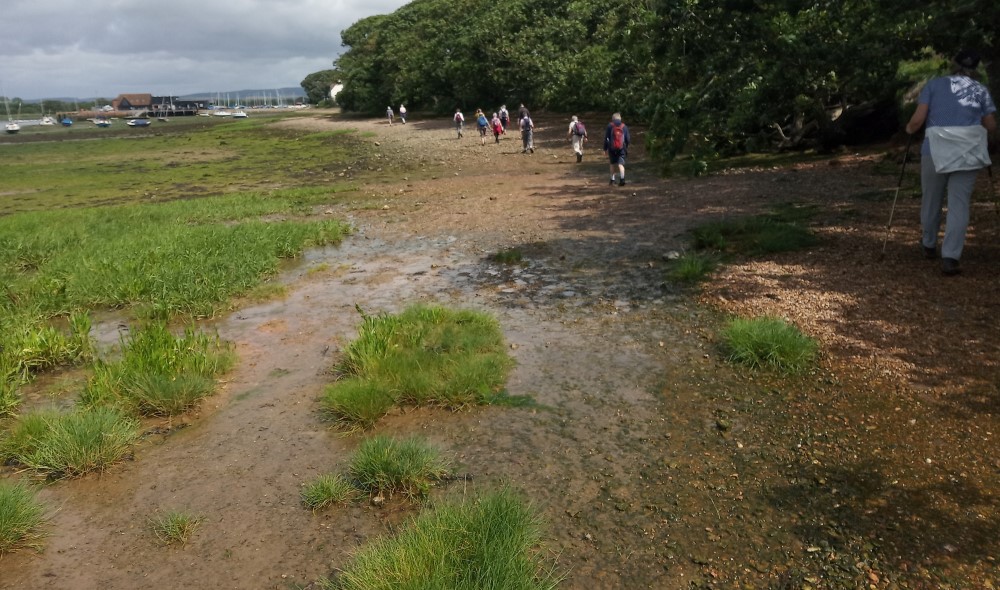 This shingle was a lot drier than the path.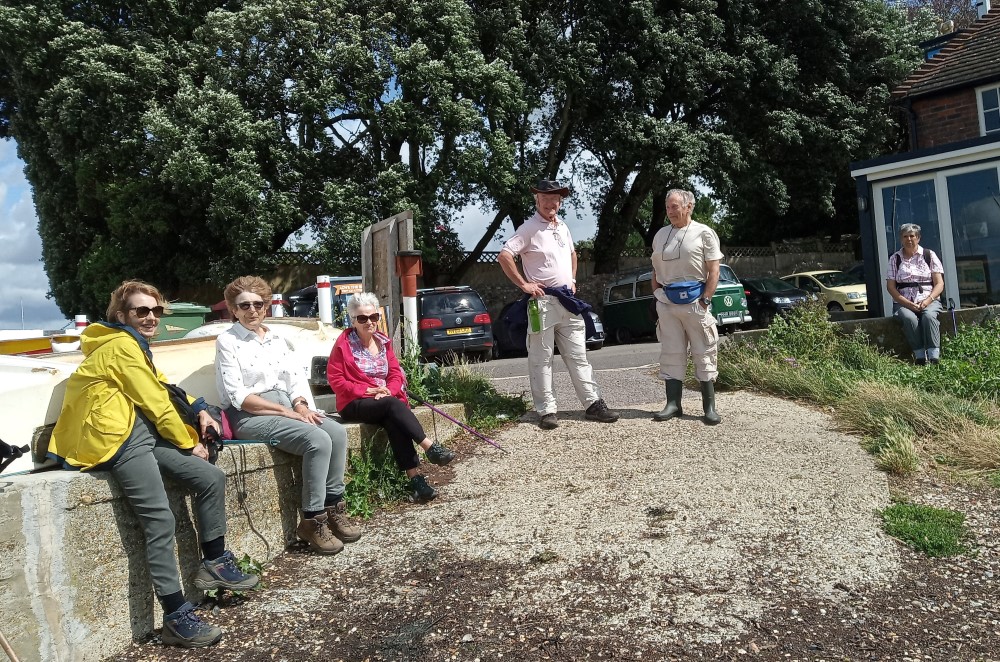 Aha, a seat at last.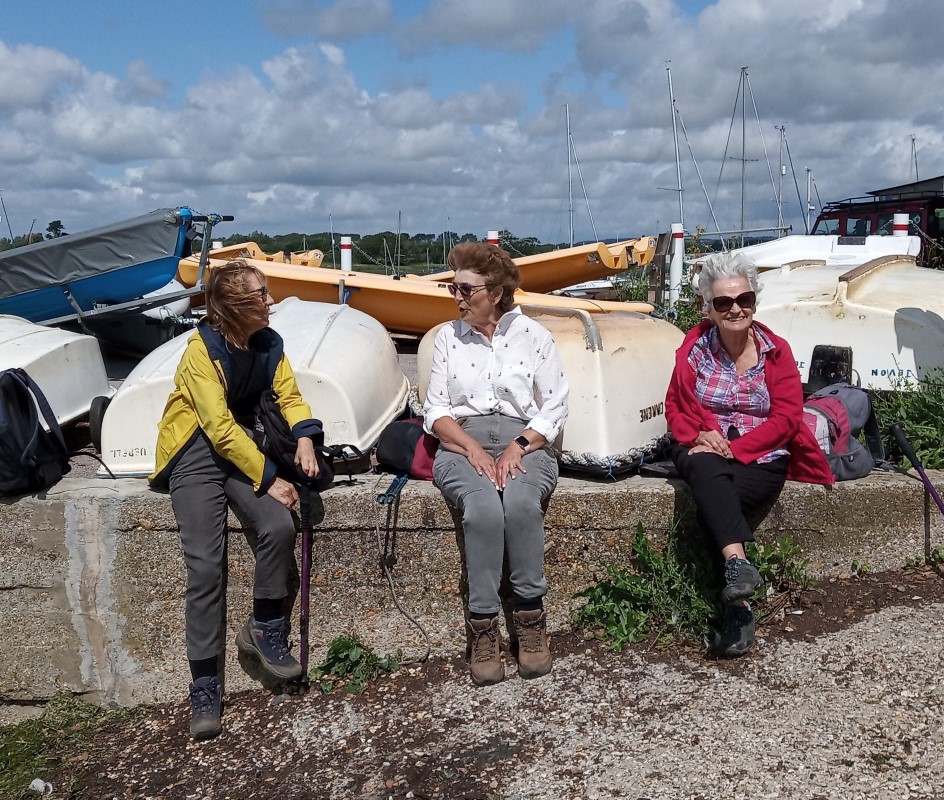 Sun and clouds were fine, but the wind was strong!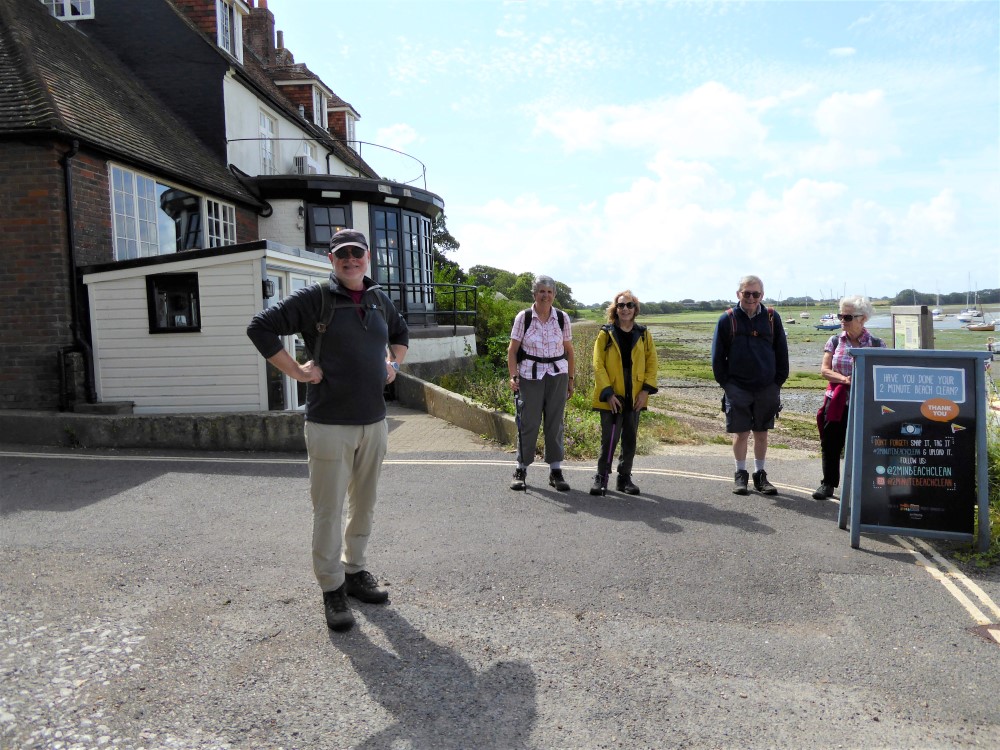 Pub has just opened for coffee at 11.00am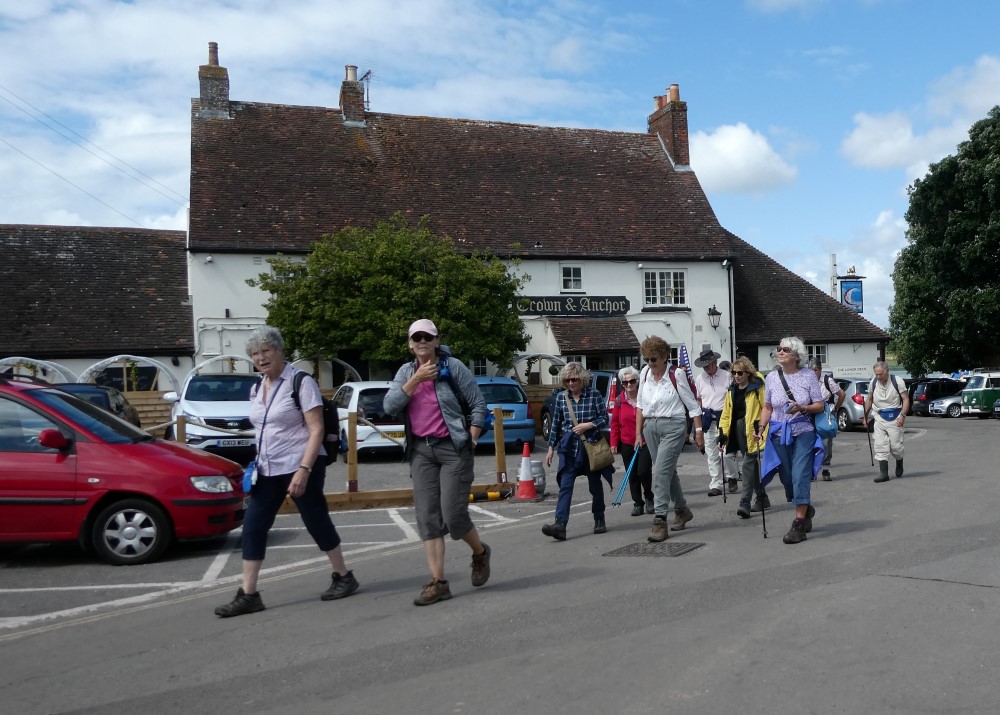 Suitably refreshed, we're heading home.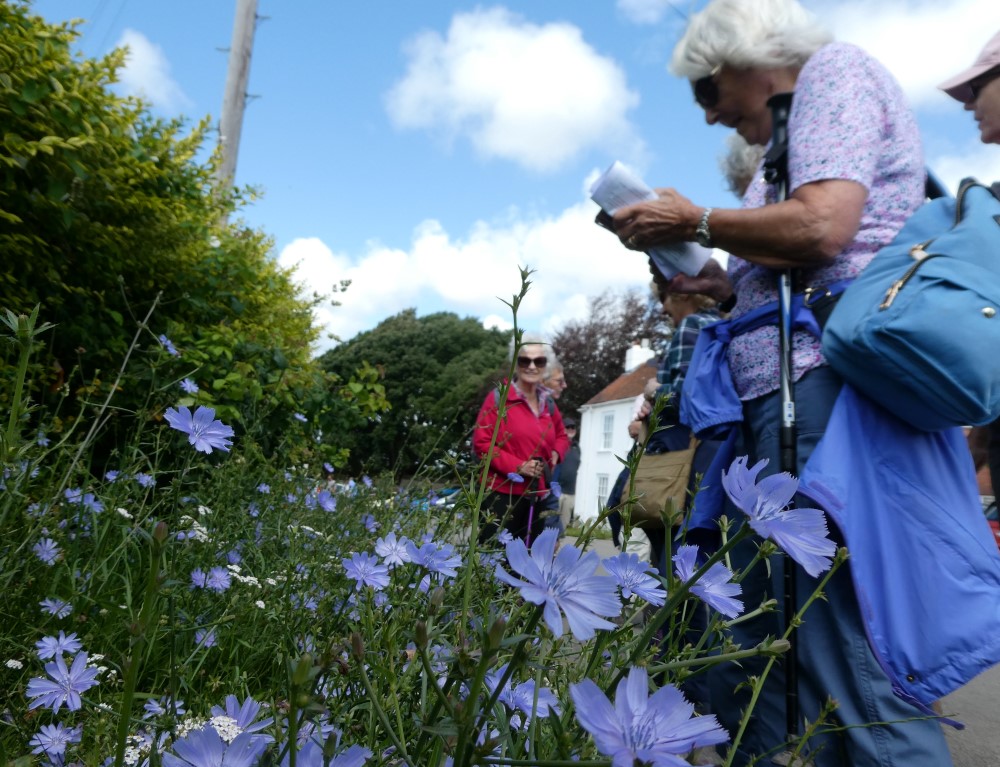 A whole verge full of delightful chicory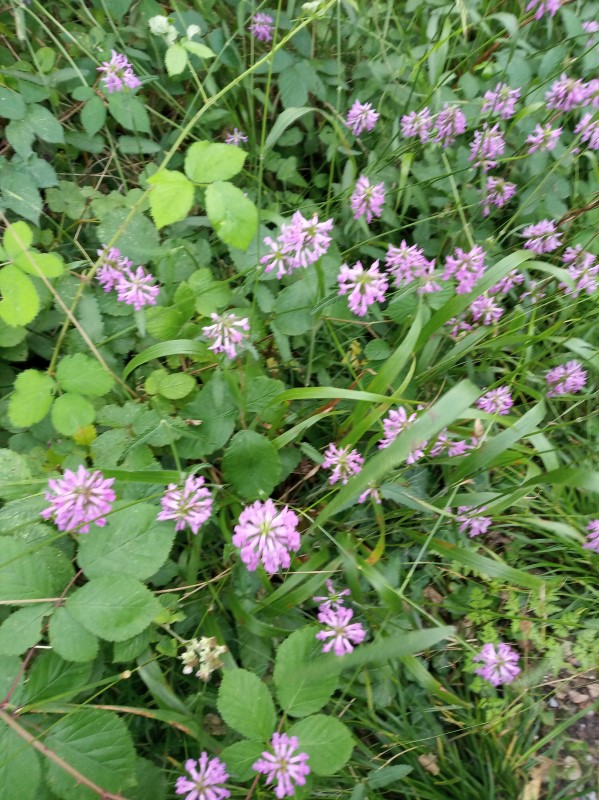 and a clump of betony?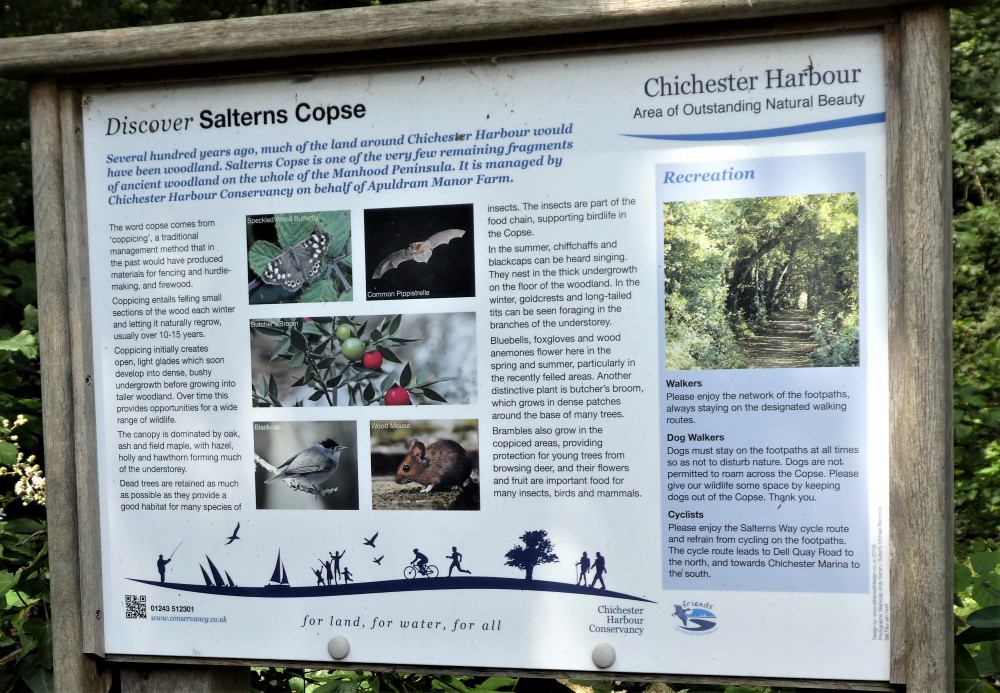 Just before Salterns Copse we had walked past the field where Clark Gable's plane had made a forced landing back in 1943.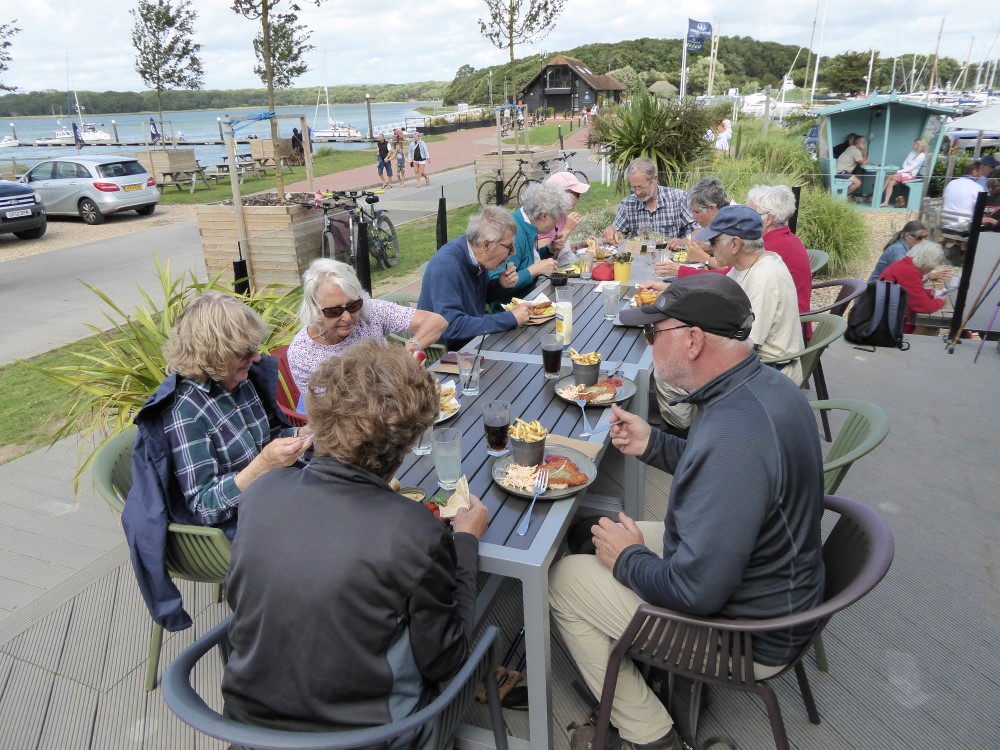 Nice lunch at the Boat House Cafe.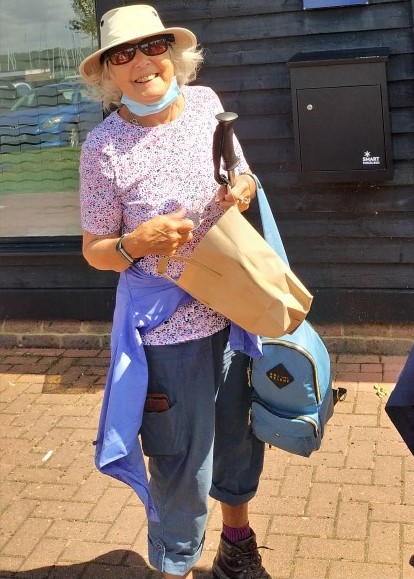 Shopping after lunch - some people just can't resist a new hat!
_____________________________________________________________________________________
_____________________________________________________________________________________
_____________________________________________________________________________________
Peters's bubble walk started in Upperton and ambled towards Lurgashall then branching off to Pitts hill, and finally through the vineyards, with all the seasons weather in one morning.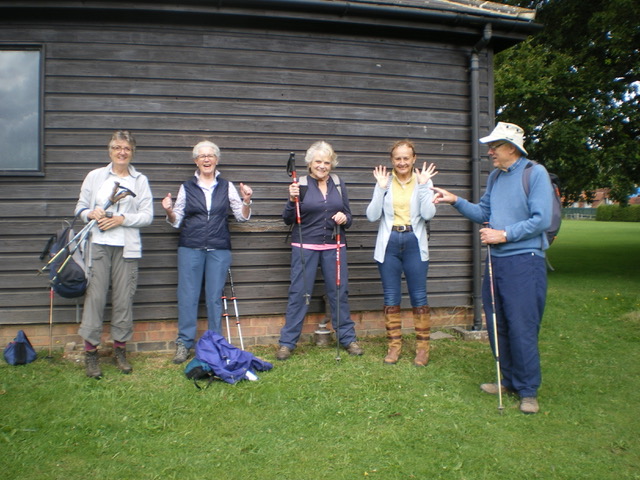 All fired up and ready to go.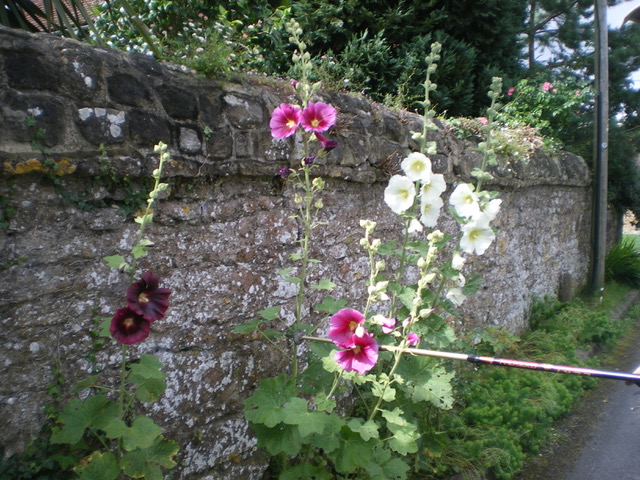 Jolly hollyhocks?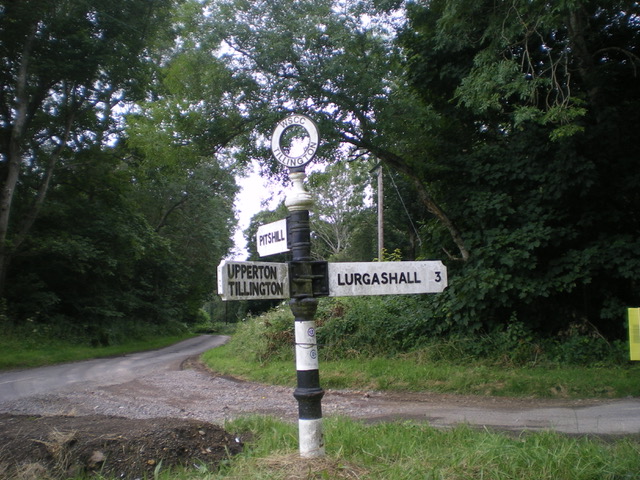 We went this way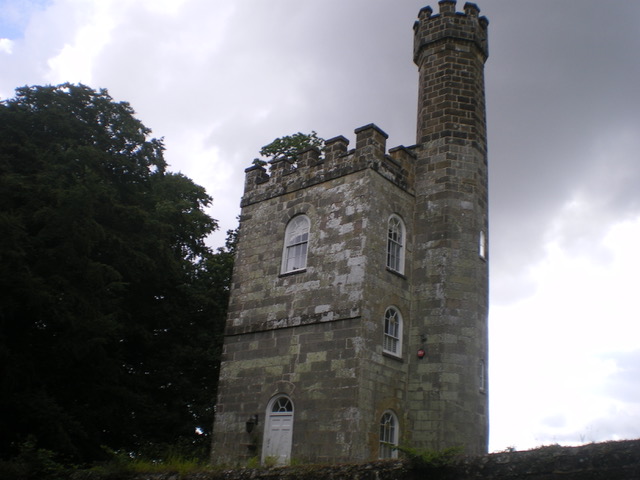 "Rapunzel, Rapunzel, let down your hair"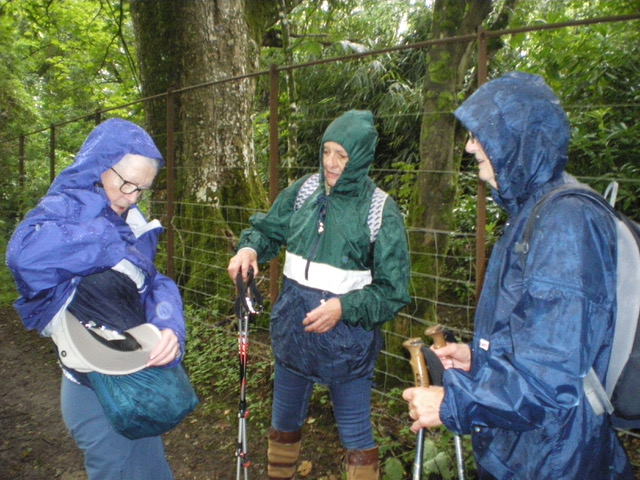 Oh, there it is!!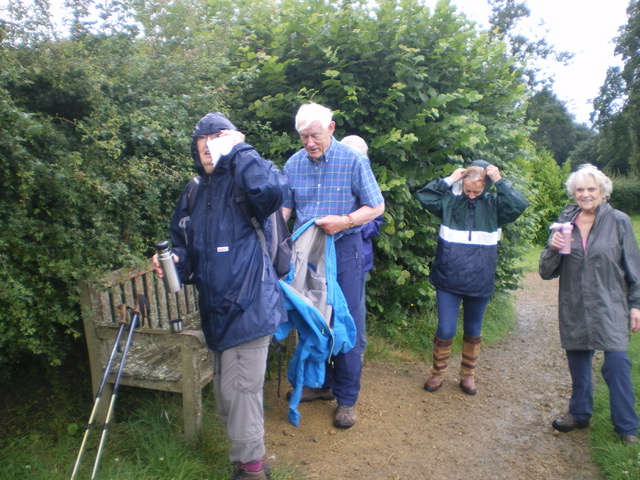 Very wet coffee break.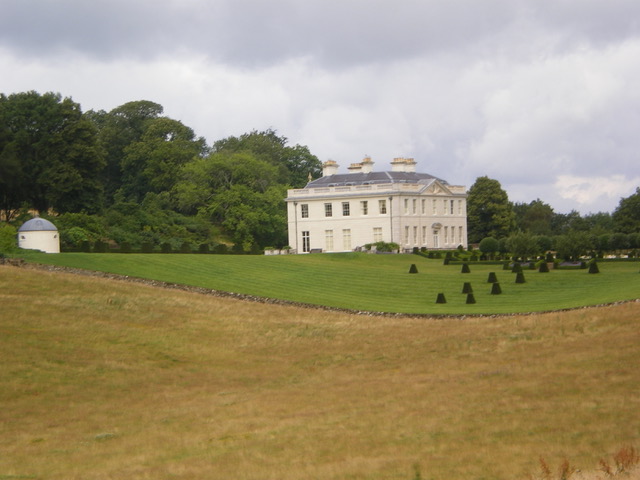 Stunning Pitshill House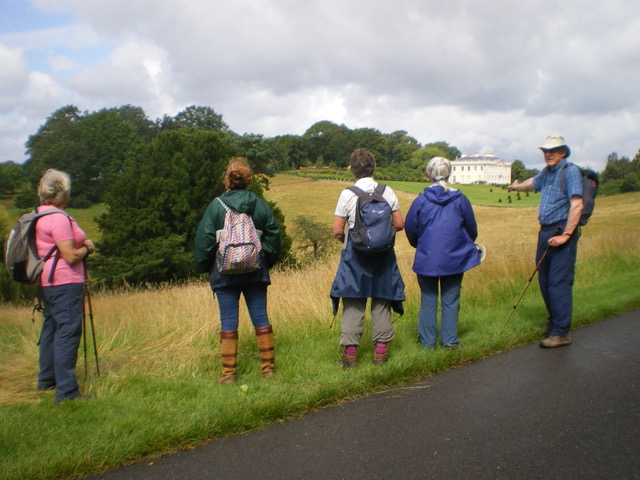 Admiring the view to Pitshill House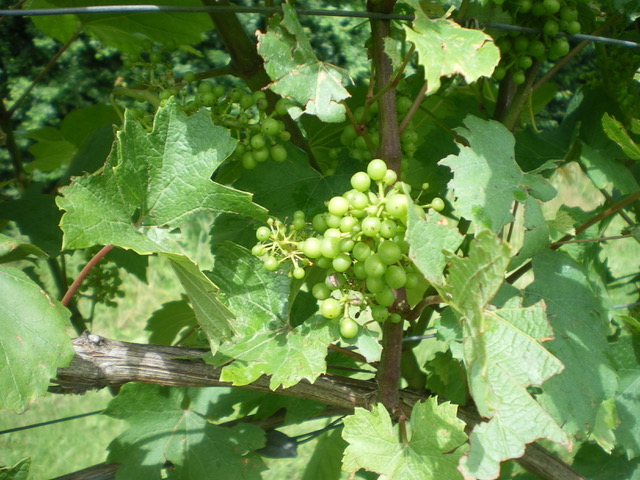 Nearly ready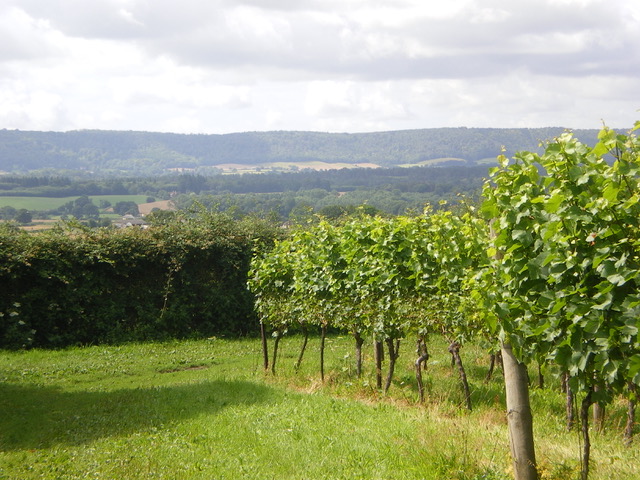 Lovely view from the vineyard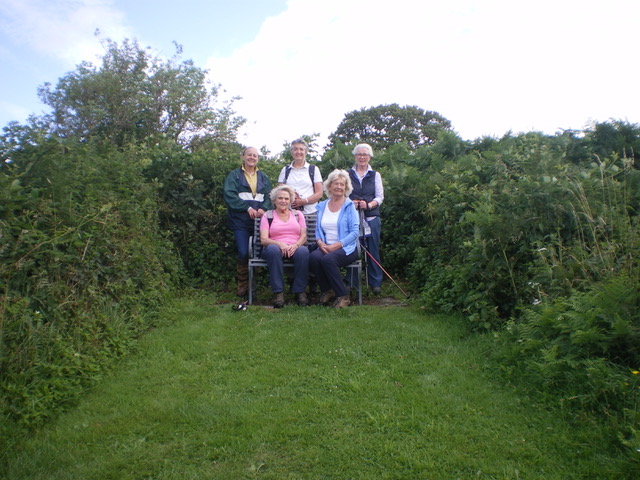 Peter's girls enjoying the view
---
With high temperatures forecast, we decided a stroll near water and in the shade of trees would be a good idea. Parking in the Applegarth Farm car park near Grayshott, we skirted round the back of the Playing Field before descending into the valley next to Hunters Moon. Turning right we followed the path down to Waggoners Wells and after passing all 3 ponds, found a pleasant spot to have a drink. A little further on we came across a well, a favourite spot for Lord Tennyson and also used by Flora Thompson as a wishing well - she used pins to drop into the water rather than coins. We had descended nearly 150 feet so a climb was inevitable but fortunately it was very gradual and in good shade. So we emerged from the shade for a short hike over Ludshott Common before getting back in the shade again for the final stretch back to Applegarth Farm. Staff there looked after us very well and served up some excellent food under two parasols - a pleasant end to the morning walk.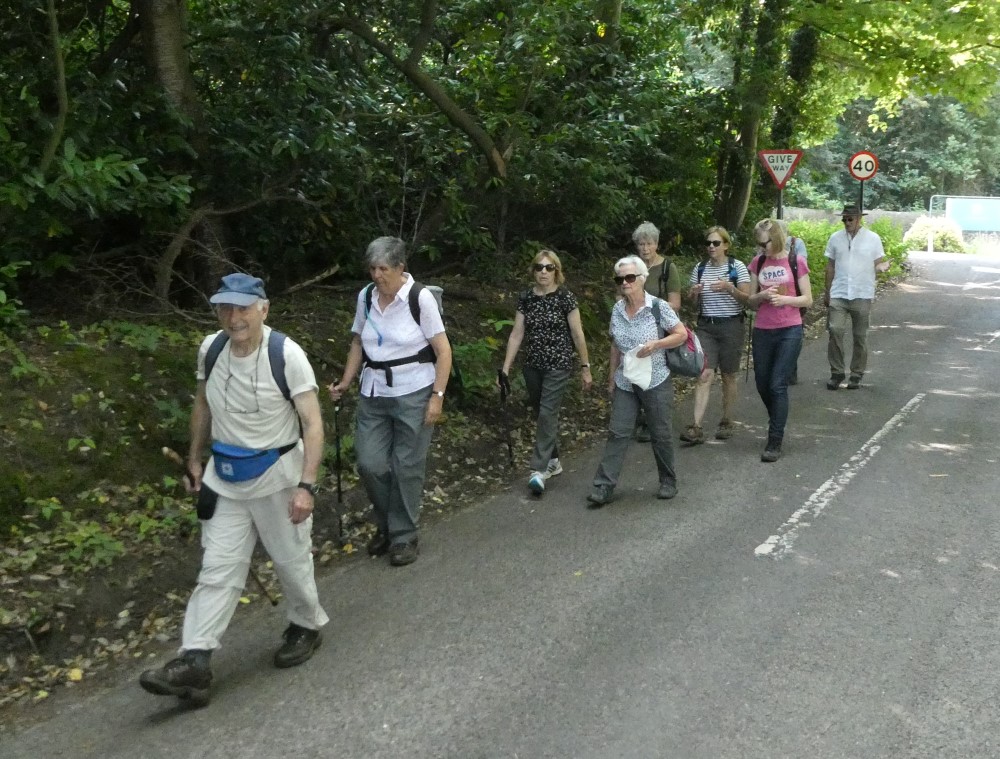 Setting off down Hammer Lane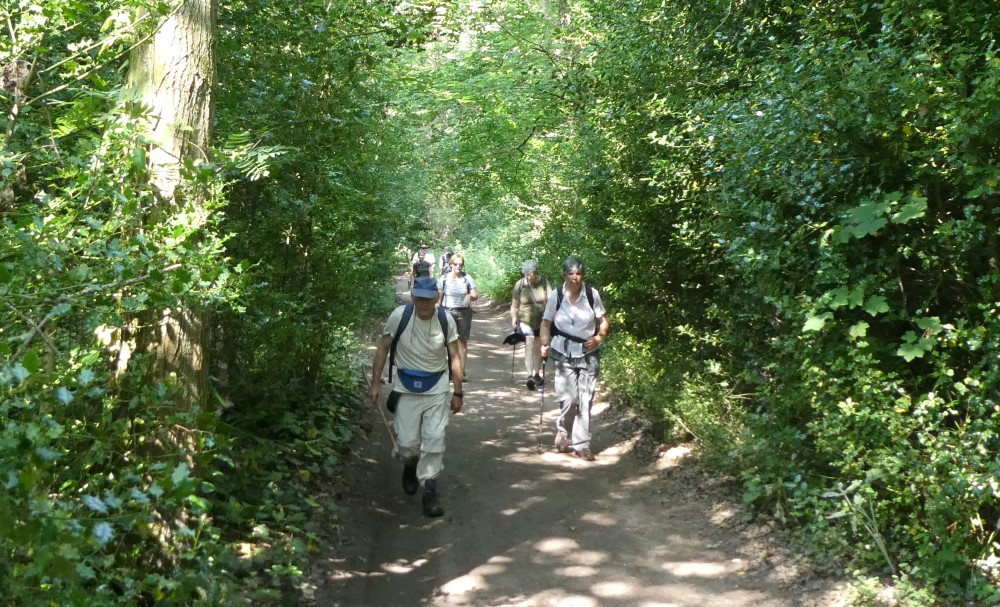 Heading towards Waggoners down Stoney Bottom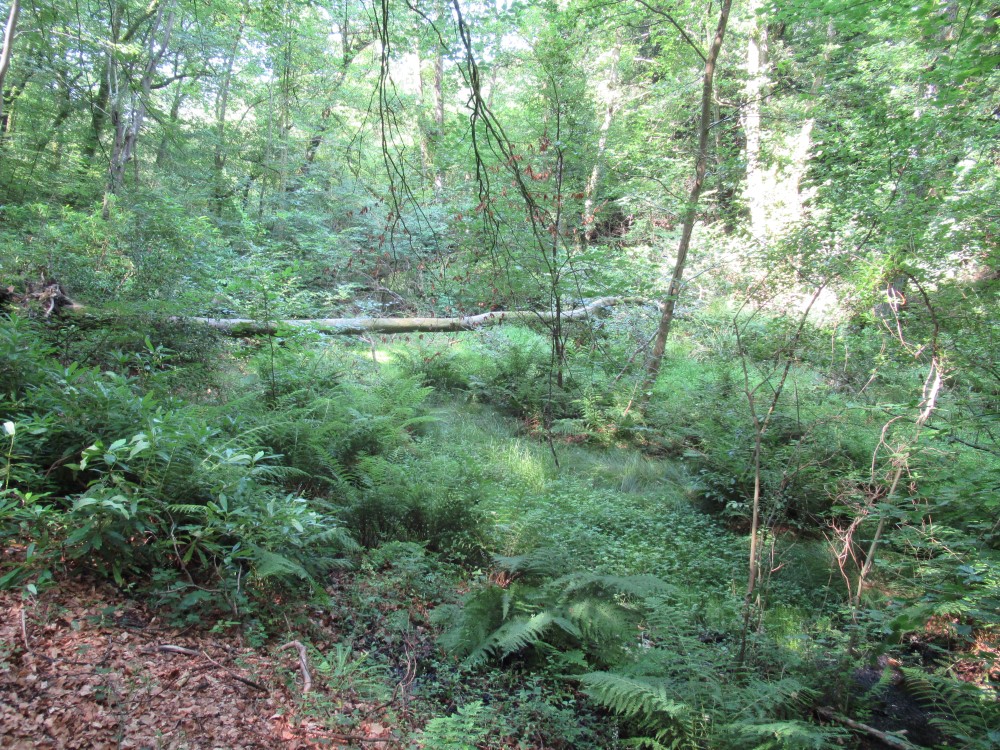 As we got nearer Waggoners Wells, the vegetation was getting quite tropical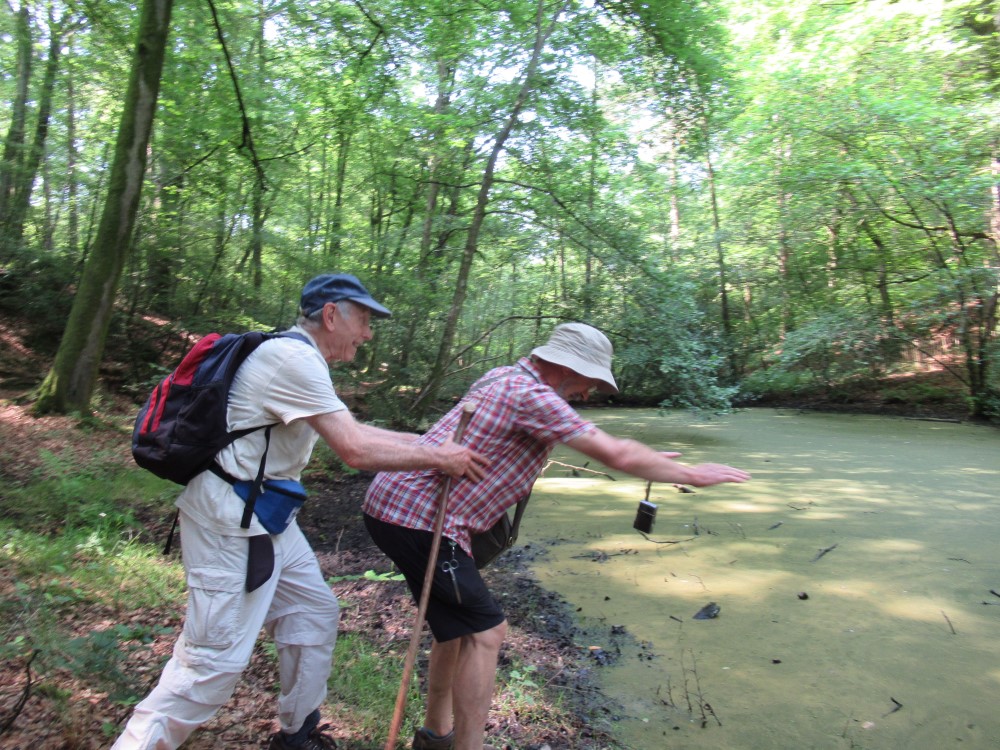 Is he pushing or saving?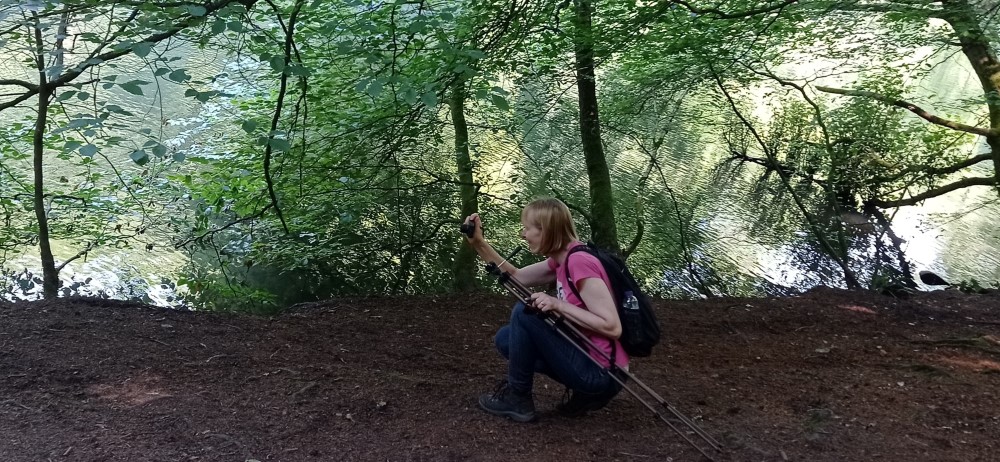 Snapping again!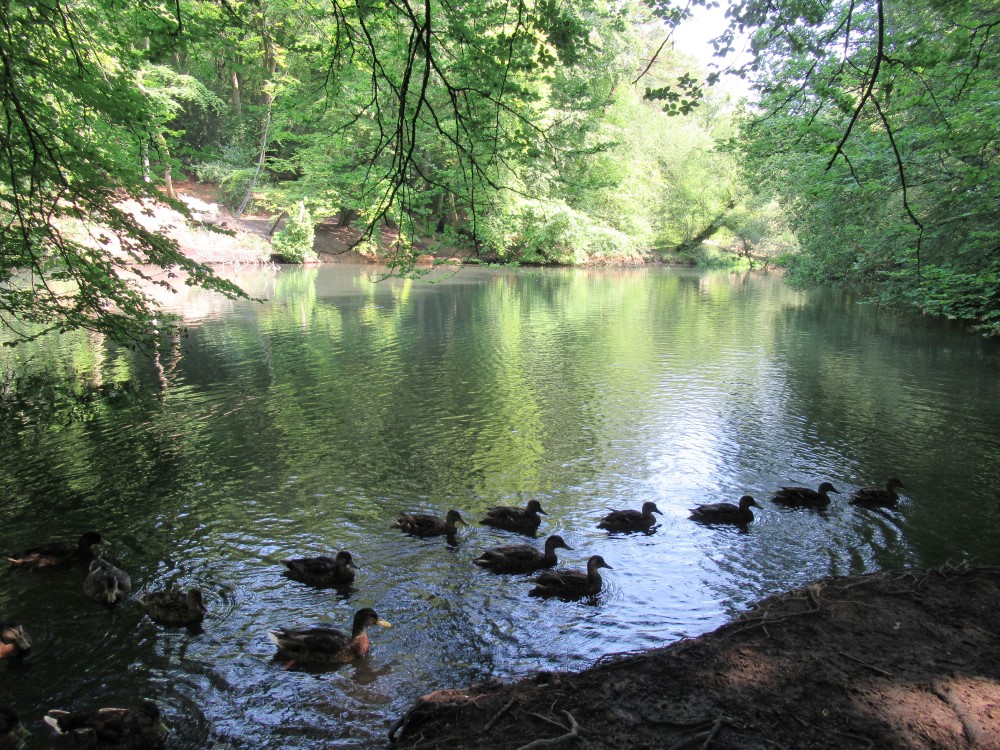 Ducks galore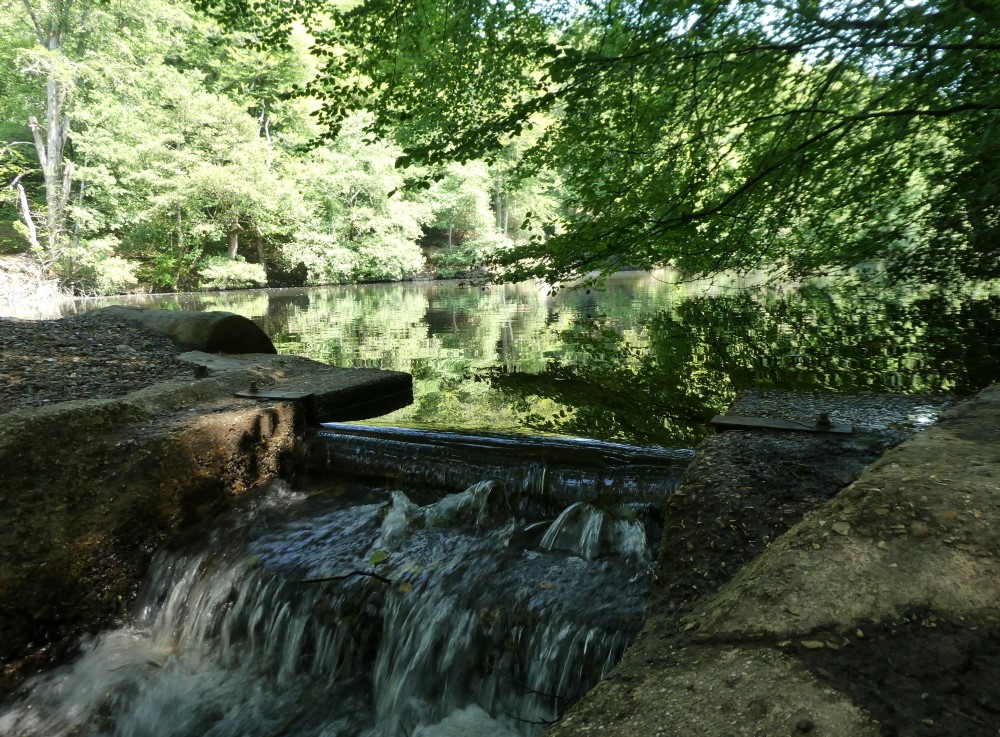 Water flowing well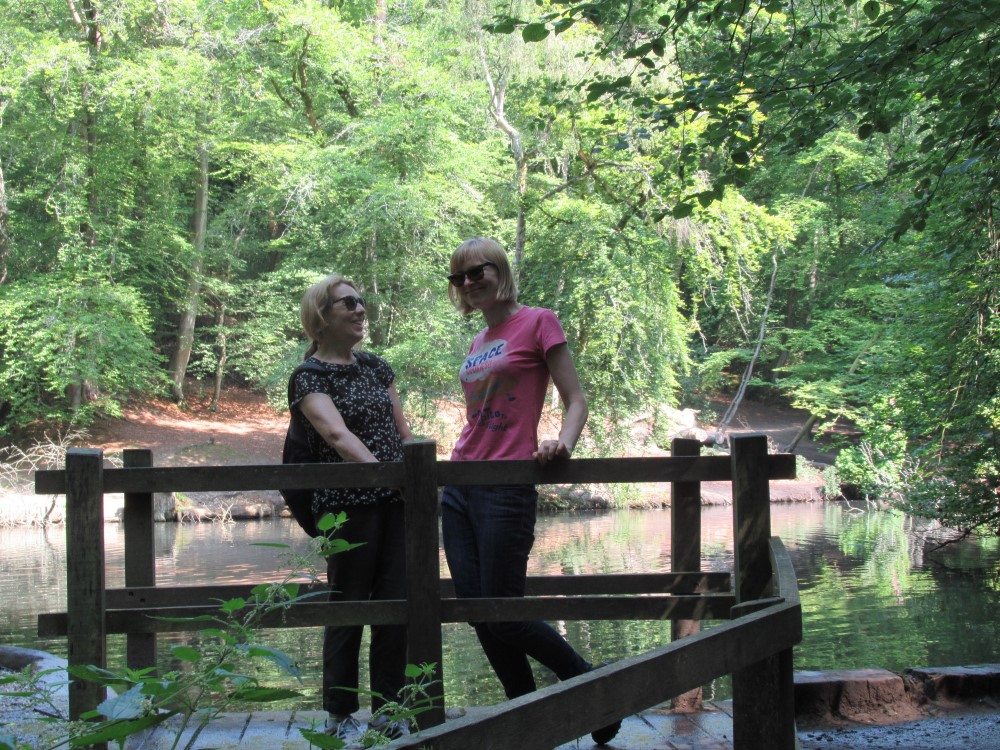 "So, I said to him" ?????????????????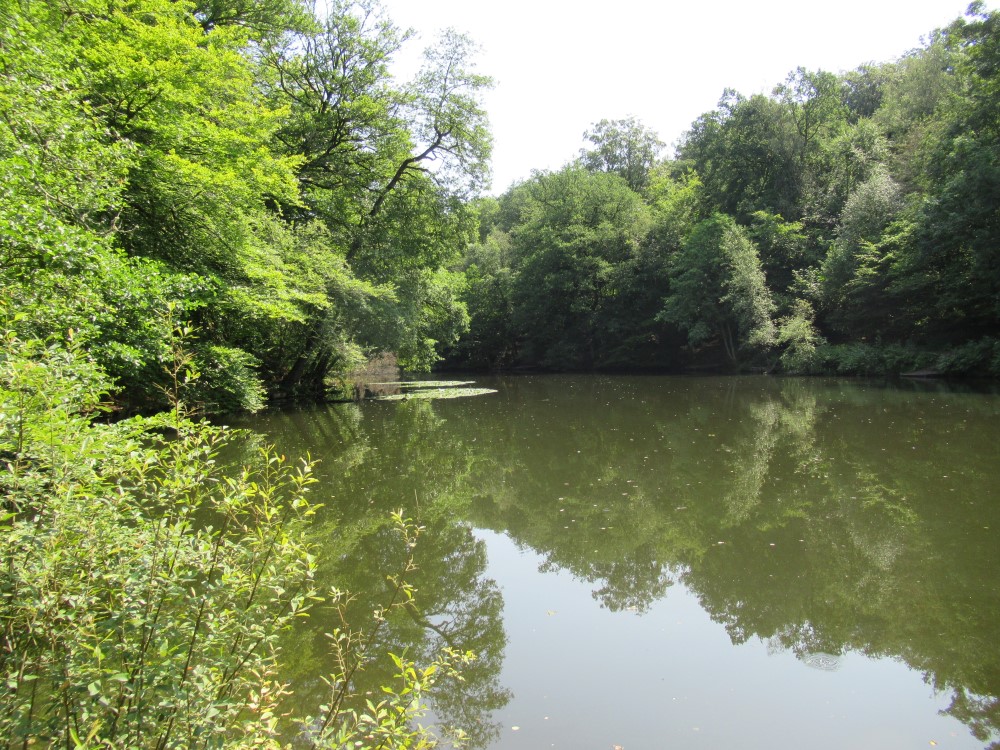 Last of the three ponds.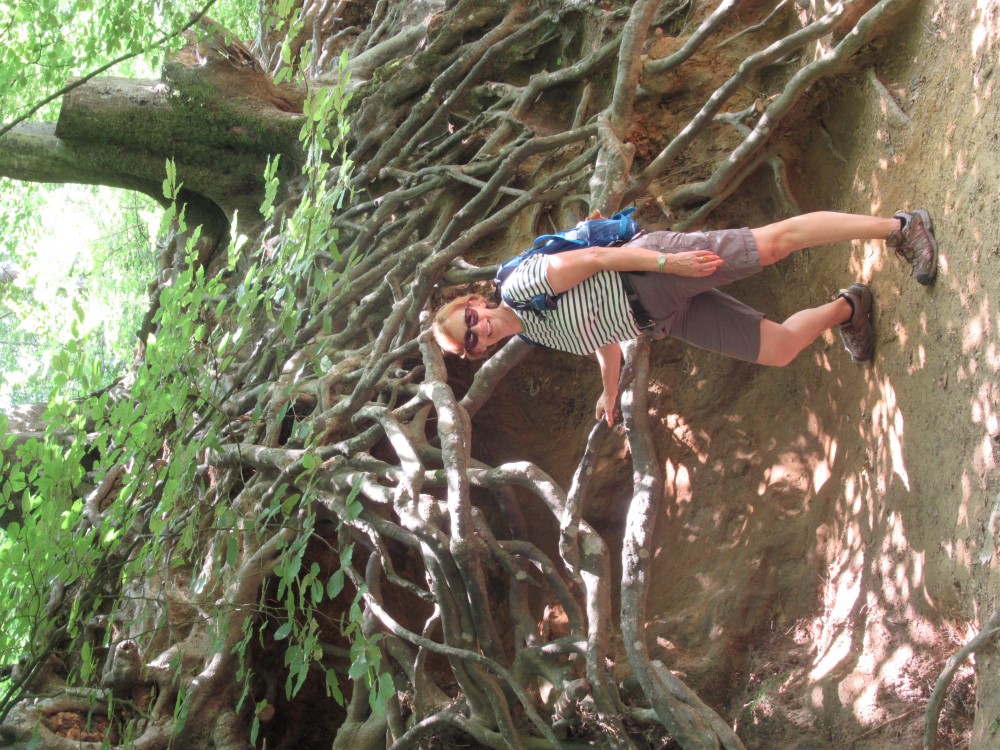 Waggoners Wells is notable for its mature beech trees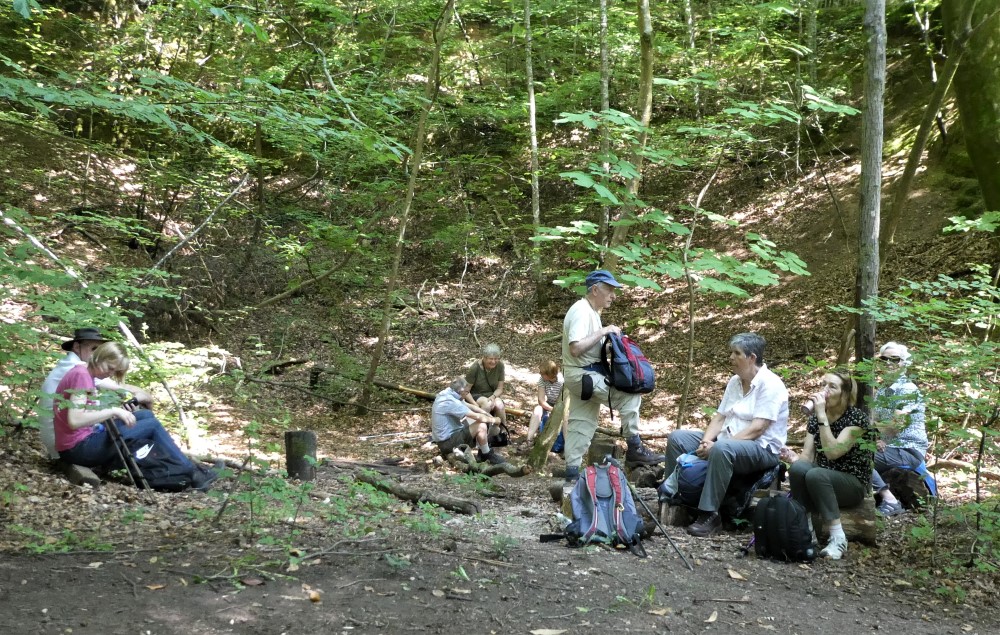 A shady picnic spot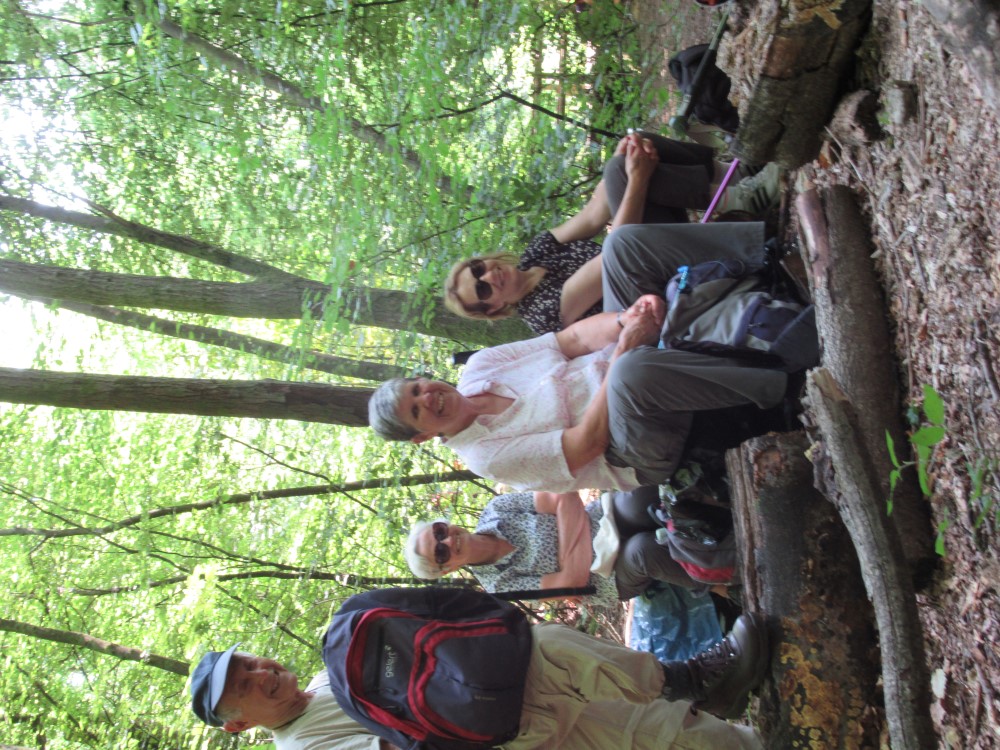 A sit down at last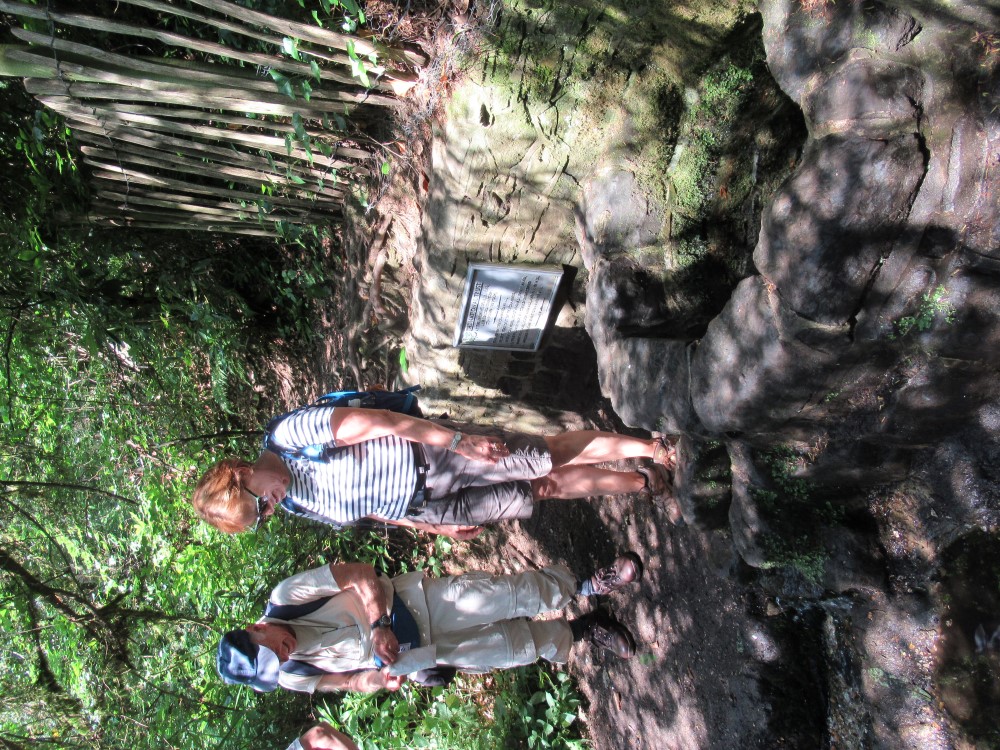 Wishing Well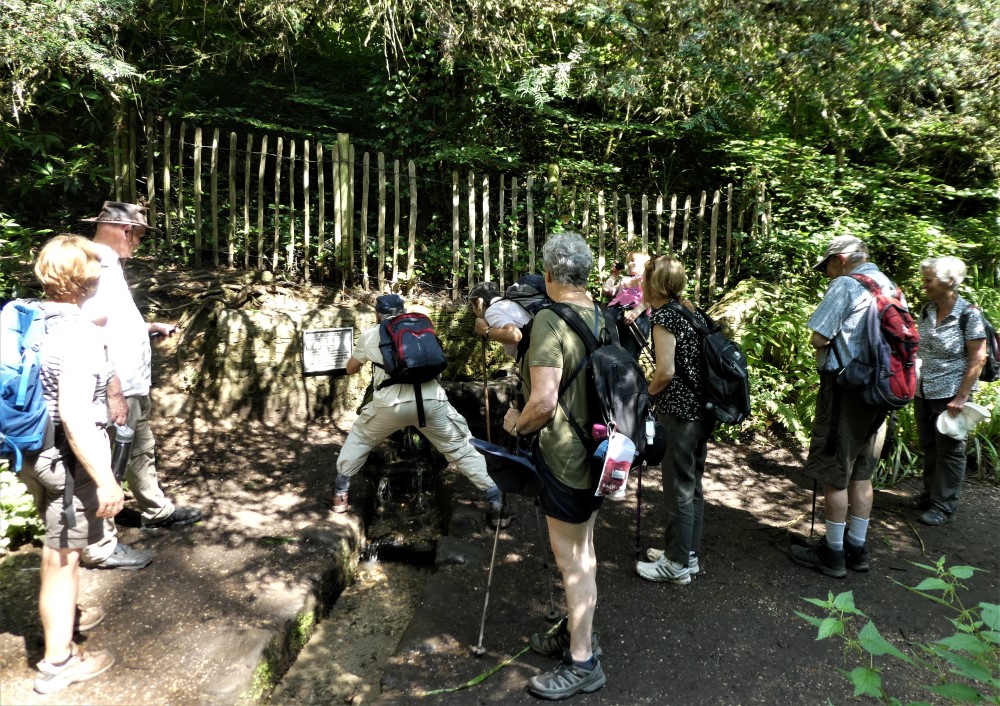 Reading the Tennyson plaque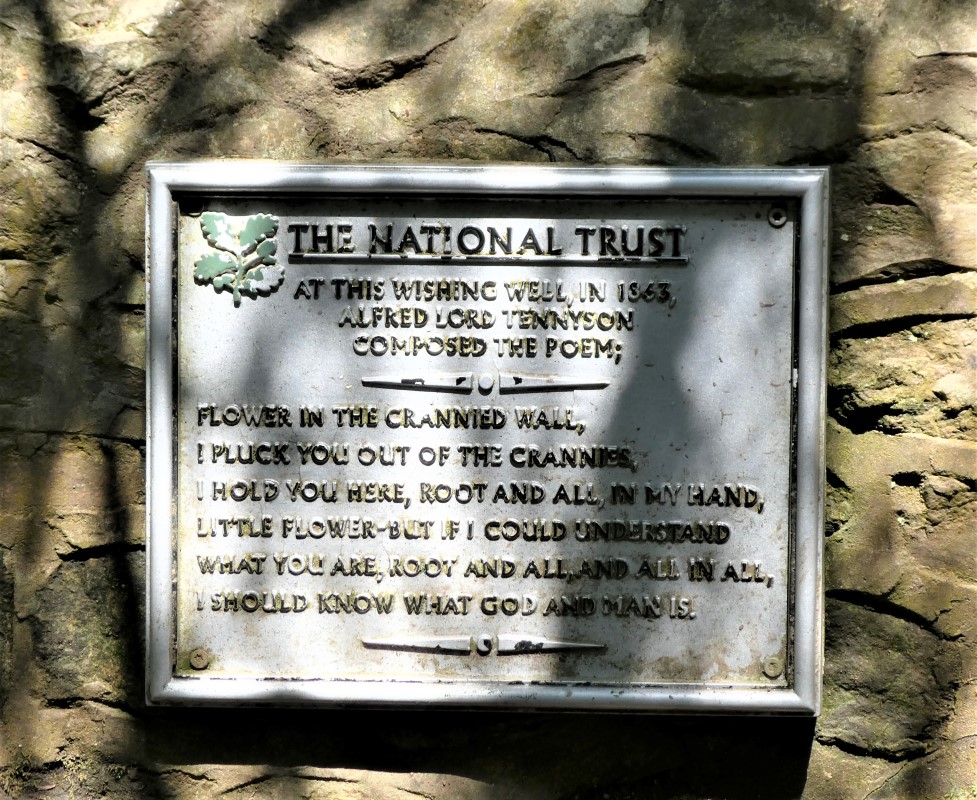 Written when he was a mere lad of 54.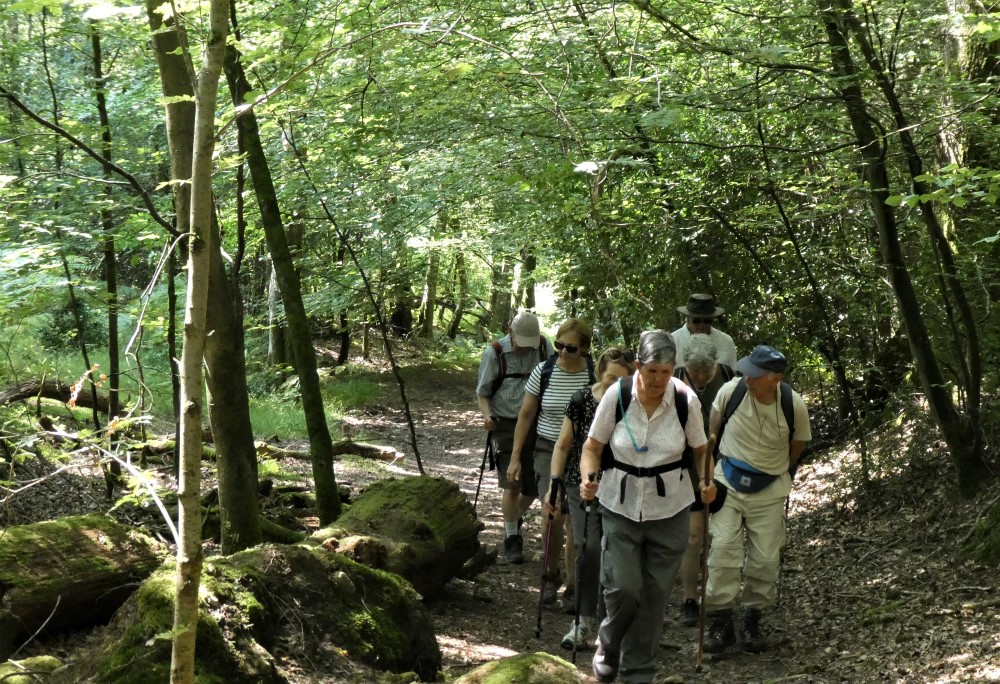 Tramping up towards Ludshoitt Common. The common is now a Site of Special Scientific Interest (SSSI) and is one of the largest areas of Heathland in east Hampshire. In 1945 it had been devastated by the Canadians who used it for tank training.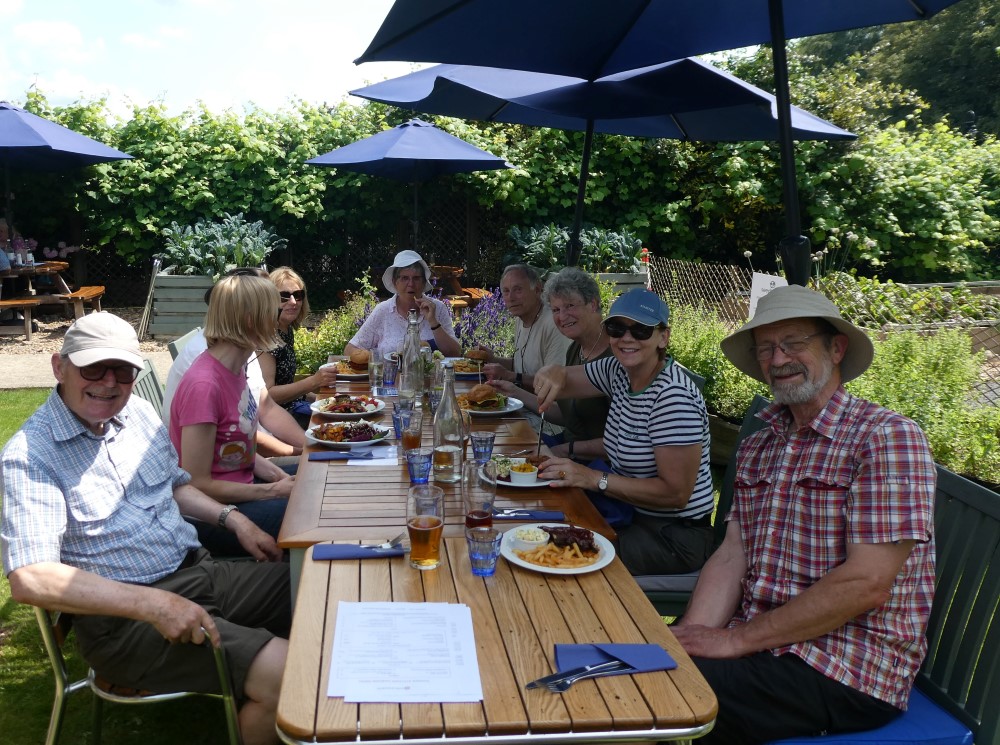 Applegarth Farm served an excellent lunch.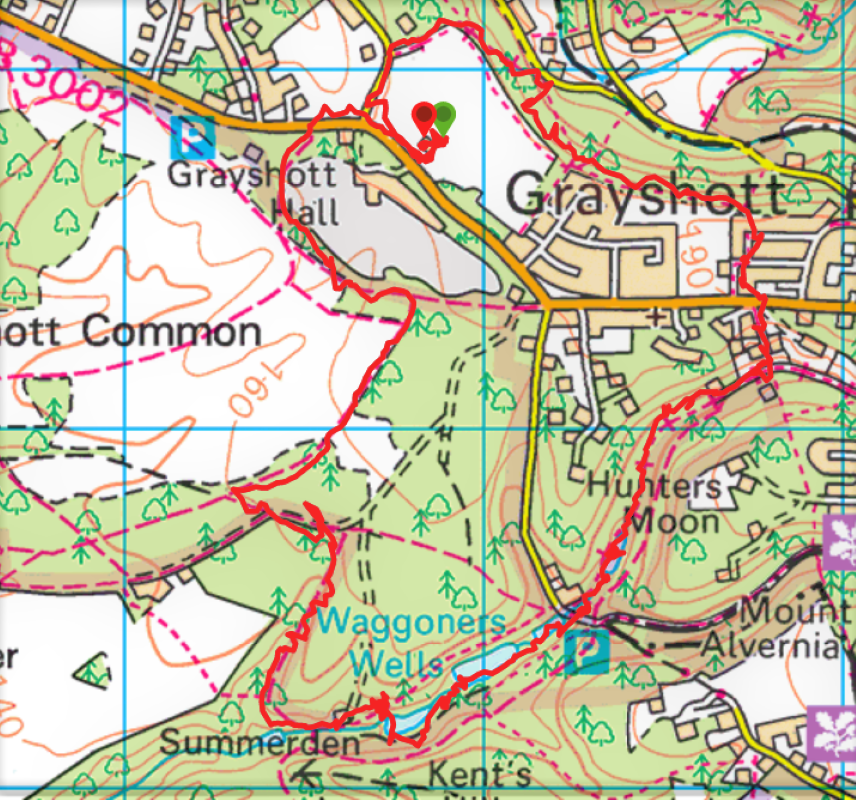 About 4 miles
---